News
NEWS: Disney World Makes Move to Replace Magic Bands
It looks like Disney World is likely planning a major change that would replace the current generation of MagicBands at the Walt Disney World resort. Currently, guests are issued a MagicBand and that straps around the wrist and comes in a variety of colors (For more on MagicBands and the variety of ways in which Disney uses them, please see the related article below). Frequent resort guests (or those willing to pay) are able to collect multiple bands each with an RFID chip that is tied to the guest's admission medium. Those days may be ending.

The FCC recently posted information about a new magic band system titled "MagicBand ID Q3E-MB-R1G2". Under this new generation of MagicBand technology would replace the straps with a small round puck. The puck could then be moved from band to band similar to how other wearables such as Fitbit allow users to move the tracker from one band to another. It would also allow guests that prefer not wearing their magic band on their wrist to carry the puck in a pocket.
The move is likely a cost savings move as Disney would no longer need to purchase and include the technology components for each individual band. This is particularly true for the myriad of special event and limited edition MagicBand Disney World makes available.
For those guests how love to collect MagicBands and fear this is the end, I wouldn't lose too much sleep. One thing guests can count on is Disney will plan a complete line of merchandising items surrounding the new pucks. In fact, we wouldn't be surprised if "MagicPucks" (or whatever they end up being called) open up the door for all kinds of new wearable options; pin trading lanyards with a puck holder, cell phone cases with puck holders, etc. Once the MagicBand internal technology is easily transferrable, the options are endless.
Beyond the FCC posting there are no official announcements on timelines, but given the current cost savings focus at Disney World and the potential for entirely new lines of souvenirs and merchandise, expect Disney to move fast once testing is complete.
RELATED ARTICLE BELOW: 7 Reasons Disney World MagicBands are Awesome
7 Reasons Disney World MagicBands are Awesome
by Mike and Jamie Sylvester
MagicBands: the Disney accessory that people either love or hate. Admittedly, they had to grow on us since I (Mike) don't even wear a watch, but, from our experiences, we're full-fledged fans of MagicBands. From the time they arrive in the mail until our vacation is over, they are a constant reminder of our upcoming trip and a daily reminder of the access we have to the happiest place on earth (theme park access and resort access sold separately).  So, with so many haters (are we still using that word?), why do we think MagicBands are the bees knees? Read on, fellow Disney enthusiasts, and feel free to add your own!
1 – Entry
Back in the old days you needed your photo ID to enter your resort, a room key to access your resort room, and a theme park ticket to enjoy the attractions. Now, with a simple flick of the wrist  you can have your band scanned by a guard at the gate, be given the green light to enter your resort room, and light up that electric Mickey (green, not blue!) where you "leave today and enter the world of yesterday, tomorrow, and fantasy."  Now, I'm all for nostalgia and keeping some classics for future generations, but there's no need to keep digging into my wallet for IDs, keys, and tickets.
2 – FastPasses
Sweet Moses how great is this? You select your FastPasses ahead of time, scan your band, and smile as you walk by all the people who give you dirty looks as they wait. Sure, FastPasses aren't restricted only to MagicBands, but the convenience factor here deserves its own spot on our list. You can even reload your FastPasses after the initial three by finding a kiosk and swiping your wrist. Wearing your FastPass access means no fumbling for paper tickets that could get lost or worse….(see below)
3 – Waterproof/Sweat proof
This may come as a shock to you, but Florida is hot and humid. While some people glisten, I sweat… sometimes profusely. MagicBands are waterproof and sweat proof which means you don't have to worry about smudging your FastPass ticket or making one more step between you and the cool, refreshing resort pool. If you didn't want to, you really wouldn't have to take your MagicBand off. We strongly discourage this thought process as it would probably get disgusting.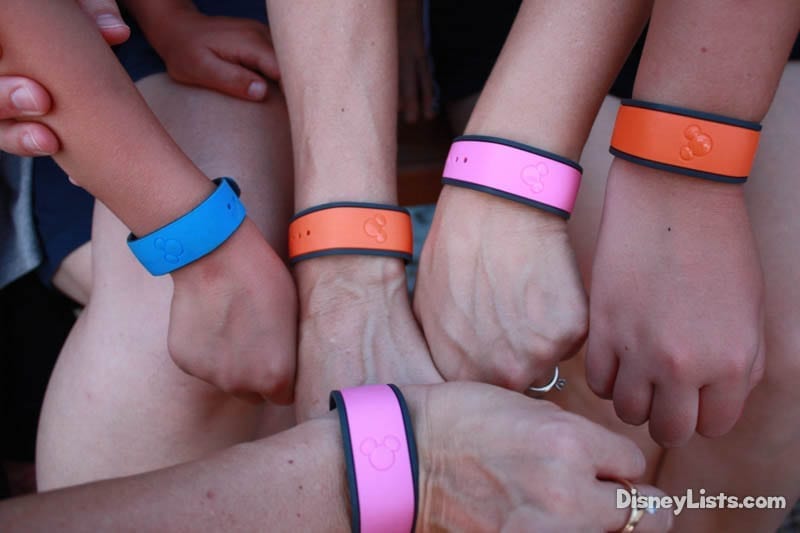 4 – Personal Payment Options
We all know Disney is smart. They're good at attracting people and even better at convincing them to spend even more money. MagicBands allow for a seamless purchase transaction where you don't even have to take out your credit card. By scanning your band and entering your personalized pin number your credit card is automatically charged. The convenience factor here is incredible and there is no worry about losing your card. Thus far in the list you have been able to leave your credit card, park ticket, and room key back in the room so there's almost no need for you to bring your wallet into the park! This is especially helpful at the water parks where you may not want to leave such valuables loose in your bag.
5 – PhotoPass
Again, we can label this as another convenience, but it's also another card you don't have to carry with you.  From character meet and greets, to favorite spots, and even ride photos, all can be linked to your profile with the scan of your MagicBand.  No more worries about combining all the different PhotoPass cards your family received throughout your trip. All MagicBands can be linked via friends and family so the sharing of photos is a breeze!
6 – Customization
Colors, Characters, Sliders, and Bandits, there's so much to choose from! You can customize, personalize, and prioritize your MagicBand based on your favorite characters, colors, and – if you find the right etsy shop – you can even find stickers for things like RunDisney and more! We have yet to indulge in the plethora of choices for personalized MagicBands, but we feel it coming soon. There's only so long I can resist R2-D2 bling on my wrist.  In the meantime, we've selected all of the different colors of the free bands you receive with resort reservations and even started making up names just to distinguish the new bands from prior ones.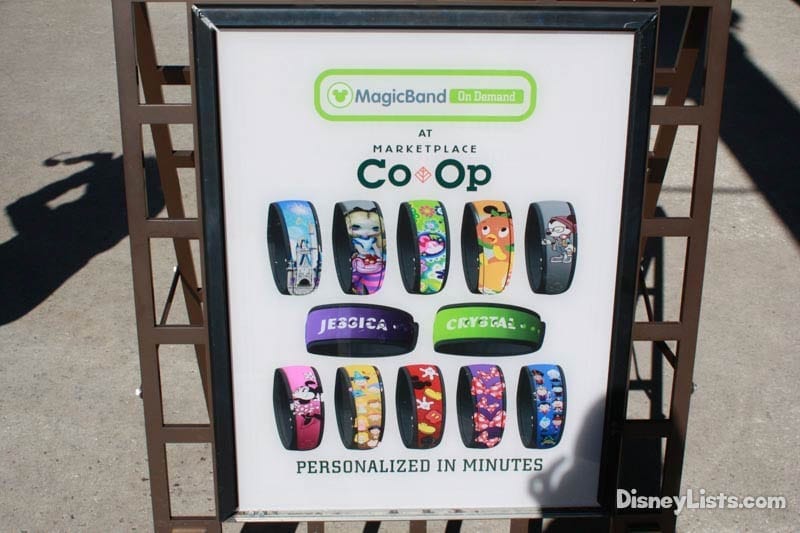 7 – Opportunity/Technology
MagicBands have made our Disney experiences even better just by the convenience and the occasional personal greeting from cast members as we enter the park or an attraction. The opportunities this technology provides can be used in more ways than it currently is and we're confident Disney is already planning for it. Think about it, how great would it be to give Mickey a hug while he welcomes you back by name and told you that he's missed you since your last trip 'X' years ago?  Freaky…maybe a little, but the first time our daughter was addressed by name by a cast member she was elated so we can only imagine the reaction she'll give when Queen Elsa calls her by name. On a more practical note, with the RFID technology we suspect that finding a specific band in the park might be possible. We know some people are afraid of big brother knowing their every move, but for us, it doesn't matter if Disney knows how many times we ride Space Mountain or which restrooms we enter. The location identification would be beneficial for a lost child to be quickly returned to their guardian.
The technology is quite impressive, but overall this list boils down to the convenience MagicBands offer. They make the little things about vacationing at Disney that much easier and we're thankful for them! What have you enjoyed about MagicBands?