Last updated at 1:00 pm on 10/6/2016
The Orlando area, including Walt Disney World, is now under a Hurricane warning as Hurricane Matthew continues to progress towards the Florida peninsula. The National Weather Service warns that the hurricane may hit Orlando with winds more powerful than Hurricane Charley that hit in 2004. Estimates for rainfall amounts in the area are vary from at 5-10″. However, for central Florida, including Disney World, wind will be the primary issue with maximum sustained winds possibly reaching 75+ mph. We visited Disney World shortly after Hurricane Charlie in 2004 and the damage in and around Disney World was extensive.
The storm is creating havoc for Floridians and the many visitors who have descended upon Central Florida for the Columbus Day holiday weekend. Here are the closings that have been released:
Walt Disney World Closings
Disney's 4 major theme parks will close Thursday, October 6 at 5:00 pm and remain closed Friday, October 7.
Mickey's Not So Scary Halloween Party at Magic Kingdom cancelled Thursday, October 6 and Friday, October 7.
Blizzard Beach and Typhoon Lagoon closed Thursday, October 6-Friday, October 7.
Fort Wilderness Resort and Campground closed through Sunday. Disney Cast Members began working early helping guests staying at Fort Wilderness find alternate lodging.
Hoop-Dee-D0o Revue and Mickey's Backyard BBQ cancelled through Sunday.
Spirit of Aloha Dinner show at Disney's Polynesian Village Resort cancelled Thursday, October 6 and Friday, October 7.
Characters in Flight at Disney Springs closed through Sunday.
Disney World resorts continues to operate under modified conditions but Disney says it's monitoring Hurricane Matthew. We will update this list as more information is released.
Orlando Area Theme Park and Attraction Closings
Universal Studios Florida, Universal's Islands of Adventure and Universal CityWalk will close today at 5 p.m. and remain closed Friday
LegoLand Florida  – Closed Friday
Sea World Orlando – Closing at 2 pm Thursday; Closed Friday
Discovery Cove – Closing at 2 pm Thursday; Closed Friday
Aquatica – Closed Thursday and Friday
Kennedy Space Center – Closed Thursday and Friday; Expected to reopen Saturday
Disney World, Universal and Sea World all closed for the first time ever in 1999 as Hurricane Floyd threatened Florida. The storm changed course and did not impact the area. In 2004, the big three closed during a string of hurricanes: Charley, Frances and Jeanne. Frances caused the most problems and closed several attractions for two days. Animal Kingdom and Disney's Hollywood studios (at that time MGM Studios) closed for three days. Charley only affected the parks for one day. Finally, in 2005 Disney and Universal closed briefly in 2005.
RELATED ARTICLE: Top 5 Tips for Dealing with Rain at Disney World
by Cindy N.
Rain, rain, go away, come again another day! Don't worry, it will. Florida may be known as the Sunshine State, but you may be surprised to learn that Central Florida has a lengthy rainy season. In fact, an afternoon thundershower is almost a daily occurrence. No, we aren't kidding. It rains nearly every single afternoon. The good news is it typically doesn't last more than an hour. An all day rainy day is truly rare.
This rainy period begins late May and lasts five months ending in October. If you are visiting Walt Disney World during this time, chances are you'll be dealing with rain so you might as well be ready for it. Here are the top tips for dealing with rain while visiting Walt Disney World.
5 – Plan for It
With all of the technology available to us today, keeping track of the weather forecast shouldn't be too challenging. Check the forecast at least 10 days before your trip. Keep checking it. When you arrive at Disney, check the forecast again. You get the idea. While not 100% accurate, you'll at least have some idea of when the storms might hit. Generally, the daily thunderstorms hit during the late afternoon. When planning for your Fast Passes, choose late afternoon slots for any of the indoor attractions that you want to see. That way, you'll skip the line when everyone else heads indoors. Which leads us to…
4 – Head Indoors
If you don't want to get wet during the rain, the obvious choice is to head indoors. Thankfully, there are plenty of indoor attractions. Here are a few of the indoor attractions at each park:
Magic Kingdom: Mickey's Philharmagic, The Laugh Floor, The Carousel of Progress, Buzz Lightyear Space Ranger, The Haunted Mansion, Pirates of the Caribbean
Animal Kingdom: It's Tough to Be a Bug, The Lion King Show, Nemo-The Musical, Dinosaur
Epcot: The Seas with Nemo and Friends, Living with the Land, Soarin, Test Track (the wait at least), Mexico Pavilion, O! Canada, The American Adventure, Ellen's Energy Adventure, Mission Space, Reflections of China, Spaceship Earth
Hollywood Studios: Rockin' Roller Coaster, Tower of Terror, The Great Movie Ride, Toy Story Mania, Muppet Vision 3D, Star Tours
3 – Get the Right Rain Protection
Even if you head indoors for an attraction, you may not be able to avoid being out in the rain. The difference between soaked and damp may be the difference between a happy family and a miserable one. The right rain protection can make all the difference.
If you already own rain gear, bring it with you. Always. Even if there is no rain in the forecast, bring the rain gear. Florida weather is famously finicky, and we've been known to have a monsoon when there was 10% chance of rain. Around here, 10% chance of rain means there's a 10% chance you'll need a small watercraft along with your umbrella.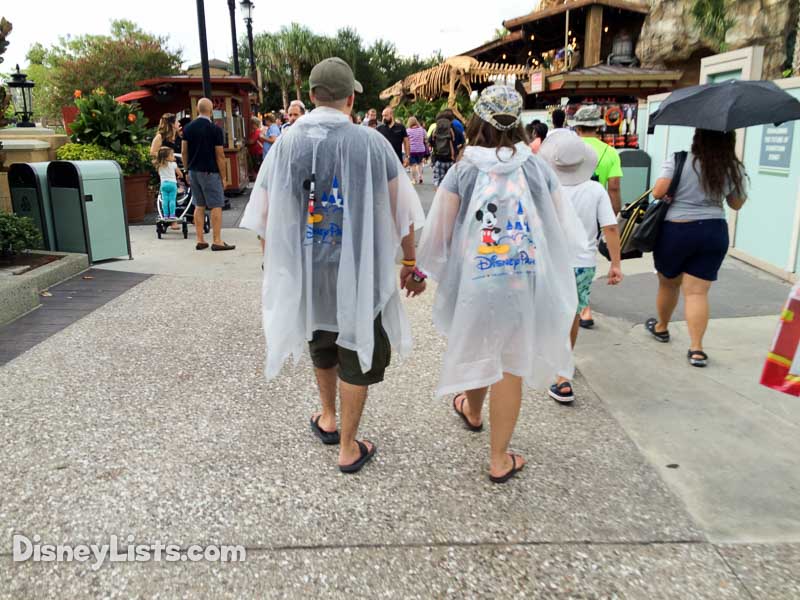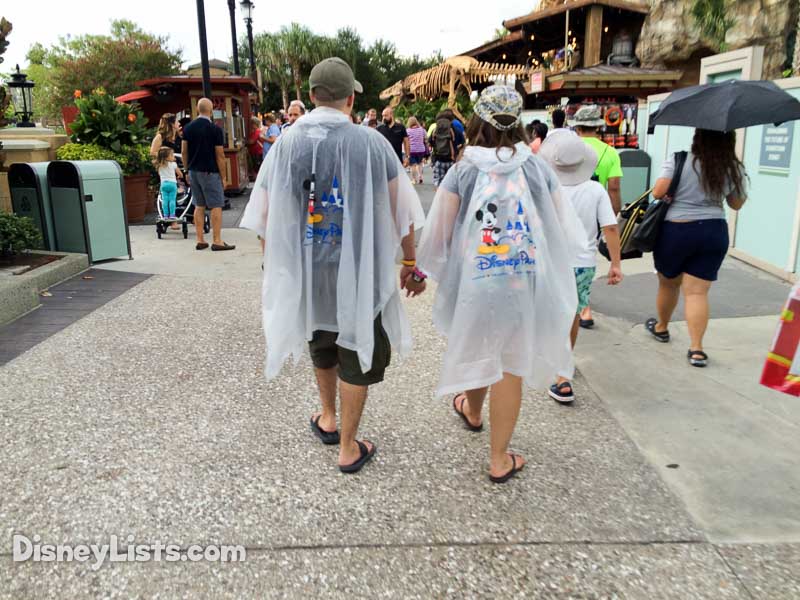 The simplest and cheapest rain gear option is the famous rain poncho. You can buy a poncho at Walmart before you come. Or if you want Mickey on your back, Disney will be happy to sell you a Disney Parks poncho. Ponchos are excellent choices because they take up very little space in your bag.
2 – Just Get Wet
Another option is to simply go play in the rain! For the serious park goer, a rainy day is a perfect time to visit the parks. The crowds are usually smaller and the lines will be significantly shorter. When everyone else is hiding in their hotel room, you could be getting extra spins in on Dumbo. I've seen plenty of families just enjoy the rain! It's a lot of fun to see people act like kids by splashing in puddles and having fun getting wet!
1 – Expect the Rain and Be Thankful
The best tip I can give you is to expect rain and decide ahead of time to not let it ruin your vacation. Rain happens. Wet things dry. Don't let the rain ruin your day. In fact, I think you can be thankful when it rains. I've lived in the Orlando area for five years now and have experienced the very hot and humid summers. I've come to love the daily rain and thunderstorms because they bring clouds! And what do clouds do? They block the intense heat of the sun! It is HOT in Orlando, but clouds and rain bring relief from the heat. With the right about of planning and proper expectations you might find yourself thankful for the rain as well!
How about you? What are your tips for dealing with rain at Disney World?