Slideshows
Top 10 Q & A About Magic Kingdom Park at Disney World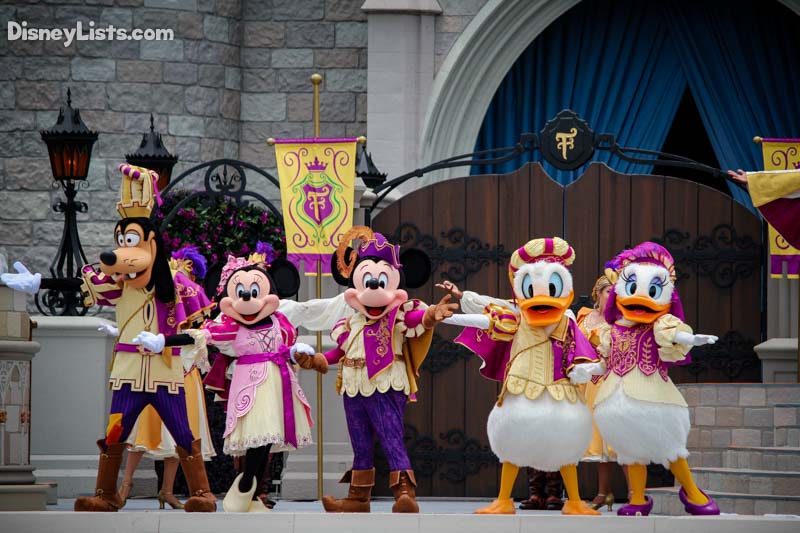 5 – Is There Special Entertainment?
Disney World's Magic Kingdom features plenty of amazing attractions and experiences to enjoy as well as some unique entertainment that can't be missed. From the perfect way to kick off a day in the park to interacting with a pirate or barber shop quartet, there are some amazing entertainment experiences that guests can't skip when visiting the Magic Kingdom. One of the most popular entertainment experiences in the Magic Kingdom is a barbershop quartet. The Dapper Dans can often be spotted around Main Street in matching shirts with white and colorful strips and dapper looking hats. The Dapper Dans pause frequently to serenade guests with songs from American history as well as classic Disney tunes.
Mickey's Royal Friendship Faire, the newest stage show at Magic Kingdom in Disney World, is presented multiple times per day. There is lots of dancing, story-telling, and fireworks. Goofy has invited Tiana and friends from the Land of the Bewitching Bayous to infuse a little spice of New Orleans jazz in the party. Donald Duck brings some new friends he met at the Snuggly Duckling from the Land of Enchanted Woods to shake their tail feathers. Daisy has asked Rapunzel and Flynn to "comb" over and sing along. Mickey even recruited Olaf, Anna and Elsa from the Land of the Mystic Mountains to cast some extra cool touches! This grand affair culminates in the joining of classic and contemporary Disney Characters in a spectacular show. You won't want to miss it!
Each evening, the Magic Kingdom is home to a touching ceremony which occurs in Town Square at the start of Main Street. The Flag Retreat happens at five o'clock each evening and often includes the participation of a guest who served in the military. With patriotic songs playing, guests can stand by and salute as the American flag is lowered down the flag pole to be safely stored for the night.