The highly anticipated Indian Jones themed lounge, Jock Lindsey's Hangar Bar, opens tomorrow. Today, Disney released the full food and drink menu for the location. The first thing fans of the franchise will notice are the nods to great Indy moments in the names of the appetizers and mixed drinks. We're also glad to see a respectable line up of craft beers including several local breweries. The food menu is limited as this, of course, is a lounge not a restaurant. But that doesn't mean all you can expect are stale pretzels and overly salty peanuts. The menu items look and sound delicious.
Located next to The Boathouse, the Hangar shares a prime waterfront location and (as usual) spectacular theming. Featuring food and drinks inspired by Jock's (Indian Jones's pilot) globe-trotting to all continents – everything from a Hovito Mojito to Dr. Elsa's She-Deviled Eggs. The Hangar is stocked full of airplane parts and mementos from Jock's travels around the world.
The story goes like this. Jock made a home at this waterfront property in the 1940s after discovering this charming little town while flying Indiana Jones over the Sunshine State in search of the elusive Fountain of Youth in 1938. As a member of the Society of Explorers and Adventurers, Jock often welcomed his globetrotting friends to his hangar for a drink and fun times. Now Jock and Indy may be gone, but his legendary adventures live on at this exotic watering hole. And that's what gives the place its charm – and a creative menu of adventurous tastes.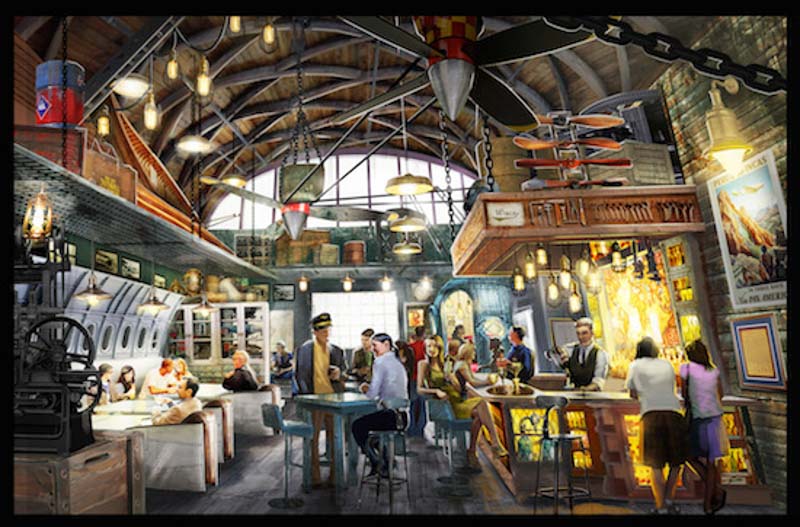 We definitely look forward to our first visit to The Hangar and will post a review and photos as soon as possible. For now, enjoy picking out what you'll try first.
Appetizers
Good Dates – Goat Cheese-stuffed Dates served with Marcona Almonds and Pickled Vegetables…safe for the whole family! – $8.99
Rolling Boulders Sliders – Three Spicy Meatball Sliders served with Yogurt Sauce – $9.99
Snack of Ra – African Salads and Dips with Injera and Naan Crisps designed to satisfy a well of souls – $11.99
Air Pirate's Pretzels – A flight of Everything Pretzels with House-made Mustard and Beer-Cheese Fondue – $8.99
Tanis Tacos – A Lost City Specialty!  Filled with Falafel, Shredded Lettuce, and Cucumber-Tomato Salad – $9.49
Dr. Elsa's She-deviled Eggs – No father or son can resist these Beet Juice-brined Eggs stuffed with Lump Crab – $7.99
Brody's Brats – Grilled Bratwurst served with Mustard and Pickled Cabbage.  Worthy of a museum – $9.49
Lao Che's Revenge – Spicy Asian Sticky Wings direct from Club Obi Wan – $12.99
"Squid! Why'd it have to be Squid?" – Fried Calamari Flatbread with Harissa Spread – $14.99
Signature Libations (Non-Alcoholic)
Antidote – Sprite® and Maraschino Cherry Juice
Teddy's Tea (Non-Alcoholic) – Green Tea with Mint and Tangerine
Poisonless Dart – Soda Water with Mint, Simple Syrup, and fresh Lime Juice
Diving Bell (Non-Alcoholic) – Simply Lemonade® and Watermelon topped with a Lemon-Lime Foam
Signature Libations (Alcoholic)
Anything Goes – byejoe dragon fire spirit, fresh Lime Juice, Passion Fruit, and Pineapple Juice
Shorty's Singapore Sling – Plymouth Gin, Heering Cherry Liqueur, Bénédictine, Cointreau, fresh Lime Juice, Pineapple Juice, and Grenadine
Bedtime Story – Absolut Mandrin Vodka, Domaine de Canton Ginger Liqueur, Hibiscus Syrup, fresh Lemon Juice, and Iced Tea
The Scottish Professor – Monkey Shoulder Blended malt Scotch Whiskey, Hendrick's Gin, Pear Nectar, Simple Syrup, and fresh Lemon Juice
German Mechanic – Bavarian Radler a.k.a. "Shandy" with Paulaner Hefe-Weizen and Simply Lemonade®
Hovito Mojito – Barson Quebranta Pisco, fresh Lime Juice, Mint, and Simple Syrup topped with Soda Water
The Bitter Barkeep – Barsol Quebranta Pisco, Simple Syrup, and fresh Lime Juice.  Contains Pasteurized Egg Whites
Cool-headed Monkey – Starr African Rum, Van Der Hum Tangerine Liqueur, fresh Lime Juice, Watermelon, and Pineapple Juice
Safari Sangria – South African Red Wine with Van Der Rum Tangerine Liqueur
Air Pirate's Mule – Knob Creek Disney Select Single Barrel Reserve Bourbon and fresh Lime Juice topped with Fever-Tree Ginger Beer
Pancho's Margarita – Don Julio Reposado Tequila, Grand Marnier, and fresh Sweet-and-Sour
Wrong Island! – Siesta Key Silver Rum, Tito's Handmade Vodka, Tamiami Gin, Tippler's Orange Liqueur, and Sweet-and-Sour with a splash of Coca-Cola®
Bam's Barnstormer – byejoe dragon fire spirit, fresh Lime Juice, Passion Fruit, and Pineapple Juice
Hail Marty – Colonel E.H. Taylor, Jr. Single Barrel Straight Kentucky Bourbon Whiskey bottled in Bond served with an Ice Sphere
Fountain of Youth – St. Augustine Florida Cane Vodka, Bols Blue Curaçao, White Cranberry Juice, and Sweet-and-Sour
Reggie's Revenge – Florida Cane 'Orlando Orange' Vodka, Midori Melon Liqueur, White Cranberry Juice, and fresh Lime Juice
Bottled Beer & Hard Cider
Boulevard Tank 7 Farmhouse Ale – Kansas City, MO
Sierra Nevada Pale Ale – Chico, CA
Cigar City Maduro Brown Ale – Tampa, FL
Xingu Black Beer – Brazil
St. Bernardus Abt 12 Abbey Ale – Belgium
Florida Beer Devil's Triangle IPA – Cape Canaveral, FL
Lagunitas IPA – Petaluna, CA
Left Hand Milk Stout – Longmont, CO
Angry Orchard Crisp Apple Cider – Cincinnati, OH
Ace Pineapple Hard Cider – Sebastopol, CA
Draft Beers
Kingfisher Lager – India
Paulaner Hefe-Weizen – Germany
Sweetwater 420 Extra Pale Ale – Atlanta, GA
Orlando Brewing I-4 IPA – Orlando, FL
Bubbles
Nicolas Feuillatte Brut Champagne, Épernay
Nino Franco Rustico Prosecco di Valdobbiadene, Veneto
White Wines
Selbach-Oster Riesling Kabinett, Mosel
Batasiolo Moscato D'Asti Bosc, Piedmont
King Estate Pinot Gris, Oregon
Bellingham Citrus Grove Chenin Blanc, South Africa
Montes Limited Sauvignon Blanc, Leyda Valley
Conundrum, California
Casa Lapostolle Cuvée Alexandre Chardonnay, Casablanca Valley
Jackson Estate Chardonnay, Santa Maria Valley
Flowers Chardonnay, Sonoma Coast
Red and Rosé Wines
Château Miraval Rosé, Provence
Meiomi Pinot Noir, California
Bodega Charcra Barda Pinot Noir, Patagonia
Santa Ema Reserve Merlot, Maipo Valley
Northstar Merlot, Columbia Valley
De Torten Z Red Blend, Stellenbosch
Jam Jar Sweet Shiraz, Western Cape
Concha Y Toro Marques de Casa Concha Cabernet Sauvignon, Maipo Valley
Robert Mondavi Winery Cabernet Sauvignon Oakville, Napa Valley
Stag's Leap Wine Cellars Artemis Cabernet Sauvignon, Napa Valley
Dessert Wines
Innskillin Vidal Icewine, Niagara Peninsula
Graham's 20 yr Tawny Port, Portugal
Flights
Aviator's Flight – ¾-oz pout of each Single Malt Scotch Whisky – The Macallan 12 yr Speyside, Highland Park 12 yr Orkney Islands, and Bowmore 12 yr Islay
Sake
Gekkeikan Horin Junmai Daiginjo Sake – Japan