Walt Disney World has many excellent dining options, but some restaurants are more popular than others.  Getting a reservation at these locations can be difficult no matter what time of year it is. Dining reservations can be made 180 days in advance, so if one of these 5 locations is on your list, make sure you are ready to book first thing at the 180-day mark!
5 – Be Our Guest Restaurant
Be Our Guest is the Magic Kingdom's newest dining location. The restaurant opened in 2012 as part of the New Fantasyland expansion of Magic Kingdom and is themed after the Disney Classic, Beauty and the Beast, and the name comes from the song "Be Our Guest" featured in the film. The location serves a Quick Service lunch and a Table Service dinner with reservations being required for each. There is also a quick-service breakfast that alleviates some of the demand for reservations. Since opening, this location has become a challenging location on property to obtain a reservation for.
The restaurant itself is comprised of three themed rooms; The Ballroom, home to the scene where Belle and the Beast dance, The West Wing and a Gallery room filled with paintings and a music box with Belle and Beast figures. The décor is medieval, just as if you had stepped into the Beast's castle. The food is French-inspired, and advance ordering allows you to pre-select your choices for breakfast and lunch. If you pre-select, when you check-in at the restaurant you will be directed to a table, and your food will "magically" find you.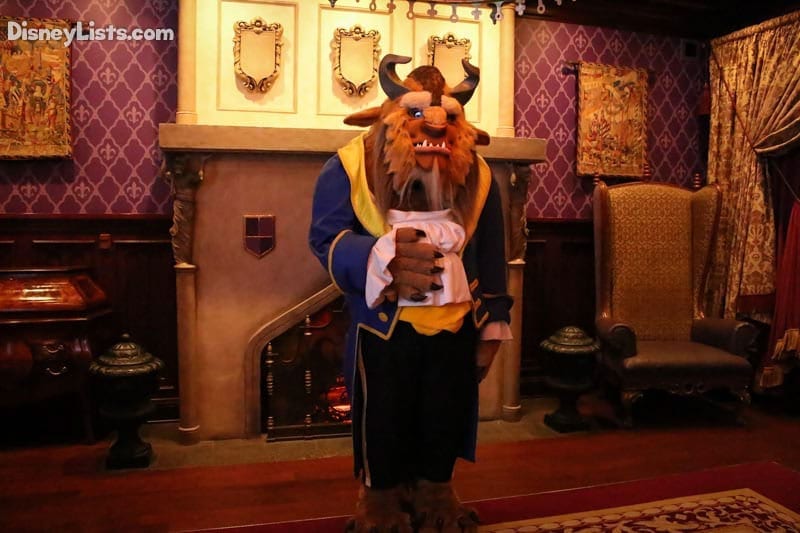 Breakfast options include Eggs Florentine, vegetable quiche, the Croque Madame – an open face sandwich featuring ham, eggs, gruyere cheese and béchamel, and the croissant-doughnut – a fried donut with banana caramel sauce. Kid-friendly items are also available.  Popular lunch options include a roast beef sandwich, braised pork, the Croque Monsieur- a grilled ham and gruyere cheese sandwich and a carved turkey sandwich. Also available is Potato leek and French onion soup. Both breakfast and lunch are considered a quick service meal on the Disney Dining Plan.  Dinner appetizers include Mussels Provencal, French onion and potato leek soup, salad, and a selection of cured meats and sausages.  Entree items such as braised pork, pork rack chop, strip steak, shrimp and scallops, and herb-crusted lamb.
Dinner will require two table service credits per person on the Disney Dining Plan.  But one of the best items on the lunch and dinner menus is dessert! Be sure to save some room!
4 – Cinderella's Royal Table
Cinderella's Royal Table has been consistently the most difficult reservation to book at Walt Disney World. This restaurant gives guests the opportunity to dine inside Cinderella's castle for breakfast, lunch or dinner with Cinderella and her visiting princess friends. The characters will come around to each table to sign autographs and take photos.  The restaurant is small offering a limited number of tables, and reservations need to be made at the 180-day mark in many cases. This restaurant requires two table service credits per person on the Disney Dining Plan. This location is popular with families with young children, but also those looking to celebrate a special occasion such as a birthday or anniversary. So many proposals have occurred at this location, they even offer special proposal packages.
Breakfast entrees feature items such as stuffed French toast, a traditional breakfast platter featuring eggs, bacon, sausage and potatoes, poached lobster and shrimp and a quiche.  Kid's options include French toast sticks or a cheese frittata. Lunch and Dinner feature royal entrees such as pork tenderloin, chicken, steak and shrimp and the chef's fish of the day. Kids can enjoy beef tenderloin, chicken nuggets or grilled chicken.  Many young girls will dress up in their finest princess attire for this location and children under 9 will receive a special wand or sword.
3 – Le Cellier Steakhouse
Le Cellier is located in the Canada pavilion of Epcot's World Showcase. The restaurant theme will take you into the cellar of Canadian château complete and featured entrees and dishes from each of the provinces of Canada. This location is open for lunch and dinner and is a Signature Dining location requiring two table service credits per person from the Disney Dining Plan.  A fan favorite from this location is the Canadian cheddar cheese soup. Entrees include a New York strip steak, Bison strip loin, Alaskan Halibut, the Le Cellier filet mignon, a sirloin noodle bowl, and a Boneless Rib-eye.  Assorted cheeses and a variety of poutine- a dish of fries and cheese curds are also available on the menu.  Finish off your meal with a grapefruit-ginger cake or a maple crème brulee.
This restaurant is another small location with limited tables, be sure to make dining reservations near the 180-day mark. If it is past this time or near your travel dates, try for a late lunch instead of early dinner.
2 – 'Ohana Dinner
While 'Ohana at Disney's Polynesian Village Resort serves both breakfast and dinner, it more recently has become increasingly difficult to find a reservation for dinner.  Dinner served at 'Ohana is a wonderful Hawaiian style meal and is an all you care to eat location where the food is brought to your table by your server.
Guests start their meal with a pineapple-coconut bread and salad. Appetizers include honey-coriander chicken wings and pork pot stickers. The main course is chicken, shrimp and sirloin steak cooked over an oak fire, brought to you on large skewers by your server. Side dishes include stir-fried vegetables and teriyaki noodles.  You can ask your server for more of anything you like, so if you walk away hungry it is your own fault! Dessert is the 'Ohana bread pudding with a banana-caramel sauce and vanilla ice cream.
This great location only requires one table service credit per person on the Disney Dining Plan. Another great thing about this restaurant is the entertainment provided.  An entertainer plays the ukulele, performing traditional Hawaiian songs and teaching the hula. If your reservation is near the time of Happily Ever After fireworks at the Magic Kingdom, request a fireworks view at the podium when you check in. Although it is not guaranteed if they will do their best to honor your request. WhenHappily Ever After begins the lights will dim in the restaurant and the music from Happily Ever After will be piped in.  While not as challenging to get as some of the others on this list, if you do want to dine here be sure to make reservations as close to the 180-day mark as possible! Otherwise, if you are open to dining at a late hour, reservations are sometimes found after 9 pm.
1 – Chef Mickey's
Chef Mickey's is a character dining buffet restaurant located at Disney's Contemporary Resort.  You can even see the monorail as it travels through the building and above the restaurant. This location offers breakfast and dinner and features characters such as Mickey, Minnie. Pluto, Goofy, and Donald Duck. The characters will come around to your table for photos and autographs.  Periodically the characters will lead the restaurant in lively singing and dancing. Feel free to wave your napkin in the air with everyone else!
Food is served buffet-style with a variety of options for all guests. Breakfast favorites such as eggs, bacon, sausages, cheese blintz, fruits, breakfast pizza, French toast, and the famous Mickey waffles are available. Dinner options include assorted salads, carved meats, salmon, pork ribs, eggplant parmesan, chicken nuggets, macaroni and cheese, mini corn dogs and assorted desserts.  This location requires one table service credit per person on the Disney Dining Plan. A new offering of brunch from 11:30 am to 2 pm has opened more availability for this location so you may have luck finding a reservation if you don't mind dining during a non-peak time of day.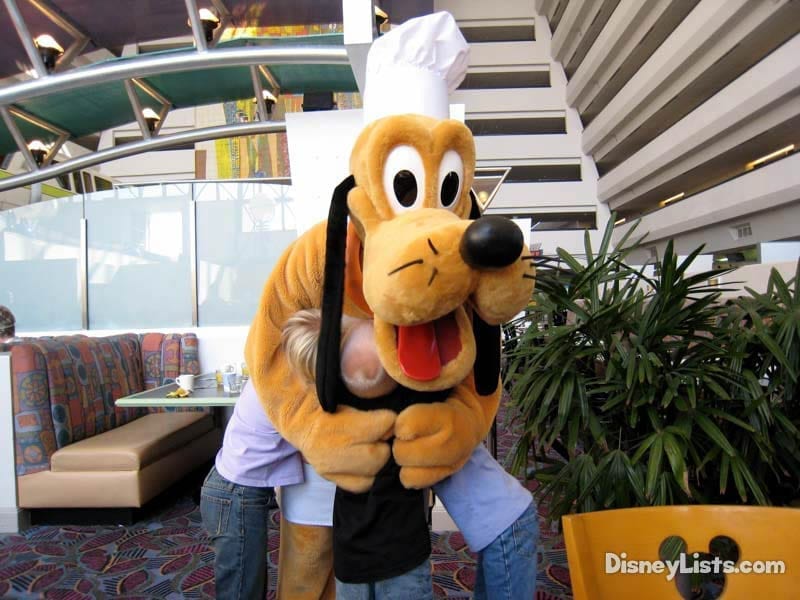 If you are unable to get a reservation at any of these locations, it is recommended that you keep checking as people will cancel as their plans change. For the character dining meals there are additional character dining opportunities on property, so you can still get a great meal and dine with the characters.  If you speak to a Cast Member, they may be able to recommend restaurants with similar food as well.  If your heart is absolutely set on one of these locations and you cannot get a reservation, you can always try to walk up to the restaurant, but be prepared to be turned away. I recommend going to the restaurant right at the opening of that particular meal service. Typically, around 7:30 am for breakfast, 11 am for lunch or 4 pm for dinner. Do check opening times in advance as different restaurants have different meal periods.  Have you dined at any of the 5 hardest restaurants to get a dining reservation for?
For a no obligation, FREE Quote on a Disney vacation package, please contact our travel partner Magical Vacation Planner at 407-442-0227 (407-442-0215 for Spanish). You can also request a FREE quote online by Clicking HERE.