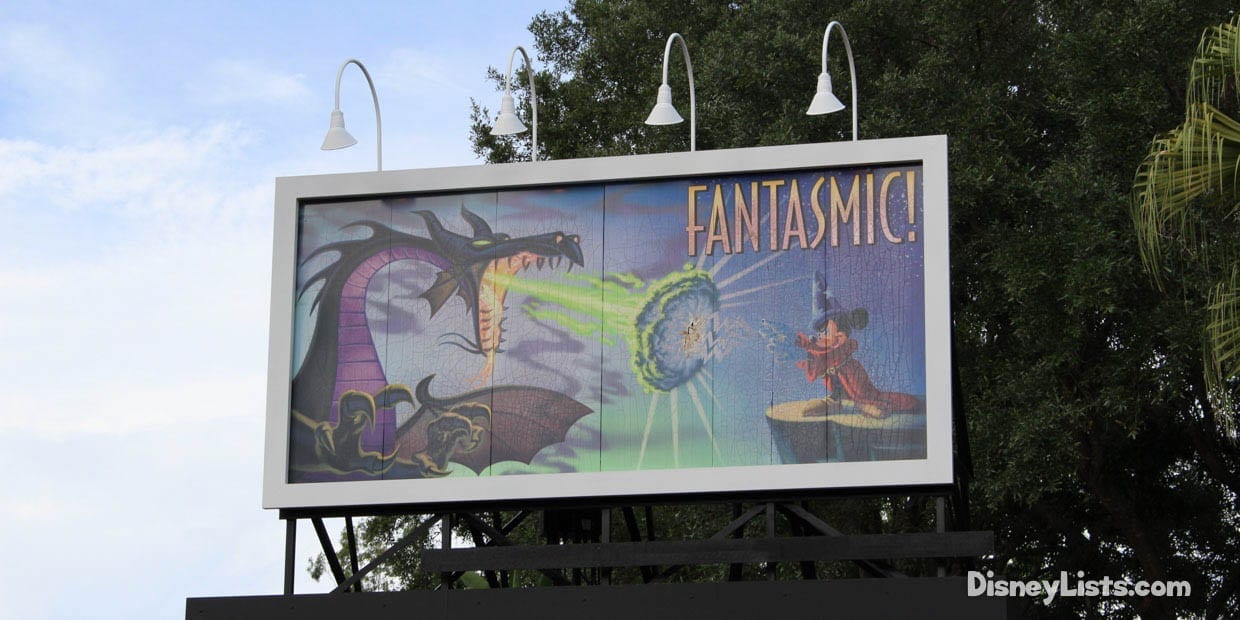 Fantasmic! is the nighttime spectacular at Walt Disney's Hollywood Studios. Unlike the nighttime fireworks shows at Magic Kingdom and Epcot, it takes place inside an open-air theater similar to the nighttime show at Animal Kingdom. While the theater is quite large, it often fills to capacity during peak season. Mickey Mouse shows the power of imagination as he battles classic Disney Villains who wish to turn his dreams into a nightmare!  The 26-minute show features live performers, dancing water effects and pyrotechnics. You don't want to miss this experience! Here are 10 things you need to know to make sure you enjoy Fantasmic!
10 – Check the Times Guide
You will want to check the Times Guide as showtimes can vary throughout the year. During busy seasons, Fantasmic! is typically offered every night and has two showtimes each evening. During slower times of the year, there will be only one showtime each night. Additionally, during the slowest times of the year Fantasmic is only offered on specific days. Guests wishing to see the show will want to plan ahead and visit Disney's Hollywood Studios on days when Fantasmic! will be presented.
9 – Obtain a Fastpass
Fantasmic! is available as a Fastpass+ selection. Having a Fastpass will eliminate the need for you to get in line 45 minutes to 1 hour before showtime to ensure you get a seat. If other attractions are important to you, you may want to make your three original selections for earlier in the day, and then after you have used your three Fastpass+ selections you can book Fantasmic! on the MyDisney app or at an in-park kiosk. Remember that additional Fastpass+ selections are based on availability and specific attractions or shows could be unavailable.
8 – Book a Fantasmic! Dining Package
If you do not want to book a Fastpass or risk the chance of it not being available later on in the day, there is another option to get reserved seating for the show. There are several Fantasmic! lunch or dinner packages available. Restaurants include Hollywood & Vine, The Brown Derby and Mama Melrose's Ristorante Italiano.  These packages include reserved seating for the show and can be booked online or by calling 407-WDW-DINE.
7 – Check the weather
While other nighttime shows will still operate during rain, because Fantasmic! features live performers the show may be delayed or canceled due to inclement weather. If Fantasmic! is canceled there will not be any refunds for guests who had purchased the dining package.  If Fantasmic! is a must-do for you, check the weather forecast and plan your Disney's Hollywood Studios visit accordingly.
6 – Arrive early
If you did not obtain a Fastpass+ or book the dining package and you still want to experience the show you still can by waiting in the stand by line.  If there is only one show time or you wish to see the first show be sure to arrive early. Guests will begin lining up 45 minutes to 1 hour before showtime on Sunset Boulevard. Don't worry though, there is some pre-show entertainment, concession stands and restrooms inside the theater area.
5 – Attend the second showtime
If you are at Walt Disney's Hollywood Studios on a day where there are two Fantasmic! showtimes it is recommended that you attend the second show. This show will be less crowded, and you are more likely to get a seat. Plan to arrive about 30 prior to showtime for the second show.
4 – Food and Drink is permitted in the theater
While the theater offers concession stands, if you are looking for something more than popcorn and soft pretzels you may want to grab food from Rosie's All American Café or Fairfax Fare across from the entrance of the theater before entering.  This may provide an option for a late dinner while you are waiting to catch the show.
3 – Bring your stroller with you in line
If you have a stroller, there is no need to park it outside the theater entrance on Sunset Boulevard. Once you begin heading into the theater there will be designated stroller parking before you enter the seating area.
2 – You may get wet!
Seating is on a first come first serve basis, but know that if you sit in the first few rows, you may get wet from the water features.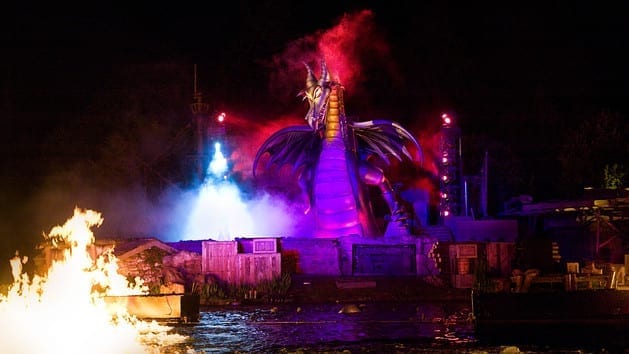 1 – Don't leave before the finale!
The finale of Fantasmic! is one of the best parts of the show; however, many guests begin to leave the theater before the show has finished. They think the show is wrapping up, and they want to get out before the crowd, but they miss some of the best 3-4 minutes of the whole show! Stay until the end, and you won't be disappointed!
Fantasmic! is a unique nighttime spectacular offering so much more than just fireworks. Be sure to follow these tips to make the most of your experience and enjoy the show.
For a no obligation, FREE Quote on a Disney vacation package, please contact our travel partner Magical Vacation Planner at 407-442-0227 (407-442-0215 for Spanish). You can also request a FREE quote online by Clicking HERE.