If you're planning to stay on property during your next Disney World vacation, you are in for a treat. Disney World is so much more than just the four parks, and Disney World resort hotels are so much more than just a place to sleep and shower. Staying on property adds an entirely different dimension to your experience. There are a lot of other reasons to stay on property as well. For a detailed breakdown on the reasons you should stay in a Disney World hotel click here.
One of the most critical factors for many people in choosing a resort is the pool area. If you've visited with young children, you know they don't care about the hundreds of dollars you spent on tickets, they want to play in the pool. For adults, a couple hours at the pool with a good book and an adult beverage or three can be the highlight of the trip. No matter what your motivations, like the watering holes on the savannah, the pool is where we gather. Here are the top 5 pools at Disney World.
5 – Art of Animation
You might think that Disney World only offers amazing pools at their deluxe resorts, but you'd be wrong. Art of Animation, a resort in the Value Category, features an outstanding pool at value prices. The Big Blue Pool (main resort pool) is the largest pool on Disney property. Themed around Finding Nemo, there's plenty of fun to be had here. There's also a splash zone for hours of play, and a dry playground as well. However, to experience the coolest part of this pool, you'll need to go underwater. Just in case you haven't had enough Disney music, Big Blue features underwater speakers!
There are two other smaller pools at this resort themed after Little Mermaid and Cars. The Cozy Cone Pool (Cars) actually has cone-shaped cabanas. Among resorts in the Value Category, this one tops the list for pools. Be aware, pools at the Value Resorts do not have slides. This is the one big downside.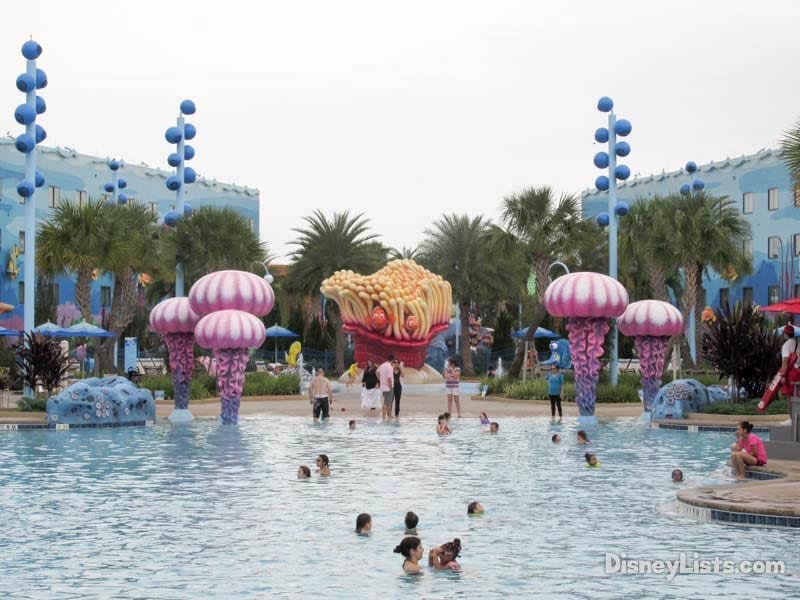 4 – Port Orleans Riverside
If having fun at the river with Tom Sawyer sounds like fun, then this is the resort for you. The main resort pool is located on 3.5 acre Ol' Man Island. The pool feels more like a day down by the lake with fantastic theming consistent with the resort and nestled in among lots of trees. There's a sense of seclusion at this pool that you don't get being in the middle of the hustle and bustle of most other Disney hotels. But don't think this is a boring pool. No. There are multiple water features to play in and the 95-foot water slide is among the best of any Disney World resort. There is a hot tub and pool bar as well.
3 – Yacht & Beach Club
Honestly, this can hardly be called a pool. It's not. The pool at Yacht & Beach Club is Disney World's unofficial third water park. Called Stormalong Bay, the pool area is actually multiple pools ranging from calm and secluded to swirling adventure. Stormalong Bay also includes a sandy beach area for castle building connected to a sand bottom pool for a real beach feel, an elevated tanning deck, and 3 whirlpool spas. Still not impressed? How about the tallest resort water slide built into a life-sized shipwreck? How about a LAZY RIVER to float around? Yeah, seriously, this pool has one.
Another plus is having one of the better pool area restaurants. No need to stop the fun and pack up for lunch. This is a hotel pool you not only can spend the whole day at, but you'll also want to. If pool time is the highlight of your trip, then this is the place you'll want to stay. Stormalong Bay is shared by Yacht Club, Beach Club and Beach Club Villas (DVC). Warning, don't plan on pool hopping from another resort. You must be a guest at this resort to using Stormalong Bay, and this is strictly enforced.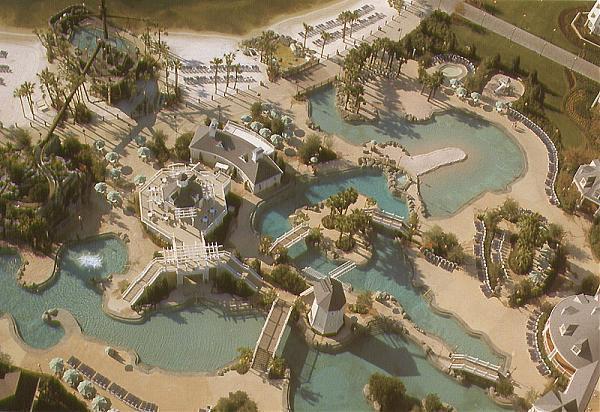 2 – Fort Wilderness Resort
While the pool is on the smaller side for this list, it's everything around the pool that makes this resort great. The Fort Wilderness pool area is a recreation wonderland. Like all other Disney pools, the water is wet and refreshing. There is a hot tub, a slide and a water playground for the toddlers. But attached to the pool is where things get exciting. Next, to a large field, every day brings exciting field games led by the resort activity staff. You can also go fishing, rent a canoe or take a bike ride. For the aspiring Hunger Games contestants, there are even archery lessons in the afternoon. For more information on recreation click here.
1 – Animal Kingdom Lodge & Villas
One of the more underrated resorts at Disney World is the Animal Kingdom Lodge & Kidani Villas. It's a shame because it has one of the best pool areas in all of Disney World. There are actually two main pool areas for guest to enjoy; Uzima Pool at the Main Lodge and the Samawati Springs pool at the DVC Villas. With incredible theming at both, you'll feel like you are enjoying a luxurious African oasis. As a deluxe resort, the pool at the Main Lodge has a great slide and pool bar. Plus, where else are you going to be able to swim with giraffes? Note: the giraffes don't actually swim; the pool isn't deep enough.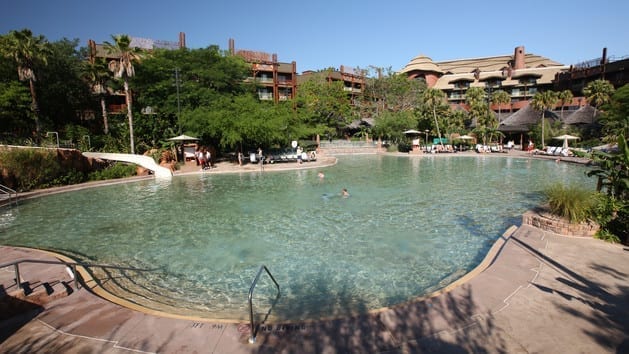 Head over to Kidani Villas on the DVC side for what I think is the best resort pool on property. Samawati Springs features a 128-foot waterslide! Attached to the pool area is also Uwanja Camp, a huge water playground with bubbling geysers, plenty of things to climb and play on and water cannons. The camp is split up into 3 zones for children of different ages. It's the most extensive and entertaining water playground outside of the water parks.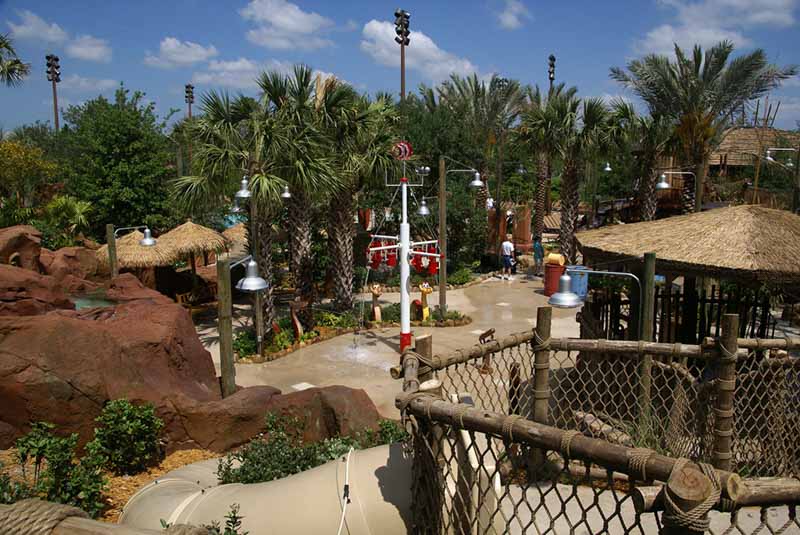 Choosing a resort can be stressful. It's an important part of the overall experience and there are lots of factors to consider. The pool tends to be at the top of the list for a lot of people. But there are other considerations as well. For more help on making the decision you can find detailed information on Disney Worlds different resort categories here.
For a no obligation, FREE Quote on a Disney vacation package, please contact our travel partner Magical Vacation Planner at 407-442-0227 (407-442-0215 for Spanish). You can also request a FREE quote online by Clicking HERE.