Epcot's World Showcase is home to 11 different countries, each with their own exhibits and dining locations. This gives you a great opportunity to sample food from around the world while you are visiting. Some snacks are light bites while others can be shared or eaten as a meal! There are so many great food options to choose from, and it was hard to narrow down this list to only a few.
10 – Nudel Gratin – Germany
If you are a fan of Mac and Cheese you won't want to skip this one. Nudel Gratin can be ordered at Germany's Sommerfest, the small quick service located next to the entrance to the Biergarten Restaurant.  This dish is noodles and cheese in a thicker casserole type serving, pair it with a soft pretzel and you can round out your carb lover's meal! This item is available as a snack credit on the Disney Dining Plan.
9 – Green Tea Ice Cream – Japan
Green tea ice cream can be found at Kabuki Café in Japan. This stand also is famous for it's Kakigori, a shaved ice topped with fruit syrup, but the green tea ice cream is a lesser known treat.  It has a creamy texture and the taste of green tea isn't overpowering. This item is available as a snack credit on the Disney Dining Plan.
8 – Croque Glacé- France
The Croque Glace is found at L'Artisan des Glaces in the France pavilion. This treat is similar to an ice cream sandwich, but a little different.  Start by choosing your favorite ice cream or sorbet flavor, then that is sealed with chocolate or raspberry sauce in a warmed brioche.  The hardest part will be choosing which flavor combination you want to try.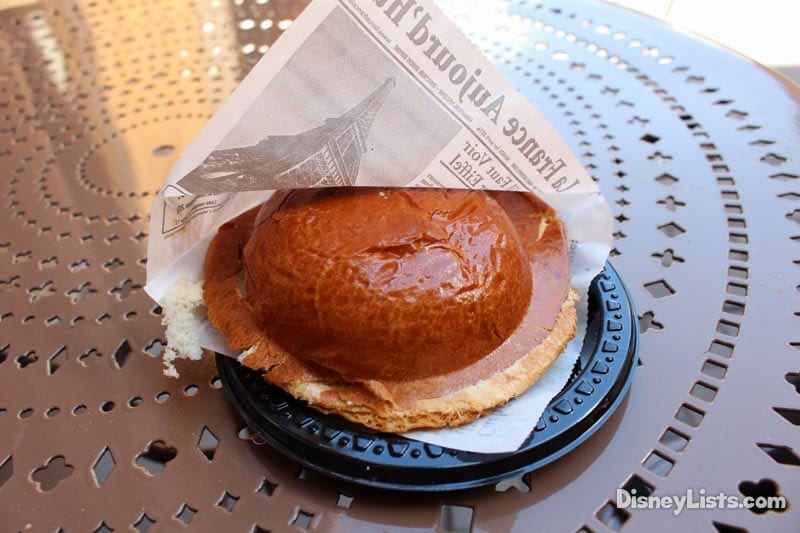 7 – Seasonal Funnel Cakes – American Adventure
Funnel Cake is no stranger to theme parks, but at the American Adventure pavilion you will have the option to purchase regular funnel cakes topped with sugar, fruit, ice cream or chocolate sauce and special seasonal funnel cakes. Past seasonal offerings have included Pumpkin Spice, Strawberry, and Double Chocolate! Check out the funnel cake stand on your next visit to see what seasonal offering they have in store for you!
6 – Nachos – Mexico
The quick service location La Cantina de San Angel located outside the Pyramid serves meals like tacos and empanadas and churros with caramel sauce for dessert. But one of the great menu options here are the nachos! Crispy tortilla chips topped with ground beef, black beans, nacho cheese, tomatoes, jalapenos and sour cream served in a portion big enough to share or eat on your own as a meal.
5 – Gelato – Italy
There is a small kiosk inside the Italy pavilion which serves gelato and gelato sandwiches.  Gelato is an Italian style of making ice cream, and the result is a smoother, softer texture compared to ice cream's rich and heavy texture. There are many different flavors to choose from. Each gelato sandwich is made with your choice of gelato sandwiched between two chocolate chip cookies.
4 – Strawberry Red Bean Ice Cream – China
This cool treat is found at the Joy of Tea stand at the China Pavilion. This ice cream is creamy, dense, and not quite as sweet as regular strawberry ice cream, the red beans give it a little tart taste, but it doesn't taste like beans at all. Don't be afraid to try this treat as you may be pleasantly surprised! This item is available as a snack credit on the Disney Dining Plan.
3 – The Cronut – Refreshment Port
A "Cronut" is a mix between a croissant and a donut. At Refreshment Port, located just before the Canada pavilion it is tossed in cinnamon sugar or is available topped with vanilla ice cream. The cronut has recently become very trendy in certain cities in the United States, so maybe try it here at Epcot. The plain cinnamon sugar option is available as a snack credit on the Disney Dining Plan.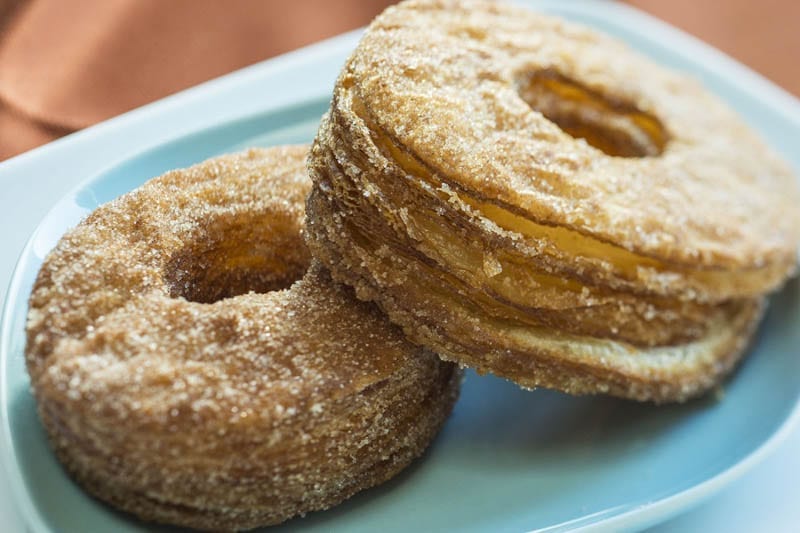 2 – School Bread – Norway
A trip around the World Showcase isn't complete without a stop at Kringla Bakeri Og Kafe in Norway. This little bakery offers delicious sandwiches and desserts. It's most popular item is the School Bread. This is a sweet bun filled with vanilla crème and topped with toasted and glazed coconut. The dessert is a traditional Norwegian item, usually placed in school lunches or sold for school bake sales, which is how it got it's name! This item is available as a snack credit on the Disney Dining Plan.
1 – Carmel Popcorn – Germany
The Karamell Kuche in Germany is definitely something you do not want to miss, presented by Werther's Caramels this location, literally meaning Carmel Kitchen offers an entire case of caramel coated, topped and dipped desserts. But if you want a little bit of that sweet and salty combination, try the caramel popcorn here! Don't buy a prepackaged bag though, wait in the line to get a bag of their fresh popcorn. It is 10 times better than caramel popcorn you can buy elsewhere!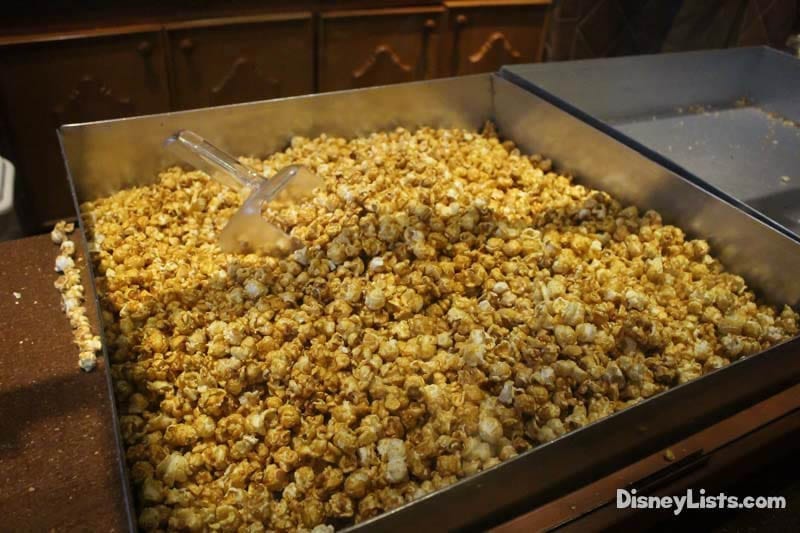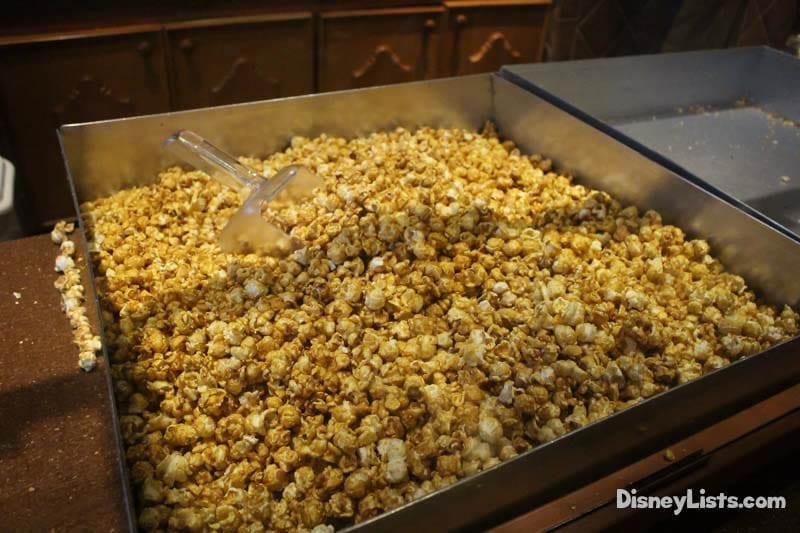 As you can see, it's really not even necessary to eat a real meal while touring Epcot's World Showcase when you can eat your way around the world! There are so many other great snacks available throughout Epcot. Did we miss your favorite?
For a no obligation, FREE Quote on a Disney vacation package, please contact our travel partner Magical Vacation Planner at 407-442-0227 (407-442-0215 for Spanish). You can also request a FREE quote online by Clicking HERE.