Tucked in between Rock n Roller Coaster and Tower of Terror, is one of Disney's five great new attractions. Sunset Showcase is a multi-purpose entertainment theater that will host a variety of experiences. First on the list is Club Disney, a great spot for kids and adults alike to get moving on the dance floor. We had the opportunity to visit this new space recently and found five cool things that you'll want to check out!
1 – Family Friendly Tunes
Center Stage belongs to a DJ Club Host who spins your favorites dance songs. The music is fun and loud! The kids will love it. The DJ has a mic and talks to the crowd to get them dancing!
2 – Opportunity to Dance with Mickey and Pals
Where else can you hang out with Mickey and all of his pals without being shuffled through a line? We spotted Mickey, Minnie, Goofy and Pluto dancing up a storm. Certain character appearances are not guaranteed and will be rotated. But be sure that no matter who is on the dance floor you have the perfect opportunity to just dance and be silly! The characters are great with the crowd. I observed Mickey walk up to a boy who was watching the dancing from the sidelines. Mickey gently encouraged him to dance. The boy was so excited about Mickey's attention and was soon dancing some serious moves. It was really touching to watch. Note that since this is a dance party characters will likely not sign autographs, but we did see some quickly pause for some quick pictures.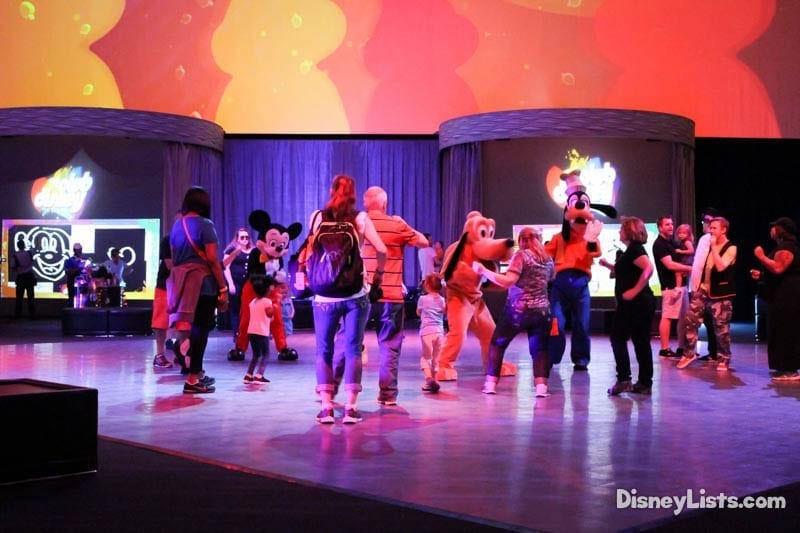 3 – Great Place for Kids to Burn Off Extra Energy
Kids have abounding energy that is hard to fathom. While adults can struggle to go all day long without a break, kids just seem to channel their inner Energizer Bunny and go for hours. Club Disney is an excellent way for kids to be active, especially younger kids who spend lots of time in a stroller. It's a great time to let kids let loose and be silly and it gives adults a chance to rest (see #5).
4 – Interactive Screens
One surprise feature at Club Disney are the interactive screens that allow guest the chance to color Disney scenes. The screens allow you to choose colors, paint brushes and allows you to erase what you've done. It's much like a doodle pad. We observed several children (and adults) having fun coloring on these large screens.
5 – Refuel and Recharge
We absolutely loved discovering very comfortable couches and charging stations for those who want to rest up and charge their portable devices. The charging stations had plenty of different cords to choose from so no matter what kind of device you have, you'll be able to charge up. Also, with all that dancing you may want to pick up a drink or a snack. You don't need to go far. There are two snack bars that offer light snacks and drinks.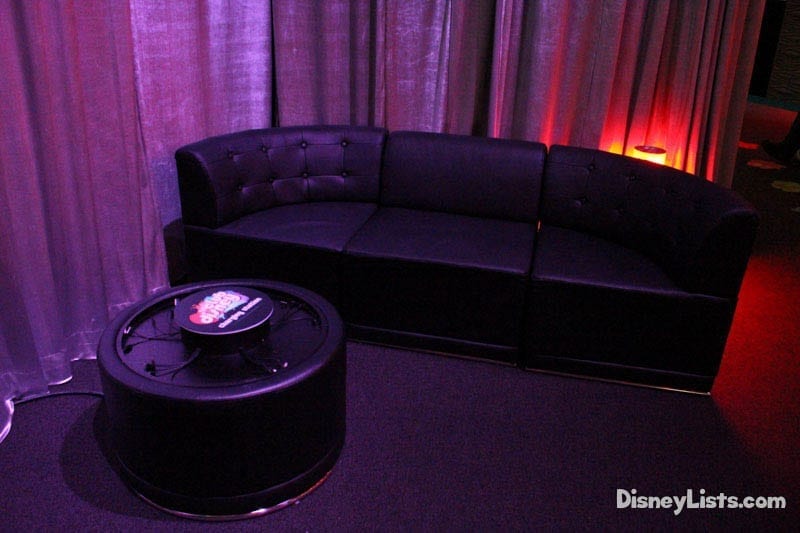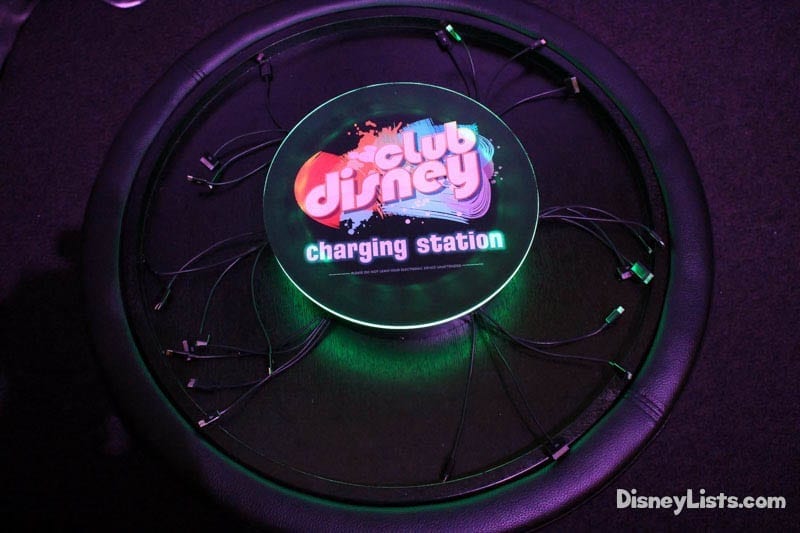 Overall we feel this attraction is geared towards kids, although adults will not feel out of place as they dance with their kids. It's a great chance to hang with the characters and while loud, it does allow for a place to rest up and recharge. We highly recommend checking it out, especially if it starts raining outside!
For a no obligation, FREE Quote on a Disney vacation package, please contact our travel partner Magical Vacation Planner at 407-442-0227 (407-442-0215 for Spanish). You can also request a FREE quote online by Clicking HERE.