Santa Claus is an American holiday tradition that goes back to the founding of the country through the influence of Dutch settlers in New York (there are other versions of Santa that can be found in Epcot, specifically France and the UK pavilions). For many children, getting the chance to meet Santa Claus is a highlight in anticipation of what Santa might bring them on Christmas Eve night. If you are visiting Disney World in November and December, you'll be able to meet Santa and even Mrs. Claus! There are four different places where you can meet Santa. Here is what you need to know.
1 – If Santa is Real, He's Working at Disney World
The first thing you need to know is that meeting Santa at Disney World is going to be as good as it gets. I don't know where Disney finds them, but there are no pillows under the coats or fake beards here. Disney World Santa's are as realistic as they get.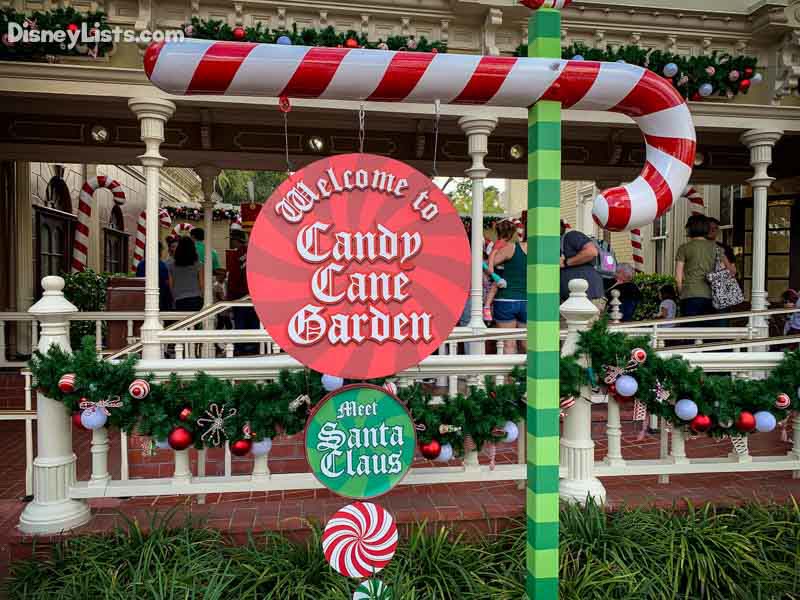 2 – Candy Cane Garden, Town Square on Main Street U.S.A, Magic Kingdom
During the holiday season, Town Square Courtyard has been transformed into Candy Cane Garden to host Santa Claus through December 24. You'll find Candy Cane Garden between Guest Services and the Fire Station on the left side as you enter Main Street U.S.A. The meet and greet is open daily and also during Mickey's Very Merry Christmas Party. Times vary, so please check the Times Guide.
3 – Santa Claus, Once Upon a Time Shop, Hollywood Studios
You can meet Santa Claus at the Once Upon a Time shop along Sunset Boulevard. Santa will only be available at this location until December 24. After that, you'll have the opportunity to meet Santa Goofy from December 25-31. Be sure to check your times guide for hours to meet Santa at this park. This is a popular spot to meet Santa because the room he's in is so beautifully decorated. You also get to sit with Santa on a couch which is great for families with multiple children!
4 – American Adventure, World Showcase, Epcot
Santa is joined by Mrs. Claus at Epcot's American Adventure now through December 24. Again, be sure to check your Times Guide for visiting hours. Get in line early for the rare opportunity to meet Santa and Mrs. Claus together.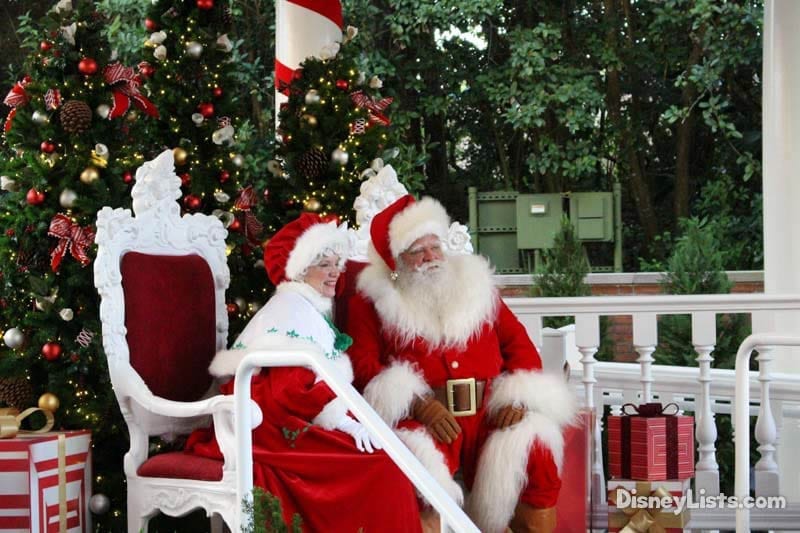 5 – Santa Chalet, Christmas Tree Trail, Disney Springs
Santa's Chalet is the perfect spot to meet the big man himself! You'll now find Santa in a charming cottage along the Christmas Tree Trail in Disney Springs across from Once Upon a Toy (the old bus stop). Santa will appear through December 24. Santa greets daily from 11 am – 11 pm. Like previous years, guests will check-in to so they can shop, dine and enjoy Disney Springs instead of waiting in line. You will give a phone number and then receive a text letting you know you can come to the Chalet. Be sure to return within 15-20 minutes to the podium after you receive the text. After that, it will be a short wait of about 5-15 min. This second wait time is included in the overall posted wait time.
We had the chance to test the process during Thanksgiving week in 2019. It was so easy and simple that it made the whole experience that much more enjoyable. We checked in and was told the wait would be around 2.5 hours. We did some shopping and then got some lunch. As we were finishing up our meal, we got a text that Santa was ready for us! We had time to wrap up our meal and head over. We checked back in, and within 10 minutes we were meeting Santa. Like other character meet and greets we felt we had plenty of time and my three nephews each got to tell Santa what they wanted for Christmas. They loved meeting Santa, and we got great pictures! As this is the only location that doesn't require park admission, if you can't make it into the parks, we highly recommend meeting Santa at Disney Springs!
6 – Capture the Moment
Disney PhotoPass photographers are on hand to capture the moment. If you have Disney's Memory Maker Package, your PhotoPass photos with Santa are included. As always, you may use your own camera!
7 – Meet & Greet Etiquette
When meeting Santa, the standard Disney World Character meet & greet etiquette applies. Be sure to have autograph books and sharpies ready if you are looking for an autograph. The same goes for cameras. While you should never feel rushed, be sure to you are mindful of the people in line behind you as far as how much time you and your children spend with Santa. We observed in a couple of locations for about a half-hour each and Santa was fantastic about talking with the children, asking what they were hoping to receive for Christmas, getting a great picture and then gently ending the experience when it was time for the next guest. For more on the process of meeting characters click here.
For a no obligation, FREE Quote on a Disney vacation package, please contact our travel partner Magical Vacation Planner at 407-442-0227 (407-442-0215 for Spanish). You can also request a FREE quote online by Clicking HERE.
Photo Credit: Disney Photo Snapper