Disney has announced a special two-hour television event, The Wonderful World of Disney: Disneyland 60, which will mark the Disneyland Resort Diamond Celebration. This special broadcast will air on Sunday, February 21 on the ABC Television Network and should be a must watch for every Disneyland, Disney World and Star Wars fan. Why?
The show will be hosted by two-time Emmy winner, Derek Hough, and will take place at the Dolby Theater in Hollywood, as well as most iconic locations throughout the Disneyland Resort including Sleeping Beauty Castle, Main Street, U.S.A., and Cars Land.
From the Disney Parks Blog:
Among the special appearances during the show, one of the most successful solo artists of all time, Sir Elton John, will captivate audiences as he performs in front of Sleeping Beauty Castle at Disneyland park by singing the Oscar®-nominated song "Circle of Life," from Disney's "The Lion King," and his new song "Wonderful Crazy Night," from his upcoming album.
Also announced is a Star Wars Land sneak peak given by none other than Harrison Ford, who portrays Han Solo in the Star Wars movies. Ford will reveal new details about the large Star Wars expansions at both Disneyland and Walt Disney World.
Other confirmed appearances include Josh Gad (voice of Olaf), Witney Carson (dancer from Dancing with the Stars), and a live orchestra performing the music of John Williams.
Go set your DVR right now to tape ABC Sunday night, February 21.
Related
Breaking News – Star Wars Land coming to Hollywood Studios!
by Chad N
Largest Land Expansion Ever Brings Star Wars to Life
It's safe to say that not since the fall of the Empire and the burning of Darth Vader's lifeless body has there been such a celebration. Star Wars fans across the universe have be hoping for this announcement while speculation has run rampant recently with numerous attraction closures.
Today at the D23 EXPO 2015, The Walt Disney Company Chairman and CEO Bob Iger announced to an audience of more than 7,500 fans that Star Wars-themed lands will be coming to Disneyland park in Anaheim, Calif., and Disney's Hollywood Studios at Walt Disney World Resort in Orlando, Fla., allowing Star Wars fans to step into the stories from a galaxy far, far away.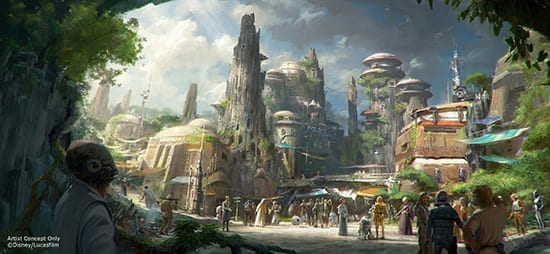 Ambitious plans to bring Star Wars to life in the two parks include creating Disney's largest single-themed land expansions ever at 14-acres each, transporting guests to a never-before-seen planet, a remote trading port and one of the last stops before wild space where Star Wars characters and their stories come to life.
"I am thrilled to announce the next chapter in the long and exciting history between Disney Parks and Star Wars," said Iger. "We are creating a jaw-dropping new world that represents our largest single themed land expansion ever. These new lands at Disneyland and Walt Disney World will transport guests to a whole new Star Wars planet, including an epic Star Wars adventure that puts you in the middle of a climactic battle between the First Order and the Resistance."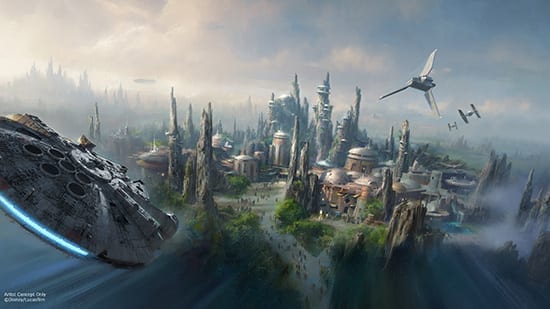 These authentic lands will have two signature attractions, including the ability to take the controls of one of the most recognizable ships in the galaxy, the Millennium Falcon, on a customized secret mission, and an epic Star Wars adventure that puts guests in the middle of a climactic battle.
Further announcements for the Hollywood Studios reboot are expected later today and the parks and resorts presentation.
What do you think? Is this the most exciting Disney World news since the opening of Animal Kingdom? We think it might be.