Think all great photo spots are only in the parks? Think again! Disney Springs has some great areas offering some spectacular photo spots for guest looking for that unique shot that will be sure to please. Here are the 10 Best Photo Spots at Disney Springs.
1 – Cirque Du Soleil Sun Logo on the Big Top, West Side
Who doesn't love the circus? On the backside of the big top circus tent is a very cool sun logo with "Cirque Du Soleil" on the top. This is a great place to snap a picture in front of tent, while giving context to where you are. Even if you have never seen a Cirque show, you'll want to stop here for a picture of the iconic circus tent at Disney Springs.
2 –  The Coca-Cola Polar Bear, Coke Store, West End
Though not a Disney character, we've fallen in love with the adorable Coca-Cola Polar bear found at the Coke Store. Head on up to the second floor to get some pictures of this adorable bear. Make sure to watch his ears (they wriggle) and give him a warm hug! You can purchase your printed pictures on site or they can be connected to your My Disney PhotoPass account.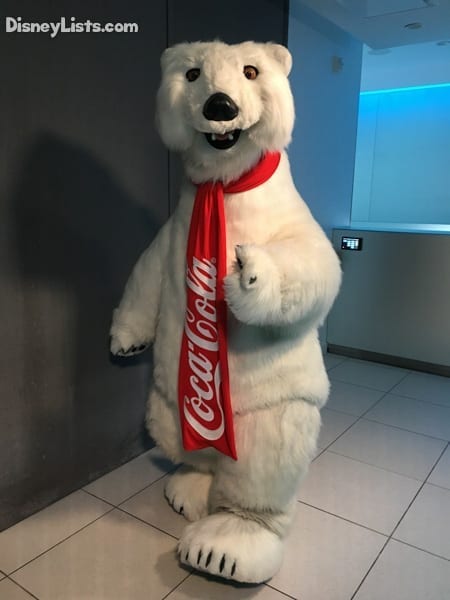 3 – Viewing/Seating Area off Walking Path, in Between Bongos and Wolfgang Puck Café, West Side
From the big top, if you walk straight to the West Side Dock, you'll find a walking path that leads all along Lake Buena Vista. This is a great alternative walkway from the busy interior path winding through the West Side. Along this path, in between the excellent restaurants, Bongos and Wolfgang Puck Café, is a small area with benches that are great for relaxing and taking pictures. You'll have breathtaking views of the lake as well as Saratoga Springs in the background. You can have the Character's in Flight balloon behind you as well!
4 – Stage off Amphitheater, in between Jock Lindsay's Hangar Bar and The Boathouse, The Landing
Another great chance to get Lake Buena Vista in the background is by stopping at the stage in front of the amphitheater located between Jock Lindsay's Hangar Bar and The Boathouse. To your left you'll have Jock's boat Reggie, behind you. To the right, you'll get The Boathouse's outdoor space and more importantly their amazing amphicars! You'll also get another view of Saratoga Springs.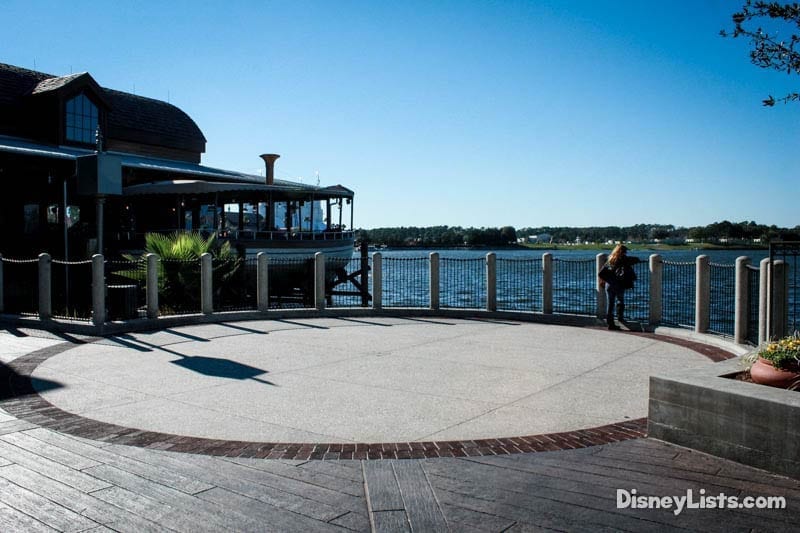 5 – In front of Brickley, the Lego Sea Serpent Dragon, Marketplace
For many, a trip to Disney Springs just wouldn't be complete without stopping to take a picture in front of an adorable larger than life green sea serpent dragon who makes Lake Buena Vista it's home. This creation is made out of over 170,000 Lego bricks and stretches to 30 feet long. Guests have been delighted standing in front of this guy for a great picture for many years!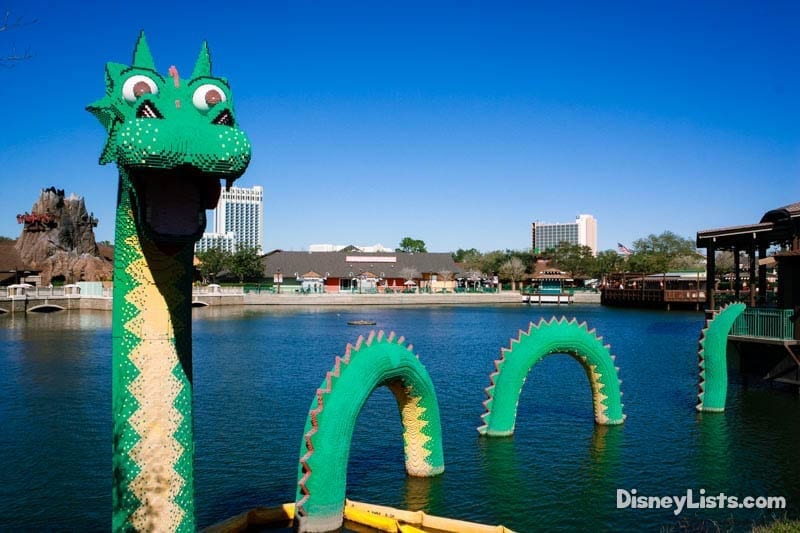 6 – With the Lego Family and other Lego Creations, Marketplace
Among the other amazing Lego creations surrounding the Lego store, is a life-sized Lego Family who appears to be on a Disney vacation themselves. Guests love to join in the family for a great group photo! Also, don't miss Woody and Buzz blasting off, Snow White and the Seven Dwarfs and the amazing battle of Phillip fighting the evil Maleficent. These creations make incredible backdrops for some amazing pictures.
7 – Topiary Mickey, Marketplace
Since construction began back in 2014 on transforming Downtown Disney into Disney Springs, you may have forgotten about the amazing topiary Mickey that stands in between World of Disney and Basin. Disney has updated the topiary through the years and he currently can be seen holding a water pot that has water flowing into other pots. During the Holiday season, you may find Mickey with a Santa hat on! This Mickey is a terrific photo spot so head over to get a great photo with Mickey.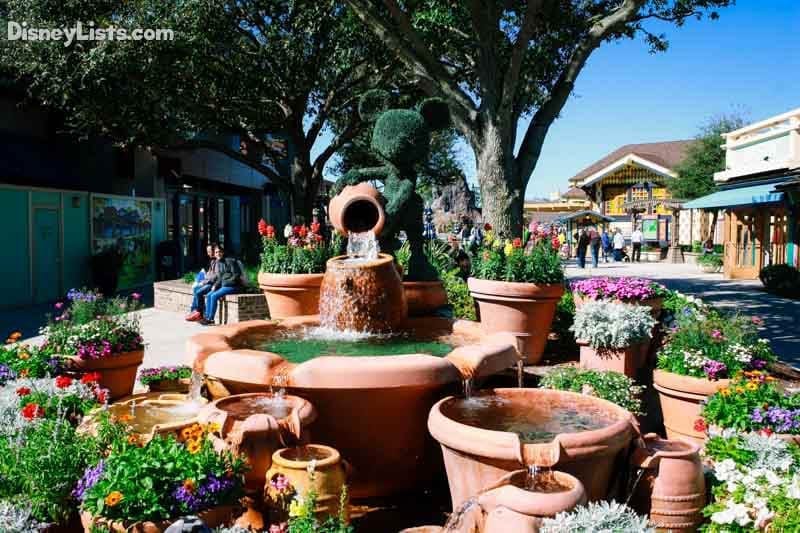 8 – Happy Holiday Area-Mickey and Friends, Outside Days of Christmas Store, behind Days of Christmas, Marketplace
One of our favorite places to snap a photo when our children were younger is with Mickey, Goofy, Donald and Pluto in a holiday themed area just outside of the Days of Christmas store. Why? You can take care of getting that family photo for your Christmas card anytime of year!

9 – Happy Holidays Postcard with the Frozen Characters, Outside Days of Christmas Store, Marketplace
Another great spot for a Holiday photo is to become part of a postcard! Join Elsa, Anna, Kristoff, Olaf, and Sven and you'll have a perfect family photo to share for the Holidays! The walkway area just in front of this postcard is a bit narrow and can be crowded since guests are leaving the bus stop area near this card. You may need to wait a bit for the crowd to thin, but thankfully, many guests are happy to wait while you snap a picture!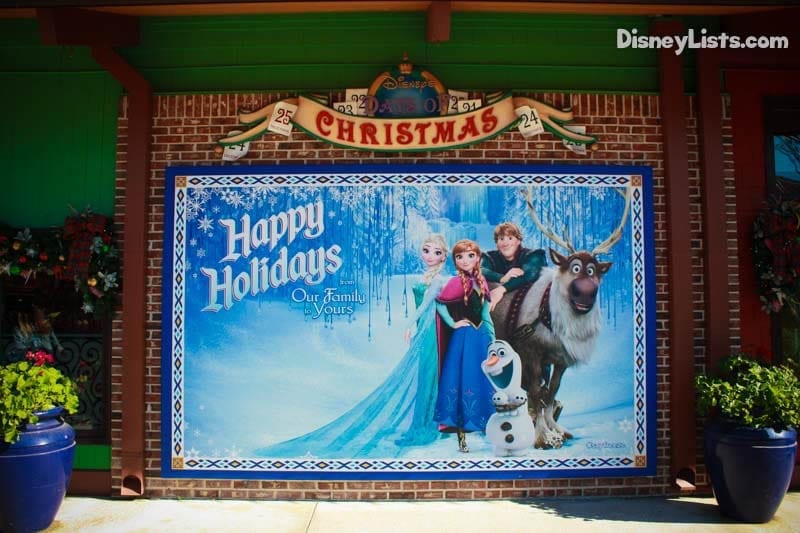 10 – Pedestrian Bridge, Linking Area Between Rainforest Café and the T-Rex Restaurant, Marketplace
Finally, another great spot to take a picture is on the new Village Causeway, or pedestrian bridge, linking the area in front of Rainforest Café and Paddlefish. You'll get amazing views of The Marketplace on one side and more great views of Lake Buena Vista on the other.
Did we miss your favorite photo spot at Disney Springs? Let us know in the comments!
For a no obligation, FREE Quote on a Disney vacation package, please contact our travel partner Magical Vacation Planner at 407-442-0227 (407-442-0215 for Spanish). You can also request a FREE quote online by Clicking HERE.