We said a few days ago this week was shaping up to be a good one for Disney World news. Well, we were right. Disney has saved the best for last. Just announced is a brand new massive Star Wars stage show at Disney's Hollywood Studios. Check out the details below.
From Disney:
If there's one word you could use to describe Star Wars – from the films and the excitement that surrounds them, to the loyal fandom – that word just might be "epic." It also describes the exciting new offerings that are heading to Disney's Hollywood Studios this spring.
Today, we're happy to share that plans are currently in the works for a new Star Wars stage show and procession, as well as a nighttime spectacular so elaborate it's set to make Disney's Hollywood Studios history. Like I said, epic.
The Force will officially awaken at the park April 4, with the debut of the brand new Star Wars stage show, "Star Wars: A Galaxy Far, Far Away." The new show will play out iconic moments from the film saga on Center Stage (in front of the Chinese Theater), and will feature appearances from Star Wars characters like Kylo Ren, Chewbacca, Darth Vader and Darth Maul.
Also starting April 4, Captain Phasma will begin leading a platoon of First Order stormtroopers on a march from Star Wars Launch Bay to Center Stage multiple times each day.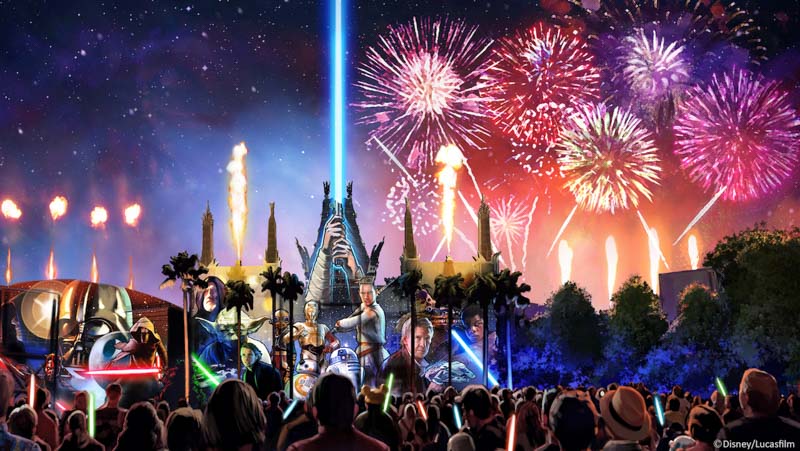 And starting this summer, fans won't want to miss the grand debut of a new Star Wars fireworks show, "Star Wars: A Galactic Spectacular." This new nightly show is the next generation of the current Star Wars-inspired fireworks show. The show will combine fireworks, pyrotechnics, special effects and video projections that will turn the nearby Chinese Theater and other buildings into the twin suns of Tatooine, a field of battle droids, the trench of the Death Star, Starkiller Base and other Star Wars destinations. The show will be punctuated with a tower of fire and spotlight beams, creating massive lightsabers in the sky. This new show will be the most elaborate fireworks display to take place in the history of Disney's Hollywood Studios.
And don't forget about the other recent Star Wars additions that have debuted at the park. The Star Tours – The Adventures Continue attraction now features new characters and planets from the new Star Wars: The Force Awakens film. Star Wars Launch Bay offers families an up-close look at replica props, models, costumes and more from the films, plus the chance to encounter with someone from Rebel Alliance or the Dark Side. And young Padawans can put their bravery to the test at Jedi Training: Trials of the Temple, which now features the character of the Seventh Sister from the Disney XD series Star Wars Rebels.
Which of these new Star Wars offerings are you most excited about? Tell us in the comments section below.
RELATED:
7 Ways to Have a "Star Wars" Day at Disney's Hollywood Studios
by Cindy N
The building excitement around the return of Star Wars to theaters has been palpable. Star Wars mania is back and bigger than ever. Fans of the original series have grown up and can't wait to share their love and excitement of the saga with their kids and grandkids. George Lucas and Disney World have enjoyed a long relationship that has brought the magic of the Indiana Jones and Star Wars movies into the parks. In August of 2015 Disney announced news that fans were waiting for: Star Wars Land would be coming to Hollywood Studios! While construction will begin in 2016, fans don't need to wait years to experience a Star Wars themed day. Whether you are a young padawan or master Jedi, here are seven ways to have a Star Wars Day at Disney's Hollywood Studios.
1 – Jedi Training: Trails of the Temple, Next to Star Tours, Echo Lake
First up on the list is signing up your young padawan for Jedi Training. After a brief refurbishment, the very popular Jedi Training Academy is back with double the villains–so double the kids! Young Padawans will receive training on how to use the Force and wield light sabers. After a brief but thorough training in the Force, the young knights get a chance to use their skills and will face either Darth Vader or a new villain, the Seventh Sister (from the popular Disney XD series Star Wars Rebels). There is also an appearance by Darth Maul. With an all new stage and cast this will be sure to delight Star Wars fans from the age of 4-12. This is a very popular twenty-minute show. Sign ups occur on a first come first come basis. If you have a young Padawan, be sure to sign them up early at the Indiana Jones show location. Check your Times Guide for more information. You will be given a return time for your youngling to return for training!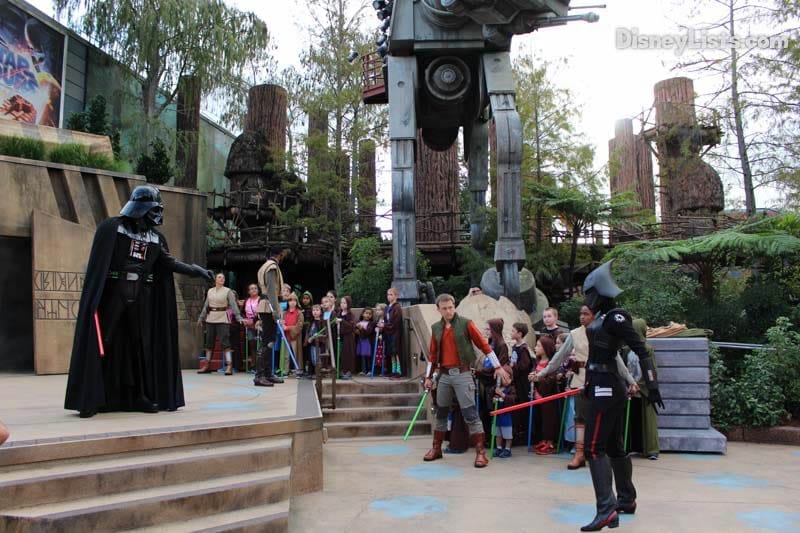 2 – Star Wars: Path of the Jedi, ABC Sound Studio, Echo Lake
Head across the way towards the ABC Sound Studio to set the stage for a Star Wars day! This is must see for any Star Wars fan looking to get even more excited for Force Awakens (if that's even possible). It's also a perfect opportunity to introduce a new generation to the Star Wars movies or to get caught up on the story if you're one of the 10 adults on the planet that didn't see Episodes 1-6. You'll see a ten-minute retelling of the Star Wars saga that includes a sneak peek at the future of the galaxy.
3 – Star Tours: The Adventure Continues, Echo Lake
Stroll on down towards Star Tours where you'll experience an out of this world attraction. On December 15, 1989 the original Star Tours blasted off to Endor to the pleasure of Star Wars fans. In 2011, the power of the Force and Disney magic came together again to create the new Star Tours-The Adventure Continues. This newer edition features 3D technology, unique branching storylines and includes the expanded universe including the original trilogy of films and the prequels. Recently, the new Star Wars: The Force Awakens was also added to the story.
4 – Star Wars Shopping
As you exit Star Tours, you'll enter Tatooine Traders, one of three specialty Star Wars stores at Hollywood Studios. You'll discover action figures, apparel, gadgets, LEGO kits, books and more. The next shopping destination is the new Watto's Grotto, located in the back of Streets of America. Inspired by the outpost of Mos Espa, Watto's junkyard has been transformed into a must visit boutique. You'll find a wide variety of gear, collectibles, apparel, fine art, housewares, toys and a lot of souvenirs revolving around the new film: Star Wars: The Force Awakens. Finally, don't miss Launch Bay Cargo at Star Wars Launch Bay (#5). There is a wide selection of Star Wars merchandise, including original artwork. The most amazing merchandise are probably the replica costumes!
5 – Star Wars Launch Bay, Animation Courtyard
Star Wars Launch Bay is an exciting new attraction that will please Star Wars fans of all ages. First, you'll be treated to a short film that celebrates the Star Wars saga. This film includes commentary from key Star Wars producers, directors, writers, crew and story tellers responsible for bringing the Star Wars galaxy to life. You'll then be treated to an exhibit area that features props, models, costumes and artifacts from Star Wars films. Also be on the lookout for a gaming area where you can play the popular Disney Infinity video game, which features an exclusive Toy Box built just for Star Wars Launch Bay. Before you leave make sure you get your cameras ready as this is one of our top recommended locations for photo opportunities! There is so much to see and do in this great new experience-read what you need to know here!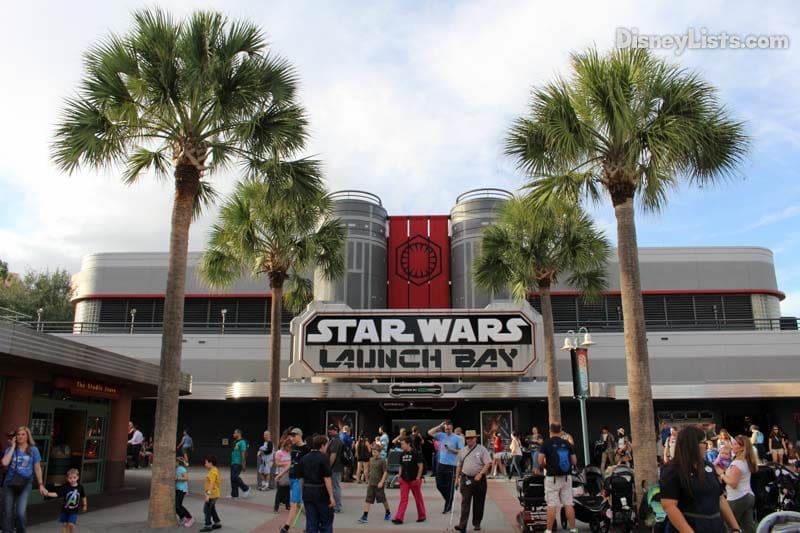 6 – Star Wars Snapshots: May the Photos Be with You
There are many photo opportunities you'll want to take advantage of. Here are 5 different place
AT-AT Walker, Outside of Star Tours: The Adventures Continue -Get your picture under a massive AT-AT walker which looms over an Ewok village.
Speeder Bike, Outside of Tatooine Traders – A must for our family for years. We love getting our kids on this speeder and see how they've grown!
T-47 Airspeeder, Outside of Watto's Grotto – The T-48 Airspeeder is parked outside of Watto's Grotto. Don't miss a chance to get a picture with a vital vehicle for the Rebel Alliance during the Galactic Civil War.
Cantina, Star Wars Launch Bay – Be sure to visit the area reminiscent of the famous Mos Eisley Cantina! Sit at a Sabacc table or stand at the bar and clutch your favorite-a glass of blue bantha milk! This fun area is full of photo opportunities.
Star Wars Characters, Star Wars Launch Bay – You won't want to miss the opportunity to meet fan favorites Chewbacca and Kylo Ren! Each character has his own meeting area. Also, you may run into a Jawa at the Cantina!

7 – Symphony in the Stars: A Galactic Spectacular
Finally, you'll end your amazing Star Wars day with the new Symphony in the Stars: A Galactic Spectacular. The sounds of John Williams amazing score will fill the air to the sights and sounds of an incredible firework display. New music from Star Wars: The Force Awakens will be included. If you want a close up view of the fireworks show along with some desserts, then you might be interested in the Dessert Party. Price is $69 per adult and $39 for children. This show is scheduled to be at park closing so the times will vary. It will not interfere with Fantasmic. Check the Times Guide for up to date information and times.