As you may or may not have heard, Disney's Hollywood Studios is undergoing several massive changes with the addition of Star Wars Land and Toy Story Land to the park.  There have already been several closings and changes, and there are several other hard cuts coming.  On April 3rd many attractions and gift shops are said to be closing permanently.  While change can give us the feeling of sadness and nostalgia for the comfort of things as we know it, I have no doubt that the changes are going to be amazing and we will be super happy with the things to come.  That being said, based on the upcoming closure list, here are the 6 things at Hollywood Studios that I definitely recommend that you do before they are gone:
6 – Watto's Grotto
For you Star Wars fans out there, this was a popular shopping destination that will now be a casualty from all of the construction that will occur in the park.  At this store you will find tons of different Star Wars merchandise and memorabilia from the movies.  You can also take a picture with a T-47 Airspeeder at the front of the store.  If you want to experience anything Star Wars themed and related, you definitely better check this one out before it is gone!
5 – Lights, Motor, Action! Extreme Stunt Show
The theater for the show is huge and extremely impressive.  During this show you learn a lot more about how car stunts are safely performed in order to protect the stunt drivers, but still perfectly the time the stunts for the movies.  You also get a cameo experience from our favorite car, Lightning McQueen.  All of the cars will perform impressive stunts that also include fire, water and explosive elements to create the scenes that you see in the movies.  It is a high-energy show that you don't want to miss, especially if you have never seen it before!
4 – High Octane Refreshments & Studio Catering Co.
This was a favorite drink spot for my husband and me.  The spot has mostly alcoholic beverages and was one of our favorite spots to get drinks in the studios.  The concoctions are tasty and some of them unique to the location.  Be sure to drop by and get your High Octane or Banana Cabana before this spot is gone!  If food is more your thing, Studio Catering Co. is also going away.  This is an outdoor eatery in the area that has a delicious Pulled Beef Brisket Sandwich.  The delicious beef, cheese and horseradish sauce is the perfect combination and definitely filled us up to continue on our park fun.  I don't know about you, but I have to get one of these before they are gone!
3 – Honey, I Shrunk the Kids Movie Set Adventure
This attraction is an amazing play area to keep kids entertained and run off some of the excess energy that they have.  They get to see what it feels like to be shrunk down in size and experience the world as the size of a bug in the backyard.  Our kids have loved crawling around on the different bugs and findings in the "backyard" and will definitely miss this place to run and play while in the park. The park is already light on things for the young kids, so it will be great to see it replaced with things that more of the younger kids can enjoy.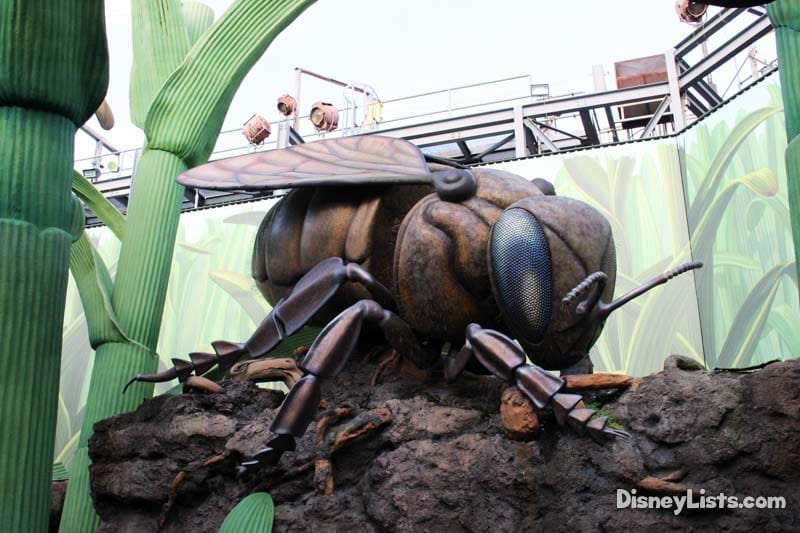 2 – The Writer's Stop
The Writer's Stop is an amazing place in this soon to be construction area that makes you feel like you have stepped into a city book shop for the perfect place to have a cup of coffee, a snack and read a book.  The store is filled with the smells of the coffee and treats that you could have.  The carrot cake here is a fan favorite and a must have.  You definitely want to make sure that you have a piece while you still can.  We can only hope that this delectable treat will find its way to another location so we don't totally miss out.  This area has also been a great place to shop for Disney books, take a nice restful (and delicious) break and to enjoy the air conditioning.  We can only hope that we will soon have another great place to relax and smell the coffee in the park!
1 – Mike and Sulley Meet and Greet
Mike and Sulley are favorites of mine.  They are the beloved starring monsters from Monsters, Inc. and Monsters University.  The location where they currently meet and greet guests will be under construction leaving them without a place to live.  We can only hope that Disney will find another place for this loveable pair so that we can still see them, but just in case, you better make sure to get your pictures before they are gone!