Character meals combine two of the best things about Disney, meeting beloved Disney characters and delicious food. There are many character dining opportunities all over Walt Disney World, in the parks and the resorts. Here are the top 10 character meals at Walt Disney World.
10 – The Crystal Palace
Guests can meet their favorite characters from the 100 Acre Wood at the beautiful Crystal Palace in Magic Kingdom. The design of The Crystal Palace in Disney was inspired by England's Crystal Palace of the mid-1800's. Eeyore, Piglet, Tigger, and Winnie the Pooh wander through the restaurant, stopping at each table to greet guests and pose for photos. The Crystal Palace also will help guests celebrate a special event and do what they can to add a little extra pixie dust to your experience. For example, a guest celebrating a birthday will receive a birthday card signed by Winnie the Pooh and all his friends. Just make sure you let cast members know you are celebrating a birthday when you arrive.
9 – Garden Grill
The Garden Grill is located in the Land Pavilion at Epcot and offers character dining at breakfast, lunch, and dinner. Here, guests can meet those two cute and mischievous chipmunks, Chip 'N Dale, the big cheese himself Mickey Mouse and his pal Pluto. Guests are served family-style, bringing food on platters to the tables. Another fun feature of the Garden Grill is that the restaurant itself is round and slowly rotates, so guests have a chance to view the different scenes of Living with the Land attraction below.
8 – Tusker House
Daisy and Donald Duck, along with Goofy and Mickey, roam the Tusker House in their safari gear at Animal Kingdom. Guests can meet characters over breakfast, lunch, and dinner. Breakfast is a standard American breakfast buffet, but lunch and dinner feature a few African dishes that are not to be missed. This is the only character dining at Animal Kingdom, so be sure to make your reservations in advance!
7 – Akershus Royal Banquet Hall
Epcot's Akershus Royal Banquet Hall is one of the best spots to meet princesses in all of Disney World. In this Norwegian castle-like banquet hall, guests have the opportunity to meet Ariel, Cinderella, Belle, Jasmine, Snow White, and even Mulan, and Mary Poppins have made appearances for the meet and greet here. Princesses appear on a rotation, so it's always a surprise as to which princesses will be joining guests at the Banquet Hall.
6 – Chef Mickey's
Chef Mickey's is a great character dining experience for the whole family. Mickey, Minnie, Goofy, Pluto, and Donald interact with guests and will, on occasion, lead guests in an interactive song and dance. The atmosphere is fun and lively, and an added bonus is to watch the Monorail go by as it zips through the Contemporary Resort.
5 – Wonderland Tea Party
The Wonderland Tea Party is hosted by Alice herself and her friend, the Mad Hatter. Located at the Grand Floridian, it's a wonderfully unique character dining experience. This tea party is only one hour long, just after lunch, for children aged 4-10. At the tea party, kids will get a little crafty, making cupcakes and flower bouquets while listening to a story.
4 – Minnie's Seasonal Dine 
Minnie Mouse hosts a seasonal buffet for guests at the Hollywood and Vine in Hollywood Studios. With each season, the décor, music, and costumes will change to reflect the occasion Minnie and her friends are celebrating at Hollywood and Vine. Minnie's Seasonal Dine has marked the glitz and glamor of Hollywood, the summer season with a beach-themed party and Halloween as well. This character dining experience also includes some interactive musical interludes throughout the meal.
3 – 1900 Park Fare
1900 Park Fare in the Grand Floridian hosts two separate character dining meal experiences. Guests can start their day off enjoying the breakfast buffet where it's sure to be practically perfect in every way when being greeted by characters like Mary Poppins, Alice, and the Mad Hatter, Winnie the Pooh, and Tigger too!
In the evening, the dinner event is Cinderella's Happily Ever After Dinner. Prince Charming, Cinderella, Anastasia, Drizella and Lady Tremaine make appearances. Though Prince Charming appears alongside Cinderella in shows and parades, this is the only place for a meet and greet with the prince.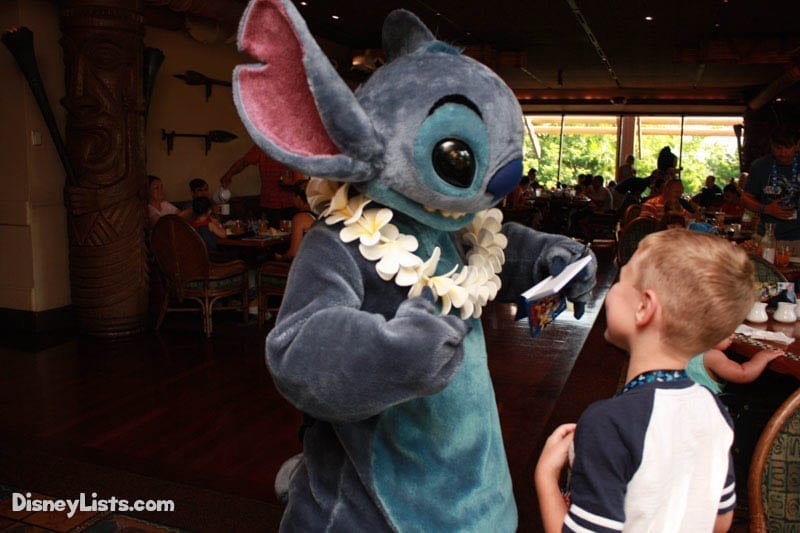 2 – 'Ohana
Breakfast is the only meal that offers a character dining experience at 'Ohana. This is one of the few places to meet Lilo and Stitch, so reservations are a necessity as spots fill up quickly. Other friends may join Lilo and Stitch such as Mickey and Pluto, and they all include children in the activities throughout the meal. It's a beautiful and popular character experience and one that you should add to your must-do list!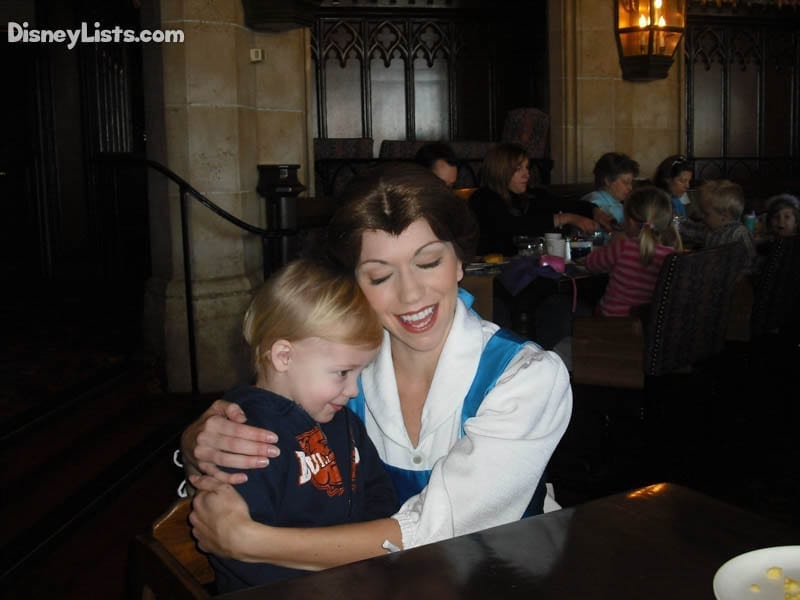 1 – Cinderella's Royal Table
Located in Magic Kingdom's iconic castle is the most magical and lavish dining experience at Cinderella's Royal Table. This character meal really is more about the characters and the experience than it is about the meal. Surrounded by vibrant colors, tapestries, and stained glass windows, guests will be greeted by and pose for photos with Disney princesses such as Ariel, Aurora, Snow White, Cinderella, and Jasmine. Dining here among such royalty really is like a dream come true!
For a no obligation, FREE Quote on a Disney vacation package, please contact our travel partner Magical Vacation Planner at 407-442-0227 (407-442-0215 for Spanish). You can also request a FREE quote online by Clicking HERE.