Walt Disney World is home to countless attractions scattered throughout its four theme parks. From thrilling and adventurous to family friendly and classic, there are some amazing attractions and experiences to enjoy in the Magic Kingdom, Epcot, Disney's Hollywood Studios, and Disney's Animal Kingdom. While guests can visit attractions at any time that the theme parks are open, some of the most popular experiences are best visited in the early mornings as there are fewer crowds and lower wait times. Guests who want to enjoy these very popular attractions should definitely do so in the early morning hours in order to save the most time to enjoy other attractions in the parks throughout the day. Here are the eleven best attractions to hit in the early morning hours.
11 – Dinosaur
A thrilling attraction in Disney's Animal Kingdom can be found in DinoLand where all things prehistoric are brought to life. Dinosaur brings guests into the Dino Institute where the technology to travel back to the time of the dinosaurs has been perfected. Guests soon find themselves on a thrilling adventure in near darkness that is full of twists and turns to avoid a massive meteor impact. Dinosaur is one of the most thrilling and bumpy attractions in Walt Disney World making it very popular and usually busy. Guests who want to enjoy the attraction with a low wait time should do so in the mornings at Disney's Animal Kingdom.
10 – Space Mountain
The Magic Kingdom's Tomorrowland is home to an attraction which blasts guests off into outer space for an out of this world adventure. Space Mountain is home to Starport 75, an intergalactic space port where guests board rockets and blast off on either the Alpha or Omega tracks. With near darkness, sudden twists, turns, and dips, and a futuristic galaxy of stars overhead, guests are sure to love the thrills and adventure of Space Mountain. Since the attraction is so popular, guests should aim to visit in the early morning to avoid the crowds and long wait times.
9 – Peter Pan's Flight
The Magic Kingdom's Fantasyland is home to an attraction which is beloved by many guests. Peter Pan's Flight brings guests through the Darling's house where they are sprinkled with pixie dust before boarding pirate ships. Guests then soar high over the skies of London and Neverland with Peter and the Darling children as they relive the story from the classic animated film. Since Peter Pan's Flight is loved by many guests and tends to board slowly, it is best visited in the morning to avoid long wait times.
8 – Test Track Presented by Chevrolet
Also found in Epcot's Future World is Test Track Presented by Chevrolet which lets guests get creative in the automotive world. Guests are brought into the design studio where they can create their very own Sim cars to test on the track in Power, Responsiveness, Efficiency, and Capability. Since guests can enjoy thrilling tests, high speed thrills, and creative design, Test Track Presented by Chevrolet often has long wait times that can be avoided by visiting in the early mornings.
7 – The Twilight Zone Tower of Terror
Found at the end of Sunset Boulevard in Disney's Hollywood Studios is the abandoned Hollywood Tower Hotel which is home to the eerie attraction The Twilight Zone Tower of Terror. Guests who are brave enough to board the attraction find themselves on an out of control service elevator after discovering that five hotel guests disappeared into The Twilight Zone after being struck by lightning. The Twilight Zone Tower of Terror echoes with the screams of guests on board and is very popular with guests. Those who would like to enjoy the attraction without spending a lot of time waiting on the standby line should visit in the early mornings.
6 – Rock 'n' Roller Coaster Starring Aerosmith
Found right next door to The Twilight Zone Tower of Terror is the thrilling Rock 'n' Roller Coaster Starring Aerosmith which brings guests into the fictional G Force Records. Guests who venture inside run into Aerosmith and find themselves invited to a concert across town. After boarding super stretch limos, guests are blasted from zero to sixty in seconds to make it to the show on time. Since the Rock 'n' Roller Coaster Starring Aerosmith is both thrilling and popular, it tends to generally have long lines making it a great attraction to visit in the early morning hours before the crowds gather.
5 – Soarin'
One of the most popular attractions in Epcot is soon opening as a new version which is sure to amaze guests. Soarin' Around the World will be found on the lower level of The Land Pavilion in Epcot's Future World and will bring guests on an exhilarating and beautiful adventure around the world. Guests will feel like they are hang gliding over some iconic locations including the Great Wall of China and the African savannah as they enjoy sweeping views of some of the world's most beautiful places. Since Soarin' in its original form was extremely popular with guests, it is safe to assume that Soarin' Around the World is sure to be a huge hit with plenty of crowds and high wait times. Guests who want to enjoy the new version of the attraction when it opens should definitely book a FastPass for the experience to save lots of time that would have otherwise been spent waiting on substantial standby lines.
4 – Kilimanjaro Safaris
Guests who visit Disney's Animal Kingdom should arrive right when the park opens and head directly to Kilimanjaro Safaris in the Africa section of the park. The attraction brings guests into the Harambe Reserve for a two-week safari filled with encounters with animals like giraffes, elephants, lions, cheetahs, and zebras in beautiful habitats like the savannah and forest. Since the attraction features live animals, guests are smart to visit in the early mornings since the temperatures are lower making the animals more inclined to be active and visible.
3 – Expedition Everest
The Asia section of Disney's Animal Kingdom is home to a massive attraction which bring guests deep into a cavernous mountain for a chance encounter with a fabled beast. Expedition Everest begins as a scenic tour of the foothills of the Forbidden Mountain but soon veers off course when guests encounter a bit of track that has been ripped up. After careening through darkness, guests find themselves scrambling to get away from the Yeti before safely finding their way back to the base of the mountain. With big thrills and beautiful views, Expedition Everest should be visited in the mornings before the crowds create long wait times.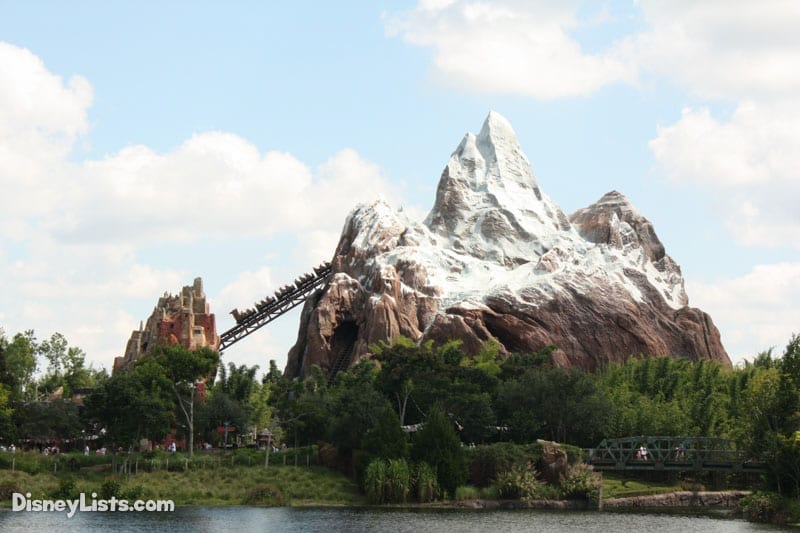 2 – Toy Story Mania
Disney's Hollywood Studios features a very popular attraction in the Pixar Place section of the park. Toy Story Mania magically shrinks guests down to the size of toys and invites them to compete in a series of 3D midway games hosted by the beloved Toy Story characters. Guests love returning to Toy Story Mania time and time again to beat their own high scores, making the attraction often have very long wait times. Guests who want to try their luck at Toy Story Mania should visit the attraction in the early mornings to experience lower wait times.
1 – Seven Dwarfs Mine Train
Found in New Fantasyland in the Magic Kingdom is one of the newest attractions in all of Walt Disney World. The Seven Dwarfs Mine Train invites guests into the mines where the Seven Dwarfs work hard each day harvesting precious jewels. Guests get to sing along with the Dwarfs to "High Ho" as the work day ends and even catch a glimpse of Snow White and the Evil Queen. Throughout the adventure, guests ride along in mine carts that sway gently from side to side offering beautiful views of New Fantasyland. Since the Seven Dwarfs Mine Train is so new and popular, guests who want to enjoy the experience should visit first thing in the morning to avoid the heavy crowds.
For a no obligation, FREE Quote on a Disney vacation package, please contact our travel partner Magical Vacation Planner at 407-442-0227 (407-442-0215 for Spanish). You can also request a FREE quote online by Clicking HERE.