Guests who visit Walt Disney World may think that they will only be dining on stereotypical theme park foods like chicken nuggets and fries, but they are totally mistaken. Walt Disney World is home to countless dining options located throughout the four theme parks, Disney Springs, two water parks, and Disney Resorts. Dining on a Disney vacation can include everything from fine dining and full-service meals to character meals and snack carts. Guests who spend time in Disney's Hollywood Studios can enjoy many experiences which allow them to star in their very own Hollywood adventures while stopping at some unique dining locations along the way. While Disney's Hollywood Studios is home to several full-service restaurants, there are also plenty of quick service locations for guests to choose from which allow them to still enjoy delicious meals in a shorter period of time. From a location straight out of a movie to a restaurant which is housed inside a boat, there are definitely some unique places to enjoy a meal in Disney's Hollywood Studios. Here are the six best counter service restaurants at Disney's Hollywood Studios in Walt Disney World.

1 – Woody's Lunch Box
The newest quick service restaurant in Hollywood Studios is also its best! Woody's Lunch Box serves tasty meals and old-fashioned soda floats from a walk-up window in a setting surrounded by Andy's favorite toys and a giant vintage thermos. Order a grilled three-cheese sandwich (delicious!), grab a seat under festooned lighting at a Tinkertoy table and take in the scene. You'll even spot Sarge, the Green Army Men leader, in a tower on the lookout for Andy. Woody's Lunch Box features Mini Babybel cheese – the Official Snack Cheese of Walt Disney World Resort. Babybel's famous cheese wheel also provides inspiration for fun chairs and tables nearby. Make sure you get the Lunch Box Tarts-available in raspberry and chocolate-hazelnut flavors. Although they are sort of like Pop Tarts in design, these Disney treats are so delicious they blow away a regular Pop Tart. They were our favorite item on the menu! Click here for our full review.
2 – ABC Commissary
One of the most popular quick service dining locations in Disney's Hollywood Studios can be found in the Commissary Lane section of the park. The ABC Commissary is designed to feel like the dining hall on the studio lots where ABC hit shows are filmed. Guests can enjoy their meals in a beautifully decorated restaurant which features posters advertising ABC shows as well as televisions which play popular clips from episodes. The ABC Commissary is open daily for lunch and dinner and serves up menu options including the Asian Salad with Chicken, New York Strip Steak, Chicken Club, Chicken Breast Nuggets, and Angus Bacon Cheeseburger. In addition to the regular menu, the ABC Commissary also includes kosher options like Chicken Strips with Potato Croquette and Corned Beef.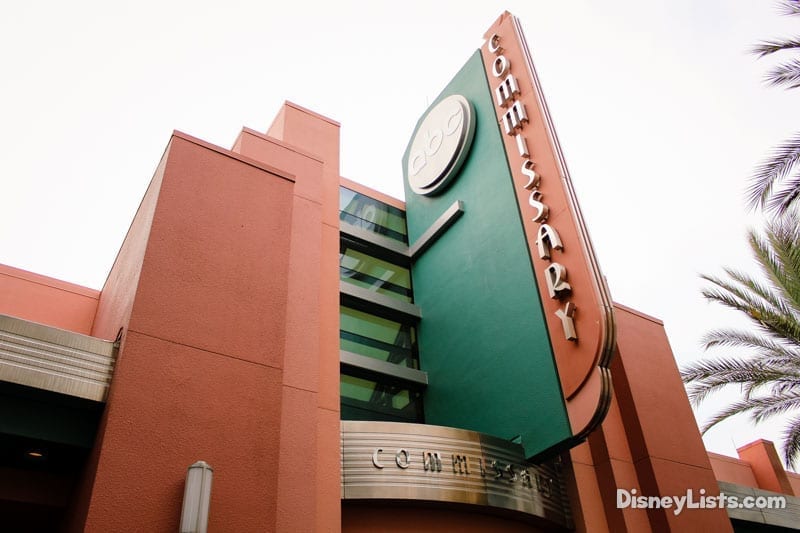 3 – Rosie's All-American Café
Sunset Boulevard in Disney's Hollywood Studios is home to two of the most thrilling attractions in the park as well as a quick service location that is sure to thrill hungry guests. Rosie's All-American Café can be found on the left-hand side of Sunset Boulevard inside of a massive open-air market filled with tables covered by bright umbrellas. Guests can have a seat at one of the tables and enjoy lunch and dinner options like the Fried Green Tomato Sandwich, Chicken Breast Nuggets, and Fresh Angus Onion Straw Cheddar Cheeseburger. In addition to the delicious meals, guests can order up dessert options like the Strawberry Shortcake and unique beverages like the Beso Del Sol Sangria.
4 – PizzeRizzo
A newer quick-service restaurant has hit the streets in Disney World's Hollywood Studios, with the wise-cracking Muppet, Rizzo the Rat, as the owner! PizzeRizzo opened in the former Toy Story Pizza Planet restaurant which has now been transformed into a classic family pizzeria. As you approach PizzeRizzo, you'll immediately feel as if you've been transformed to the streets of New York with street lights, metal poles, fire escape, and a faded red and green PizzeRizzo pizza joint exterior – including the typical curtains in the windows, neon lighting, and paper menus and flyers plastered at the entrance. With a simple lunch and dinner menu, the food and variety at PizzeRizzo is somewhat limited. You can select from one of their personal-sized pizzas (four small slices) which include cheese, pepperoni, vegetable and meat lovers. Served with each pizza is a small, cup sized Caesar salad. If you aren't in the pizza mood, you can order a meatball sub (also comes with a Caesar salad) or an Antipasto salad.
5 – Min and Bill's Dockside Diner
Guests who explore the Echo Lake section of Disney's Hollywood Studios can enjoy unique meals at a location that doubles as a boat on Echo Lake. Min and Bill's Dockside Diner is housed inside a beautiful boat that looks straight out of an old Hollywood film. Inspired by the 1931 film Min & Bill, the quick service location is open for lunch and dinner and serves up menu options like Slow-Roasted Beef, Macaroni and Cheese, Vegetarian Wrap, Foot-Long Hot Dog with Chili and Cheese, and Milkshakes. After ordering, guests can chow down on their meals while enjoying the breeze and beautiful view across Echo Lake.
6 – Backlot Express
Another quick service dining location in Disney's Hollywood Studios can also be found in the Echo Lake section of the park near Star Tours – The Adventure Continues. The Backlot Express features several unique rooms which are filled with props and supplies which would typically found in the backstage areas of production locations. Guests can dine either indoors or outdoors for lunch and dinner on menu options including the Chili Hot Dog, Galactic Chicken Salad, Corellian Spice Fries, and the Royal Guard Burger. A beverage station allows for drink refills. Many menu items at the Backlot Express have a Star Wars theme to them, making it a great place to enjoy a meal in Disney's Hollywood Studios.
For a no obligation, FREE Quote on a Disney vacation package, please contact our travel partner Magical Vacation Planner at 407-442-0227 (407-442-0215 for Spanish). You can also request a FREE quote online by Clicking HERE.