Feel the need to spend some time on the water while vacationing at Disney? Well, get ready to head out to "sea" – and who knows, maybe spot some of Ariel's or Nemo's friends! Here are six things to know about boat rentals at Disney.
1 – Motorized Boats
Disney offers several motorized boat options that will work for almost any party size you are looking to boat away with. Locations of most of your motorized boat selections are at Disney's Yacht and Beach Club Resorts, Polynesian, Grand Floridian, Contemporary, and Fort Wilderness. The Sea Raycer is available for up to 2 guests, with drivers needing to be at least 12 years old. Of course, guests under 12 years can ride along as a passenger. For parties up to 6 guests, you'll have the option to cruise away on a Boston Whaler Montauk boat. 18 years and up can drive this beauty! Our favorite – a Sun Tracker Pontoon boat is available for up to 10 guests. Imagine climbing aboard a pontoon with your family checking out the Disney sites! We should mention Grand 1 Yacht. Yes, this baby can hold 18 of your closest family and friends but does come with a Captain and Deckhand. Sorry, they don't just let just anyone drive this yacht around!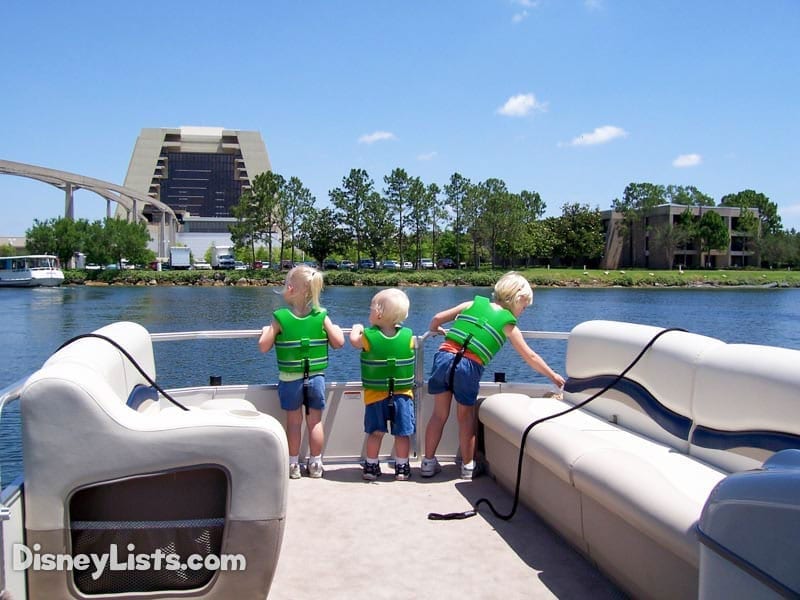 2 – Canoes and Kayaks
Go Pocahontas style – forget the motor and grab a couple of paddles instead! Located at Fort Wilderness, if you are 11 years and up, you are welcome to rent a canoe for just $13. Fort Wilderness offers beautiful scenery for canoeing down inlets within the resort. For $13 an hour, it seems like this one is too good to pass up! Maybe you are looking for a slightly different speed than a canoe but still want to hit the waters without a motorized boat? Look into renting a Kayak, which is once again available at Fort Wilderness Resort for just $13 an hour!
3 – Guided Watercraft Options
So maybe you really want to spend some time on the water, but you aren't into operating or renting a boat? Disney offers several guided boat access opportunities for individuals and families to have fun on the water without the hassle or responsibility of operating a watercraft. Check out the Guided Bass Fishing Excursions available at several different Disney resorts such as Fort Wilderness, Caribbean Beach, Contemporary, Grand Floridian, Old Key West, Polynesian, Port Orleans Resort, Wilderness Lodge, and the Yacht Club. Disney also offers maned Specialty Cruises for interested guests! Private dining, birthday celebrations, romantic getaways, fireworks cruises – really any celebration you would like to take place on Disney waters can be made possible. Take it easy and let someone else do the driving while you have all the fun!
4 – Restrictions
As mentioned above, there are ages requirements for operating several different Disney watercraft. Keep in mind height and weight information will be taken, as some of these watercraft options only allow for a specific height and/or max weight. All of Disney's watercraft are required to stay within designated water areas. A Cast Member will fill you in on your restricted waterways, depending on what site you decide to rent from. Disney uses water transportation regularly to transport guests. The fact they allow watercraft rentals is fantastic, but it does come with restrictions to allow for your safety and the safety of those afloat around you.
6 – In the Know
As with any Disney planning, we recommend you check the weather if possible before boarding your watercraft. Disney has the right to cancel any excursion scheduled if the weather would be an issue of safety in any way. Check with each specific rental option on what their cancellation policy is regarding this matter. We didn't list pricing throughout this write up simply because for many watercraft rentals, prices vary drastically depending on the number of people, times spent boating, and type of vessel you select. A little tip we have learned, however – the larger the party, the better the deal seems to be. By that, we mean, if you have a family of 3 and are traveling with another family of 3, sharing the rental cost for the up to 6 guest boat would save you from spending money on renting two watercraft. For many of the simple boat rentals, no advanced reservation is needed. However, the Grand 1 Yacht, specialty cruises, fishing excursions, and some selections do require advanced reservations. Check with the resort location you are interested in setting sail from for more reservation details. Lastly, be sure to bring the sunscreen!
With so many lakes, lagoons, and bays, Disney understands the desire to set sail. Once again, if you can dream it, Disney makes it happen! Have a magical time aboard your watercraft!
For a no obligation, FREE Quote on a Disney vacation package, please contact our travel partner Magical Vacation Planner at 407-442-0227 (407-442-0215 for Spanish). You can also request a FREE quote online by Clicking HERE.