You will notice a list of warnings for many attractions throughout Walt Disney World.  Among these warnings are height requirements.  The minimum height requirement, if any, will be posted at the entrance to the attraction and will also be online within the My Disney Experience application.  Be very mindful of these as you are planning your day so you don't get hopes up for an attraction that someone may not be able to ride.  Here are key things that you need to know about Disney height requirements:
6 – Why are there height requirements?
The height requirements are established based on safety tests that were conducted during the development of the attraction.  The height requirements are put in place in order to protect individuals.  The restrictions are typically based on the speed, intensity level, seat belt or restraint placement, and type, etc.  Disney is extremely concerned about safety in everything they do, and they won't take any chances.
5 – The attractions that have height requirements across all of Walt Disney World:
32″:
Tomorrowland Indy Speedway – Magic Kingdom (to ride with a driver over 52″)
Alien Swirling Saucers – Hollywood Studios
Chairlift – Blizzard Beach
35″:
The Barnstormer – Magic Kingdom
38″:
Seven Dwarfs Mine Train – Magic Kingdom
Kali River Rapids – Animal Kingdom
Slinky Dog Dash – Hollywood Studios
Millennium Falcon: Smuggler's Run – Hollywood Studios
40″:
Splash Mountain – Magic Kingdom
Big Thunder Mountain – Magic Kingdom
Test Track – Epcot
Soarin' – Epcot
Star Wars: Rise of the Resistance – Hollywood Studios
The Twilight Zone Tower of Terror – Hollywood Studios
Star Tours – Hollywood Studios
DINOSAUR – Animal Kingdom
44″:
Space Mountain – Magic Kingdom
Mission: Space – Epcot
Expedition Everest – Animal Kingdom
Avatar Flight of Passage – Animal Kingdom
48″:
Rock-n-Roller Coaster Starring Aerosmith – Hollywood Studios
Primeval Whirl – Animal Kingdom
Slush Gusher – Blizzard Beach
Summit Plummet – Blizzard Beach
Downhill Double Dipper – Blizzard Beach
Crush 'n' Gusher – Typhoon Lagoon
Humunga Kowabunga – Typhoon Lagoon
52″:
Tomorrowland Indy Speedway – Magic Kingdom (to ride alone or drive)
4 – How heights are measured and determined.
At the entrance to each attraction that has a height requirement, there is a height measurement stand that is positioned to match the height requirement for that specific attraction.  You can walk up and test your kids yourself to see if they are tall enough to ride so that you don't spend time waiting for an attraction that they won't be able to ride.  Also don't be surprised if the cast members stops you if your kids are right at the cusp of the height requirements, as they double-check anyone that looks to be too short or very close to the requirement.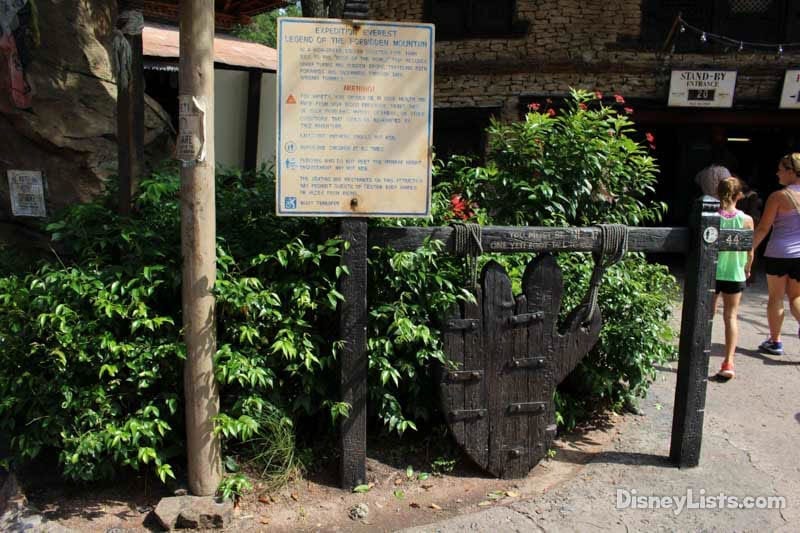 3 – Don't try to "sneak" a child who isn't the appropriate height onto an attraction.
Try to remember that these requirements aren't put in place for no reason.  They are a matter of safety and ensuring that every passenger is most likely to get off of the attraction with no injury or other serious issue.  It is a bad idea to try to get someone under the height requirement past the filters and on the attraction.  Many parents have tried to add height to their children via adding padding to their shoes or other crazy means, and it really isn't in their best interest for safety.  Just don't do it and wait until they are actually tall enough to ride!
2 – Utilize rider swap.
Rider Swap is a great feature if you have guests in your party that aren't tall enough for some attractions.  You tell the cast member that you will need a rider swap.  You then wait in the standby line while someone waits with the child that can't ride in another location.  That keeps them from waiting in the long line and allows part of your group to do something else.  Then after you ride you will be able to take your Rider Swap to the FastPass entrance and the person who had to sit out can then ride with 2 other members of your party with a far less wait.  It is really helpful and prevents small children from waiting in the standby line, which can get long and exhausting for them.
1 – Don't waste FastPass+ on party members that can't ride.
If you know that guests in your party can't ride a certain attraction, plan your FastPass+ accordingly.  You could either decide not to FastPass the attraction at all since you can use rider swap.  If it is a really popular attraction and only some of your party really cares about riding it, you can get FastPasses for them and then something different for the other part of your party.  This helps make the best utilization of your FastPass+ entitlements and reduce your wait times the most.
Editor's Note: During the phased reopening of Walt Disney World in 2020, FastPass+ is temporarily suspended.
For a no obligation, FREE Quote on a Disney vacation package, please contact our travel partner Magical Vacation Planner at 407-442-0227 (407-442-0215 for Spanish). You can also request a FREE quote online by Clicking HERE.