A Walt Disney World vacation is full of amazing experiences from the very first attraction to the final few moments on property. Guests can enjoy theme parks, water parks, Disney Resorts, Disney Springs, dining, shopping, entertainment, and attractions that are all unique and enjoyable. While all guests have fun on a Disney vacation, they also experience a wide array of other emotions including thrills, suspense, carefreeness, joy, tiredness, excitement, and even tearfulness. These moments of tears aren't necessarily out of sadness, but rather a wave of emotion from moments that are so memorable and special that guests can't help but get choked up. From beautiful nighttime shows and attraction finales to historical homages and touching musical moments, there are moments experienced in Walt Disney World which are totally moving. Here are the top seven things at Walt Disney World that make guests cry.
1 – Happily Ever After Nighttime Spectacular
Each night in the Magic Kingdom comes to a close with a showing of amazing Happily Ever After Nighttime Spectacular. Happily Ever After, Magic Kingdom's brand new nighttime spectacular is an entirely new kind of Disney storytelling; one that takes you on a journey filled with heart, humor, and emotion. Guests become part of the journey themselves as they follow favorite Disney characters on an adventure to seek out their destiny, face adversity and ultimately fulfill their dreams on the road to their happily ever after. In addition to fireworks, the new show features more lasers, lights, and projections than any previous show at the Magic Kingdom. The 18-minute spectacle features characters and scenes from numerous Disney and Pixar films, with an emphasis on the newer films from the last 10-15 years. These moments are featured through state-of-the-art projections, enhanced by more than 50 choreographed spotlights and brilliant lasers. This new show is fantastic and can pull on those heartstrings!
2 – Beauty and the Beast – Live On Stage
Disney's Hollywood Studios is home to a live show which retells the story from a classic Disney animated film. Beauty and the Beast – Live on Stage shares the story of Beauty and the Beast through live acting and singing. Guests who enjoy the performance are sure to love the familiar characters and wonderful musical numbers from the film. While the show is entertaining, guests are sure to find themselves choked up when the Beast is injured by Gaston. Belle leans over the Beast and professes her love for him in a moment that is guaranteed to make even the grumpiest of guests cry.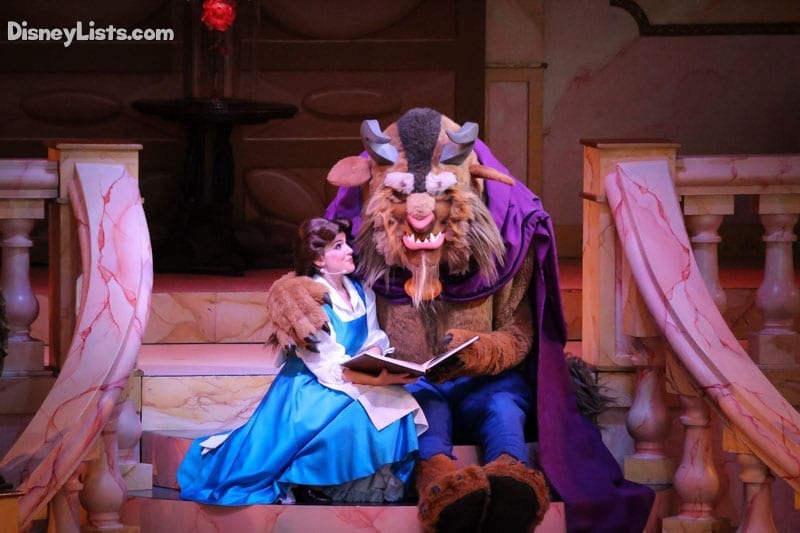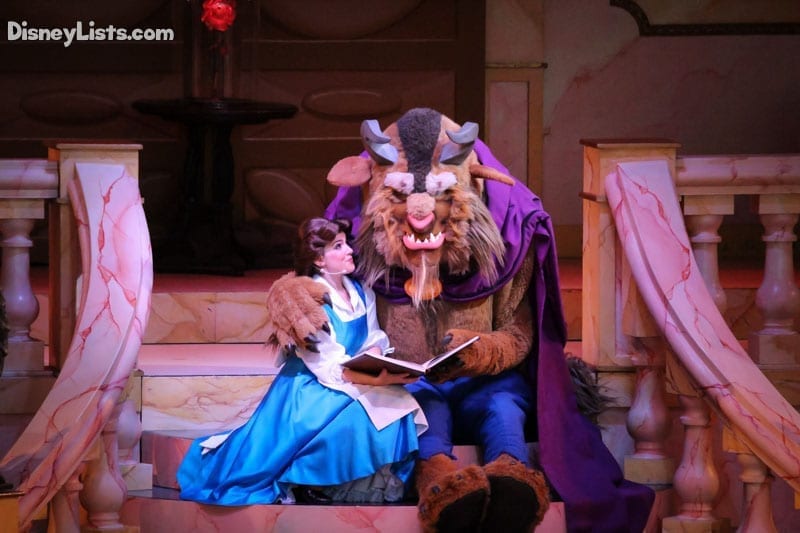 3 – Kiss Goodnight
After the Magic Kingdom closes each evening, a special presentation occurs at Cinderella Castle. The Kiss Goodnight usually occurs about a half-hour after closing and features special lighting and a speech thanking guests for spending their time in the park. Between the soft lighting, the magical music, and the heartfelt thank you, there is no better way to end a day in the Magic Kingdom. Guests who stay to enjoy the Kiss Goodnight are sure to get a little teary after reflecting on such a magical day.
4 – Hall of Presidents
Liberty Square in the Magic Kingdom is home to an attraction that brings the history of the United States to life through audio-animatronics. The Hall of Presidents invites guests to sit inside a grand theater where the presidents are brought to life through a historical showing. Guests can enjoy watching Abraham Lincoln deliver the Gettysburg Address, hear from the current President, and listen to a narration by Morgan Freeman. The Hall of Presidents features one moment in particular which is sure to choke up guests as the curtain rises and all of the presidents are standing as one on the stage. This moment combined with patriotic music is enough to leave every guest appreciative of history and teary!
5 – Spaceship Earth
The most recognizable attraction in Epcot is Spaceship Earth which is housed inside the massive geodesic dome and covered in silver triangles. The attraction progresses from the beginning of time to modern-day to celebrate the history of communication through scenes that depict important moments like the invention of the printing press and the burning of Rome. Guests who enjoy a ride on Spaceship Earth travel in Time Machines towards the finale which is sure to make them tear up. After reaching modern-day, guests are treated to a beautiful piece of music while enjoying a wonderful view of planet Earth surrounded by thousands of stars. The grand reveal is a sight to behold, and guests are sure to get a little emotional.
6 – Festival of the Lion King
Disney's Animal Kingdom is home to the Harambe Theater which features a live show that is not to be missed on a Disney vacation. The Festival of the Lion King brings the story of the classic Disney animated film to life through familiar music and characters, fire dancing, acrobatics, audience participation, and a celebration of the circle of life. One part of the Festival of the Lion King features an aerial ballet set to the beautiful song "Can You Feel the Love Tonight?" which is so ethereal and moving that guests are sure to become emotional and maybe shed a tear.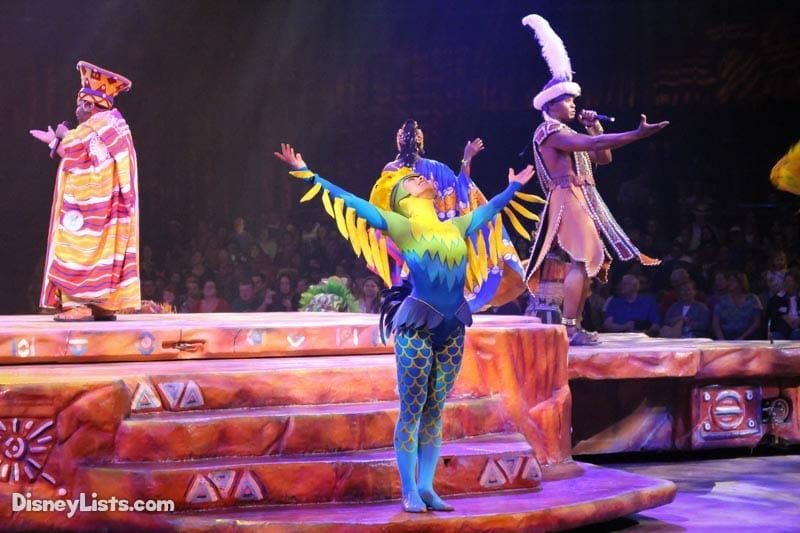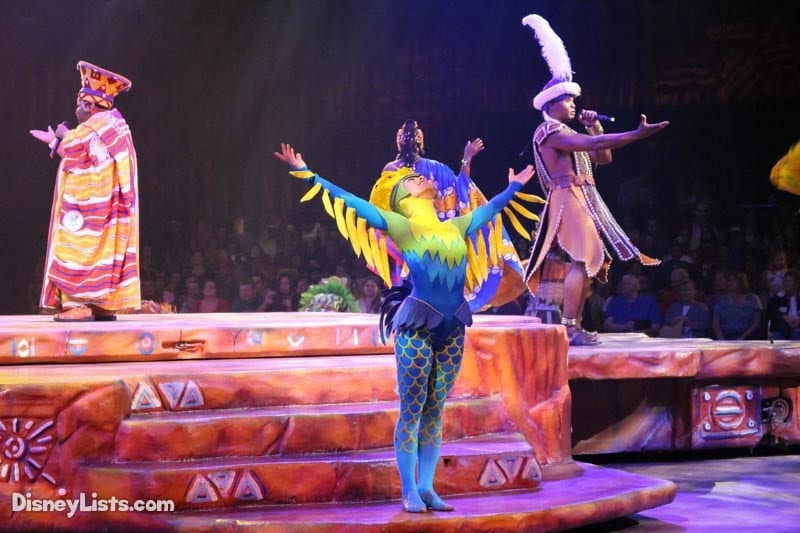 7 – Once Upon a Time
In addition to Happily Ever Nighttime Spectacular and the Kiss Goodnight, the Magic Kingdom also features another nighttime show which may leave guests emotional. This fourteen-minute show features a unique technology that projects images and animation onto Cinderella Castle and brings the structure to life as a blank canvas.  Join animated hosts Mrs. Potts and her son Chip for a captivating bedtime story that recounts cherished moments from tales that begin with the classic line—"Once Upon A Time." You'll get swept away to far-off lands as scenes from some of your favorite Disney animated films―Cinderella, Peter Pan, Frozen, Alice in Wonderland and Beauty and the Beast―are cleverly projected onto the iconic palace. Standing on Main Street U.S.A., while hearing some of your favorite Disney stories is just another way we get choked up at Disney World!
For a no obligation, FREE Quote on a Disney vacation package, please contact our travel partner Magical Vacation Planner at 407-442-0227 (407-442-0215 for Spanish). You can also request a FREE quote online by Clicking HERE.