Are you ready for some amazing souvenir shopping?! One of our favorite things about Animal Kingdom has to be that it has some of the most unique souvenirs on Disney property. We've browsed and shopped all of the Animal Kingdom's gift shops, carts, and stands and have come up with a list of what we feel are the 15 best and most unique souvenirs available at Animal Kingdom. So, let's go shopping!
1 – Animal Kingdom Restaurant Specialties
Take the taste of a few of Animal Kingdom's dining specialties home with you! You can purchase Tusker House Specialty Bagged Coffee Collection, some heavenly Harambe Cocoa, and even Flame Tree's famously wonderful Barbeque Sauce. Although several gift shops have these items, Zuri's Sweets Shop seemed to have the largest selection. We'll take 10 of each please!
2 – On-Site Hand Carved Items
In Africa, outside on the corner of Mombasa Marketplace and Ziwani Traders, you'll have a chance to see your souvenir being carved! A sweet gentleman is hard at work throughout most of the day. As he sits in the midst of wood shavings in his African clothing, taking a moment to watch his work is something spectacular. Go one step further and select from the many animal figurines and African specialties carved and painted. We especially love the selection of salad tongs with animals on the handles.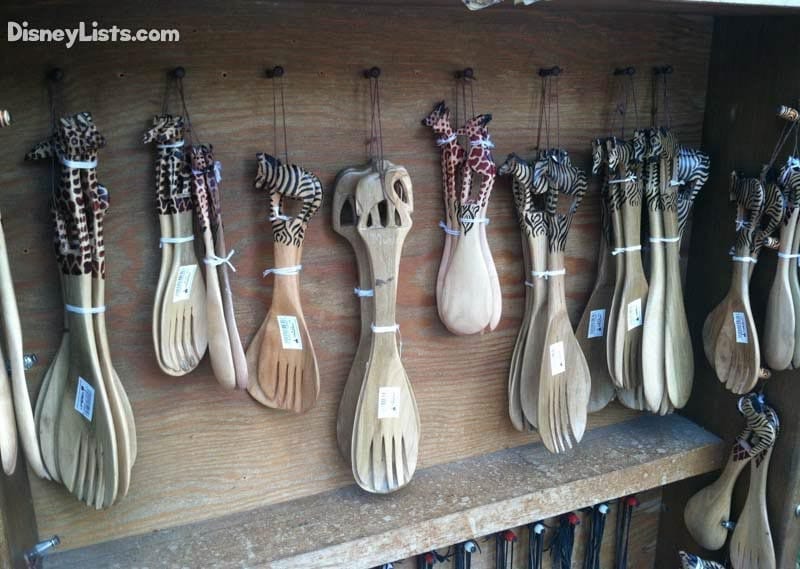 3 – A Cooking Safari with Mickey
If you are like us, you dine on some fantastic food while at Disney but when you get home you can't help but crave to taste those flavors again! Well, now you can with the cook book, A Cooking Safari with Mickey: Recipes from Disney's Animal Kingdom Theme Park and Disney's Animal Kingdom Lodge. Once again, Zuri's Sweets Shop has several copies of this cookbook when we were there recently. Now, if only Disney could improve our cooking skills to match theirs!
4 –  A Mano Fair Trade Items
From cute wallets, colorful jewelry, and fun selections, A Mano Fair Trade items won over our hearts! As noted on these souvenirs, all items were handmade by Hmong women. Artisans are paid a fair wage and a percentage of profits go back to the artisan communities. Look for these sweet items throughout the park, with a great selection at Island Merchantile. Purchase a spectacular souvenir, and feel confident you are supporting a great source!
5 – Animal Kingdom Artwork
Take those memories and a picture of Animal Kingdom home with you! Head in to Island Merchantile in Discovery Island for a fantastic selection of artists at their best. With a wide selection of sizes and scene displayed, you'll surely be able to find that favorite view in the park on one of these masterpieces!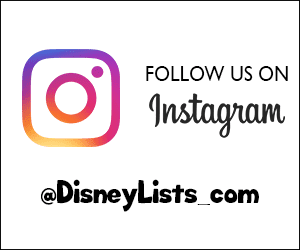 6 – Mickey Safari Hat
Of course the Mickey Safari hat make the list! You can't miss these hats spattered in several areas of the park. There is merchandise stand in Discovery Island between Flame Tree Barbeque and Adventures Outpost that has some great hat selections – but especially this one of a kind Mickey Safari hat!
7 – Animal Themed Walking Sticks and Pens
How amazing are theses?! Strut around Animal Kingdom, purchase for someone with a practical need, or simply purchase to put on display… these hand carved, animal themed walking sticks are excellent souvenirs for just about anyone. We especially like the selection located at Disney Outfitters gift shop. Plus, while you are there – check out the hand carved animal pens near the register. Just imagine the next time you make up that shopping list you could do so with one of these incredible animal pens in hand.
8 – Drums, Drums, and More Drums
Rock out African style with about every type of small drum you can imagine. These African drums and noise makers make for great souvenirs for both kids to play with and for adults to display. If you think your kids will drive you up the wall with the constant thumb of the drums – this could make for a great souvenir for someone else's kids!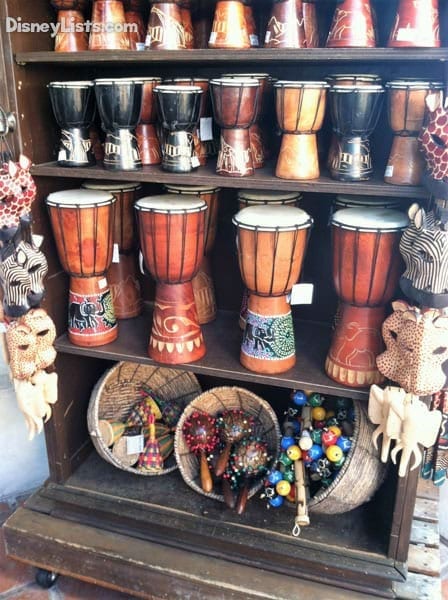 9 – Unique Wind Chimes
Listen out for the rowdy and loud apes over in Asia and head their way towards Mandala Gifts. Just outside of this neat gift shop stand, you'll spot a section of incredible wind chimes. There are several animal themed wind chimes that are so entertaining just to browse through. Our favorite one is the ape wind chime!
10 – Yak and Yeti Tea Set
Also in Asia, as you head to receive a shower at Kali River Rapids, check out Yak and Yeti Bhaktapur Market. There are several excellent Asian inspired souvenirs, but what especially caught our eye was the Yak and Yeti tea seat. We love how it says "Yak and Yeti" on the tea cups which will make for a great conversation piece when used back at home.
11 – Animal Kingdom Snacks
It's no secret that we are huge fans of snacks and sweets. That's why we are thankful Animal Kingdom is such a huge park so we can walk off all of the tasty goodies we devour! We have a feeling however we aren't the only sweet/snack fans out there. Perfect gifts or souvenirs to enjoy later are the Animal Kingdom theme snacks such as the Rice Crispy Treats, Coconut Patties, and Monkey Mix. We especially love the snacks that say "Animal Kingdom" right on the package so friends and family know where we got them from. You'll be able to find these goodies throughout the park.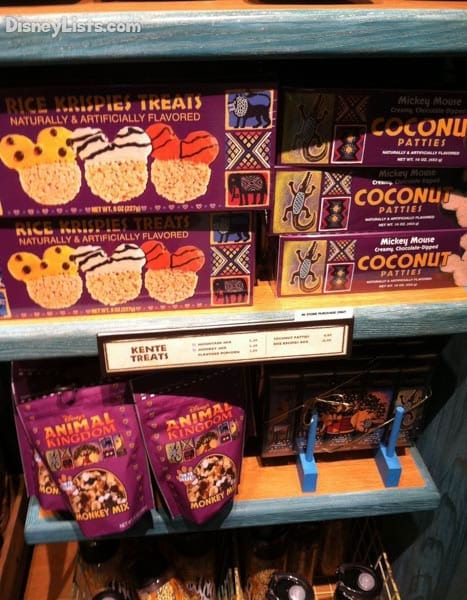 12 – Animal Wine Bottle Stoppers
Another Zuri's Sweets Shop awesome souvenir to pick up for all of those wine lovers out there! Unique wine stoppers with different African animals will leave you ready to collect them all. Once again, a great conversational piece at your next dinner party or simply to enjoy the next time you open a bottle of wine!
13 – Mickey Safari Radio Control Vehicle or Tree of Life
Kids and collectors – this one is for you! We're sure if you've been to Animal Kingdom you've noticed these fun and collectable Disney toys. The Mickey Safari Radio Control Vehicle is one our kids love! Mickey is in the driver's seat and ready for you to direct him along on a safari. Plus, the Tree of Life Adventures Playset with Characters is awesome! Both of these toys are for ages 3 and up, making them perfect souvenirs if you are looking for something for a young one older than 3.
14 – Yeti Items
If you've conquered the Yeti on the Expedition Everest attraction, then you owe it to yourself to purchase one or more of Animal Kingdom's fantastic Yeti souvenirs. Hats, shirts, plush Yeti, trading pins, and more – you'll surely find something that will remind you of that fateful day you conquered the Yeti!
15 – Dinosaur Gear
Last, but not least on our list of Animal Kingdom's best and most unique souvenirs are the dinosaur items located at the Dino Institute Gift Shop in DinoLand U.S.A., at the exit of the attraction DINOSAUR! You'll still be shaking in your boots from your wild ride back in time, but hopefully you'll be able to focus on some of these really cool souvenirs like neat rocks for the rock collectors out there or even the simple, yet funny dinosaur shirts.
We'd love to hear what your favorite Animal Kingdom souvenir is!
For a no obligation, FREE Quote on a Disney vacation package, please contact our travel partner Magical Vacation Planner at 407-442-0227 (407-442-0215 for Spanish). You can also request a FREE quote online by Clicking HERE.