Sometimes the hardest souvenirs to purchase are for those little ones that can't tell you quite yet what they really want! Based on experience with our kids and family members, here are our top 9 best Disney souvenirs for kids ages 0-4.
1 – Simply Mickey
Throughout several gift shops within the parks, you will spot a Mickey Mouse about the size of your hand. Hard, plastic, this Mickey is as simple as they come! No bells and whistles, but just Mickey with movable legs and arms. Easy on the wallet, easy to clean, and loved to be drooled on by little ones, you can't go wrong with this souvenir. This Mickey is usually available in a basket with several others wherever children's items are sold in the park. We just recently saw they were being sold at the Ye Olde Christmas Shoppe at Magic Kingdom! This is a great buy if you are looking for something to distract the little one without breaking the bank.
2 – Plush / Stuffed Animal
Of course, you can't go wrong with any of the plush/stuffed animals available at Disney. The different characters and sizes seem endless! See which one your little one grabs for or shows the most interest in and go for it. We also recommend the Mickey Mouse plush rattle you'll find in some stores and online at DisneyStore.com. Mickey Mouse as a rattle for babies is a hit! If you prefer Minnie, Dumbo, or even Thumper rattles, you can purchase them as well.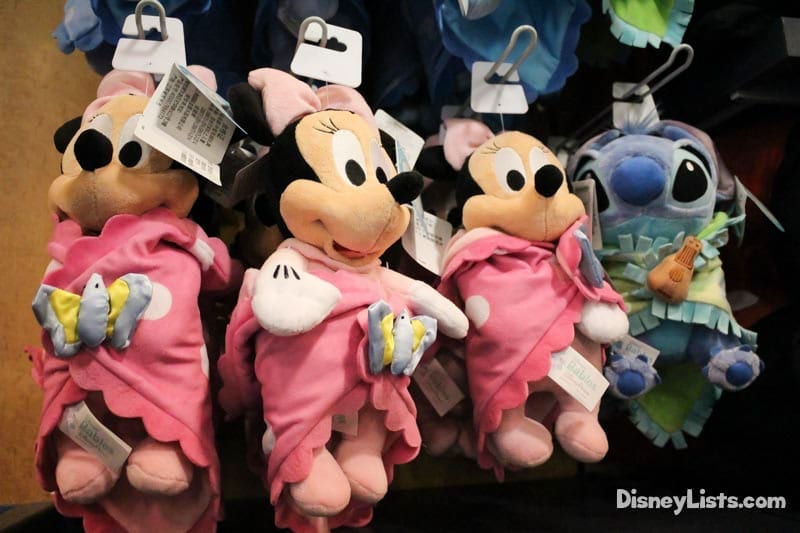 3 – T-Shirt
This souvenir is a simple, yet special purchase! Disney offers a variety of "My First Trip to Disney" shirts to select from that are super cute! You can find these just about anywhere children's items are sold at Disney. If this isn't your little one's first trip – don't fret! Check out the several other children's options. One of our favorites is the Star Wars themed shirt that says something along the lines of "Judge Me by My Size Do You?". Have fun shopping for that perfect shirt that might just be a great keepsake when they grow out of it.
4 – Bathroom Play Set
What do young ones love more than a bath? How about a bath with some awesome Disney toys! You can't miss these terrific bathroom squeeze toys available in most all gift shops around Disney. You'll see these clear, round cases with a handle. Inside is a lineup of cute characters! Some examples include the Seven Dwarfs, Mickey and his Pals, Pixar Characters, Princesses, and even Star Wars characters. Both of our children have loved these toys. We have one set to use for bath time and one set that's out for playing with. These aren't too expensive and make for great gifts for family and friends with young children.
5 – Tea Set
Tea anyone? Well, now you can have a Tea Party with your baby! Look for the large, clear, plastic tea pot with a bright lid. They come in a variety of princesses, such as Tinkerbell, Rapunzel, Belle, and Ariel. While this tea set is typically thought of for older girls, it's our 1-year-old's favorite toy. Inside the large tea pot is a smaller tea pot, cups, plates, bowls, and even silverware. It's great because all the pieces can be played with together or separately and it's safe if it ends up in your teething baby's mouth! We think for our little one it's the bright colors and sounds they make when bumping together that make this gift a winner on our list.
6 – Dining Set
Now let's take this play dining and make it real! Disney offers a variety of character cups, plates, bowls, spoons, forks, and sippy cups in a multitude of characters. We're sure you've seen them at the parks and online, but these items are great souvenirs. Pick a character, any character, and enjoy talking with your toddler about who they see peeking out from under the food on their plate!
7 – Ornament / Stocking
You can't go wrong with Christmas items! Sure, an ornament and/or stocking isn't necessarily something you're young one will understand or appreciate right now. But, maybe a "Baby's First Christmas" ornament with a Disney theme will be a great memory to share with them in the future. There are also options for personalizing ornaments which would be neat to have your child's name on a set of Mickey ears hanging on the tree! Let's not forget about the fun stockings you can pick up for to enjoy treats from Santa in.
8 – Mickey Shapes
Perfect for keeping Mickey in mind, about also for learning, we love the Mickey shapes toy available in several gift shops. The base of this toy is in the shape of Mickey's pants and the handle/top is Mickey's ears. There are four slots for shapes (star, circle, square, diamond) and it's your child's job to match the object with the shape to put it in Mickey's pants! The objects are cute as each color represents and has an icon of each Disney theme park.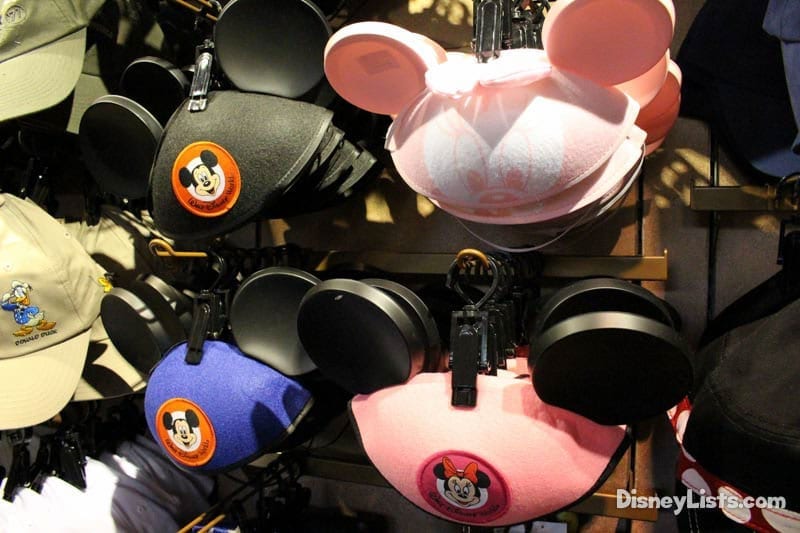 9 – Mickey Ears!
Last but not least – this is a Disney must-do! It's time to purchase a set of Mickey ears for your little mouse. If your children are like ours, they might not be interested in wearing them at a young age – but we still feel the need to purchase their first set anyway. It's almost a rite of passage in our household! We love to pick out a set of ears and have them customized. There is something magical in a set of Mickey ears!
What are some of your favorite baby/toddler souvenirs? We'd love to hear from you!