Editor's Note: Sadly, this long-time favorite of our family is no more. Disney announced in mid-2020 this Animal Kingdom attraction was being retired.
Primeval Whirl is an underrated attraction that doesn't receive as much hype as many of the other coasters and thrill rides at Walt Disney World. In fact, it isn't even open all the time. Primeval Whirl operates on a seasonal schedule and is typically only open during the busiest times of the year. However, it is definitely a fun ride that is worth making sure that you experience if it is open. Here are some fun facts and secrets about Primeval Whirl:
8 – The first roller coaster at Animal Kingdom.
Before Everest, there was Primeval Whirl. The ride first opened in 2002 as the first roller coaster in Animal Kingdom and the first (and only) roller coaster in Walt Disney World that spins. This makes it a pretty unique experience for guests and one that typically has pretty long lines at any given point during the day.
7 – It is actually 2 coasters in one.
Yep, take a look the next time you are at the attraction. You will notice that there are actually two different tracks that mirror each other. This allows more guests to board the attraction at a time since it can double the ride volume. It also makes the track area look really cool, having multiple cars going and moving in different directions.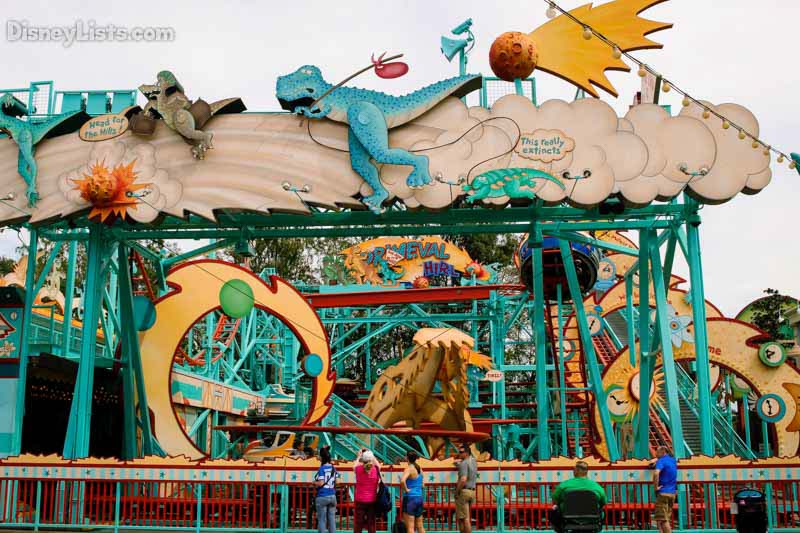 6 – Tall height restrictions in order to ride. 
The attraction actually has one of the taller height restrictions for the size of the ride.  The height requirements to ride are 48".  This is likely due to the intensity of the G-forces that are experienced while on the attraction.
5 – 900 riders per hour.
The attraction pushes through 700 riders per hour on each side, so 1,400 riders total. So when you think about wait times, you can think about just how many riders will make it through during that time. 700 riders in 30 minutes, 350 in 15, and so on. That seems pretty impressive when each ride vehicle only holds 4 guests, and only so many can be on the track at a time.
4 – The ride car spins.
This definitely adds an extra unique element to the ride experience. Each car seats 4 guests, and the cars actually spin during the ride. If you don't like spinning rides or get easily nauseated, then you definitely might want to sit this ride out. It may be too intense and make you a little sick to your stomach. If you can handle it, it is an amazingly fun time and has been one of our favorites at Animal Kingdom.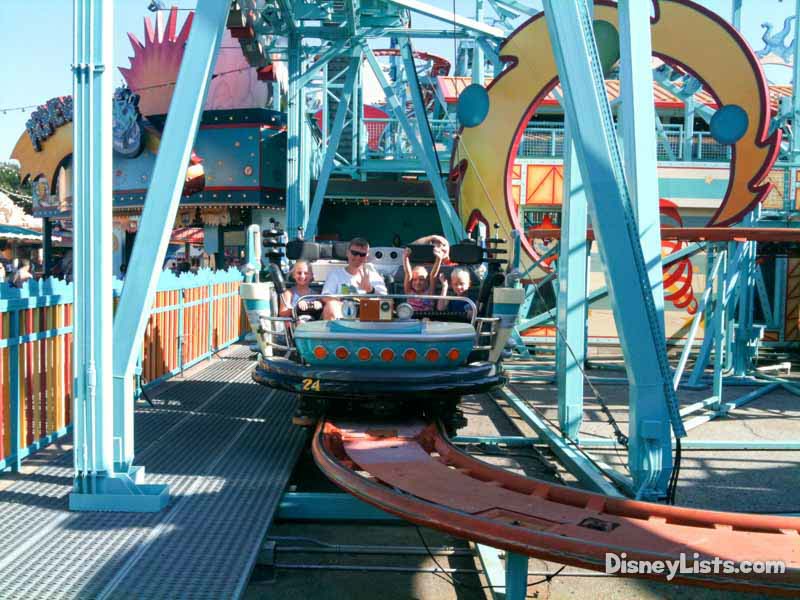 3 – You can't control the spinning.
There have been times that we swear we could control how fast the vehicle spins, but it apparently is controlled by the ride design and the spins that the ride is programmed with. You can try your own tactics, but it likely isn't going to change the way the ride was already going to spin when you are on it. It isn't going to be the same as a teacup effect.
2 – The ride reaches G-forces.
Due to the spinning on the attraction, the cars can actually reach 2.5 G's when they are spinning. Pretty cool, right? It is definitely more intense than it looks when you are watching it.
1 – Key facts about the ride.
Ride duration: Around 1.5 minutes
Highest Speed: 29 miles per hour
Highest drop: 30 feet
For a no obligation, FREE Quote on a Disney vacation package, please contact our travel partner Magical Vacation Planner at 407-442-0227 (407-442-0215 for Spanish). You can also request a FREE quote online by Clicking HERE.