News
News: More Opening Dates Confirmed (or at least narrowed down) for Major Additions at Disney World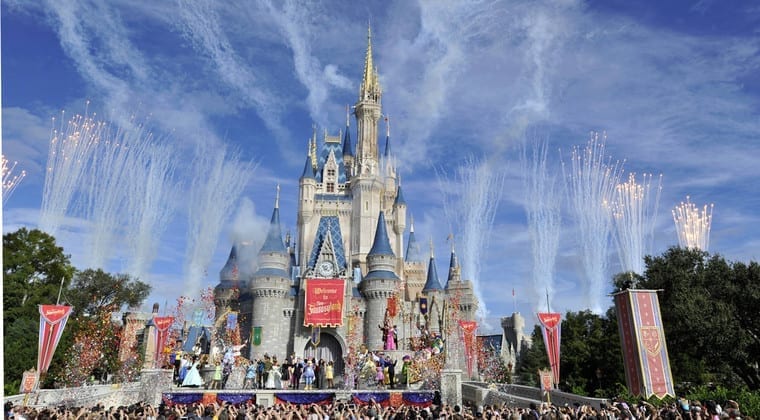 Disney has released a flurry of opening dates for three major attractions, two entertainment offerings and one restaurant coming to Disney World this summer. For months guests and fan have been begging for details on when Disney planned to open the new Frozen experience and Soarin', open the 3rd track at Toy Story Mania, launch the new stage show at Magic Kingdom and more. When it rains it pours as the saying goes, and announcements from Disney are apparently no exception.
1 – Toy Story Mania Third Track
The highly anticipated expansion of Toy Story Mania is almost here! Disney announced today that the third track of Toy Story Mania will open Memorial Day Weekend 2016, allowing for more guests to enjoy this very popular ride!
2 – Tiffins Restaurant in Animal Kingdom
Following the heals of the announcement of the Jungle Book: Alive with Magic being apart of the Disney's Animal Kingdom Summer Awakens at Night, Disney has now confirmed the opening date of the new restaurant, Tiffins opening in Animal Kingdom on May 28, 2016.
From Disney Writer Pam Brandon:
Tiffins, the newest Walt Disney World table-service restaurant at Disney's Animal Kingdom, will open Memorial Day weekend for lunch and dinner.
Located in the park's Discovery Island area, the menu is inspired by the world travels of the park's creators (Tiffin is the Indian word for a lunchbox used by travelers, and also the word for a mid-day meal). Walt Disney Imagineering describes the interior as "a gallery you can dine in with artwork that is a direct result of travels to Africa, Asia and South America," with tastes such as Berbere-Spiced Lamb Chop with Mustard Greens, Lentil Stew and Mint Chutney (Africa); Berkshire Pork Tenderloin with Huitlacoche Tamale, Hominy Succotash and Red Mole Sauce (South America), and Miso-glazed Black Cod with Forbidden Rice in Steamed Bok Choy with Turmeric Sauce (Asia).
We love that the beverage program focuses on sustainable, organic wines and bio-dynamic viticulture, as well as handcrafted cocktails and beers.
No reservations necessary in the adjacent Nomad Lounge with beautiful waterfront views. Look for a menu of small bites like a vegetarian summer roll, seared Wagyu beef skewer and honey-glazed coriander-spiced pork ribs.
Information regarding reservations for Tiffins will be available on May 20.
3 – Frozen Ever After
Also opening in "June," will be the highly anticipated Frozen Ever After Attraction coming to the Norway Pavilion in Epcot. From Disney Writer Jennifer Fickley-Baker:
We have an exciting update for all of you "Frozen" fans today. The Frozen Ever After attraction that's currently being constructed in the Norway Pavilion at Epcot is set to open in June.
Frozen Ever After will take guests on an adventurous boat tour through the kingdom of Arendelle. Once inside, guests will be transported to the "Winter in Summer" Celebration where Queen Elsa embraces her magical powers and creates a winter-in-summer day for the entire kingdom. Guests will pass Troll Valley on their way up the icy North Mountain to Queen Elsa's Ice Palace, and later on return to the Bay of Arendelle.
After disembarking, guests can top off their "Frozen" experience by meeting the royal sisters in their new Royal Sommerhus greeting location. Inspired by a Norwegian countryside cabin, Anna and Elsa have opened their summer home for visitors.
To bring this attraction to life, the original voice talent of the original "Frozen" film returned to record new dialogue and songs penned by composers Bobby and Kristen Anderson-Lopez. Walt Disney Imagineers traveled to Norway for architecture and design research, specifically visiting the Detli House in Sverresborg and the Open Air Museum of Cultural History in Trondheim.
Unfortunately, "June" is as specific as we get. Disney is likely guarding themselves against more delays and are giving themselves the entire month to debut the attraction. Be sure to sign up for our newsletter for any specific date announcements.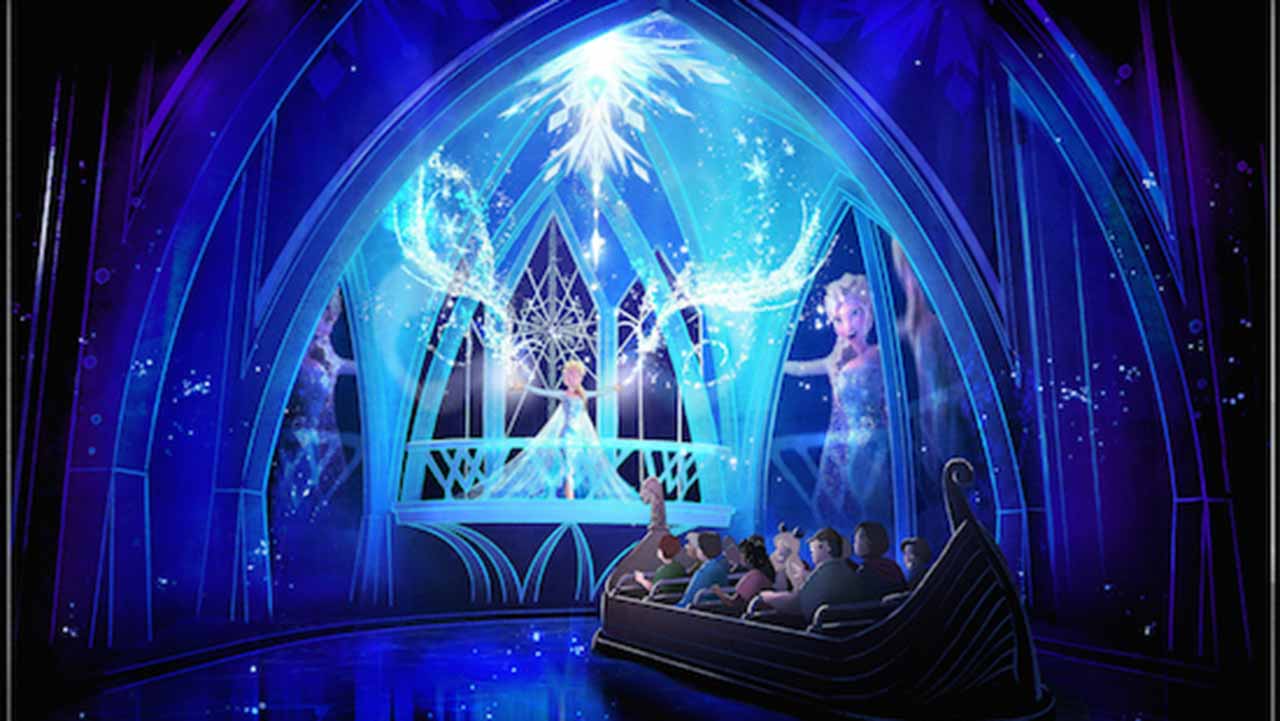 4 – Soarin' Around the World
Having recently released a preview video of the new Soarin' Around the World, it comes as no surprise that an opening date of June 17, 2016 has been announced. From Disney Writer Victoria Lim:
Imagine a wind-through-your-hair flight above The Great Wall of China, a bird's-eye view of the Sydney Harbor in Australia, gliding around the Matterhorn in Switzerland …
These are among more than a dozen breathtaking ways you'll be able to experience the wonders of the world when Soarin' Around the World makes its groundbreaking debut across the globe this summer. The next generation of the popular Soarin' attraction makes its premiere at the grand opening of Shanghai Disneyland June 16, 2016 as Soarin' Over the Horizon.
The next day on June 17, guests at Disney California Adventure park at the Disneyland Resort and Epcot at Walt Disney World Resort will be able to board the exhilarating aerial adventure that immerses you in a multi-sensory experience, complete with stunning sights, spectacular sounds and even subtle scents. Fastpass+ will be available for Soarin' beginning Thursday, April 21.
Be sure to check out the video preview here.
5 – Mickey's Royal Friendship Faire
Another highly anticipated entertainment offering is also debuting in June 2016. Mickey's Royal Friendship Faire State Show will be in Disney's Magic Kingdom Park. From Disney Writer Shawn Slater:
Beginning this summer, Mickey Mouse and his friends will welcome favorite characters from some of Disney's newest classics in "Mickey's Royal Friendship Faire." This all-new live stage show makes its debut in June on the Cinderella Castle Forecourt Stage at Magic Kingdom Park, with special appearances by Tiana and Naveen from "The Princess and the Frog," Rapunzel and Flynn from "Tangled" and Anna and Elsa from "Frozen."
"Mickey's Royal Friendship Faire" brings to the stage fantastic costumes, lively dancing, special effects magic and memorable musical moments, including the original song "On This Day" by songwriters Brendan Milburn and Valerie Vigoda ("Toy Story: The Musical," "Tinker Bell: Secret of the Wings").
In the show, Mickey and his troupe of Merry Makers have been preparing to host a joyous festival and have ventured far and wide to invite friends from other lands to join their celebration. From the Land of the Bewitching Bayous, Goofy has invited Tiana, Naveen and Louis to add a little spice of New Orleans jazz to the party. From the Land of the Enchanted Woods, Donald Duck brings some new friends he met at the Snuggly Duckling, and Daisy introduces us to her special guests, Rapunzel and Flynn. Finally, Mickey shares a surprise with Minnie, as he has traveled to the Land of the Mystic Mountains to invite Olaf, Anna and Elsa, who contributes a blast of her icy magic. It all culminates in a grand dance, as the Merry Makers invite all their new friends to join in the fun on this special day in Magic Kingdom Park.
"Mickey's Royal Friendship Faire" celebrates the unique stories of the citizens who make up this magical kingdom. The celebration begins this June! Will you be there?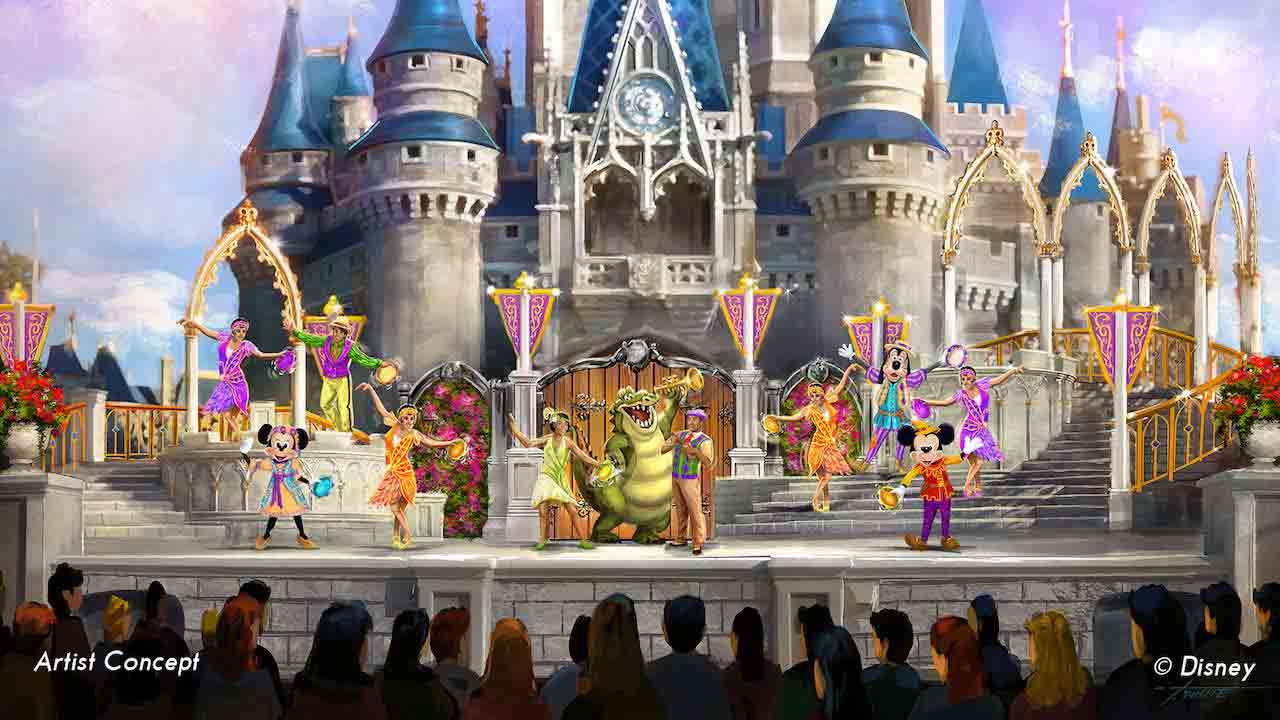 Like Frozen Ever After, this also has the generic opening date of "June." We will keep you posted as more information is released.
6 – Star Wars: A Galactic Spectacular
Finally, Disney also has announced that Star Wars: A Galactic Spectacular will also debut in June. From Disney Writer Jennifer Fickley-Baker:
There's a lot of fun in store for Star Wars fans this summer at Disney's Hollywood Studios. Starting this June, fans won't want to miss the grand debut of a new Star Wars fireworks show, "Star Wars: A Galactic Spectacular." This new nightly show is the next generation of the current Star Wars-inspired fireworks show. It will combine fireworks, pyrotechnics, special effects and video projections that will turn the nearby Chinese Theater and other buildings into the twin suns of Tatooine, a field of battle droids, the trench of the Death Star, Starkiller Base and other Star Wars destinations. The show will be punctuated with a tower of fire and spotlight beams, creating massive lightsabers in the sky. This new show will be the most elaborate fireworks display to take place in the history of Disney's Hollywood Studios.
This new Star Wars fireworks show replaces the current Symphony in the Stars show that is currently being offered. Again, we only received "June" as the opening date. Be sure to sign up for our newsletter for up to date information.