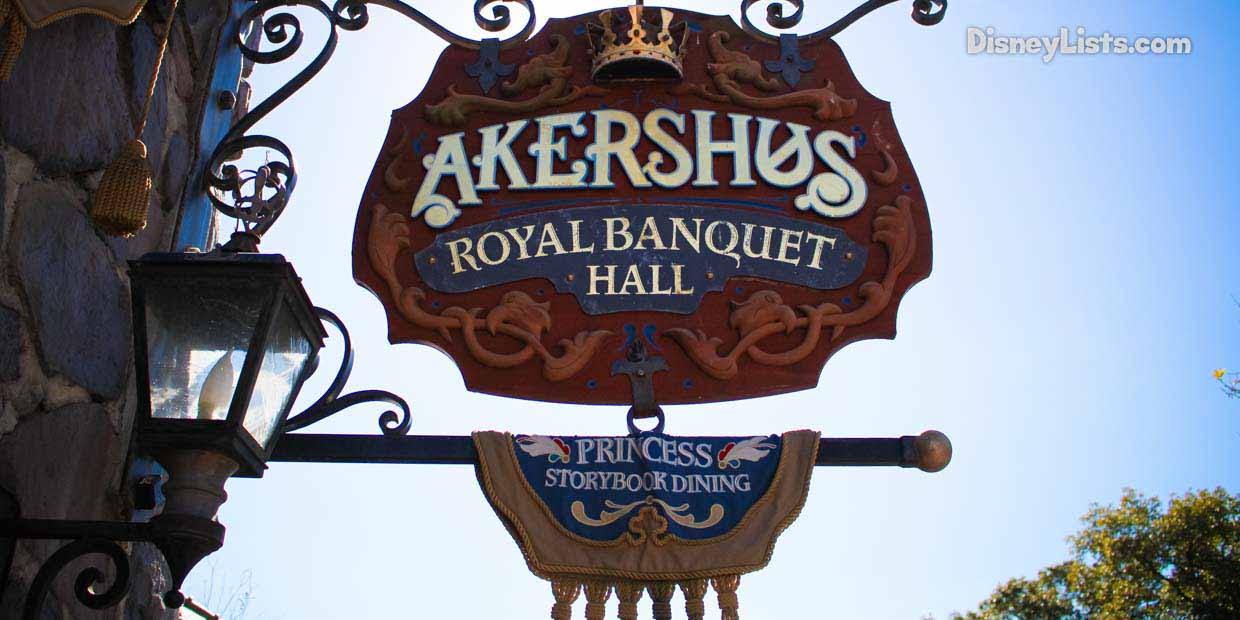 Akershus Royal Banquet Hall is an extremely popular restaurant in Epcot. It is one of the few breakfast options at Epcot, too. It is definitely a great experience and one that I recommend for all guests. Just because princesses are there doesn't mean that boys and girls of all ages won't have a fantastic time! Here are several things that you need to know about Akershus Royal Banquet Hall for your next visit:
7 – The meal is "all you care to enjoy" Scandinavian-inspired dishes.
The restaurant is open for breakfast, lunch, and dinner each day.  All of the meals are all you care to enjoy so that you don't have to be shy about trying the delicious dishes.  At breakfast, the food is more of the typical American breakfast foods like waffles, eggs, sausage, cereals, pastries, etc.  For lunch and dinner, the dishes are all Scandinavian-inspired dishes, which are extremely tasty.  You are offered a variety of dishes that rotate through various seasons.  You may find options like seafood, cured meats, cheeses, salmon, oven-roasted chicken, Norwegian meatballs, etc.  These will be accompanied by various salads, vegetables, and Norwegian dishes.  Everything is so delicious that you definitely want to add this to your must-try list.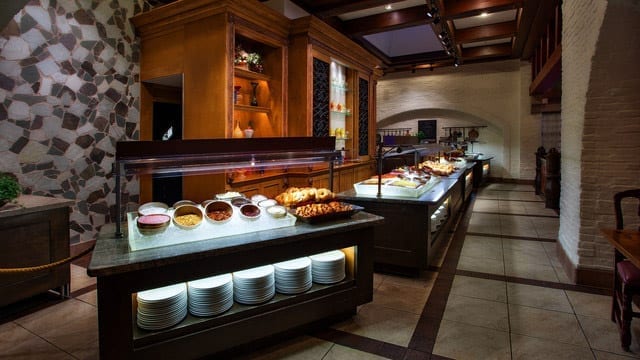 6 – For breakfast, definitely book the earliest reservation possible.
The restaurant is located at the Norway pavilion in the World Showcase at Epcot. The World Showcase typically doesn't open until 11 AM, but dining reservations for the restaurant begin at around 8 AM. If you book the earliest reservation time, you get early entry into Epcot, and you get early entry to the World Showcase. You get to enjoy a stroll back to the restaurant without all of the guests around, which means you can take some pretty amazing pictures. You also get to walk around the World Showcase without guests, which is also an amazing experience. We are so used to guests being all over the area that it is beautiful to see it empty and much quieter. Since you will be dining early, you also get to have breakfast and then get your day started at Epcot right around when other guests are just getting to the park. It's a great way to fit more park time into your day by having breakfast early.
5 – Bring your cameras and autograph books.
The princesses make their way from table to table to interact with guests during the meal. Be sure to have your camera ready along with anything that you would like to have the princesses sign for you. This doesn't just have to be an autograph book; this could be a t-shirt, picture frame, pieces of fabric, and more. Get creative and think of ways to really commemorate your experience with all of your favorite princesses.
4 – The cost is cheaper than Cinderella's Royal Table.
Cinderella's Royal Table is one of the most popular restaurants on property due to the location and the amazing princess encounters. Akershus Royal Banquet Hall isn't exactly the same in terms of location, but you do get to meet and interact with a lot of princesses. On most days, you are likely to meet Snow White, Cinderella, Belle, Princess Aurora, Ariel, and Mary Poppins. That is a lot of princesses; the cost for dinner at Akershus is around $65 for an adult while it ranges from around $75 to $90 at Cinderella's Royal Table. Cinderella's Royal Table prices do include gratuity, but it still nets out a savings. Plus, if you are on the Disney Dining Plan, Cinderella's Royal Table is 2 entitlements while Akershus is only 1. That is definitely a better bargain in terms of entitlements.
3 – Don't forget to try the adult beverages.
There actually are several signature beverages for adults that are exclusive to the Norway pavilion. These are at an additional cost than the cost of the meal, but they are well worth it, especially after a long day at the parks to help you unwind and relax. The Oslo, Kristiansand, and the Prince of Norway are among favorites to give a try while you are there.
2 – Save room for dessert.
The dessert at lunch and dinner is amazing! They actually bring the dessert to your table on your own plate. It is actually 3 different desserts on the plate! The desserts are chocolate mousse, ice cream with strawberry sauce, and apple cake topped with whipped cream. They are all delicious and a great sampling of sweet deliciousness. It is a great size for a dessert, and you definitely want to save room for it!
1 – Make reservations as early as possible.
This restaurant is extremely popular for all 3 of the dining services. Guests absolutely love the food, the atmosphere, and the character interactions, and it keeps them coming back time and time again. Due to the popularity, you will need to make dining reservations as early as possible to help make sure that you get a reservation, and even better that you get a reservation for the time that you want.
For a no obligation, FREE Quote on a Disney vacation package, please contact our travel partner Magical Vacation Planner at 407-442-0227 (407-442-0215 for Spanish). You can also request a FREE quote online by Clicking HERE.