Disney has released more information on the upcoming inaugural Star Wars Half Marathon-The Dark Side that will take place at Disney World on April 14-17, 2016. Excitement is building as this highly anticipated race gets closer and closer! The medals look great and the awesome merchandise will likely fly off the shelves at light speed. More intriguing, however, is the addition of race morning packet pick up. Runners have been asking for this for years. Details are below.
1 – First look at Race Merchandise
From Disney:
Participants will find several different programs designed for the various races taking place throughout the weekend.
There will be an overall Marathon Weekend logo program that includes a silhouette of Darth Vader and an image of a Stormtrooper running. This logo will be used on apparel, home goods and a commemorative banner.
We will also have an assortment for those guests running in the Star Wars Half Marathon. I particularly like the tagline on the back of the jacket. Other items will include pins, car magnets, hats, and apparel for both women and men.
There will be an entire assortment similar to the Half Marathon product for those guests participating in the Star Wars Dark Side Challenge, the ultimate test combining the Star Wars 10K and Half Marathon.
[smartslider3 slider=59]
Guests should also look for smaller assortments created for the Star Wars 10K, Star Wars 5K and the runDisney Kids Races.
In addition to shirts for the 5K and 10K races, "I Did It" shirts will be offered for the Half Marathon and Dark Side Challenge races.
Two shirts and a limited release pin will celebrate those guests earning the Kessel Run Commemorative Medal. I love the Millennium Falcon-inspired design for these items.
Finally, we're releasing three new Dooney & Bourke handbags for this event. The tote and Crossbody bag will have a leather hang tag that includes the event logo and an image of Darth Vader.
Look for these commemorative items and more during runDisney Health & Fitness Expo at ESPN Wide World of Sports Complex. The Expo will be open during the following times:
Thursday, April 14 – 10:00 a.m. – 7:00 p.m.
Friday, April 15 – 9:00 a.m. – 7:00 p.m.
Saturday, April 16 – 10:30 a.m. – 4:00 p.m.
2 – Race Medals
Disney has also revealed the race medals!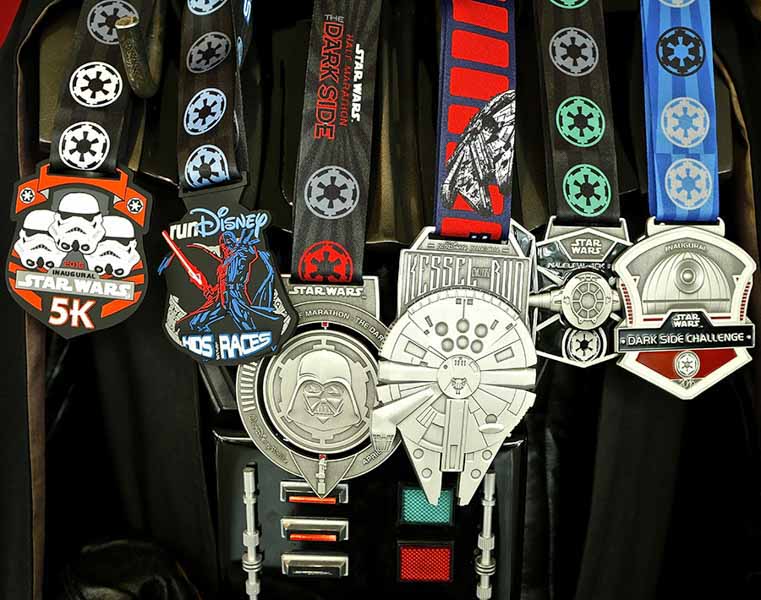 3 – New VIP Race Day Packet Pick Up Option Announced
Finally, Disney also released new information for a packet pick up option for race participants. Traditionally, the only way to pick up your race packet, which you must do to race, was to head over the Expo before your race. Many have complained about this requirement as it makes it impossible to arrive the evening before your race. Also, with the growing popularity of runDisney merchandise, the Expo has been become more crazy and busy, so busy that many would like to avoid it all together.
Here are the details from Disney:
Sometimes you're just too focused on getting yourself in the zone before your big race day and just can't get over to the runDisney Health and Fitness Expo.  If you're a runner participating in the 10K, Half Marathon or Dark Side Challenge, you can now save a little time and pick up your race packet the day of your scheduled race at the VIP Packet Pick-Up Tent.  This includes not only your bib number and race shirt, but also any pre-purchased merchandise too.
Your photo ID is required to pick up your packet at the VIP Packet Pick-Up Tent on race day and no one else may pick up your packet for you. No exceptions will be made. This opportunity is offered on a first come, first serve basis and no refunds are available once the service is booked.  This service is only available for the 10K, Half Marathon & Dark Side Challenge.
This special offer has very limited availability and requires a separate purchase.*  Your signed waiver will be required to complete your purchase.  Purchase must be completed by Monday, April 11, 2016 at 8pm EST.
What you need to know:
This is not a race registration.
$39 fee per race packet.
You will recieve your bib, Champion® Short-Sleeved Tech Shirt, gEAR bag and pre-purchased merchandise. No shirt exchange will be available.
You may ONLY pick up your own bib, packet and commemorative items.
You must have a valid ID in order to pick up your packet (driver's license, passport, Military ID, Government issued ID.)
You will be asked to upload your completed waiver.
This offer is subject to change or termination without notice. All dates and prices are subject to change. Race Day Packet Pick-Up is subject to availability. Race Day Packet Pick-Up is non-refundable and non-transferable. Restrictions apply.
There is no word on how "limited" this actually is. Note that you will not be able to exchange your shirts, so if you need a different size, this option will not work for you. However, if it saves you an extra night in a hotel and a vacation day, $39 will be a small price to pay.
Photo Credits: Disney