Having recently released a preview video of the new Soarin' Around the World, it comes as no surprise that an opening date of June 17, 2016 has been announced. More details below.
From Disney Writer Victoria Lim:
Imagine a wind-through-your-hair flight above The Great Wall of China, a bird's-eye view of the Sydney Harbor in Australia, gliding around the Matterhorn in Switzerland …
These are among more than a dozen breathtaking ways you'll be able to experience the wonders of the world when Soarin' Around the World makes its groundbreaking debut across the globe this summer. The next generation of the popular Soarin' attraction makes its premiere at the grand opening of Shanghai Disneyland June 16, 2016 as Soarin' Over the Horizon.
The next day on June 17, guests at Disney California Adventure park at the Disneyland Resort and Epcot at Walt Disney World Resort will be able to board the exhilarating aerial adventure that immerses you in a multi-sensory experience, complete with stunning sights, spectacular sounds and even subtle scents. Guests can begin making Fastpass+ for Soarin' beginning Thursday, April 21.
Be sure to check out the video preview here.
RELATED ARTICLE
Time Savers: 7 Tips to Make the Most of Your Day in Disney's Epcot
by Caitlin Corsello
Guests who visit Walt Disney World love to spend time in Epcot thanks to its amazing attractions and unique experiences. The park is divided into two halves with Future World in the front and World Showcase in the back. Future World celebrates a unity of technology and nature and World Showcase features a global celebration with eleven pavilions each focused on a country of the world. Guests who spend time in Epcot can enjoy traveling the world, traveling back in time, diving into the seas, hang gliding over beautiful locations, and stepping into the design studio. With so many amazing experiences to enjoy in Epcot, guests want to make the most of each moment while spending time in the park. While it is impossible to see it all in one day, guests can make the most of it by following a few tips designed to save time. Here are the seven best time saving tips to make the most of a day in Epcot.
1 – Arrive for Rope Drop
The easiest way to kick of an amazing day in Epcot is to arrive for rope drop. This entails getting to the park before it officially opens and waiting at the gates to be let inside. Guests who arrive early at Epcot can enjoy listening to a welcome speech which teases them of all the exciting and thrilling adventures that wait inside. Once the gates are officially open, guests who arrive at Epcot for rope drop are guaranteed to be some of the first inside where they can enjoy quiet walkways, few crowds, and low wait times on popular attractions.
2 – Go Back to Spaceship Earth
The first attraction which guests encounter when heading into Epcot is Spaceship Earth. The attraction is housed inside a massive geodesic sphere and invites guests to travel from the beginning of time to modern day to celebrate the history of communication. While Spaceship Earth is a must do attraction in Epcot, guests should opt to skip it when first entering into the park. Many guests automatically get on line for Spaceship Earth when entering into the park, making the line longer than normal and creating a bottleneck. Guests who head back to Spaceship Earth at a later point in the day can enjoy the attraction while avoiding the initial rush.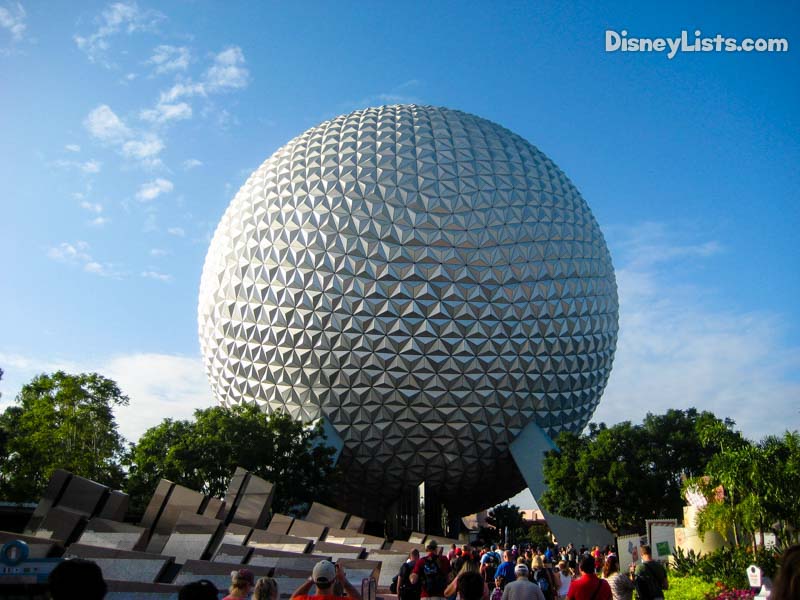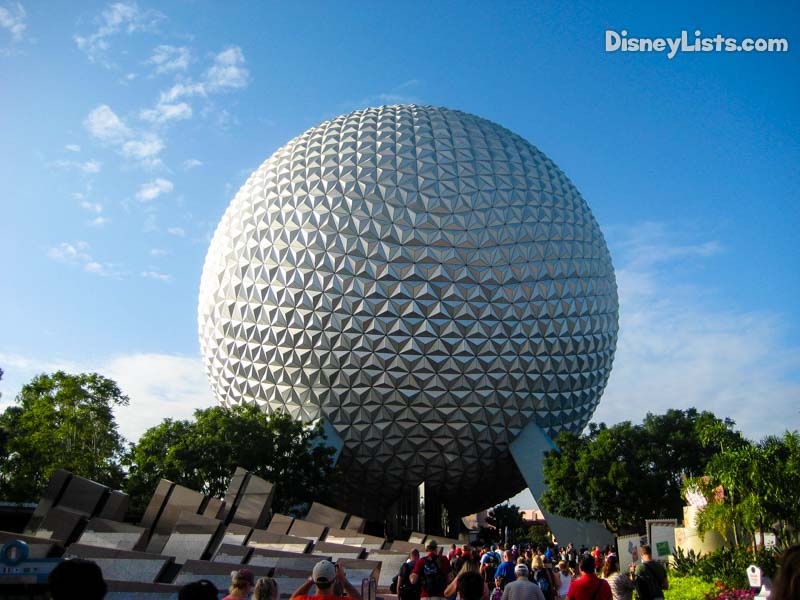 3 – FastPass Soarin' Around The World
One of the most popular attractions in Epcot can be found on the lower level of The Land Pavilion. Soarin' Around the World invites guests on an epic hang gliding adventure over some of the most beautiful locations in the world including the Great Wall of China. Guests can let their feet dangle and enjoy unique vantage points and sights on this unforgettable attraction. Since Soarin' Around the World is so popular with guests, it tends to have long wait times which easily can exceed two hours on busy days in the park. Guests who want to enjoy the experience without losing tons of time to the standby line should opt to book a FastPass for the attraction.
4 – Single Rider Test Track Presented by Chevrolet
Another very popular attraction in Epcot's Future World invites guests to learn all about automobiles. Test Track Presented by Chevrolet invites guests directly into the design studio where they can create their very own SIM cars and then test them on the track in Efficiency, Power, Responsiveness, and Capability. Guests can check out how their designs hold up and enjoy a thrilling outdoor loop at top speeds. Since Test Track Presented by Chevrolet is particularly popular with guests, those who want to save time should opt to wait on the Single Rider Line for the attraction. The Single Rider Line offers the exact same experience as the standby line but with typically a much shorter wait time so long as guests don't mind being split up at the loading platform.
5 – Leave Plenty of Time for World Showcase
The rear of Epcot is home to World Showcase which features eleven pavilions that are filled with beautiful details and culture. Guests who explore World Showcase can take in architecture, unique shopping and dining experiences, entertainment, and wonderful details that will leave them feeling as though they have truly traveled the world. The best way to make the most of time spent in World Showcase is making sure that guests have enough of it to explore! Since the area is so massive and each pavilion is amazing to explore, guests should be sure to leave plenty of time to enjoy World Showcase.
6 – Enjoy The Attractions in World Showcase
In addition to dining, shopping, and entertainment, some pavilions in World Showcase feature amazing attractions which can't be missed on a day in Epcot. Guests who are enjoying time in the park should be sure to experience The Gran Fiesta Tour Starring The Three Caballeros in the Mexico Pavilion, Reflections of China in the China Pavilion, the American Adventure in the America Pavilion, Impressions de France in the France Pavilion, and O Canada! in the Canada Pavilion.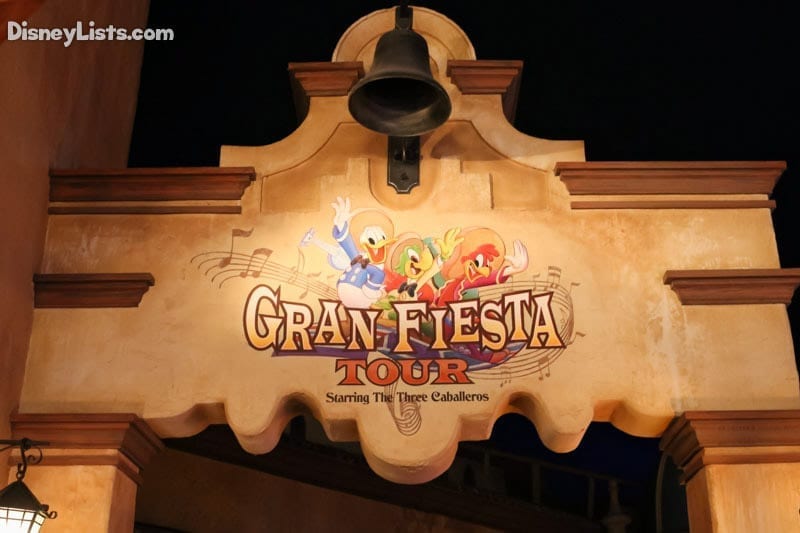 7 – Line Up Early for Illuminations: Reflections of Earth
Each night in Epcot comes to a close with a performance of Illuminations: Reflections of Earth. The show takes place on World Showcase Lagoon and features laser lights, special effects, pyrotechnics, fireworks, a massive globe, dancing waters, and beautiful music to create an experience that is sure to amaze guests. While there are plenty of great places to watch Illuminations: Reflections of Earth around World Showcase Lagoon, the performance is very popular and tends to become crowded early on. Guests who want to make the most of their night in Epcot and enjoy a fabulous view of Illuminations: Reflections of Earth should be sure to pick out a spot for the show at least an hour ahead of time. Also, be sure to read our article for the best Illuminations viewing areas.