Building on the excitement of Star Wars mania and with no signs of slowing down, two new Star Wars themed offerings debuted in the spring of 2016 at Disney's Hollywood Studios. First, Star Wars: A Galaxy Far, Far Away is a fifteen-minute show at Center Stage with multiple showings per day. A much shorter, yet very fun, Storm Trooper March also takes place from Star Wars Launch Bay to Center Stage with a few less showings per day. We've got all the details and many, many pictures! (When you see the blue arrows, be sure to scroll through the slideshow). Warning: Spoilers ahead!
Star Wars: A Galaxy Far, Far Away
In an interesting mix of movie vignettes and character appearances, this stage show is all about highlighting what we love about Star Wars—everything! The show begins with John Williams' famous Star Wars Theme and highlights favorite scenes from the original trilogy. As the opening builds, scenes from The Force Awakens begin to filter in along with a few scenes from the prequels.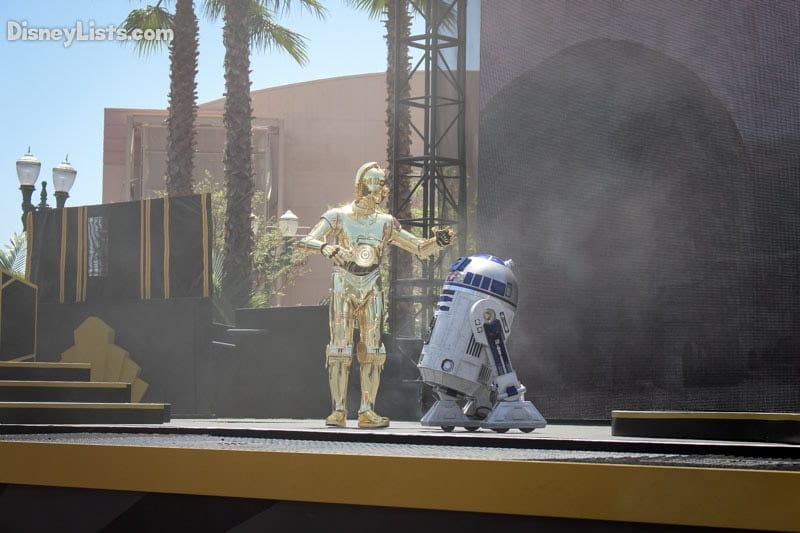 Next, Yoda invites us to feel the Force and followed by an on stage appearance from C3PO and R2D2 for a short exchange. Yoda then speaks again of the Force. We see multiple shots of characters wielding their lightsabers from all the movies. This section culminates in Yoda introducing the Sith and the Dark Side. Fittingly, Darth Maul appear on stage for a short lightsaber demonstration.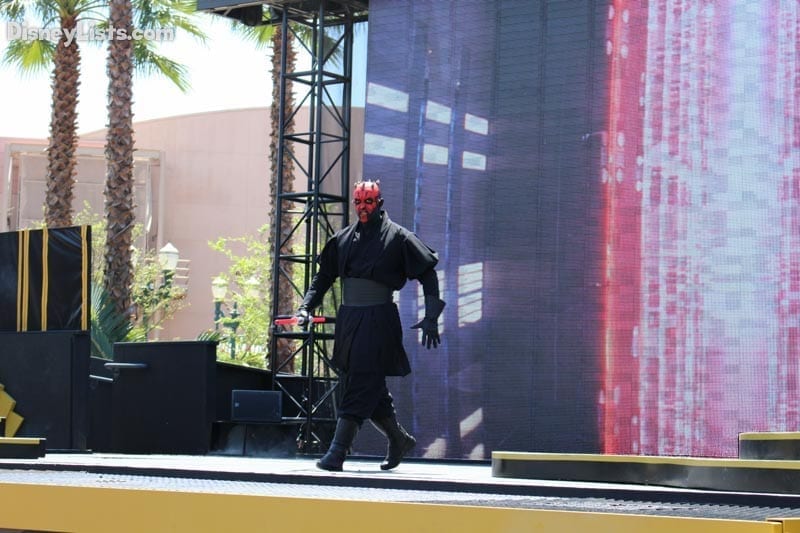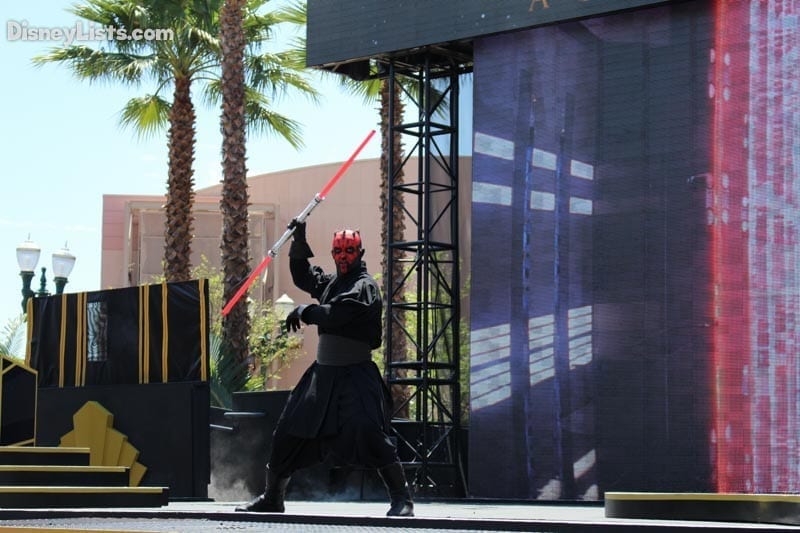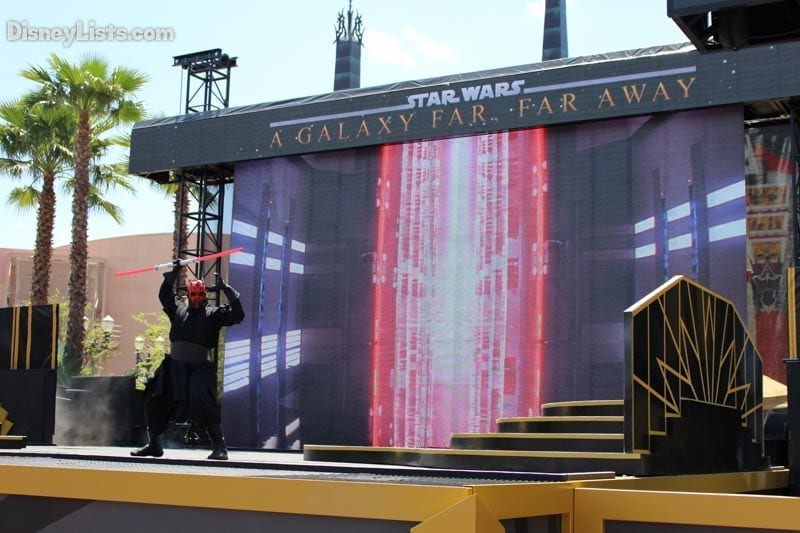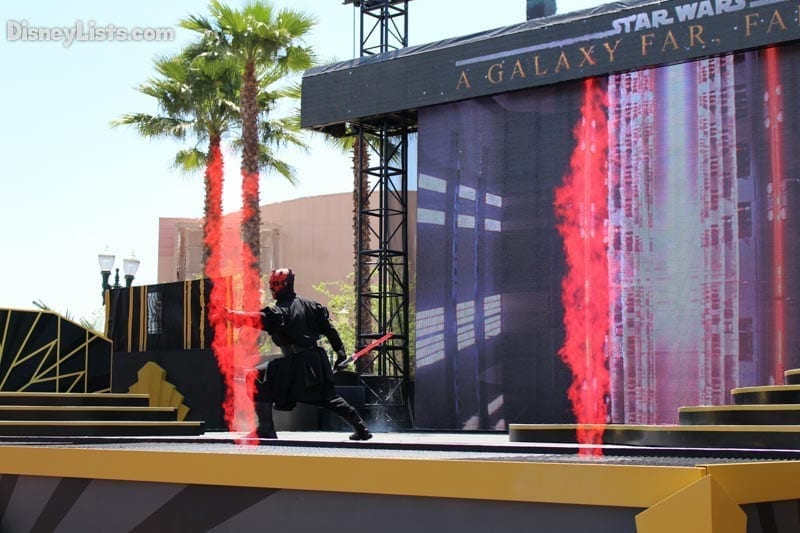 The show then moves onto movie vignettes focusing on the many pilots in the Star Wars universe and include scenes of Luke Skywalker, Poe Dameron, Han Solo and interrupted by an exciting (but short) visit on stage by Chewbacca himself with images of the Millennium Falcon behind him. The movie clips then focus on the search for the Millennium Falcon and end with Darth Vader handing over Han Solo to Bobo Fett. Boba Fett then appears on stage.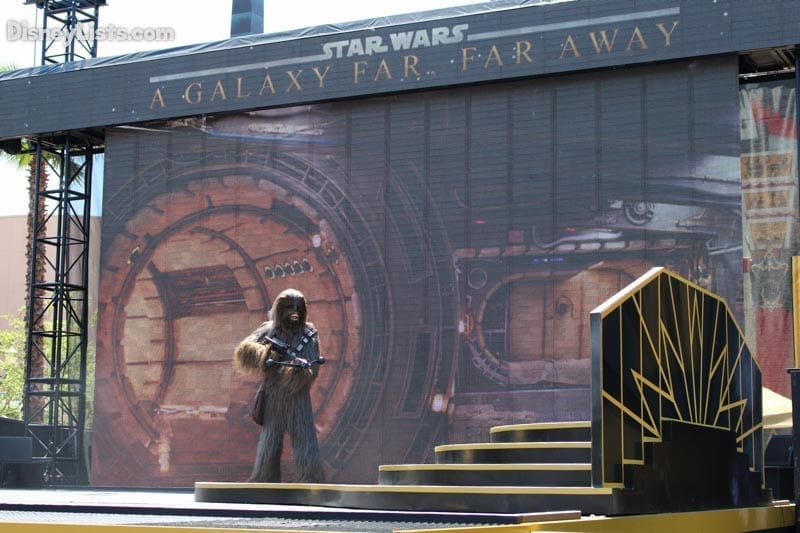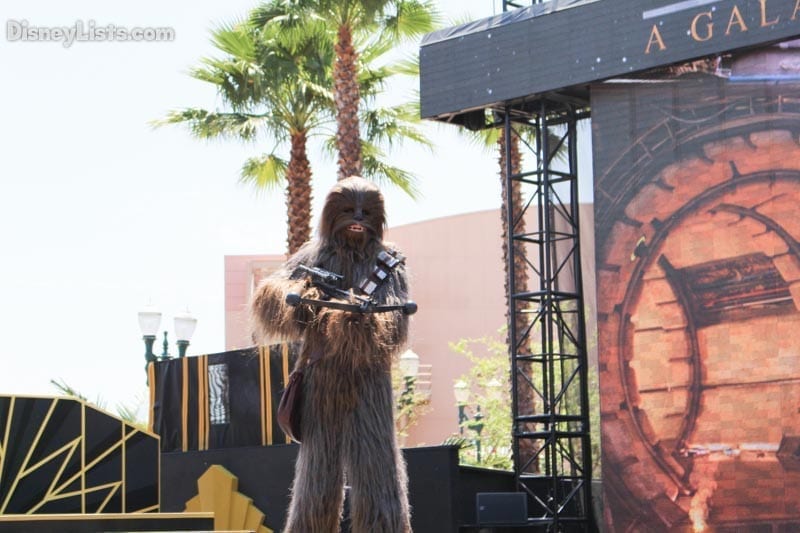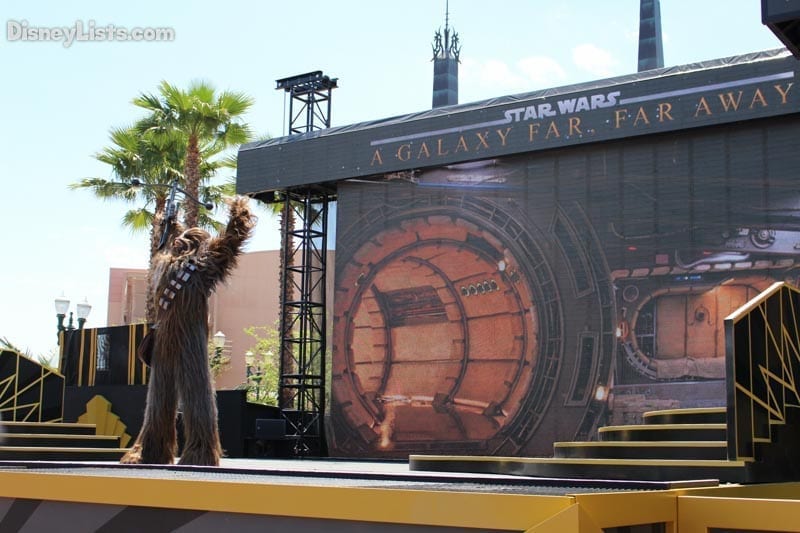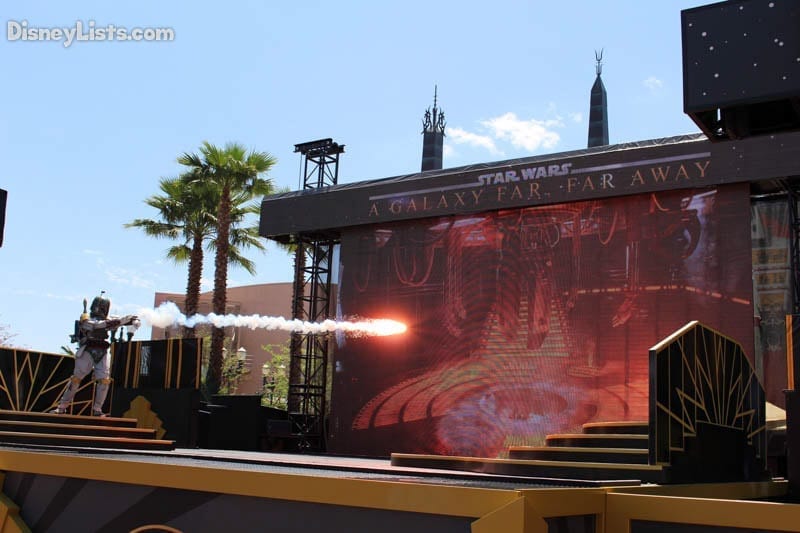 The show then transitions to the Dark Side with Yoda quoting how people are led to the Dark Side. Scenes highlight Anakin's path to the Dark Side and culminate with a visit from Darth Vader accompanied by Storm Troopers and John Williams' The Imperial March. Those paying close attention with notice that Darth Vader's Storm Troopers helmets are those from the original movies and not the newer Storm Troopers helmets seen with Captain Phasma and Kylo Ren from the Force Awakens era. Those details matter to Star Wars fans and Disney got it right!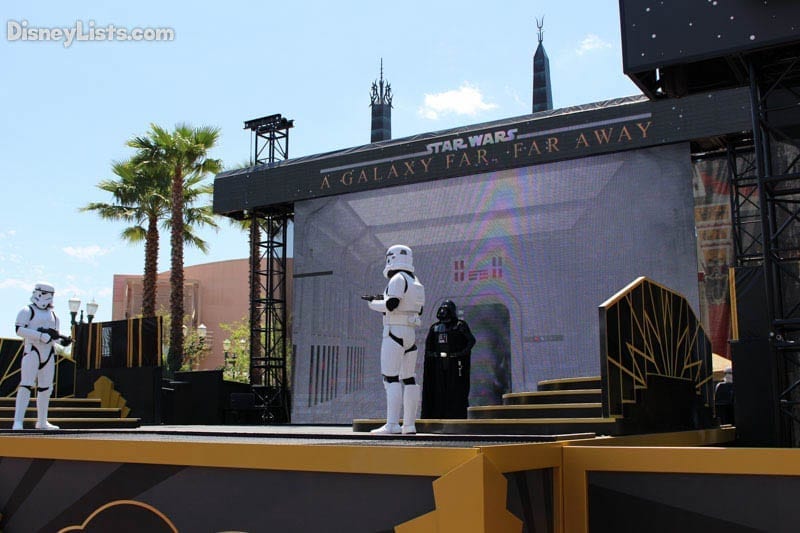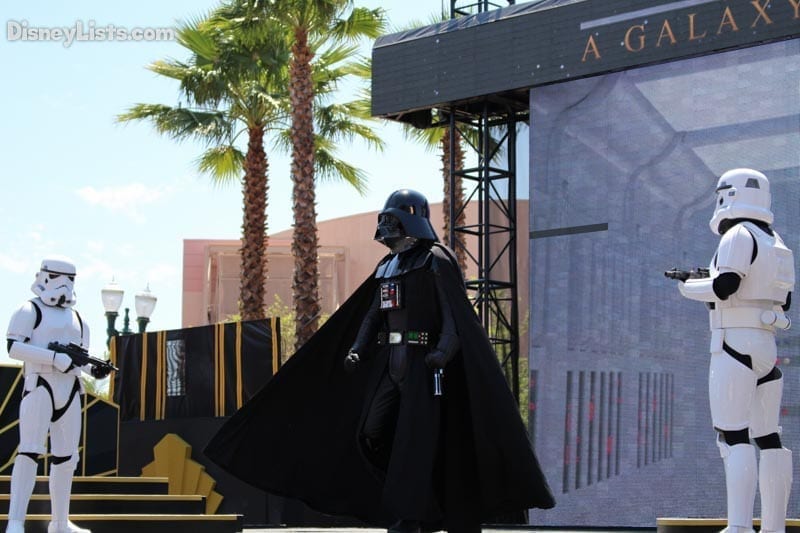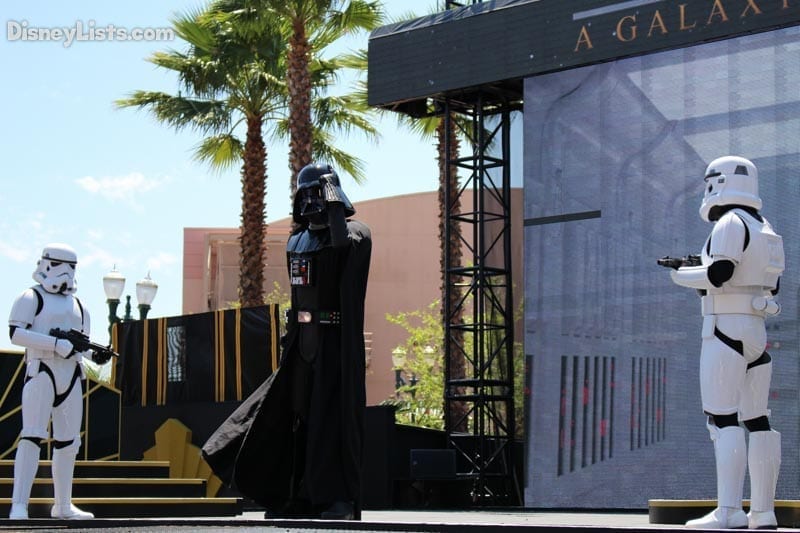 Yoda's wise voice returns to warn us again about the Dark Side. Kylo Ren then speaks and appears with Captain Phasma and more Storm Troopers. Scenes are shown from the Force Awakens and speak of the First Order and a deserter. Kylo Ren gets really angry upon hearing of the deserter (not so shocking if you've seen the movie).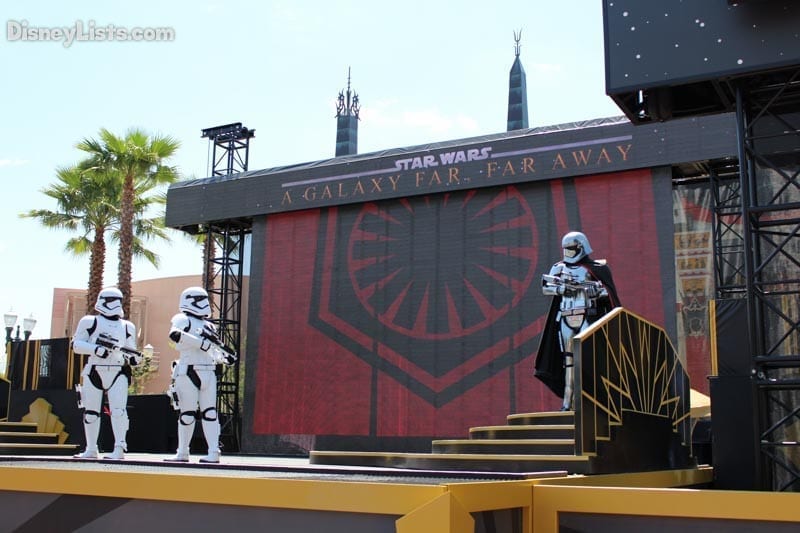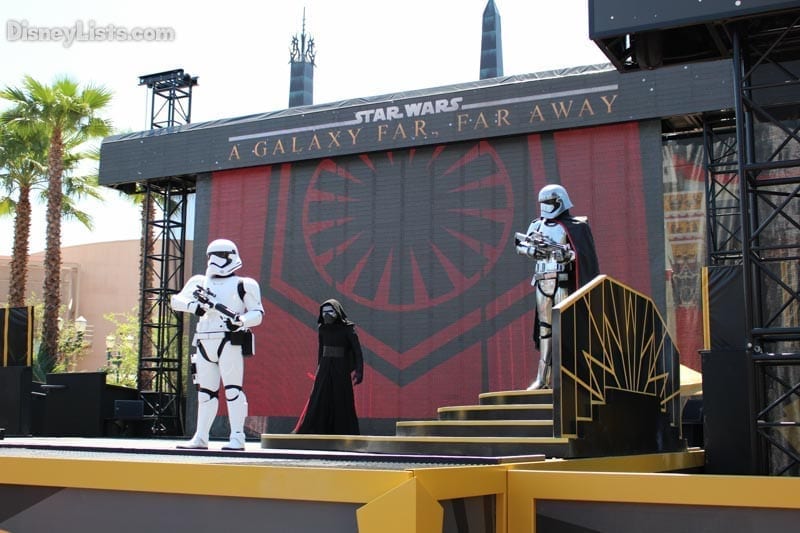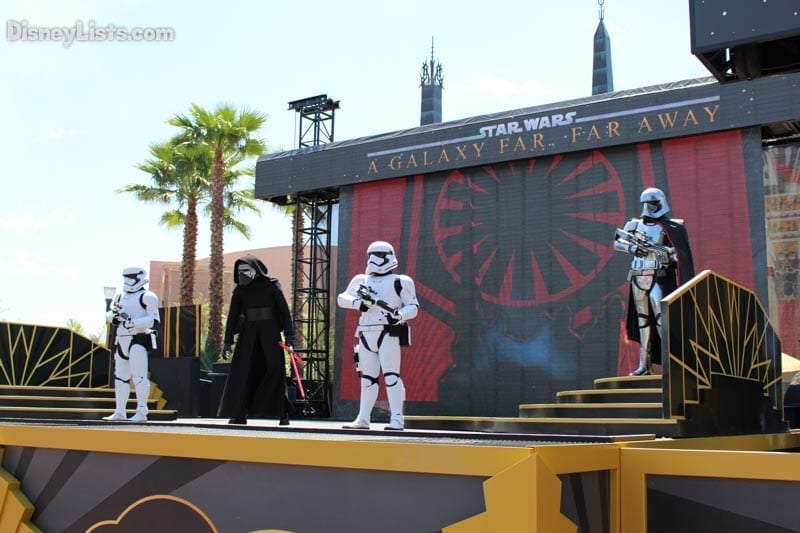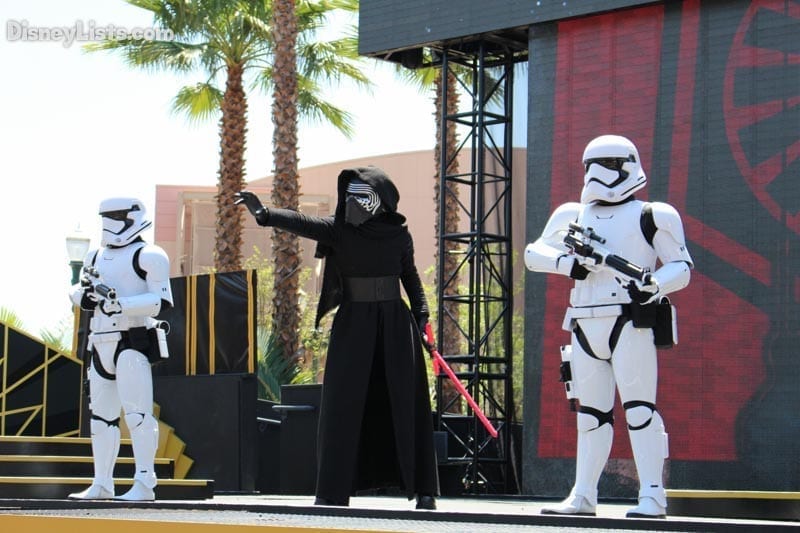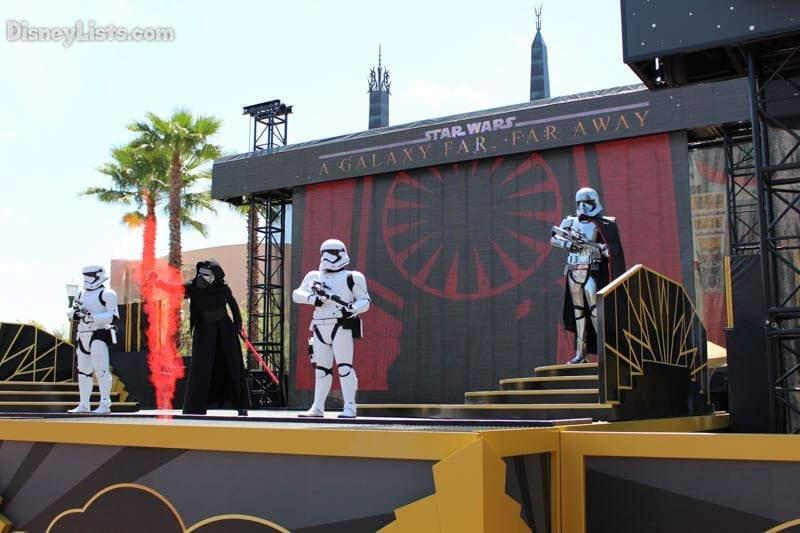 The music transitions to Rey's Theme and we hear Maz Kanata speaking.  We are treated to scenes of The Force Awakens and the good guys: Han Solo, Leia, Poe, Finn, Rey, Chewbacca, Luke Skywalker and BB8. BB8 then appears on the stage (he does not move).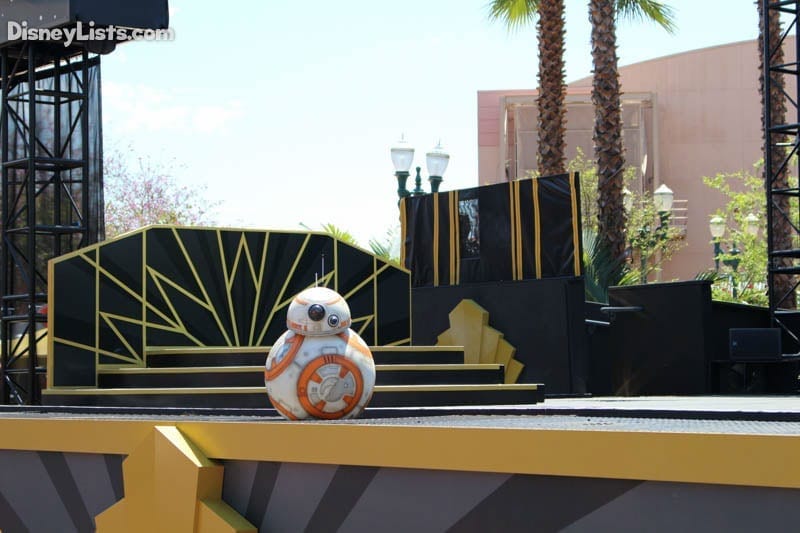 Finally, the entire cast comes out on stage for a final appearance with Maz saying that the Force is calling to us!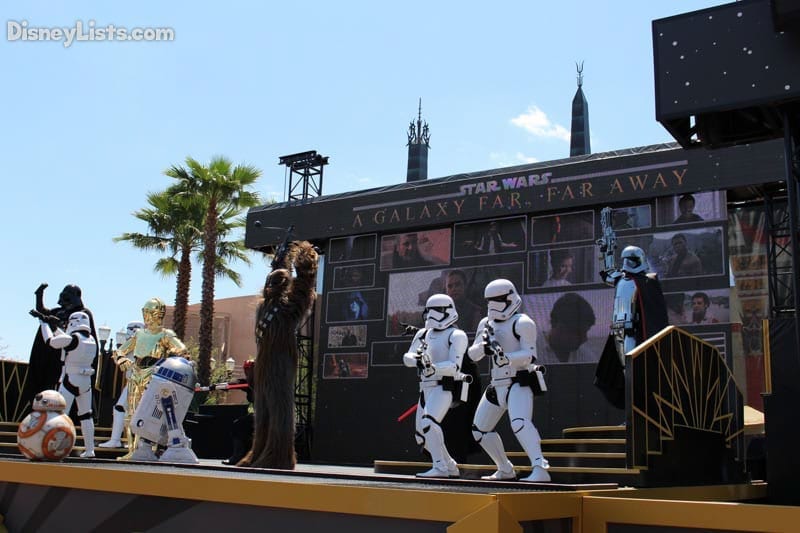 We really enjoyed the show as did the crowd. Throughout the show, there were many cheers and shouts, especially with certain character appearances. The show blended movie scenes and live characters well. The story flowed and had direction. The Center Stage area was packed during the multiple shows we saw. This show will please Star Wars fans from all generations as all of the movies were represented, though the prequels were definitely minimized (who can blame them). We highly recommend making time in your day for this show and if you have a huge Star Wars fan in the family, then this show is a no brainer.
Shows are primarily in the afternoon hours. Check your Times Guide for the most up to date show times. Note that people were lined up as early as 45 minutes before a show start. If you want a front row seat, be prepared to get there very early. Many caught the end of a show, only to grab the best spots for the next one. The crowd pressed in once the show started and there is no shade in the prime viewing spots. Be prepared for standing in the hot sun! The show is definitely worth it though!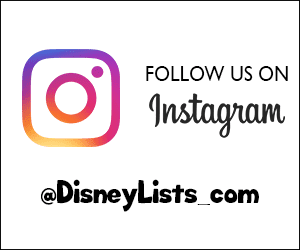 March of the First Order led by Captain Phasma
Also, debuting April 4 was March of the First Order led by Captain Phasma. This march begins in the Animation Courtyard, leaving Star Wars Launch Bay with them marching behind Center Stage and then arriving for a short (about 3 minutes) demonstration on stage. It's a real treat to see Captain Phasma up close with her troops! Anyone who loves Storm Troopers will not want to miss this short demonstration. Generally these shows are at the top of the hour (with the stage show being at half past the hour). Be sure to check the Times Guide for the exact times during your visit.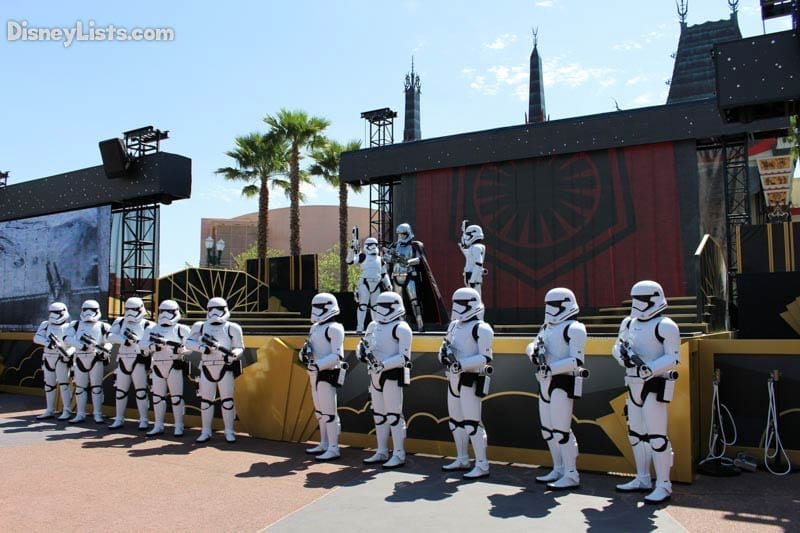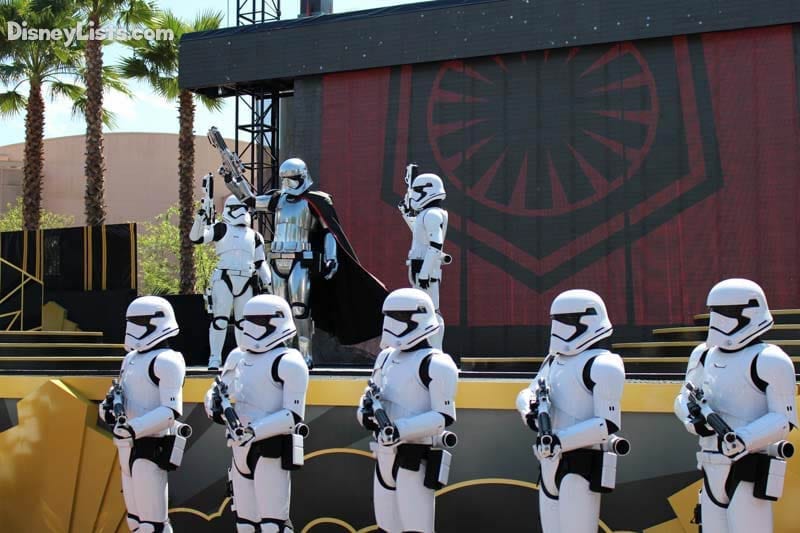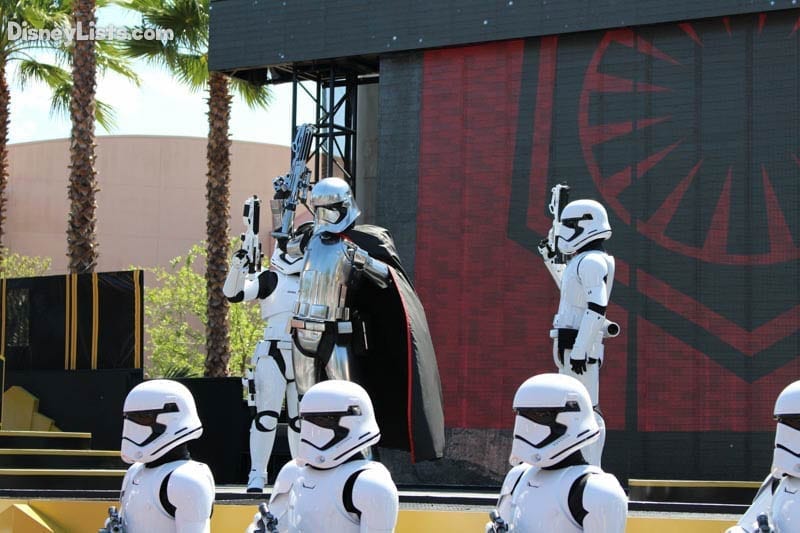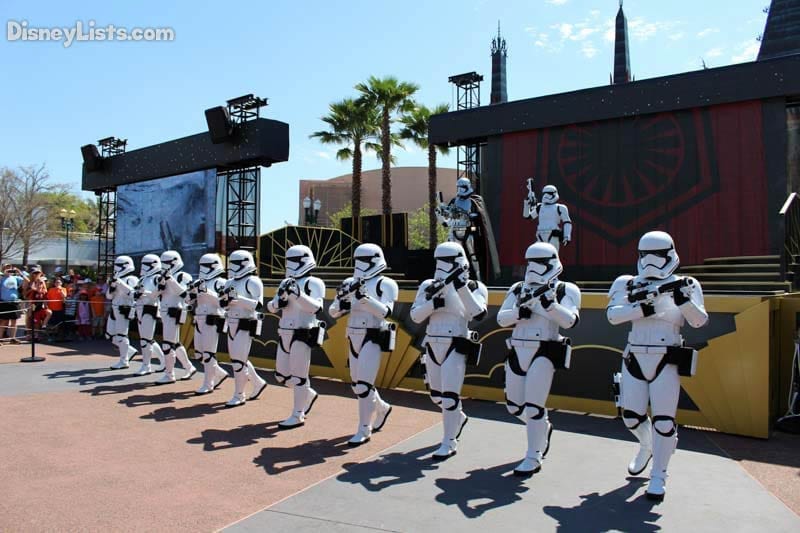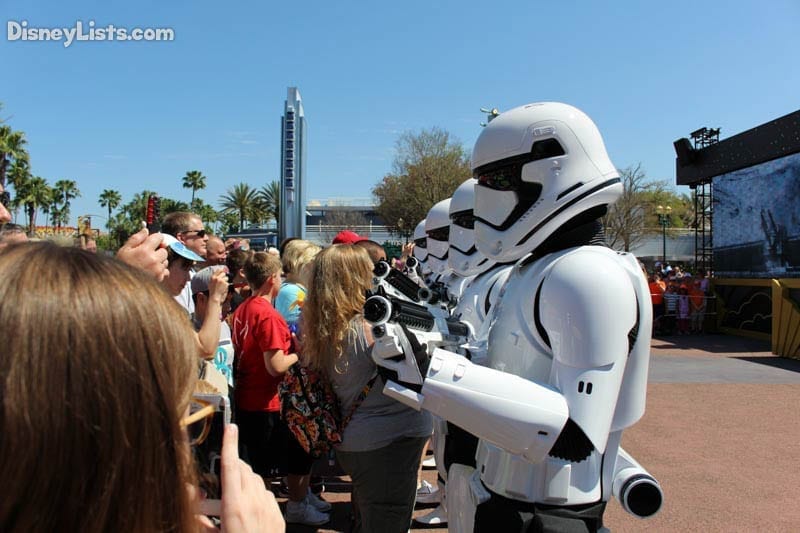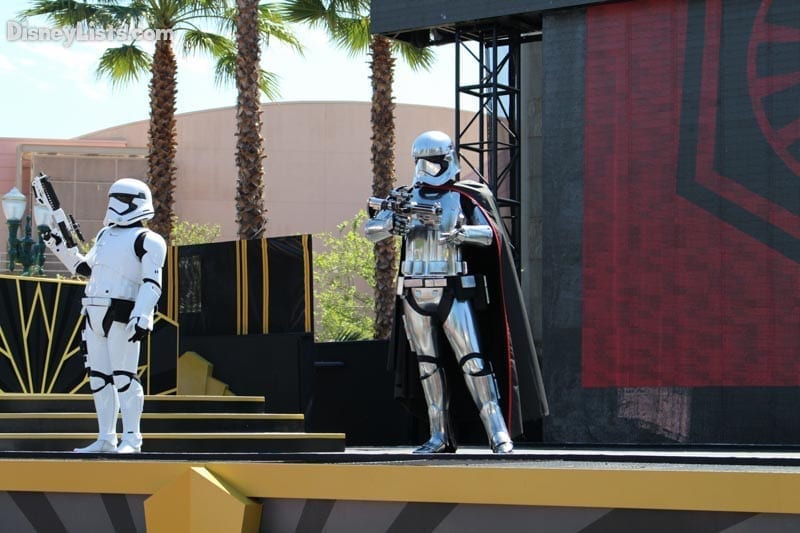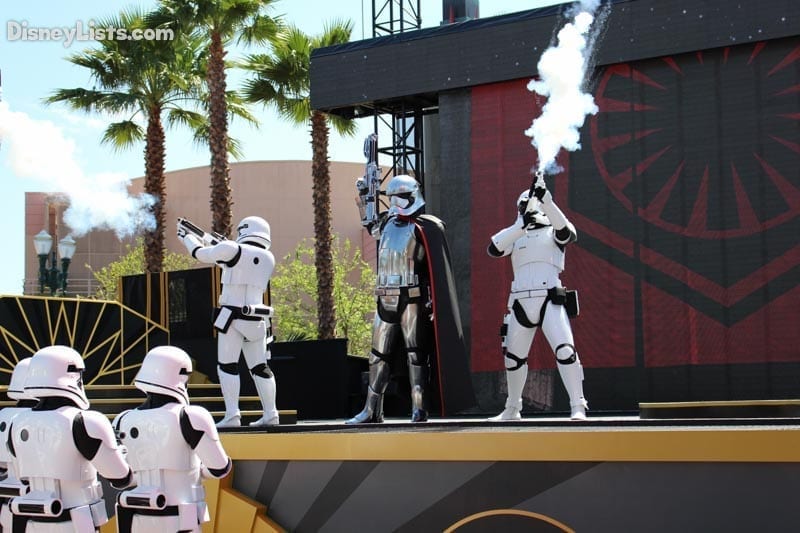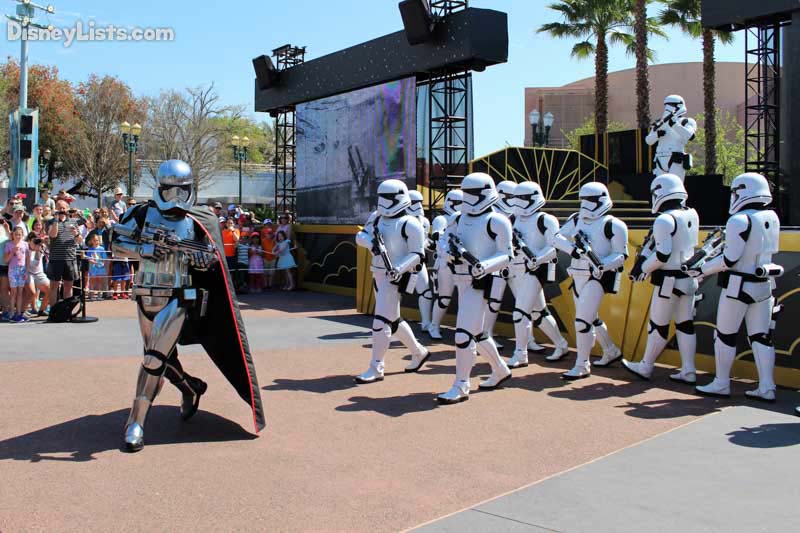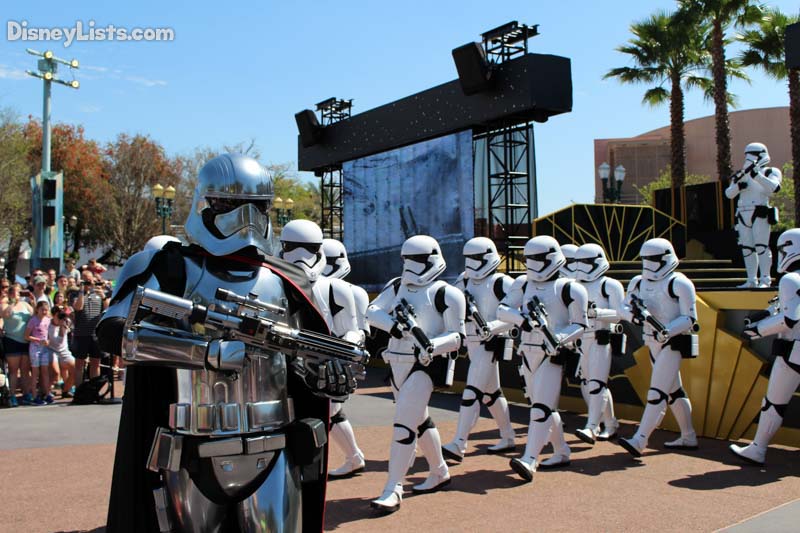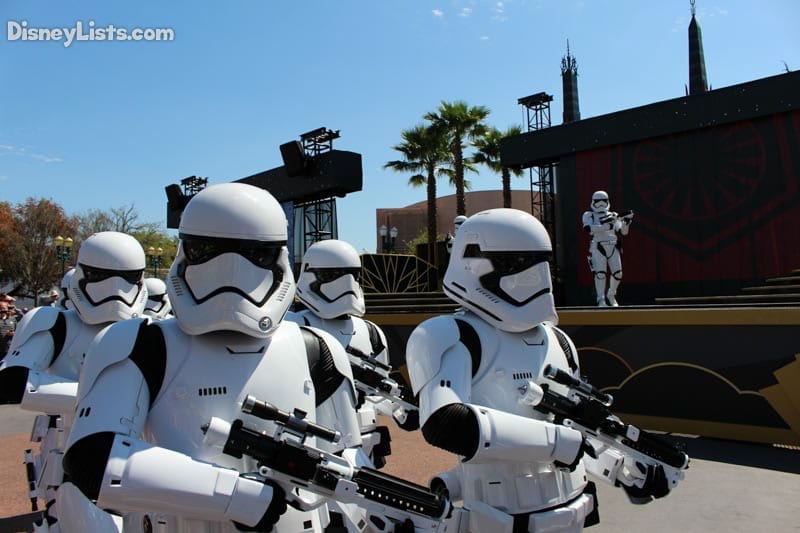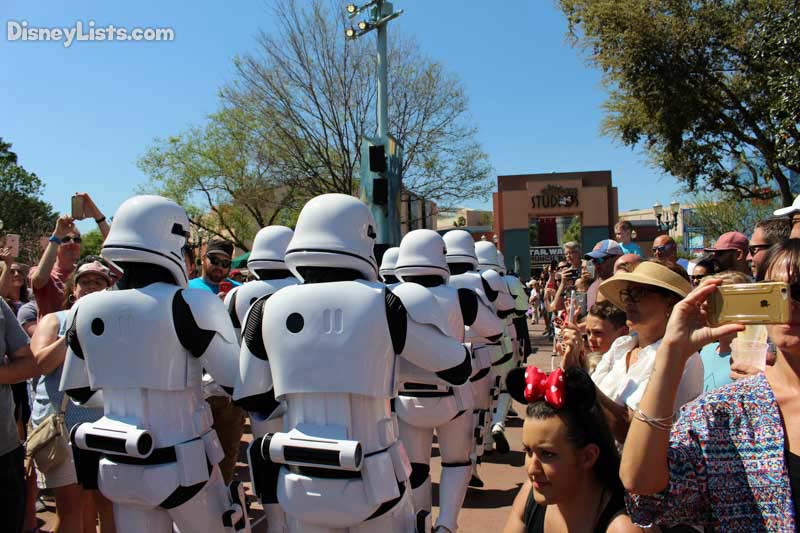 The Force has Awakened at Hollywood Studios, and it awakened really good! If this is a taste of what we can expect when Star Wars Land opens, all we can say is, "hold onto your hats!"
RELATED ARTICLE
Star Wars Launch Bay First Look – What You Need to Know
While fans eagerly await the coming of Star Wars Land in 2019, Disney has created a new Star Wars attraction to help bridge the gap and get fans prepped for the release of Force Awakens. Star Wars fans will want to make sure they stop here to see some really cool items from the Star Wars universe and take advantage of some great photo opportunities. Here are 7 things you need to know about the all new Star Wars Launch Bay in Hollywood Studios.
1 – Queue Area is Out of This World
Upon arrival you'll be directed into a queue area for the film that is full of artwork showing various scenes and characters from the Star Wars universe as well as a variety of movie promotional posters from the first six episodes of the saga. The colorful backlit artwork is part of an overall film reel that wraps around the walls. You'll have plenty to look at while you wait to enter the Launch Bay Theater and some selfie opportunities in front of your favorite scenes and characters.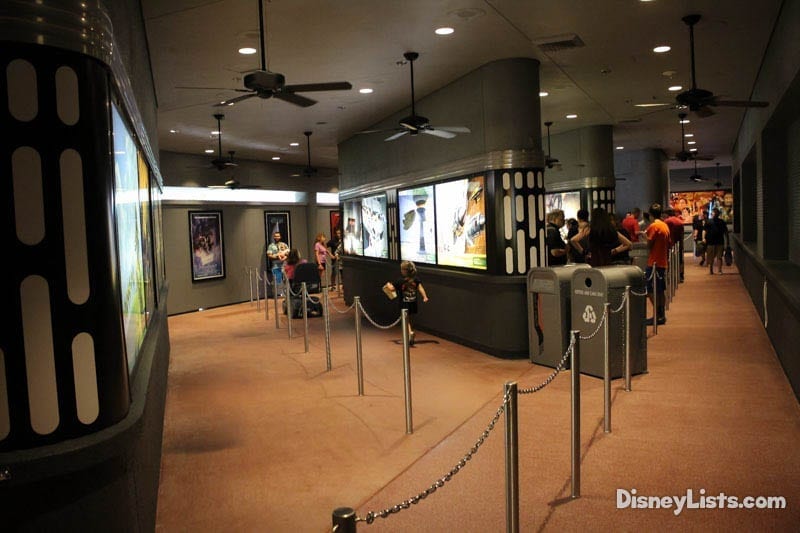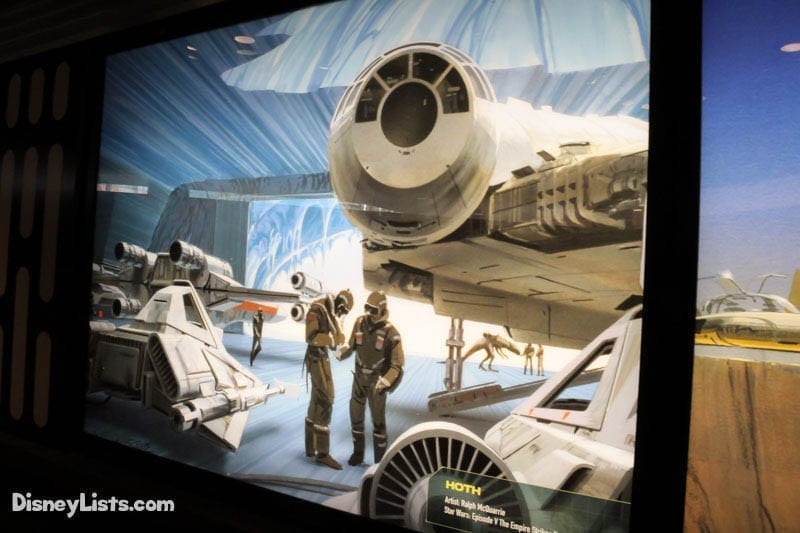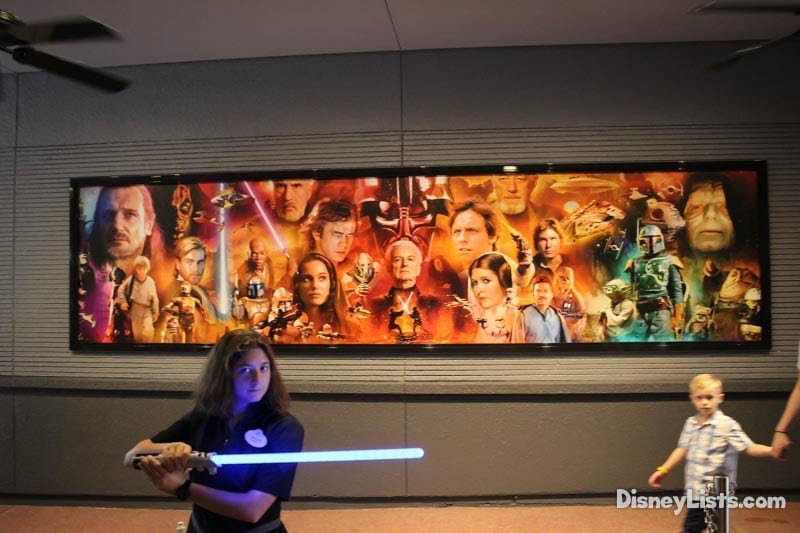 Note: You do not need to stand in line to enter the Launch Bay. The queue is for the short film. If you do not want to see the movie, you can stay right and enter through a door that bypasses the theater and will get you straight to the exhibit gallery area (#3).
2 – Launch Bay Theater
This 10-minute film includes commentary from key Star Wars producers, directors, writers, crew and story tellers responsible for bringing the Star Wars galaxy to life. You'll hear personal stories centered around how the Star Wars films impacted their desires to work in the film industry, the cutting edge technology of the first Star Wars film, and how the story is what drives the future of the franchise. We enjoyed this film. Hard core fans will probably want to view it at least one time if not more. For most guests, after one viewing you probably don't need to see the film again.
3 – Celebration Gallery and Preview Gallery
After exiting the theater you'll enter the Celebration Gallery, an exhibit area full of replica props, models, costumes and artifacts from the Star Wars films. Highlighted are the Rebel Alliance and the Galactic Empire. You'll pick up some interesting information about items you see in the films. The props are not just limited to this one room. You'll find other items scattered around the Launch Bay as you move through the different areas. The Preview Gallery, located just outside of Launch Bay Cargo (#7), features items from Star Wars: The Force Awakens, including a model of the Millennium Falcon.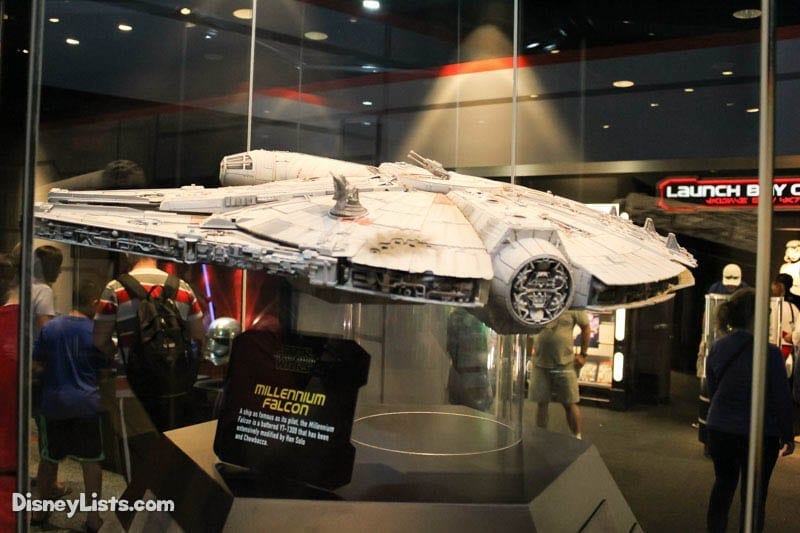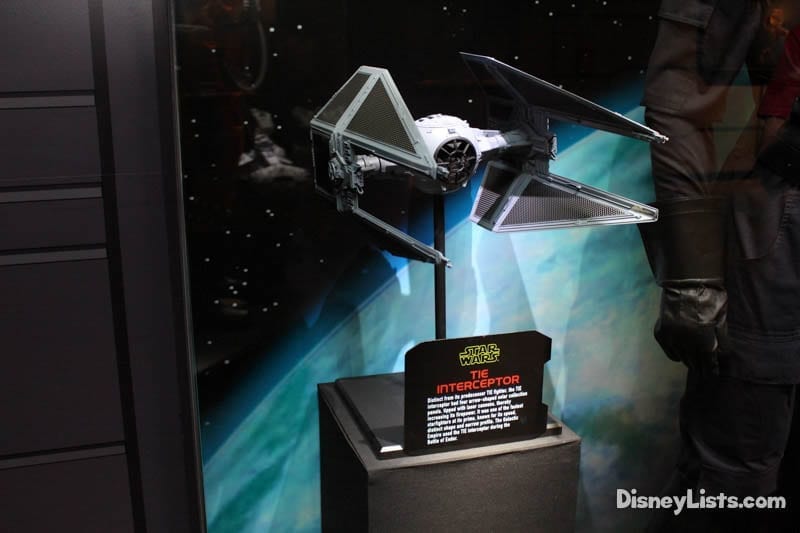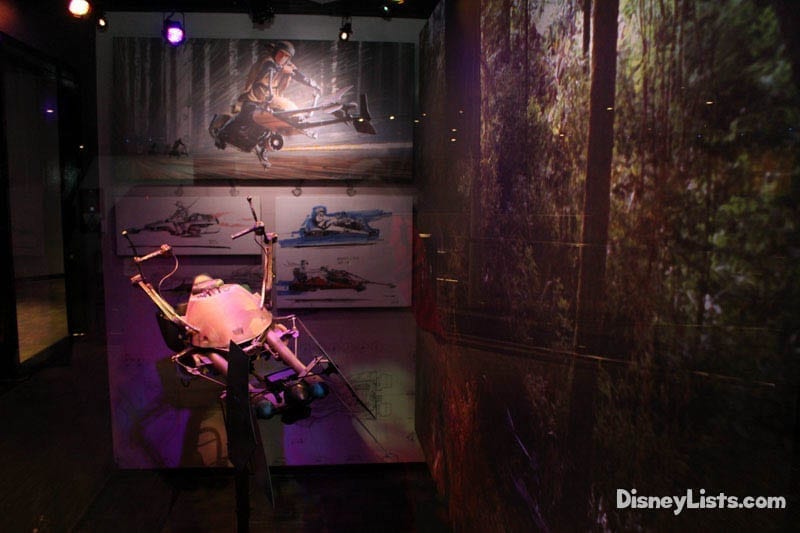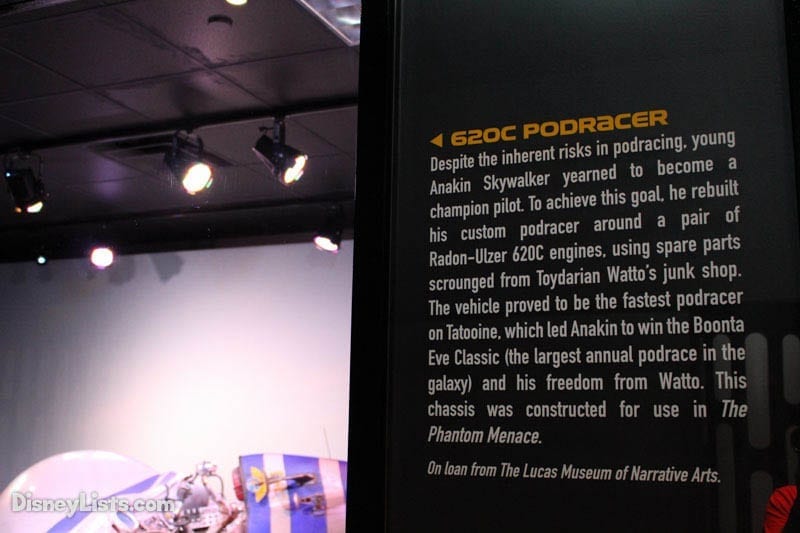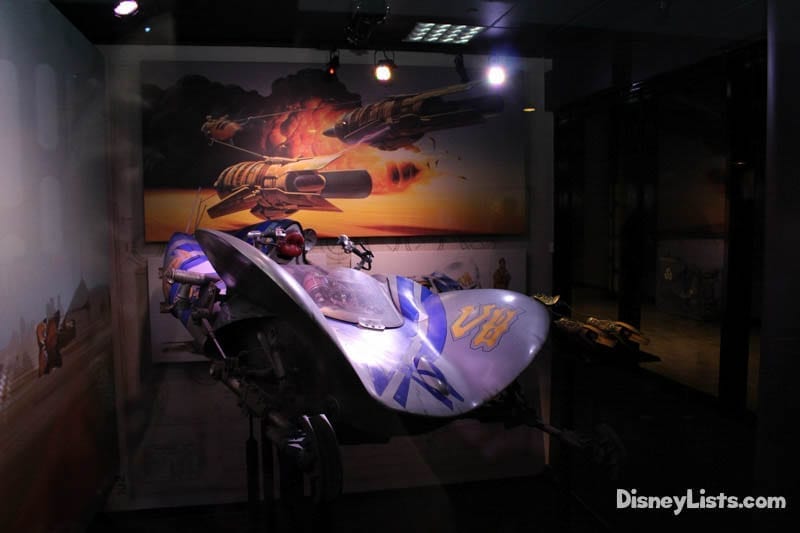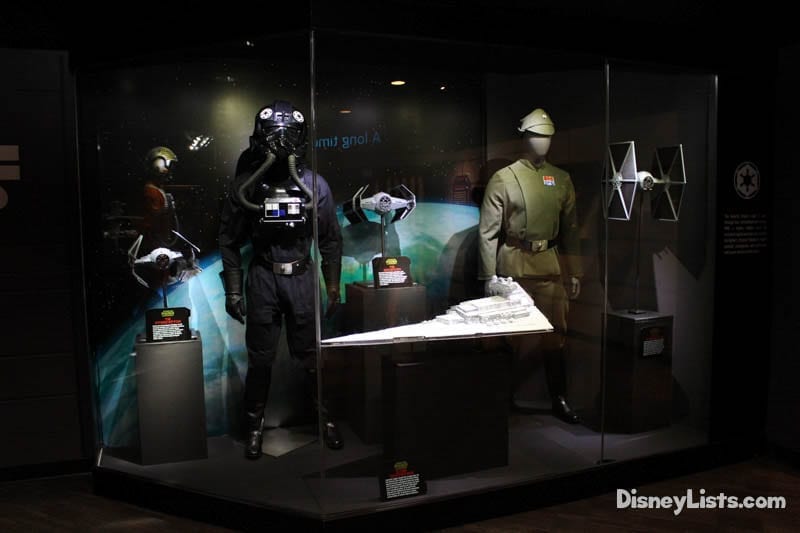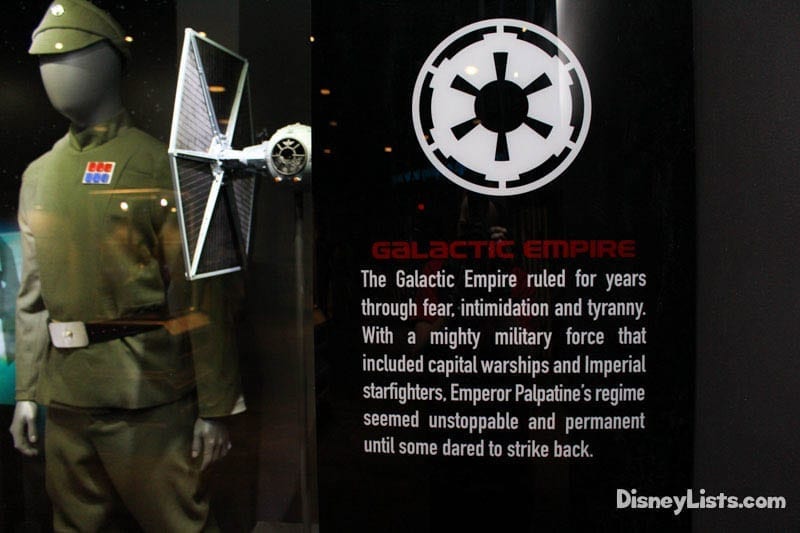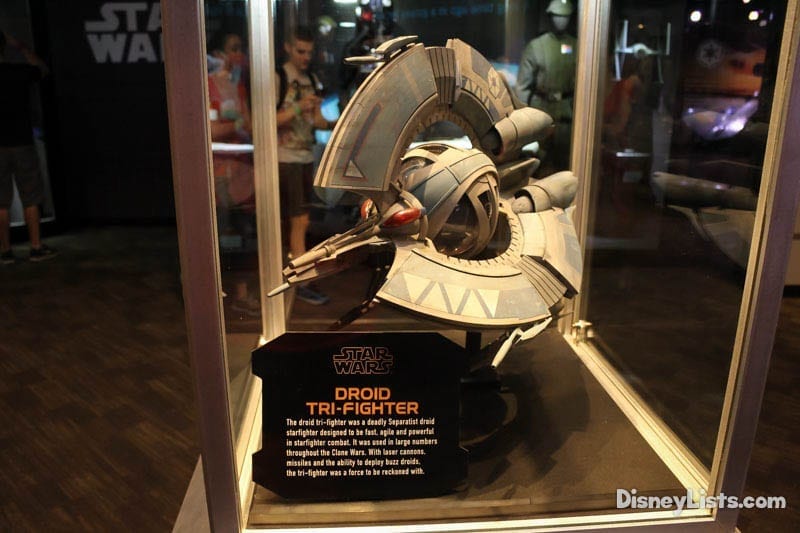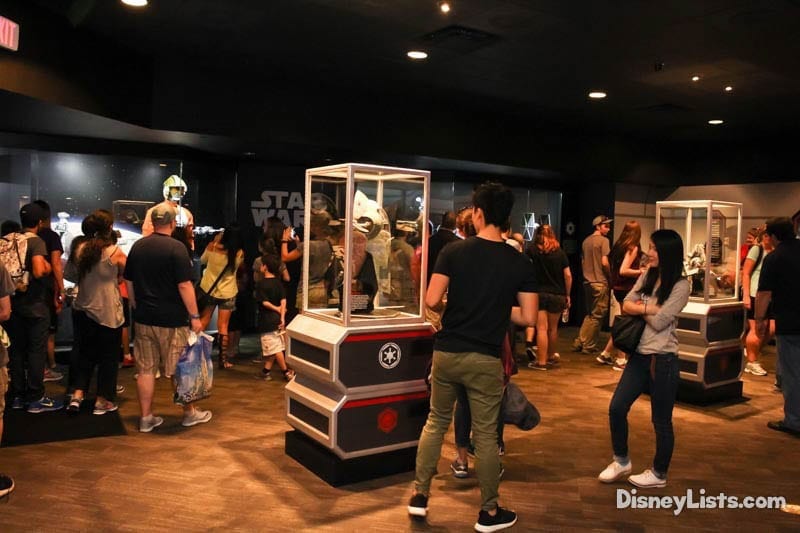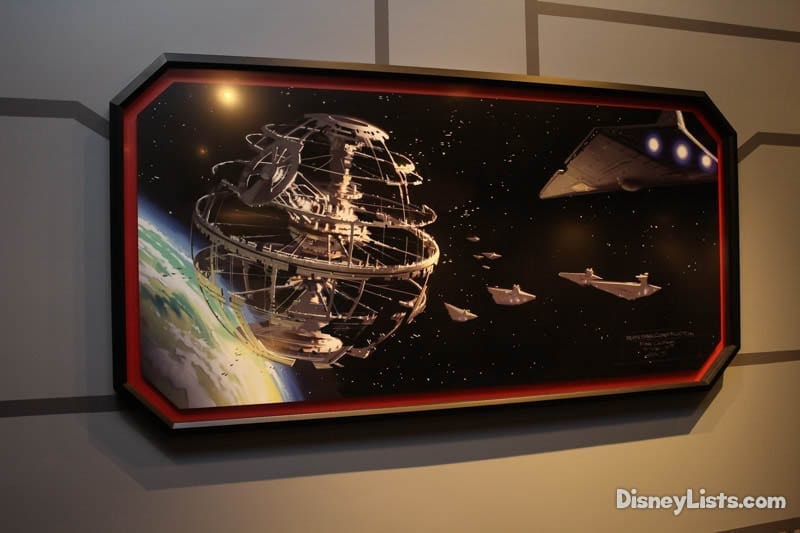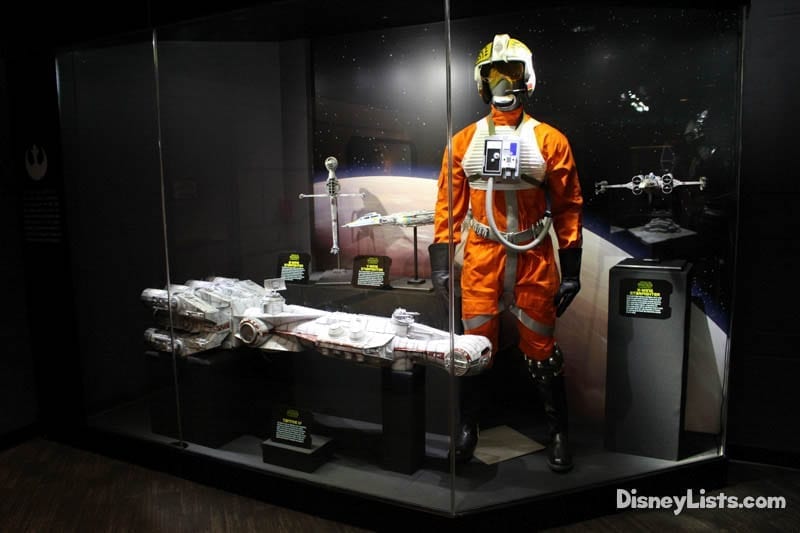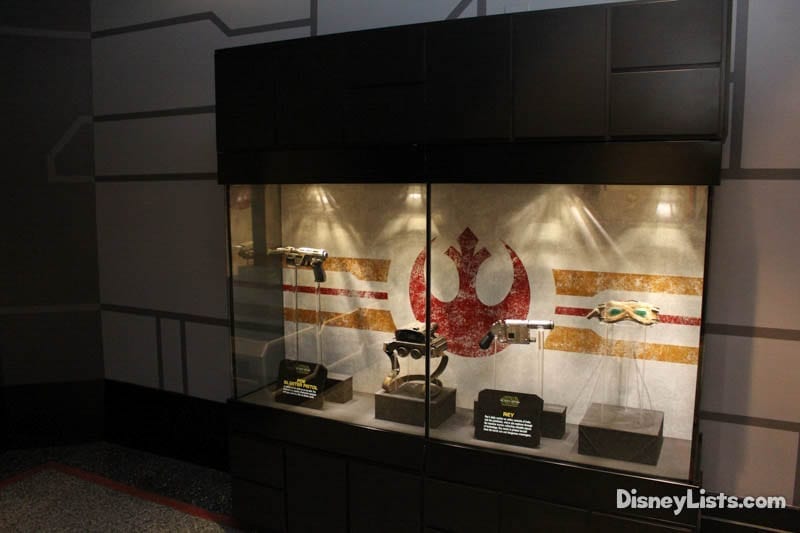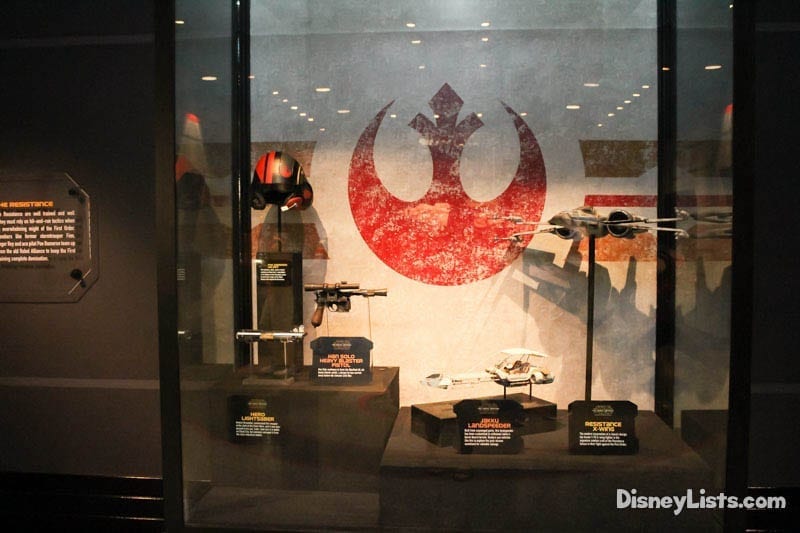 4 – Meet Chewbacca, Kylo Ren and BB-8
Get your camera's ready! You won't want to miss the opportunity to meet fan favorites Chewbacca, Kylo Ren and BB-8! Each character has his own meeting area. Chewbacca's queue features different helmets from the Rebel Alliance. Kylo Ren's queue area includes different helmets that are seen on the Empire characters. Wait times for the characters will vary and were running 15-30 minutes the day we visited (which was busier than normal).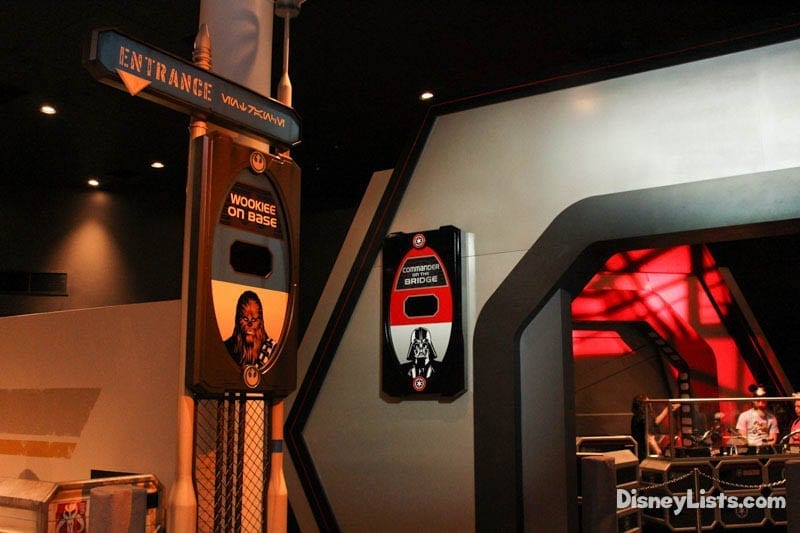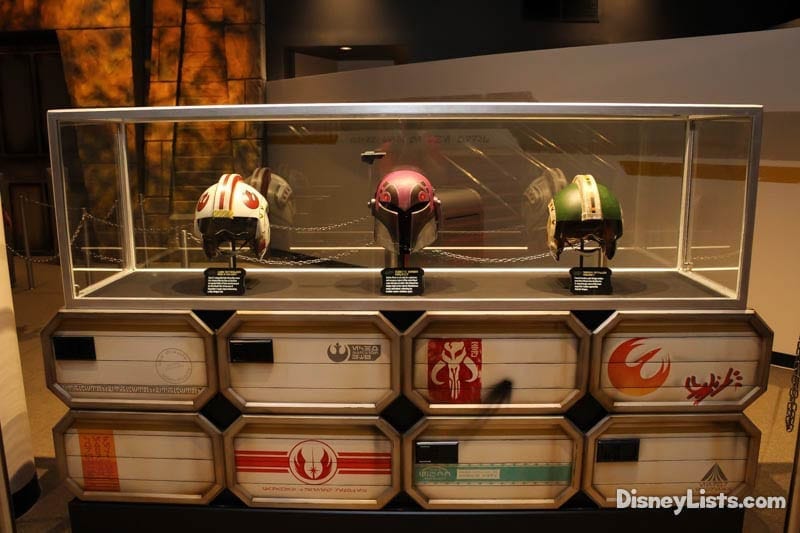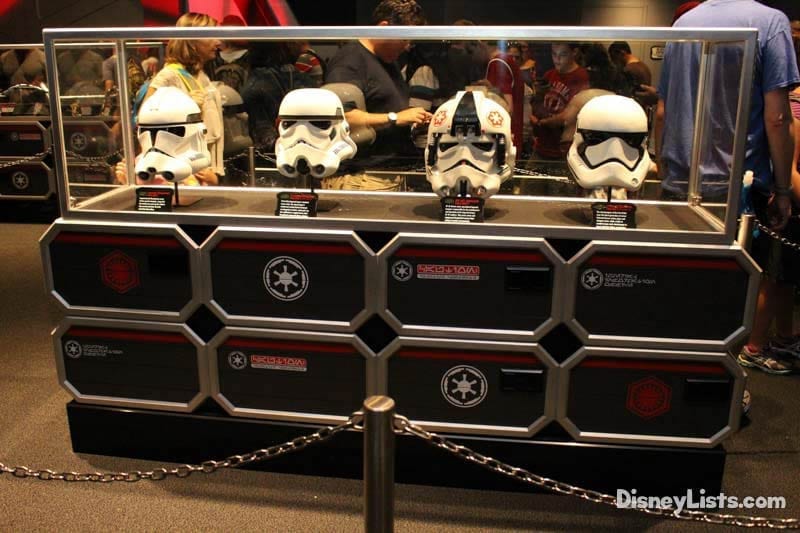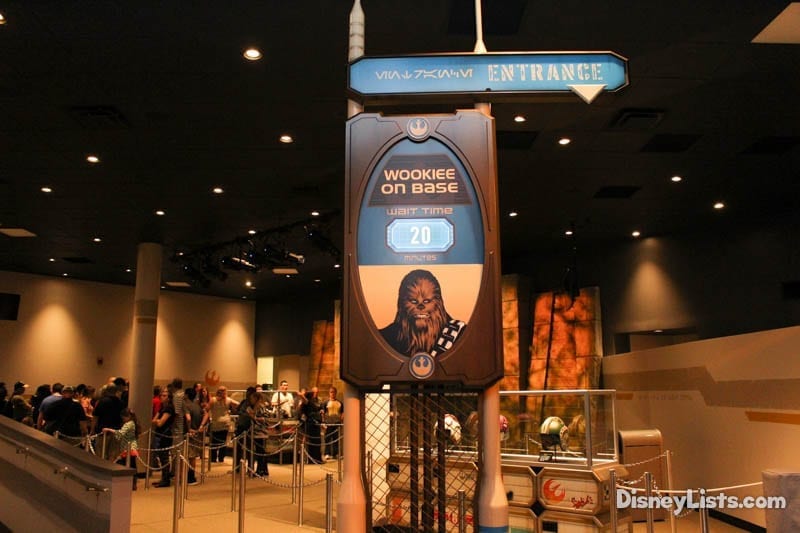 5 – Star Wars Game Center
If you have a gamer in the family, then be sure to check out the gaming area in the Launch bay. You can play the popular Disney Infinity video game, which features an exclusive Toy Box built just for Star Wars Launch Bay. We also saw Star Wars Angry Birds and other fun games that you can play with your friends and family. Game play is free.
6 – Cantina
Be sure to visit the area reminiscent of the famous Mos Eisley Cantina! The stage is set so you can pretend to be an alien scoundrel and play holographic chess. Sit at a Sabacc table or stand at the bar and clutch your favorite-a glass of blue bantha milk! This fun area is full of photo opportunities. You may even run into a jawa who will be happy to stop for a picture–just be sure they don't try to steal you away to sell you to a new master.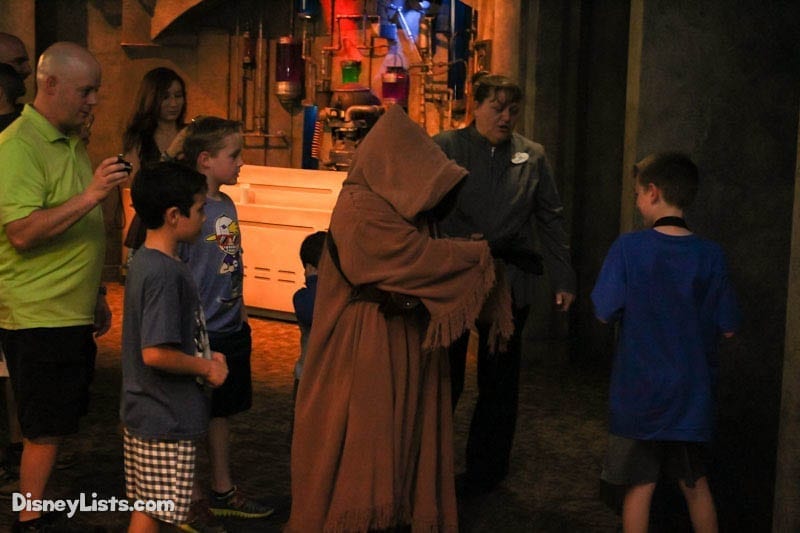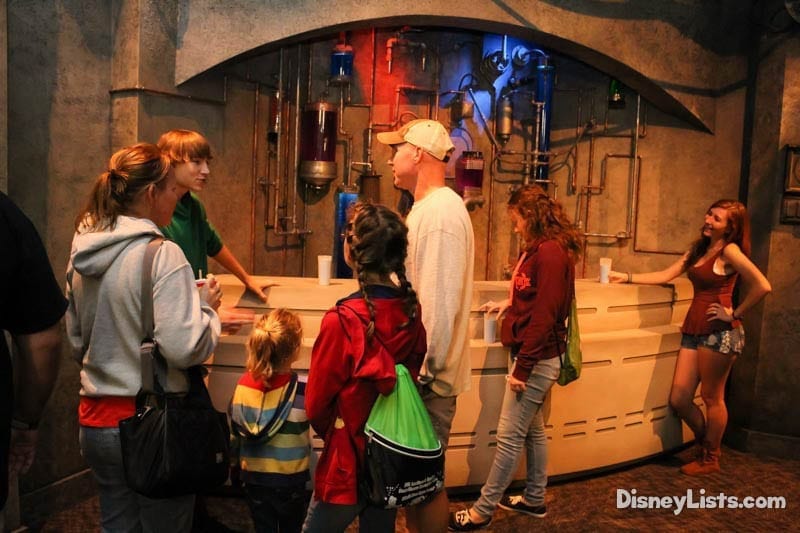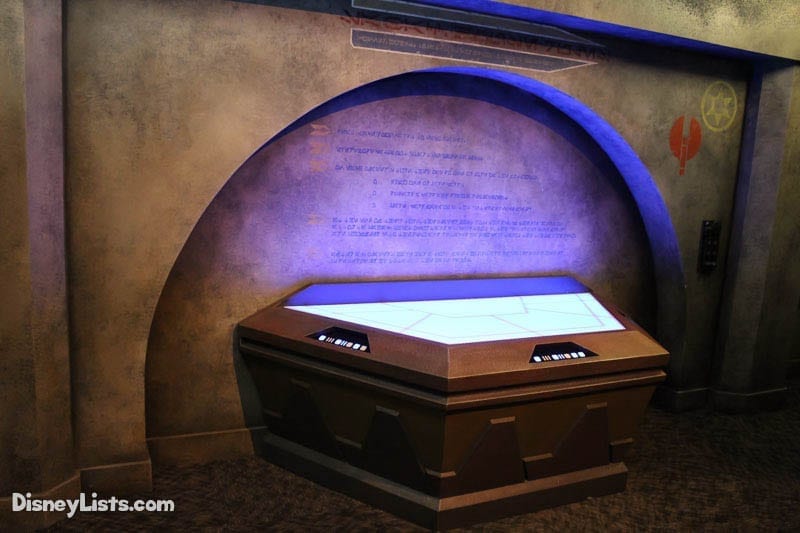 7 – Launch Bay Cargo
Finally, you'll find the Launch Bay Cargo. There is a wide selection of Star Wars merchandise, including original artwork. The most amazing merchandise is probably the replica costumes! You can purchase a Han Solo costume for $725 or a "at-at" costume for $2750. A Darth Vader helmet is $675, but the body costume is $4000! Don't worry, there are plenty of options that are a little more down to earth. You'll also find Star Wars Magic Bands (customization is available) and a wide variety of phone cases. This store is considerably smaller than Watto's Grotto and Tatooine Traders, but has some different choices.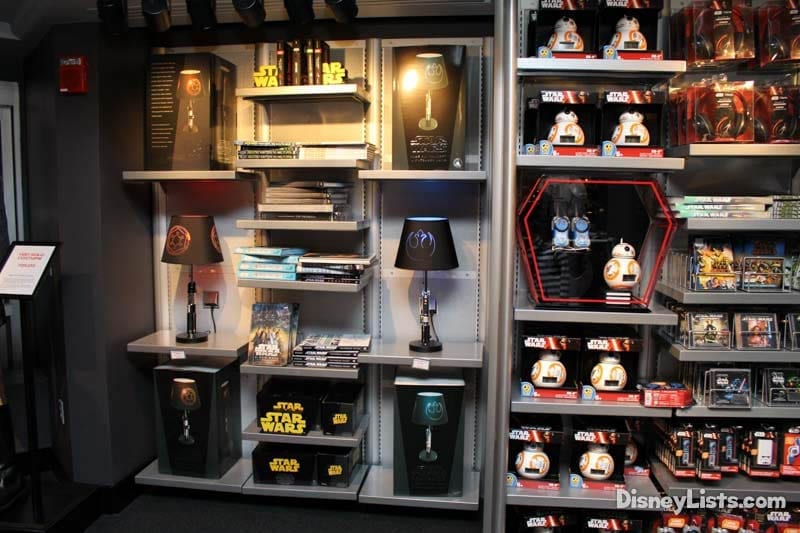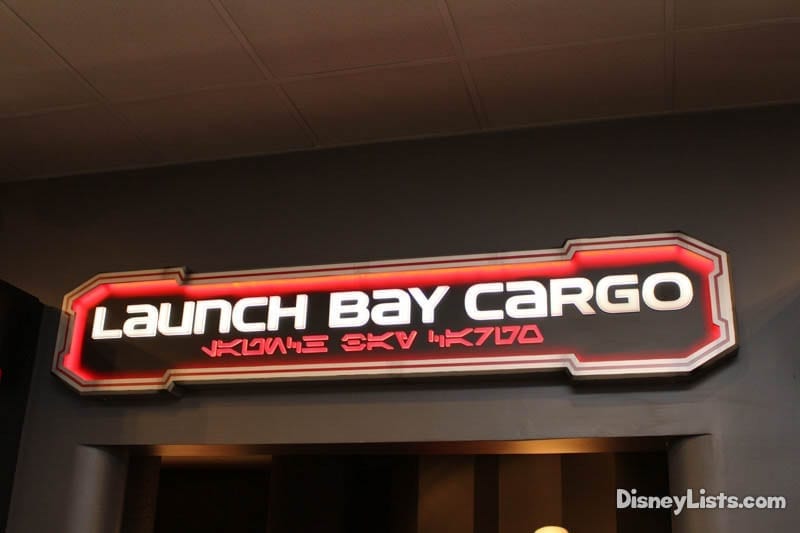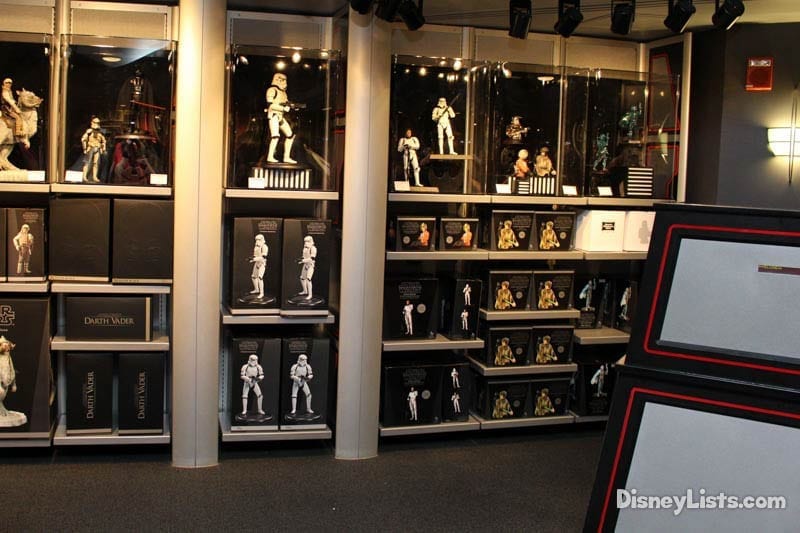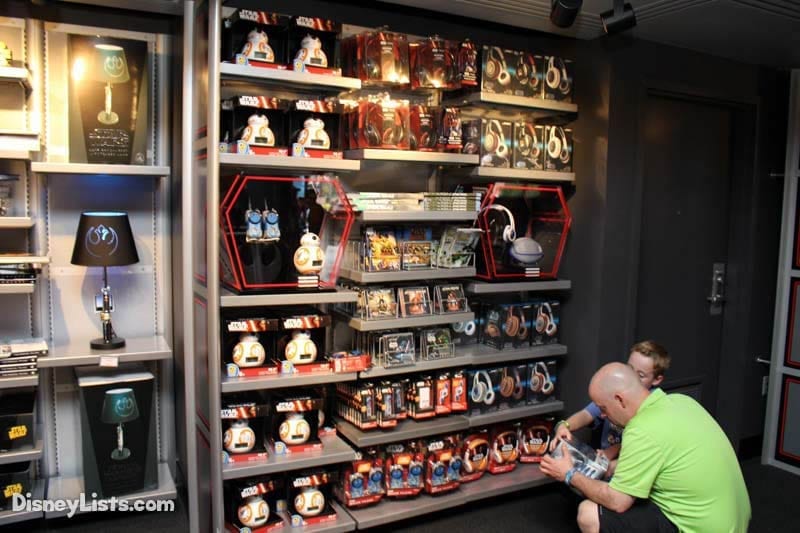 Star Wars Launch Bay was a pleasant surprise. When we first learned of the addition, honestly, we didn't expect much. We expected a half effort on a temporary attraction along the lines of Watto's Grotto (which we felt was rushed, done on the cheap and fell far below normal Disney Standards). However, what we found was a well produced and built out experience that is definitely worth a visit.
For a no obligation, FREE Quote on a Disney vacation package, please contact our travel partner Magical Vacation Planner at 407-442-0227 (407-442-0215 for Spanish). You can also request a FREE quote online by Clicking HERE.