It's hard to believe that the Marketplace Co-Op opened in June 2014 – when Disney Springs was still known as Downtown Disney. While the Disney Springs transformation was just around the corner, we can still remember being thrilled when the boutique/gift shop called "Marketplace Co-Op" opened because it offered something different! By different, we mean Disney merchandise with a unique twist. This shop easily became one of our favorites to hit for some awesome souvenirs for friends, family, and for ourselves.
1 – Caution – Merchandise Testing Ahead
New merchandise pours in on a regularly basis at Marketplace Co-Op leaving us thrilled to find something new with each visit. The reason for the frequent merchandise change up? Marketplace Co-Op was placed to be somewhat of a testing zone for specific Disney merchandise. Retail concepts, shops, and specific products are tested here. Will they pass the test? We, as consumers, decide as Disney carefully calculates what the top selling products. Some of the shops within Marketplace Co-Op have been changed out over the past two years – as Disney is looking to fit specific groups of consumers.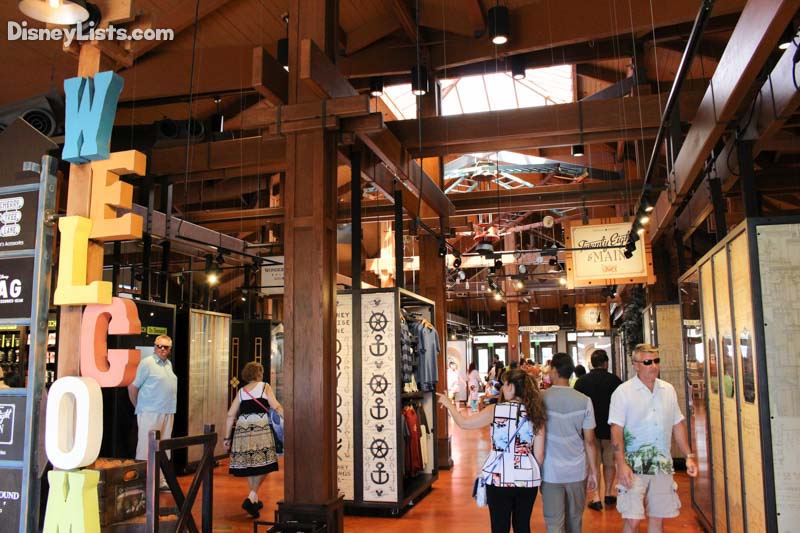 2 – Fantastic Shops
So, what makes Marketplace Co-Op such a fun place to shop? We'd have to say the 6 shops within, that hold some great merchandise. As you enter the main doors to the Marketplace Co-Op, here is the layout of shops in a horseshoe shape, from left to right.
D-Tech On Demand
Who doesn't love being greeted by this bright mix of tech lovers' accessories! Check out the screens in the middle of this small shop where shoppers have the opportunity to design their own phone case and/or personalize MagicBands. We especially love the Star Wars and Mickey head phones among the merchandise selections in D-Tech.
WonderGround Gallery
Disney art work with a twist! WonderGround Gallery is home to some of the most unique Disney drawings and painting we've ever seen of Disney landmarks and characters. This uncommon, and trendy artwork is a great conversation piece in any room!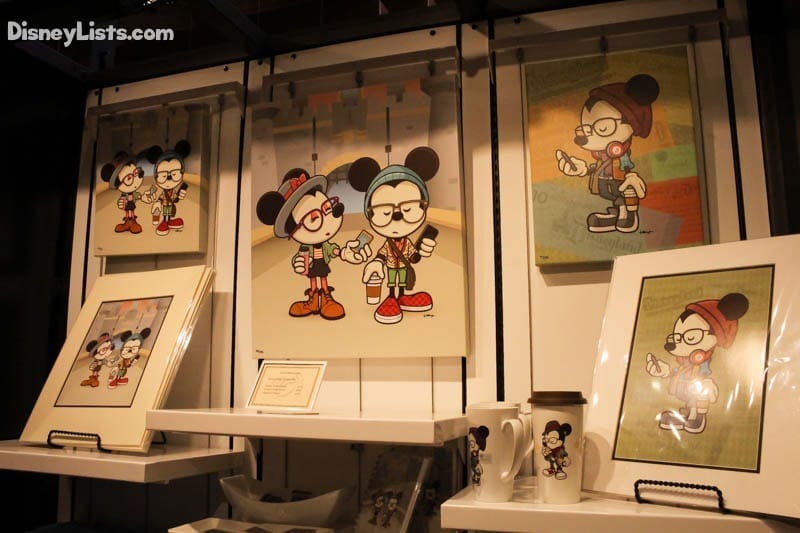 Disney TAG
The décor and the way the Disney TAG (Travel – Accessories – Gear) shop displays their gear is one of our favorites! Here you will find Disney luggage, luggage tags, neck pillows, and just about everything else that will make traveling Disney style easier.
Cherry Tree Lane
Vera Bradley, Pandora, Alex and Ani, Dooney and Bourke, Spartina 44… go ahead ladies – rejoice in the world of handbags and jewelry! Cherry Tree Lane has some of the best Disney handbag selections and jewelry available on Disney property.
Disney Centerpiece
Our favorite – Disney Centerpiece! Perfectly named in our opinion as the merchandise here has shoppers eager to fill their homes with clever and unique Disney designed plates, cups, frames, and all sorts of kitchen accessories.
Twenty Eight and Main
Men, ladies have Cherry Tree Lane, but at least you have Twenty Eight and Main! This shop is focused on Disney gentlemen and includes men's apparel with hints of Disney in the mix.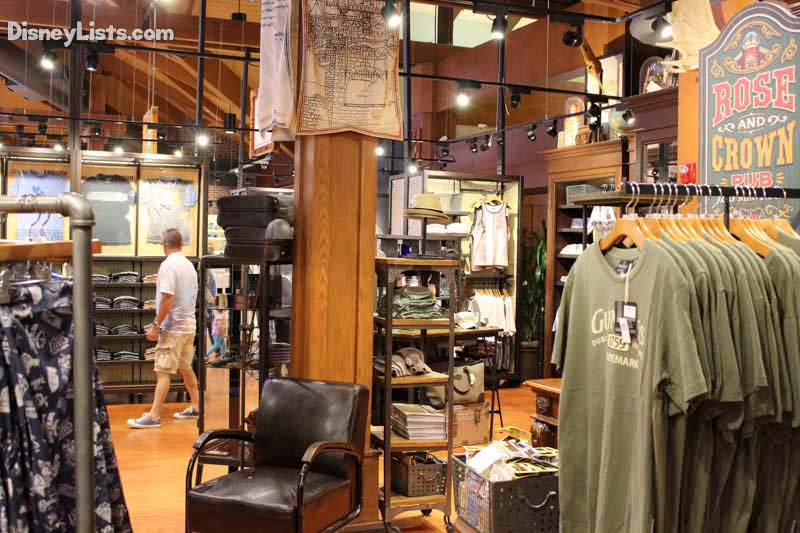 3 – Dry Dock
In the middle of the horseshoe shaped shop, look for the Disney Cruise Line merchandise stand named "Dry Dock". It's really a simple stand, with just a few items to browse through on both sides. But, these items are worth mentioning because they are hard to find elsewhere – unless you're on a Disney Cruise. The apparel and bags will have guests ready to book a Disney Cruise in no time!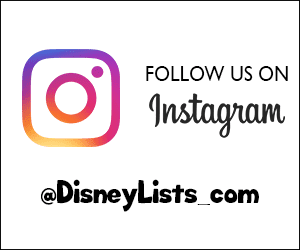 4 – Neighbors
Without having to exit back outside of Marketplace Co-Op, guests can explore the Tren-D shop next door. Guests shopping here will find some chic styles with hints of Disney fashion. We love the modern flare this boutique provides. On the other side of Marketplace Co-Op, guests have easy access to the Disney PhotoPass Studio.
5 – How to Get There
It's no secret that Disney Springs is undergoing huge transformation so guests can enjoy more shopping and dining experiences. It does however get confusing as to what may be the best route to take to get to and from specific locations. The Marketplace Co-Op is located in the Marketplace section of Disney Springs. If driving, park in Lime Garage, then start walking to your right. If taking a boat, dock at the Marketplace Dock. Resort Buses coming to and from Disney Springs will be moving from the Marketplace side over to the Town Center area between the Orange Garage and Lime Garage. Once exiting this new bus stop (as of June), head to your right to reach the Marketplace.
Have a blast shopping at Marketplace Co-Op! If anyone gives you hassle for wanting to buy it all, just remind them that you are simply helping Disney test their new merchandise.
For a no obligation, FREE Quote on a Disney vacation package, please contact our travel partner Magical Vacation Planner at 407-442-0227 (407-442-0215 for Spanish). You can also request a FREE quote online by Clicking HERE.