News
News: The Town Center and More Opens at Disney Springs
Today, Sunday, May 15 has been an exciting day for Disney Springs with the opening of the brand new Town Center section of the completely redesigned Disney Springs. Here is a list of all of the new and exciting openings that took place today.
1 – The Lime Parking Garage
Regular Disney guests and locals have had to experience some pretty painful traffic and parking conditions while Disney has been redesigning Downtown Disney into Disney Springs. However, the wait and trouble has been totally worth it. We love the new Disney Springs and today, parking just got a whole lot easier. The second parking garage, Lime, brings nearly 2000 parking spaces and brings you much closer to the Marketplace and Town Center. Just like the Orange garage, Lime offers the occupied parking space technology that gives guests, not only the number of spots available, but also which spots are open.
On a related transportation note, the new bus stop is not completed and was not ready to open on May 15. Resort bus service will continue to operate from the Marketplace for a few more weeks.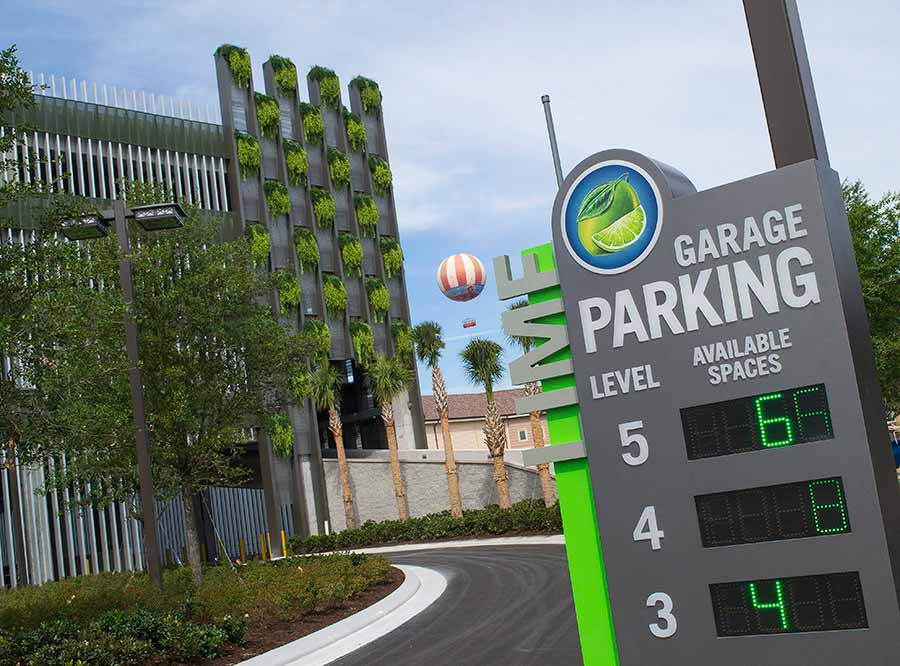 2 – Seven New Dining Options!
Also opening May 15 are seven great new dining options. Disney Springs has turned into a food lovers dream. Here is a list of all of the new restaurants and food kiosks that have opened:
Amoretti's Patisseerie – Classic and contemporary cakes and pastries are the stars in this high-end pastry shop where guests can watch pastry chefs decorate signature cakes in the on-stage finishing kitchen. Even the beautiful boutique-style packaging, inspired by old-fashioned hatboxes, lends to the sophisticated feel of the location. There's something for everyone: eclairs, New York-style cheesecake, opera cake and sacher torte. Amorette's features a few delectable beverage options as well. Sip a Champagne or sparkling wine with your pastry, or go straight for the indulgent Amorette's Hot Chocolate Ganache, a cupful of sippable chocolate with Chantilly and shaved dark chocolate on top. You also can opt for a glass of cold milk, coffee or tea.
D-Luxe Burger – Soon to be known for its delicious gourmet burgers and twisted milkshakes, this quick-service restaurant is the perfect place to grab a delicious bite in the eclectically comfortable Florida ranch-inspired interior, or in the covered outdoor seating area that overlooks the springs. There's something for every burger aficionado, complete with unique toppings, freshly baked buns and a signature blend of beef.
Sprinkles – Look for handcrafted cupcakes, slow-churned ice cream and homemade cookies at Sprinkles, dubbed the first cupcake bakery by the Food Network. Options include vegan, gluten free and sugar free, and seasonal flavors.
The Daily Poutine – The Canadian classic comes to Disney Springs with four varieties of toppings on hot, thick-cut French fries—Classic, with beef poutine gravy and Cheddar cheese curds; Latin with fried yucca, black beans, pulled pork and queso fresco; Italian with Bocconcino mozzarella and Bolognese sauce; and French with mushroom cream sauce and Gruyere cheese. Pair them with a draft beer, sangria, lemonade or fountain soda.
Morimoto Street Food – After opening for a short time over the 2015 holiday season, this walk up food location closed due to more construction. However, now it's back! A new walk-up window on the patio offers sushi, donburi rice bowls and bao tacos, plus snacks: such as takoyaki (octopus, nori, okomiyaki sauce), Morimoto sticky ribs, curry rice croquettes, pork egg rolls and taiyaki (snapper-shaped pancake filled with sweet adzuki red bean paste). Also on the menu: popping boba tea and an assortment of Asian-influenced beers and beverages.
B.B. Wolf's Sausage Co. – Featuring artisan sausages. The Three Little Pigs features a trio of sausages each with different toppings: Reuben, bacon-wrapped with black bean salsa and chili cheese; Portuguese sausage with pickled vegetable slaw and chili mustard; sweet hot sausage with peppers, onions and marinara; Bavarian sausage sandwich with a mini-meterwurst, braised red cabbage and spicy brown mustard on a pretzel roll; and Italian veggie sausage with peppers, onions and marinara. Cool off with a draft beer or fountain soda.
YeSake – At this unique kiosk, try a Sake Cosmo Freeze or Sake Bourbon Slush among other offerings. Global eats range from the Great Wall with Chinese-style pulled pork to a Sombrero with ground beef, pico de gallo, guacamole, cheese and corn chips. Cold beer too.
3 – Shopping
The Town Center also boasts some major shopping. Here is a list of the stores now open in the Town Center.
Alex and Ani
American Threads
Edward Beiner
Everything But Water
francesca's
kate spade new york
Kipling
L'Occitane en Provence
Lucky Brand
MAC Cosmetics
Melissa Shoes
Na Hoku
PANDORA
Sephora
Sperry
Tommy Bahama
UGG
Under Armour Brand House
UNOde50
Vera Bradley
Volcom
ZARA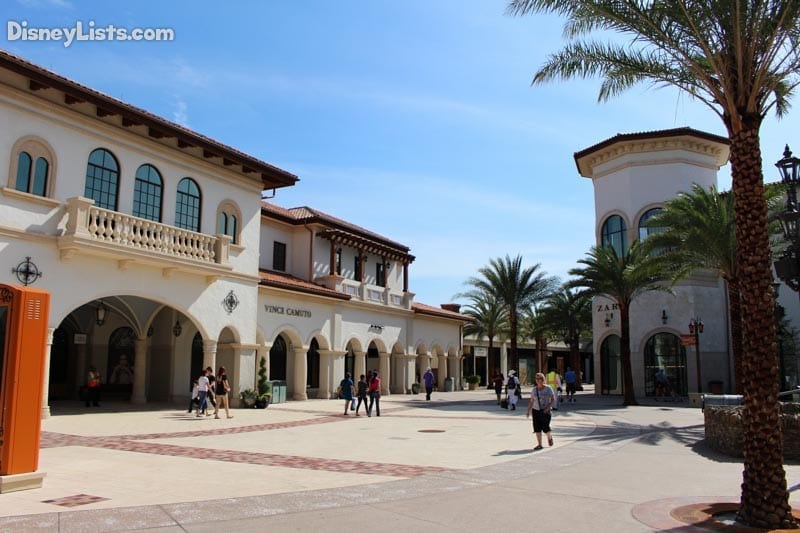 5 – Disney Springs Guest Relations Moves to New Location in Town Center
Great service is the center of the Disney experience and it's now the center of Disney Springs (literally) as well. The Disney Springs Guest Relations office has been moved to a beautiful new facility in the newly opened Town Center. In stark contrast to the cramped location hidden behind Ghirardelli's, the new location is spacious with comfortable seating areas. You check-in when you enter the building and get to sit and relax. When it's your turn, they will come find you. Also, there are plenty of comfortable rocking chairs outside on the porch.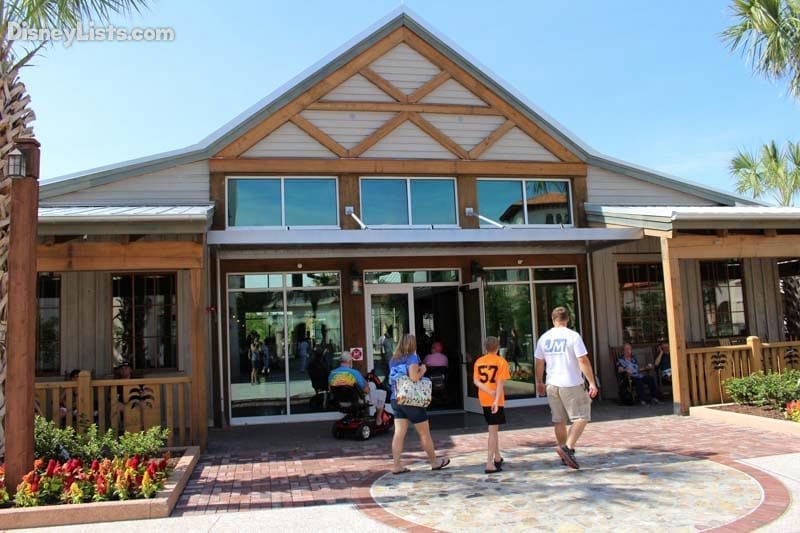 5 – Openings in The Landing
In addition to the openings in the Town Center, a few other locations will be opening in the Landing area of Disney Springs.
Savanah Bee Company – Will feature a variety of specialty and everyday honey as well as all-natural body care products ranging from body wash and lotion to lip balm and body butter. The company's mission is to provide pure, delicious honey and luxurious honeybee products to consumers while educating them about the wonders of the hive. How sweet is that? It will be the only Savannah Bee retail location in the state of Florida.
Filthy Rich –Will showcase celebrity-inspired jewelry at far-less-than-Beverly-Hills prices. The location specializes in authentic replicas of iconic jewelry and accessories worn by past legends of the silver screen and current celebrity style icons.