Fireworks are a celebration to mark something special, and that's why Disney has fireworks every day! A day spent at Disney is something to celebrate. It's a wonderful, magical place to be and the fireworks displays are a big part of that. Here are 10 reasons why we love Disney World fireworks.
10 – Star Wars
Star Wars and fireworks make a perfect match, and we're so glad that Disney has put together Star Wars: A Galactic Spectacular at  Hollywood Studios. As you look up into the dark, night sky and see twinkling lights and stars explode and dance above, it's easy to transport yourself into the world of Star Wars. The fireworks are set to the epic and rousing music from the films, and even dialogue and sound effects from the movies are included in the show. You'll also see amazing projections on the Chinese theater.
9 – Viewing Locations
One of the many things we love about the fireworks at Disney are all the viewing options guests have. In Magic Kingdom, there are a few options in viewing the Happily Ever After nighttime spectacular. Because of the projections during the show on Cinderella Castle, we highly recommend you secure your viewing spot on Main Street U.S.A. early in the evening. With Happily Ever After, while you'll still be able to see the fireworks if you are not on Main Street, you won't really be able to "get" the show without viewing the castle projections. Simply put, to fully appreciate and enjoy this show you must view it from Main Street U.S.A. or the Hub in front of Cinderella Castle.
Any of the pavilions in the World Showcase at Epcot have a great view of the fireworks show Epcot Forever, as do many of the restaurants at the World Showcase, which allow some diners to have a delicious meal or dessert while viewing the night time spectacular.
Finally, at Disney's Hollywood Studios, the best place to watch the Star Wars: A Galactic Spectacular is in front of the Chinese Theater. This show also uses projections, so it's necessary to be in the front theater the enjoy the show.
8 – Day Time Fireworks
Disney doesn't only use fireworks during the evening shows. Fireworks are used in the opening ceremony that opens the Magic Kingdom, and they've also used them in some shows that happen throughout the day in front of Cinderella Castle, like Mickey's Friendship Faire. The fireworks seen during the day at Magic Kingdom aren't a big firework show, they're simply just a few sent up in celebration during the shows, but it really does add to the magic at Disney, and it creates a sense of surprise.
7 – Magical Way to End the Day
There just isn't a better way to end your day at the most magical place on earth than with standing at the foot of Cinderella Castle or on Main Street as the biggest and brightest fireworks paint the night sky above you filling your whole view with bursts of color that sparkle!
6 – Firework Cruises
Disney offers specialty cruises to guests (for an extra fee) and there two cruises in the evening on pontoon boats that take guests to see the fireworks at Magic Kingdom or Epcot.  The cruise can make the firework display even more romantic as you drift along the Seven Seas Lagoon, Bay Lake or the World Showcase Lagoon, and under a sky filled with sparkling lights and music. This has got to be one of the most luxurious and memorable ways to view fireworks at Disney.
5 – Firework Dessert Parties
Disney offers fireworks dessert parties at the parks with firework shows, which is an amazing way to experience fireworks. At Magic Kingdom there is the Happily Ever After Fireworks Dessert Party at the Tomorrowland Terrace Restaurant, at Epcot there is the Epcot Forever Dessert Party, and Hollywood Studios is also offering a dessert party for Star Wars: A Galactic Spectacular. Sitting in a VIP area, while feasting on desserts, sipping on a beverage with a perfect view of the fireworks is a sensational experience.
4 – They Tell a Story
Disney doesn't just send up a bunch of brightly colored fireworks into the sky, they do so much more with their fireworks shows. Disney does what it does best, and that tells a story with fireworks. During Happily Ever After, guests become part of the journey as they follow favorite Disney characters on an adventure to seek out their destiny, face adversity and ultimately fulfill their dreams on the road to their happily ever after.
Epcot Forever takes guests on an emotional journey set to stirring renditions of Epcot music that guests will know and love. It will stoke fond memories from the park's history and spur excitement for the bright future of Epcot – a future filled with new attractions and experiences as part of a multiyear transformation already underway.
The Star Wars: A Galactic Spectacular highlights the characters and stories we love from the Star Wars movies.
By sharing a story, Disney gives guests so much more than just a fireworks show, it becomes a nighttime fireworks spectacular.
3 – Holiday Fireworks
Disney goes all out during the holidays and that includes special holiday fireworks. During Mickey's Not-So Scary Halloween Party, there is a special firework show called Disney's Not So Spooky Spectacular, which features a spooky soundtrack and Halloween favorites. During Mickey's Very Merry Christmas Party guests are treated to Minnie's Wonderful Christmastime Fireworks, which includes Christmas music and amazing projections. We love that Disney adds some extra pixie dust to their fireworks when the holidays roll around.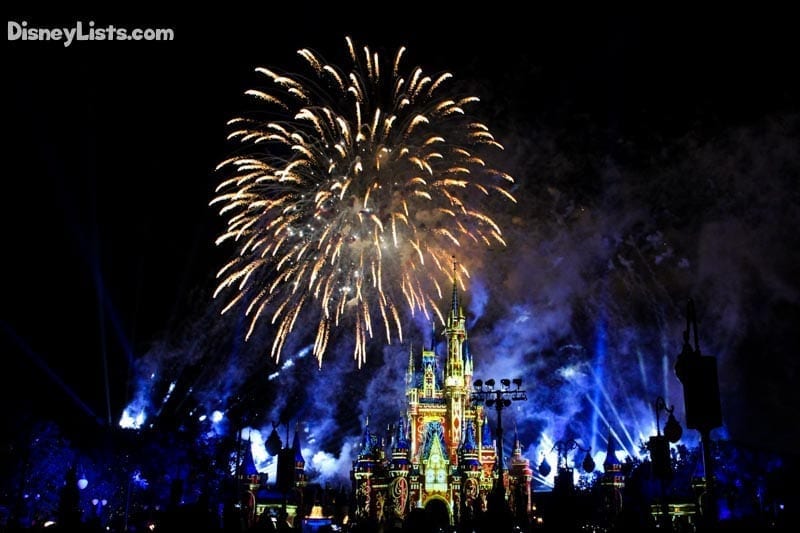 2 – The Music
Music is a big and important part of the fireworks at Disney. Much of the music is recognizable and fan favorites from Disney movies.  Not only is the music fantastic, but the fireworks are also set to the music adding to the whole experience and show. It helps deliver the whole Disney fireworks experience, which is a feast for the ears and the eyes.
1 – Disney Magic
Standing at the base of Cinderella Castle seeing your favorite characters find courage and strength can bring a strong emotional response. Disney fireworks create a feeling, they make you believe that dreams really can come true and wishes can be answered. Only the fireworks at Disney can create that kind of magic.
For a no obligation, FREE Quote on a Disney vacation package, please contact our travel partner Magical Vacation Planner at 407-442-0227 (407-442-0215 for Spanish). You can also request a FREE quote online by Clicking HERE.