Oh my goodness – we are so nervous! What we are about to share will either be agreed upon or may make for some disgruntled Disney fans. We've come up with a list of 7 attractions that need updating or closing at Walt Disney World based on our experiences and the opinions of those we've shared experiences with over the years. Forgive us now if your favorite, oldie but goodie, attraction is on this list! Here goes nothing…
1 – Stitch's Great Escape @ Magic Kingdom
We absolutely love Stitch! He's a unique character among the Disney character line up and many people are drawn to his sweet (yet frightening at times) personality. He's actually our daughter's favorite character. But, even she says the Stitch's Great Escape attraction located in Tomorrowland at Magic Kingdom needs to go. The dark attraction is outdated, odd, and just strange. We understand the premise that Disney was trying to convey, but this one missed the mark. Duds happen, but we're surprised it's stayed put for so long. The good news is there is typically minimal wait as we think folks are catching on that this one isn't worth the time.
Update: This attraction has been operating seasonally for awhile now and most recently the space has been used for character meet & greets. It's hard to say goodbye, but it's time to officially pull the plug on this one permanently. 
2 –  Enchanted Tiki Room @ Magic Kingdom
The Tiki Room was one of Walt's creations himself, but we feel it either needs a major re-do or needs to be closed. The 10-minute South Seas musical starts to feel like an easy 20-minutes after about the first 2 minutes or so. We have experienced however that watching the animatronic birds talk and sing is entertaining for babies! So, if you can deal with the show yourself, it's worth it to sit in an air-conditioned place and let your baby be bewildered and amused. Our suggested update would be to put targets on the birds and give everyone laser guns! That baby would have lines longer than Toy Story Mania. We're sorry Tiki Room fans!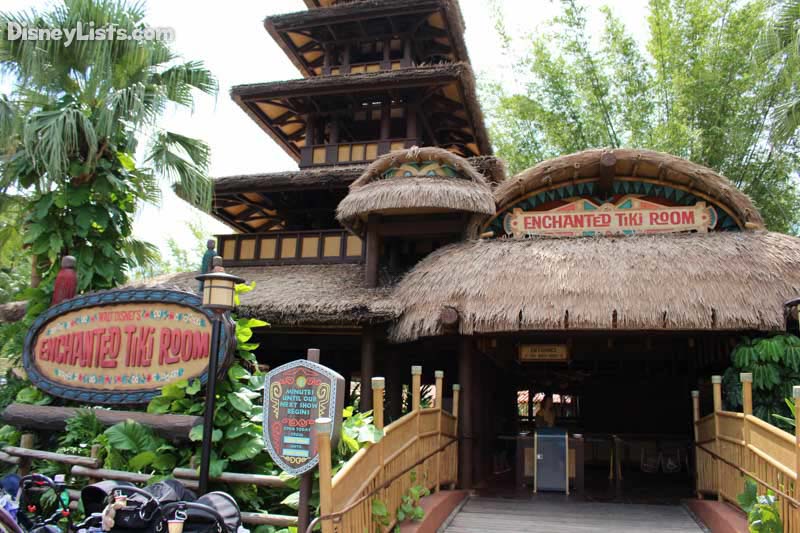 3 – The Circle of Life @ Epcot
Update: Circle of Life will permanently close on February 4, 2018. 
The message that comes across in The Circle of Life attraction is a positive one about nature needing our help. Unfortunately, so does this attraction! The Circle of Life is however air conditioned and has comfortable seats, so it's a nice place to rest your feet and cool off. Our kids, and those we've taken to this attraction, lose interest in this 20-minute film rather quickly despite the beloved characters from The Lion King (Simba, Timon and Pumba) being the narrators. Update or close – we think something better could take this spot.
4 – Swiss Family Treehouse @ Magic Kingdom
The Robinson's have built an awesome treehouse for you to explore, but for us, it's one we frequently pass on. We feel this attraction is much like House Hunters – treehouse style. Explore different rooms, check out the scenery… except you don't have the option to buy it! We also dislike that the treehouse has some narrow paths so climbers are at the mercy of the people in front of them for the most part. We'd be ok if this one goes.
5 – Country Bear Jamboree @ Magic Kingdom
We don't want Country Bear Jamboree to close! Come on, you must admit, it's cute! Animatronic bears sing songs that when you listen closely to the words, you can't help but giggle slightly. But, it's VERY dated. Recently, the front of the attraction was being refurbished, so when it was complete we went in thinking the attraction was maybe remodeled too, but we were mistaken. It needs something although we can't quite put our finger on it. New animatronics maybe?
6 – Indian Jones Epic Stunt Spectacular @ Hollywood Studios
For the record, the first Indiana Jones movie that inspired this attraction is still one of the greatest movies of all time and there are a lot of really cool things about the Indian Jones show at Disney World's Hollywood Studios. You can check out 8 facts and secrets about this show by clicking here. However, if we're being honest, this show is looking and feeling pretty tired. Not to mention, as the last legitimate remaining "behind the scenes making of a movie" attraction this show is out of place in a park that long ago gave up even attempting to be true to its original vision. Most importantly, as anyone that has been to Disneyland in Anaheim, CA will tell you, there is an AMAZING Indian Jones ride that would fit just perfectly into the space currently being taken up by this mammoth outdoor amphitheater. There are plenty of shows at Hollywood Studios. It's time to shutter this one and bring us the Indian Jones Adventure ride that we really deserve!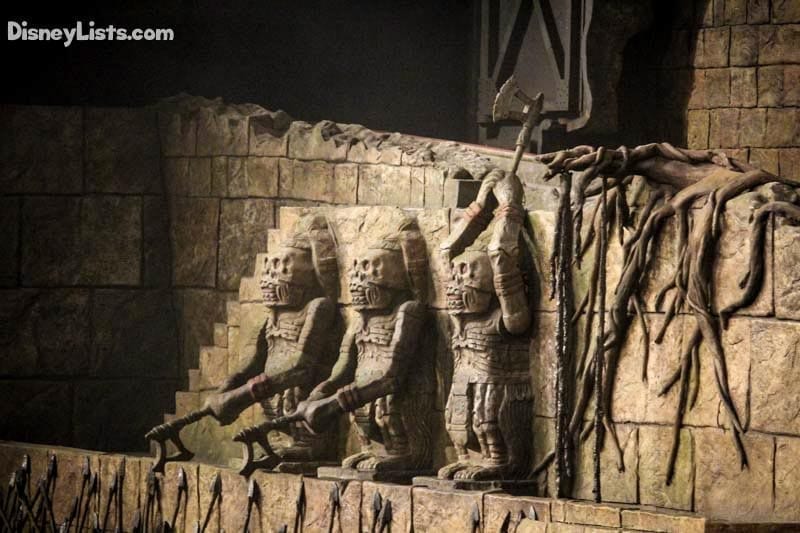 7 – Magic Carpets of Aladdin @ Magic Kingdom
Our opinion is Magic Kingdom has Dumbo, there really isn't a need for Magic Carpets of Aladdin. However, the magic carpets do draw a crowd, as waits tend to get lengthy. This area of Adventureland is packed. It's a tight area and the crowd traffic through there is anything but pleasant. We vote the Magic Carpets move on so we get to experience 'a whole new world' in this area.
Are you yelling at your computer screen yet? Look, at least we aren't going touch It's a Small World or Carousel of Progress with a 10-foot pole! We say every attraction is worth experiencing at least one, so if you've never been on the 7 attractions above, don't let this deter you. You may just find that one of these is a favorite of yours! Thanks for letting us share. Do you have any suggestions on what attractions need updating or closing at Walt Disney World?
For a no obligation, FREE Quote on a Disney vacation package, please contact our travel partner Magical Vacation Planner at 407-442-0227 (407-442-0215 for Spanish). You can also request a FREE quote online by Clicking HERE.