While we may be in the middle of the sweltering summer heat, Disney has released some Holiday cheer today with details on the very popular Candlelight Processional as part of the Holidays Around the World celebration at Epcot. This is a tradition for our family. We absolutely love watching these performances! Below are all the details.
Details released by Disney writer Charles Stovall:
Call it a Christmas present come early! We are excited to announce that dining packages for 2016 Candlelight Processional are now on sale.
As a part of Holidays Around the World at Epcot, the Candlelight Processional presents the story of Christmas in truly spectacular fashion – with a celebrity narrator, a 50-piece orchestra and a mass choir.
Celebrity narrators this year include some returning favorites like contemporary Christian music singer Steven Curtis Chapman, actors Whoopi Goldberg and Neil Patrick Harris and newcomers like legendary baseball player Cal Ripken, Jr. Here's the list of confirmations we have so far:*
Steven Curtis Chapman 11/25-27
Neil Patrick Harris 11/28-12/1
Whoopi Goldberg 12/2 -12/3
Edward James Olmos 12/4-12/6
TBD 12/7-12/9
Robby Benson 12/10 -12/12
Meredith Vieira 12/13-12/15
Jim Caviezel 12/16-12/18
Joe Morton 12/19-12/21
Ming-Na Wen 12/22-12/24 New!
Jodi Benson 12/25-12/27
Cal Ripken jr.. 12/28-12/30 New!
The processional is performed three times per night (5:00, 6:45 and 8:15 p.m.) during the holiday season at the American Gardens Theatre. These packages, available on select nights, include a delicious meal and a guaranteed seat for one of the Candlelight Processional performances. Availability is limited.
This year, in addition to lunch and dinner packages, breakfast options are available at some favorite Epcot restaurants like Akershus Royal Banquet Hall and Garden Grill. Breakfast, lunch and dinner options are also available this year at Captain's Grille at Disney's Yacht Club Resort and Trattoria Al Forno at Disney's BoardWalk.
Candlelight Dining Packages for breakfast start at $27 plus tax per person for adults and $14 plus tax per person for children, ages 3-9. Candlelight Dining Packages for lunch and dinner start at $47 plus tax per person for adults and $20 plus tax per person for children, ages 3-9.
'Holidays Around the World' is an extravaganza of holiday entertainment, merchandise, food, beverages and festivities where guests can celebrate at Epcot throughout the holiday season. Time-honored traditions come alive through the sights and sounds of the countries of World Showcase; and live musical performances enliven the park throughout the day.
Click here to book Candlelight Processional dining packages or to find out more information, call 407/ WDW-DINE (407-939-3463).
Holidays Around the World, including the Candlelight Processional, run November 25 – December 30, 2016 at Epcot.
*Narrators and entertainment are subject to change without notice. Theme park admission is required. There is no 5 p.m. show on 12/4.
Related Article: 5 Things You Need to Know About Epcot's Candlelight Processional at Walt Disney World
Epcot has many great offerings for the Holiday Season, and the Candlelight Processional is arguably the best.  This event is held in the American Adventure Pavilion and debuted at Walt Disney World in 1993. If you are not familiar with this event or have never been before here are 5 things you need to know about the Candlelight Processional.
1 – What is it?
The Candlelight Processional is a Holiday favorite at Walt Disney World. Each evening a celebrity narrator tells the Christmas Story and is accompanied by the Walt Disney World Orchestra and a mass choir. The mass choir is made up of high school choirs, wearing the gold robes and a special Cast Member choir who wears the green robes. What is truly special about the Cast Member Choir is that they are not all Entertainment Cast Members. Cast from around Walt Disney World who work in any department can audition and volunteer their time to perform in this event!  The choir sings traditional Christmas songs that are are woven into the retelling of the Christmas nativity story. This event is offered at no additional charge.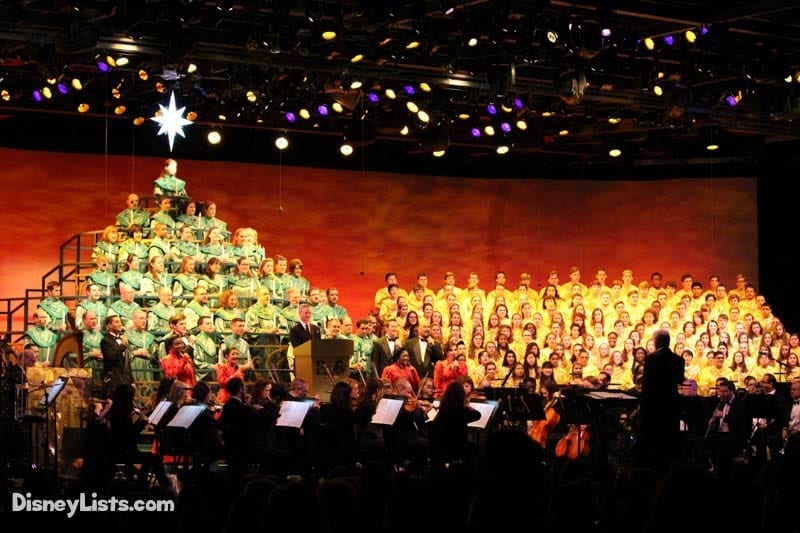 2 – Dates and Times
In 2016, The Candlelight Processional will be each evening from November 25th to December 30th.  There are three show times each night; 5 pm, 6:45 pm and 8:15 pm.  The performances are held in the American Gardens Theater at the American Adventure Pavilion.
3 – Get in line early
The Candlelight Processional is a very popular show during the Holiday season.  All three performances each night will fill to capacity. If you want to view the show it is recommended that you get in the Standby line at least 1 hour prior to show time. Earlier during busy days such as weekends or days that have Extra Magic Hours at Epcot. If the celebrity narrator is extremely popular such as Neil Patrick Harris, you will want to get in line even earlier as well.  A good strategy is to grab some snacks and relax while waiting for the next show.
4 – Or Book a Candlelight Dining Package
Another option instead of waiting in line ahead of time is to book a Candlelight Dining Package. These packages allow you to dine for lunch or dinner at one of Epcot's many restaurants and then gives you reserved seating for a specific show time. This will eliminate your need to wait on the standby line for the show, but you still will need to arrive approximately 30 minutes prior to show time for seating. The reserved seating area for the dining package is located in the front of theater nearest the stage. Handicap seating is available in the reserved area as well. These seats will give you a great, unobstructed view of the entire performance.  Most locations will offer pre set menu and prices vary based on location and meal period. You can book the package online or by calling the dining reservation line.  The Candlelight Dining package is strongly recommended if you are looking to see a specific celebrity narrator or show.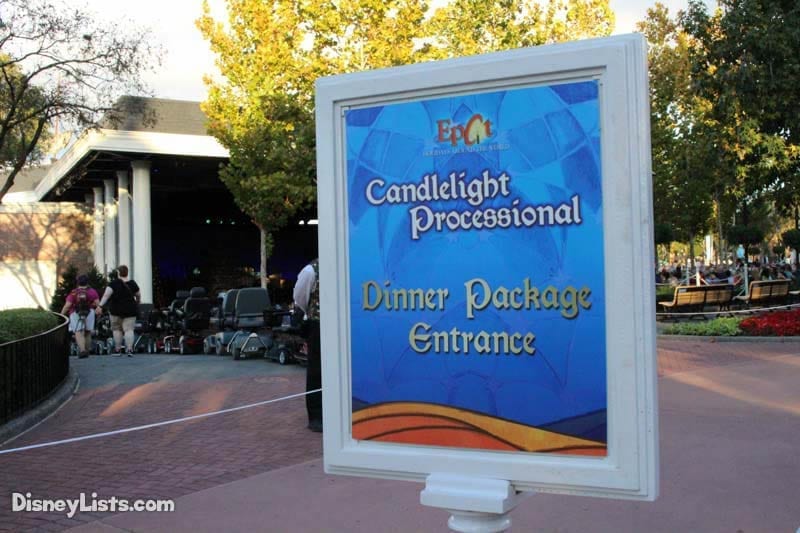 The Candlelight Processional at Epcot is a must do for the Holiday season! The beautiful music and the Christmas story is sure to fill your heart with joy! Be sure to get in line early or book a Candlelight Dining package for the best experience, as the theater will fill to capacity. Don't forget to check out all the other great holiday offerings at Epcot's Holidays Around the World during your visit!