The past week and a half has arguably been the biggest news week at Disney World in at least a decade, possibly since the resort's opening. There has been a slew of high profile ride and entertainment openings including Frozen Ever After, Soarin Around the World and Mickey's Friendship Faire. There is also big news on the Disney World hotel front along with big changes next year to Disney Dining Plans. Also, some great news for fans planning 2017 travel.
Unfortunately, not all the news was good. People around the world were horrified by the events surrounding and incredible rare alligator attack that tragically claimed the life of a two-year-old boy. This has prompted multiple changes around Disney World.
Full details on these stories and more below.
1 – Frozen Ever After Opens and Proves Frozen Fever is Still Alive and Well
Frozen Ever After, the much anticipated (and in some circles maligned) replacement for Maelstrom in the Norway Pavilion, opened on Tuesday, June 21 to crowds the likes of which have not been seen since the barbarian hordes descended in 376 AD (see, I told you this was an educational website!). The crowd was so large that by 10:20 am, the wait time was reported to be 300 minutes long (that's 5 hours!) Those thinking that Frozen fever had died down were wrong. We were there again on Wednesday the 22nd and at 10:30 am the wait was already 240 minutes. A small improvement from the previous day. There is no doubt that because of this long wait, a Frozen Ever After FastPass is now the most valuable FastPass you can get. If you are planning a trip to Epcot and want to experience this attraction, be sure to set an alarm to secure your pass at 7:00 am EST on the day your FastPass window opens (60 days for resort guests and 30 days for non-resort guests).
[smartslider3 slider=102]
So is all this hype worth it? Mostly, folks are saying the ride is great with amazing animatronics. I heard a few grumbles of disappointment, but it's hard to know if the "I wish this was still the Maelstrom" bias is affecting their opinion. Our own writer, Christy, was able to ride it on opening day.
Be sure to read Christy's full review along with the 10 things you need to know about the new attraction by clicking here.
2 – Sommerhus Now Open as Official Home of Anna and Elsa Meet and Greet
Anna and Elsa have officially left the Princess Fairytale Hall at Magic Kingdom and have moved to their Royal Sommerhus, also in the Norway Pavilion. We were able to meet Anna and Elsa a few days before the official opening on the 21st. It's a very nice meet and greet experience. The wait time for us was about 25 minutes. On the morning of Wednesday, the 22nd, surprisingly, the wait was only 20 minutes long. This may be attributed to the fact that there are multiple doors leading you to meet Anna and Elsa, (don't tell the kids what that means), and so the long waits of the past are gone. This might also explain why Disney chose to not make this a FastPass option. Based on how the queue is configured we don't anticipate this becoming a FastPass option in the future.
To read about the experience and see lots of pictures be sure to read our full review of the Sommerhus by clicking here.
One final update on the Norway Pavilion is that the Kringla Bakeri Og Kafe is now open at 9:00 am to serve guests breakfast. Previously, it was open at 11:00 am.
3 – Disney Releases 2017 Room Packages
If you've been eagerly awaiting your chance to book your Disney World vacation for the coming year we have great news, your wait is over! The 2017 Walt Disney World vacation packages are now available to book.
These packages will be available for arrivals beginning Jan. 1, 2017. Please note the last date of your vacation cannot be booked more than 499 days in the future.
We strongly recommend working with a Disney certified travel agency. Not only will they help you find the perfect package to ensure you have the most magical trip of a lifetime, they will continually monitor your reservation and if an offer or discount comes up they will add it automatically.
To help, we've partnered with Magical Vacation Planner. Cindy and I use them personally for our all Disney related travel.
For a no obligation, FREE Quote on a Disney vacation package, please contact our travel partner Magical Vacation Planner at 407-442-0227 (407-442-0215 for Spanish). You can also request a FREE quote online by Clicking HERE.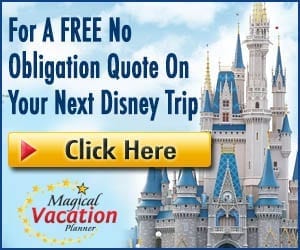 4 – DVC Expanding into First Moderate Resort
Big news on the hotel side at Disney World this week. While not yet officially announced by Disney, a very reliable source is reporting that Disney Vacation Club will expand into the Moderate resort category. This may open the door to Disney Vacation Club ownership to a broader segment of Disney World visitors. 
For more information, as well as likely locations, click here.
5 – Soarin' Around the World Debuts to Rave Reviews
World Showcase wasn't the only spot in Epcot with new offerings opening recently. Soarin Around the World debuted on Friday, June 17 in The Land Pavilion. While we love Soarin Over California, we really enjoyed this updated version. The film was crystal clear and the addition of many new scents was very welcome!
Read our full review of this attraction by clicking here.
6 – Magic Kingdom's New Stage Show Mickey's Royal Friendship Faire Debuts
Also debuting June 17, was a new stage show in Magic Kingdom. This stage show replaced "Dream Along with Mickey," that had run for ten years. We were there opening day to catch this show for ourselves. We really enjoyed the show and it was great to see newer Princesses take the stage, especially Tiana and Rapunzel. You won't want to miss this new show, which has multiple showings per day.
You can read a detailed synopsis and review along with many, many photos by clicking here.
7 – Bonus Pirates of the Caribbean FastPass
Want a 4th FastPass for Magic Kingdom? Now you can. Guests completing at least three of the five missions of "A Pirate Adventure – Treasure of the Seven Seas," will now receive a bonus FastPass to ride Pirates of the Caribbean. You will still be awarded the Treasurer Finder Cards after completing each mission. Since each mission takes about 20 minutes to complete, it's a nice bonus that you receive a FastPass that will save you time later in your day. You can sign up at the Crow's Nest, which is just beyond the Pirates of the Caribbean in Adventureland.
For details on the Pirate Adventure and other ways to have pirate themed fun, check out this article by clicking here.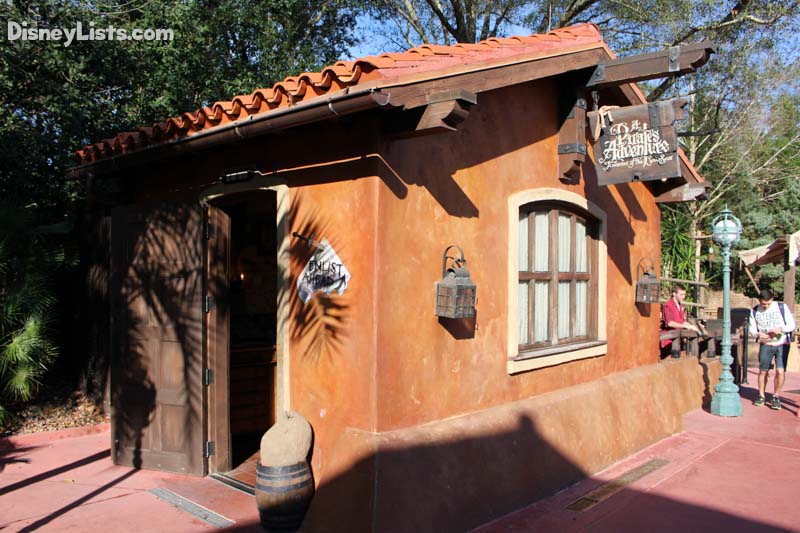 8 – Alligator that Killed Toddler Captured; New Rope Fencing and Signage Installed Around Seven Seas Lagoon
Florida Wildlife officials have confirmed via bite mark analysis and DNA testing that the alligator involved in the tragic attack that claimed the life of a 2-year-old boy from Nebraska has been captured. The attack, which garnered world-wide attention, has prompted a number of changes around Disney World including the closing of beaches and water sports, the installation of barriers around Seven Seas Lagoon and additional signage warning guests of the dangers of alligators and snakes in the area, and even changes to rides and attractions in and around the parks.
For more details on the incident and the many changes around Disney World click here.
 9 – Significant Changes Coming to 2017 Disney Dining Packages
Big changes are coming to Disney Dining packages in 2017. Most notably, the dessert that came with a quick-service meal has been replaced by an extra snack credit. Most guests are thrilled with this change as it adds some flexibility for people who don't want the desserts at the quick service restaurants. There are several other changes (most positive, some negative) that are going to affect visitors next year as well.
Read the complete rundown of 2017 Dining Plan changes along with what they mean to you by clicking here.
10 – Mexico Pavilion Update
Most of World Showcase does not open until 11:00 am. However, now that Frozen Ever After opens at 9:00 am, the Mexico Pavilion has also seen some changes. Since guests walk through the Mexico Pavilion to get to Norway it makes sense that Disney would give guests more options. First, the Gran Fiesta Tour Starring the Three Caballeros boat ride, is now open at 9:00 am. Also, the quick-service restaurant, La Cantina de San Angel, is now serving breakfast.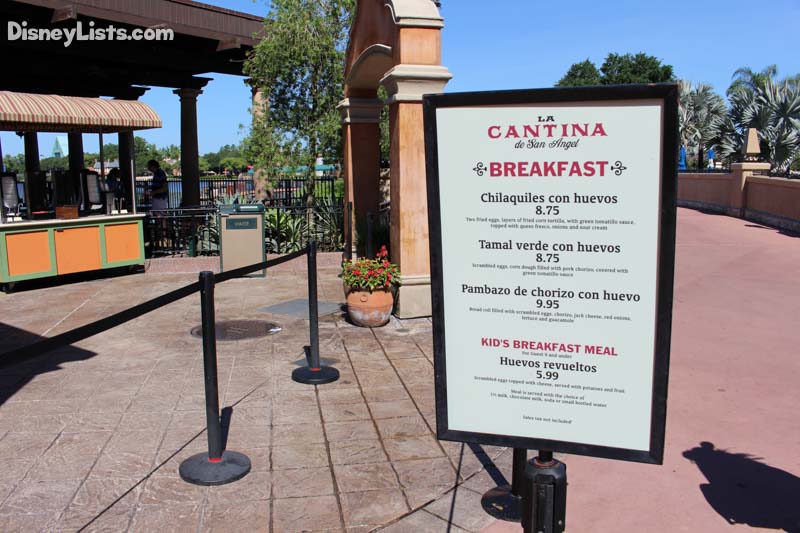 The Mexico Pavilion has also made some changes with their famous margaritas. The Margarita stand has been closed. Mexico has instead opened Jardin de Fiestas, a small food and drink stand that looks very similar to what we see for the Food and Wine Festival. Currently this stand offers Cilaquiles de Pollo, a Pork Belly Taco, 3 different margaritas and Tecate light draft beer. The quick service restaurant, La Cantina de San Angel, also serves 4 different margaritas, so margarita lovers don't need to despair!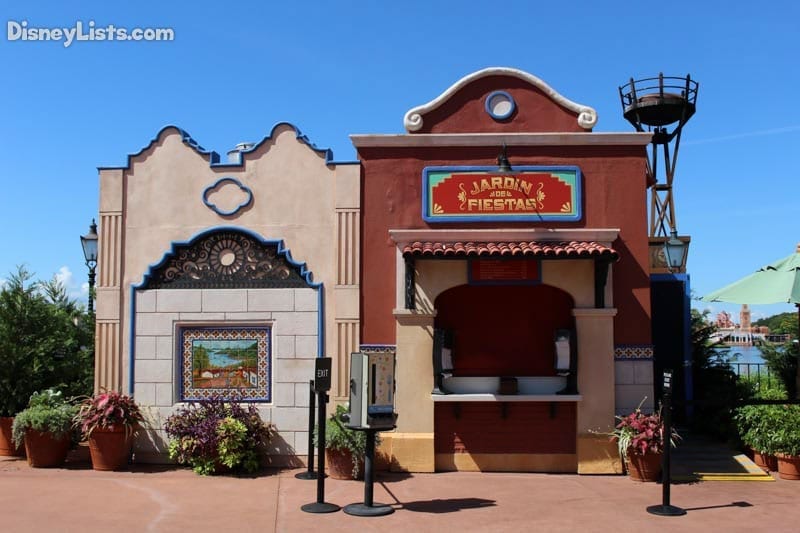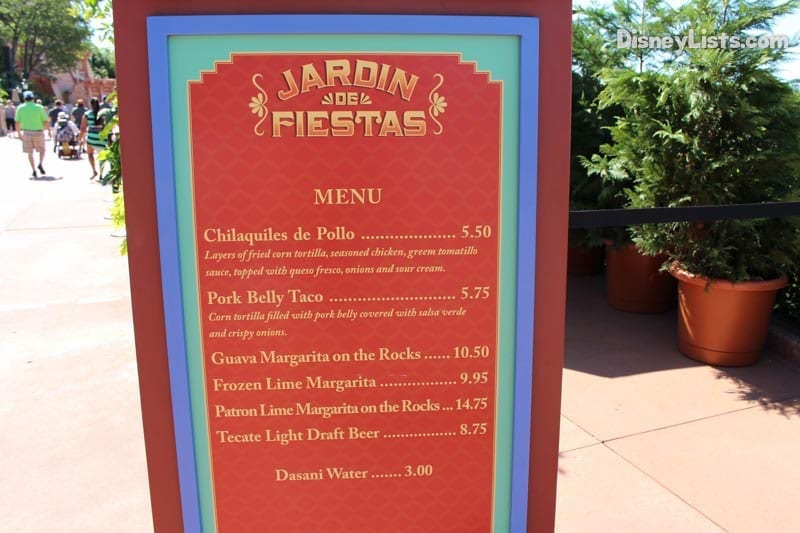 11 – Star Wars: A Galactic Spectacular
Hollywood Studios also debuted an entirely new nightly stage and fireworks show on June 17 called, "Star Wars: A Galactic Spectacular." The new nighttime spectacular features surround sound, projections of movie clips onto the Chinese Theater, lasers, special lighting effect, low-level pyrotechnics and of course lots of fireworks! This twelve-minute show is performed nightly. Even if you are not a crazy Star Wars fan, you won't want to miss this amazing spectacle! For those of you having a heart attack right now about Fantasmic, take a breath. This is in addition to Fantasmic.