Epcot is a huge park filled to the brim with things to see and do and eat! With so much to experience it can be difficult to know where to begin when planning your day at Epcot, so here are 10 do's and don'ts for your visit to Epcot.
10 – Do – Arrive Early
Even though the World Showcase doesn't open until 11am (except for Norway and Mexico), Future World opens at 9am, and there is a lot to explore, and experience. Arriving at 9am and making your way over to Test Track, Soarin', Mission Space, or Spaceship Earth, will allow you to ride these attractions with little to no wait. The crowds don't really form until later in the morning, so arriving early and getting on some of the popular attractions first thing will open up the rest of your day for other areas of Future World and leave you with plenty of time to explore the World Showcase.
9 – Don't – Miss the Character Meet and Greets
Epcot has some amazing characters to meet, so don't forget to grab a map and a times guide to find out where and when the character meet and greets happen. There are plenty of Princesses to meet, such as Belle, Snow White, Jasmine, and guests can also meet Mulan at the China pavilion. Alice and Mary Poppins are in the UK pavilion, and in Future World Mickey and his pals are there to take pictures with and sign autographs.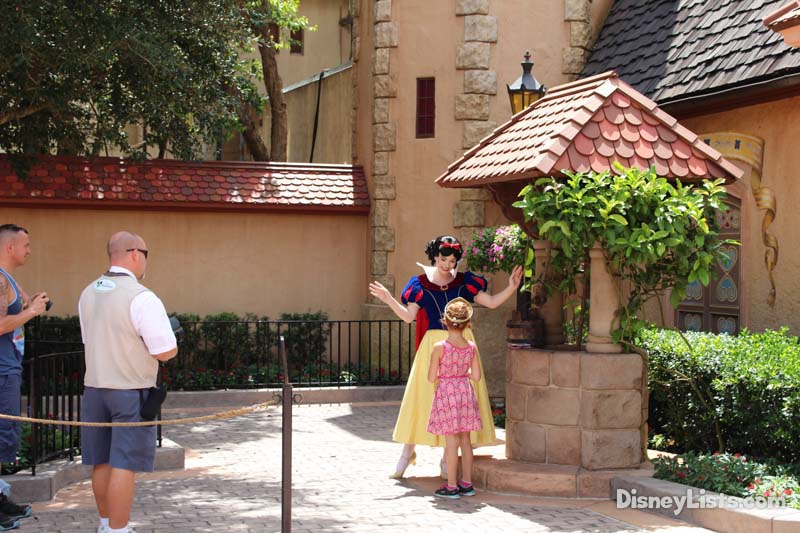 8 – Do – Snack Around the World
The quick-service locations in the World Showcase all feature the most delicious treats you can imagine. Each pavilion offers snacks specific to that country, and what better way to experience and learn about another culture than by eating and sharing food with your loved ones. Try the School Bread in Norway, the caramel treats in Germany, the gelato in Italy, or the baklava in Morocco. You may want to consider skipping lunch, and snack around the world instead!
7 – Don't – See All the Films
There are some wonderful and beautiful films in the World Showcase. There is a film in Canada, China and France. Each film is approximately 20 minutes, and if you see all three films, that can eat up a lot of time. Aim to see all three at some point, but not all in one day. If you can only see one film, our favorite is 'O Canada because it was updated in 2007 with Martin Short and is quite funny. The other two films are very outdated and in desperate need of an update!
6 – Do – Make Dining Reservations
Making dinner reservations is a 'do' for every park, and Epcot is no exception to the rule. In order to get the reservations you want, make them as early as you can. Reservations can be made up to 180 days in advance, and that is highly recommended when visiting Epcot.
5 – Don't – Skip the Entertainment
There is a ton of entertainment in Epcot, especially in the World Showcase. There are acrobats in China, in Japan there are Taiko drummers, Sergio in Italy is a mime and juggler, and over at the American pavilion is the a cappella group, Voices of Liberty. Check online or in a times guide for all the performers and their schedule show times. Most shows are about 15-20 minutes in length and happen out and about throughout the World Showcase, so you can stay for a few minutes, or the entire show.
4 – Do – Use the Single Rider Line
Test Track has a unique feature that the other rides at Epcot don't. There is a single rider line at Test Track, and it's always much shorter than the standby line. Taking advantage of the single rider line will allow you to ride this popular attraction multiple times without having to waste time in the lines. You may be seated next to a stranger, but you'll experience the exact same thrills!
3 – Don't – Miss Out on the Festivals
There are two amazing festivals at Epcot held annually. The spring festival is the Epcot Flower and Garden Festival, which features Disney topiaries throughout the park. There are also little food stalls and booths across the park serving delicious snacks and drinks, and there are special demonstrations and tours offered as well. The fall festival is the Epcot Food and Wine Festival, which also offers seminars, demonstrations, music, and features a ton of food booths throughout the park. This festival brings in a lot of people, especially on the weekends, so if you can visit during the week to avoid the big crowds and long lines.
2 – Don't – Skip the Food in Future World
We've talked a lot about the food in the World Showcase, but Future World also has some wonderful food. The Coral Reef is a great restaurant for seafood lovers, and you can see sea turtles, and fish in the giant aquarium that stretches across one wall of the restaurant. Sunshine Seasons is a great quick-service option with something for everyone. A bonus here is that the seating is cafeteria style, so it's a great place to stop and cool down on those hot Florida days. The Garden Grill is a fun character dining experience.
1 – Do – Find a Spot Early for Illuminations
Illuminations: Reflections of Earth is the nighttime spectacular featuring fireworks, lasers, and music that all takes place on the World Showcase Lagoon. There are a number of great viewing spots, but if you want a great spot, or a seat, claim your spot early. Finding a spot about 30-45 minutes prior to show time will ensure that you find a good, comfortable spot to view the beautiful and breathtaking show.
For a no obligation, FREE Quote on a Disney vacation package, please contact our travel partner Magical Vacation Planner at 407-442-0227 (407-442-0215 for Spanish). You can also request a FREE quote online by Clicking HERE.