News
News: Very Popular Adult Special Event Returning to Disney World this Fall
Sunset Showcase in Disney's Hollywood Studios will again be hosting Club Villain, a special ticketed event that features some of Disney's most popular villains. Your host, Dr. Facilier, along with some evil-diva cohosts, invite you to an evening full of spooky dining and dancing!
From Disney:
This spellbinding evening serves up decadent New Orleans delicacies like tender beef striploin rubbed with herbes de Provence, Voodoo sticky "pig wings" with citrus gremolata and spicy shrimp sautéed with Andouille sausage, tomato, okra and onions over creamy polenta.
Trick or treat yourself to some chilling cocktail concoctions—specialty alcoholic drinks plus beer and wine—hilarious stage-show numbers and up-close encounters with Disney's most dastardly doomsday divas. Mix and mingle with mysterious Maleficent, hilarious Queen of Hearts, the delirious Evil Queen and the always fur-fetched Cruella De Vil—and wicked jams from our house DJ!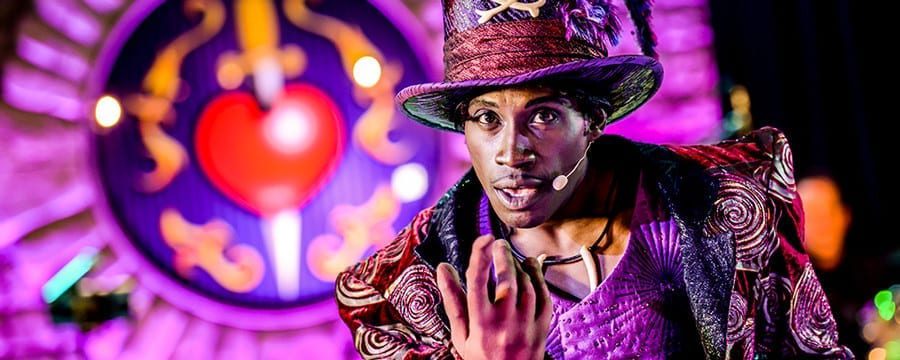 The event runs on Friday and Saturday night from September 2 – October 29, with a final engagement on Monday, October 31. There are two nightly events to choose from: a 5:15 pm and an 8:30 pm. The event will offer banquet style seating, so you may be seated with other parties. Disney dining plan entitlements may not be redeemed for this event.
Separate admission to Hollywood Studios is required and is not included in the price of the package. Tickets to Club Villain can be purchased for $129 per person, tax and gratuity included. Reservations are recommended and can be made up to 90 days in advance, either by booking online here or by calling (407) 939-3463.
RELATED ARTICLE: 6 Ways to Have a Spooky Time at Disney World in October
We absolutely love visiting Disney World in the fall! (Read 5 reasons why here). If you are visiting in the month of October, then you'll have the chance to experience Disney in at it's most spooktacular! Halloween is a time when Disney shines. They strike a perfect balance between spooky fun and not so scary. Decorations are festive and put you in a fun fall mood. Here are seven ways for you to have a spooky time during October at Disney World.
6 – Watch The Adventures of Ichabod in your Hotel Room at Night
We have an annual tradition in our house. We love watching The Adventures of Ichabod, better known as the Legend of Sleepy Hallow, to get us into the Halloween spirit. Disney, along with the perfect narration of Bing Crosby, brings this classic American tale to life in a fantastic way. It's the perfect spooky short film for families to get ready for Halloween night. The film, packaged together with Mr. Toad, is available in DVD, Blu Ray and Digital format. You can plan a frightful movie night in your hotel room if you plan ahead and bring your copy of the film from home! For bonus points, set the stage for your movie night with tip #6!
5 – Spice up Your Halloween Costume with Disney Merchandise
If you're looking to find that perfect accessory for your Halloween costume, then look no further than Disney gift shops. Disney has created lots of different merchandise that is perfect for Halloween. Beyond the "normal" costumes for children, Disney has a special Witch Minnie Halloween dress for girls. Also, there are so many hats and Mickey ears that will allow the shyest guest the opportunity to dress up, even if just a little bit. There are also trick or treat bags and light up pumpkin Mickey treat containers.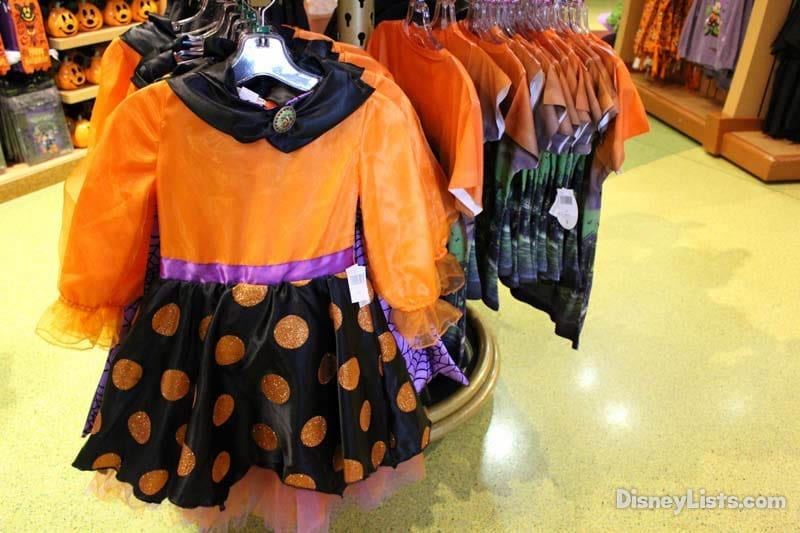 4 – Ride the Twilight Zone Tower of Terror at Hollywood Studios
We absolutely love this terrifying attraction at Hollywood Studios. (Read five amazing things about this ride here). Built in 1994, it became an instant classic and must do attraction. Riding this attraction is even more fun during October when you are in the Halloween spirit. Bonus points for riding in the evening. Extra bonus points for riding in the evening, during a thunderstorm!
3 – Ride the Haunted Mansion at Magic Kingdom
For the ultimate spooky experience, you can't miss a stroll through the lovely Haunted Mansion. This is simply the best haunted house ride in the world. Part walkthrough, part dark ride, the show actually starts when you enter the line so pay attention as you're making your way toward the front doors. Be sure to check out the headstones in the family cemetery. Along with some good chuckles, you may get a surprise or two.
While this ride should be approached with caution when it comes to young children, rest assured that this is not a horror house. The haunting is combined with some good humor and most people find it pleasantly entertaining rather than frightening. When exiting be sure to check out the burial vaults and the pet cemetery on your left. Lot's of good humor here and some nods to great attractions from the past. RIP Mr. Toad.
2 – Visit Fort Wilderness Campground & Resort at Night
Guests who frequent Disney's Fort Wilderness Campground and Resort know that some people go extra crazy decorating their sites for Halloween. If you have the opportunity to get to Fort Wilderness in the evening, then you can ride or walk through the loops and be treated to some seriously spooky decorations.
After you've seen the awesome decorations at the campsites, you'll want to take a walk through the woods and along the lake on the nature trails. Be sure to bring some sort of light with you. These are dirt trails through the woods without any sort of lighting.
Finally, hang around to watch the Magic Kingdom fireworks. Many guests of Disney World are unaware that you are able to get a fantastic view Magic Kingdom's fireworks at the beach at Fort Wilderness. Not only do you have a great view, but Disney makes the experience complete by playing the music for the guests. Limited beach chairs are available, but you'll need to get there early to ensure seating. We usually just bring a blanket or towels to sit on. Try to view the fireworks on a Mickey's Not So Scary Halloween party night for more spooky fun!
1 – Enjoy Mickey's Not So Scary Halloween Party
There's no better way to have a spooky time at Disney World than attending Mickey's Not So Scary Halloween Party. This is Disney at it's best and it's worth every penny. Not convinced? Here are 7 Reasons You'll Love Mickey's Not So Scary. Be sure to also check out our seven tips for the party so you have the best night possible! The party won't disappoint!