Disney has confirmed that the Toy Story Pizza Planet restaurant, which has been under refurbishment since early this year, will not be returning as Andy's favorite pizza shop. In the now newly named Muppet Courtyard, Disney will opened a Muppet themed-restaurant this fall. Details below.
From Disney writer Rachel Bshero:
Pizza lovers, rejoice! PizzeRizzo will open this fall in Muppets Courtyard at Disney's Hollywood Studios, in the former Toy Story Pizza Planet location. Rizzo The Rat owns and operates the pizzeria, where guests can grab a pizza pie and a cold drink. Enjoy a casual Italian-American dining experience in a whole new way, through the eyes of the lovable, wisecracking Muppet.
Walt Disney Imagineering hid hints of Rizzo, his extended family and friends who have visited PizzeRizzo over the years throughout the two-story quick-service location. In addition to the expansive indoor and outdoor seating area, guests will be able to dine in a "cheesy" banquet room, or take five in a special booth designated just for Rizzo's celebrity friends.
We are not at all surprised at this move since Hollywood Studios will have it's very own Toy Story Land. It makes sense not to have a Toy Story restaurant outside of the new land. It also makes total sense that Disney would be using a Muppet theme in the new Muppet Courtyard. However, we would have liked to have seen the Swedish Chef used instead of a rat because who wants to think of rats when they eat pizza?
Reactions from fans have been mixed. Many loved the Pizza Planet theme and are still hoping that the restaurant will return in the new Toy Story Land. However, it is unlikely that Disney will have two pizza quick-service restaurants in the same park. While many loved the theme, many are also hoping that the quality of the quick-service pizza will also be improved. What do you think of the change? Let us know in the comments below!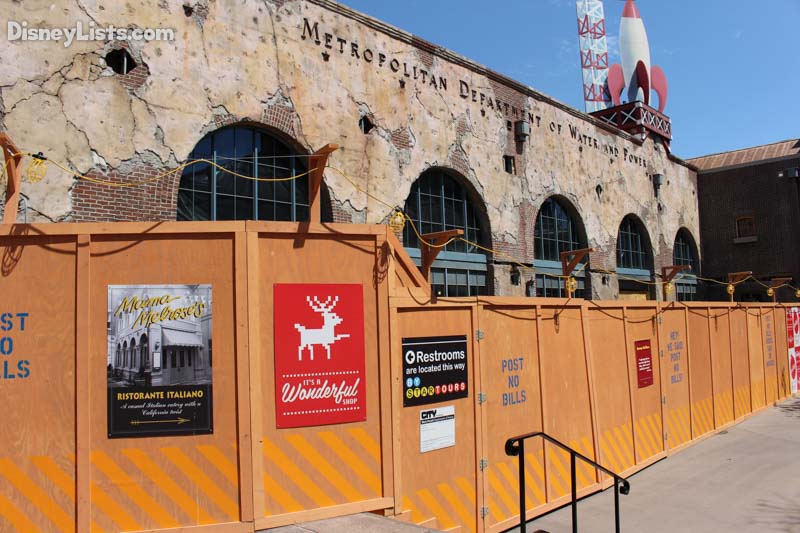 RELATED ARTICLE: 5 Best Counter Service Restaurants at Disney's Hollywood Studios
by Caitlin Corsello
Guests who visit Walt Disney World may think that they will only be dining on stereotypical theme park foods like chicken nuggets and fries, but they are totally mistaken. Walt Disney World is home to countless dining options located throughout the four theme parks, Disney Springs, two water parks, and Disney Resorts. Dining on a Disney vacation can include everything from fine dining and full service meals to character meals and snack carts. Guests who spend time in Disney's Hollywood Studios can enjoy many experiences which allow them to star in their very own Hollywood adventures while stopping at some unique dining locations along the way. While Disney's Hollywood Studios is home to several full service restaurants, there are also plenty of quick service locations for guests to choose from which allow them to still enjoy delicious meals in a shorter period of time. From a location straight out of a movie to a restaurant which is housed inside a boat, there are definitely some unique places to enjoy a meal in Disney's Hollywood Studios. Here are the five best counter service restaurants at Disney's Hollywood Studios in Walt Disney World.

1 – ABC Commissary
One of the most popular quick service dining locations in Disney's Hollywood Studios can be found in the Commissary Lane section of the park. The ABC Commissary is designed to feel like the dining hall on the studio lots where ABC hit shows are filmed. Guests can enjoy their meals in a beautifully decorated restaurant which features posters advertising ABC shows as well as televisions which play popular clips from episodes. The ABC Commissary is open daily for lunch and dinner and serves up menu options including the Asian Salad with Chicken, New York Strip Steak, Chicken Club, Chicken Breast Nuggets, and Angus Bacon Cheeseburger. In addition to the regular menu, the ABC Commissary also includes kosher options like Chicken Strips with Potato Croquette and Corned Beef.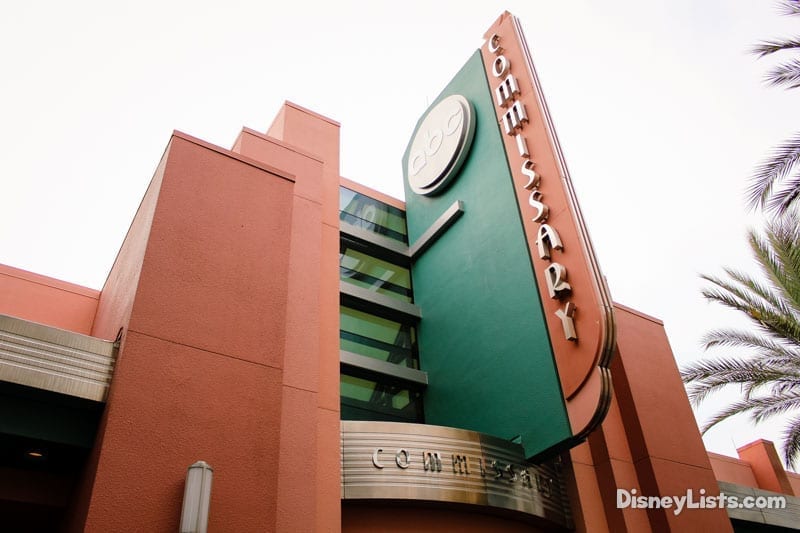 2 – Rosie's All-American Café
Sunset Boulevard in Disney's Hollywood Studios is home to two of the most thrilling attractions in the park as well as a quick service location that is sure to thrill hungry guests. Rosie's All-American Café can be found on the left hand side of Sunset Boulevard inside of a massive open air market filled with tables covered by bright umbrellas. Guests can have a seat at one of the tables and enjoy lunch and dinner options like the Fried Green Tomato Sandwich, Chicken Breast Nuggets, and Fresh Angus Onion Straw Cheddar Cheeseburger. In addition to the delicious meals, guests can order up dessert options like the Strawberry Shortcake and unique beverages like the Beso Del Sol Sangria.
3 – Starring Rolls Café
Also found on Sunset Boulevard is a small café that serves up delectable pastries, fresh coffee, and unique options like sushi. Starring Rolls Café is open daily for breakfast and lunch and is usually closed by four each afternoon. After guests order up their food in a small interior, they can enjoy their purchases on a small outdoor patio which features comfortable tables with bright red umbrellas. Guests who enjoy breakfast at Starring Rolls Café can chow down on fresh Croissants, Cinnamon Rolls, Cherry Turnovers, Fruit Tarts, and Danishes in addition to fresh coffee. Lunch brings options like the Mixed Greens, Ham Sandwich, Tomato Bisque, Sushi Sampler, Fruit and Cheese, and Tiramisu. No matter what time of day guests visit Starring Rolls Café, they should definitely indulge in the massive Butterfinger Cupcake which is rich, delicious, and too good to share!
4 – Min and Bill's Dockside Diner
Guests who explore the Echo Lake section of Disney's Hollywood Studios can enjoy unique meals at a location that doubles as a boat on Echo Lake. Min and Bill's Dockside Diner is housed inside a beautiful boat that looks straight out of an old Hollywood film. Inspired by the 1931 film Min & Bill, the quick service location is open for lunch and dinner and serves up menu options like Slow-Roasted Beef, Macaroni and Cheese, Vegetarian Wrap, Foot-Long Hot Dog with Chili and Cheese, and Milkshakes. After ordering, guests can chow down on their meals while enjoying the breeze and beautiful view across Echo Lake.
5 – Backlot Express
Another quick service dining location in Disney's Hollywood Studios can also be found in the Echo Lake section of the park near Star Tours – The Adventure Continues. The Backlot Express features several unique rooms which are filled with props and supplies which would typically found in the backstage areas of production locations. Guests can dine either indoors or outdoors for lunch and dinner on menu options including the Chili Hot Dog, Galactic Chicken Salad, Corellian Spice Fries, and the Royal Guard Burger. A beverage station allows for drink refills. Many menu items at the Backlot Express have a Star Wars theme to them, making it a great place to enjoy a meal in Disney's Hollywood Studios.