"Once upon a time, in a faraway land, a young prince lived in a shining castle…". The start of the prologue to Beauty and the Beast perfectly describes the tone of Be Our Guest Restaurant. Have you dreamed of dining at Beast's Castle? Here are 6 things to know about Be Our Guest so you can make that dream a reality, and be a guest at this popular dining destination!
1 – Making Your Reservation
Step one to enjoying a dinner experience at Be Our Guest Restaurant is getting a reservation. Sounds simple enough – but not so much! Be Our Guest is one of the most difficult restaurants to obtain a reservation for at Disney World. We suggest you book the morning your 180-day advanced dining reservation opens (online at 6:00am or by phone at 7:00am). The sooner you try to make your reservation the better chance you have at getting in. Every now and then you may get lucky and find a table on those spontaneous trips, but it's not typical and we suggest you don't count on it.
2 – One Restaurant – Three Unique Rooms
Set inside of Beast's Castle, Be Our Guest is impressive at the amount of great detail Imagineers put into this restaurant. The moment you cross the bridge to the castle, you feel as if you are pulled straight into the movie. Detailed stained glass, powerful statues, and dimmed lighting welcomes you. The restaurant is divided into three spaces. You first enter into the Grand Ballroom, where Belle and Beast shared their famous first dance. This space is large and holds most of the tables. We find this space to be the loudest and less intimate of the three rooms, but that's no surprise by looking at its size. Just looking up in this room will overwhelm you with beauty. The Rose Gallery is off to the right. Here you will find a music box in the middle of the room of Beast and Belle dancing. This room seems to be the brightest of the rooms and is typically a little less crowded. Artwork on the wall is worth browsing. The third room is the West Wing. As if Beast had just shredded the curtains and tapestries, this room is dark, creepy, and our favorite! The dim lighting, sounds of thunders, and wilting rose are incredible. This room is the smallest of the three and typically every table is occupied. A Cast Member informed us that you are welcome to request a room when checking-in at the hostess stand, but a specific room request is never guaranteed. It can't hurt to ask if you have a preference!
[smartslider3 slider=103]
3 – It's Time to Eat!
Editors Note: The Dinner menu will be changing to a Prix Fixe dinner menu beginning July 27, 2018. Check out all the details here.
The atmosphere is wonderful but let's face it, we're here for the food! We absolutely love the dinner menu. Steak, chicken, shrimp, pork, salad – great variety to meet your family's individual favorites. Our favorite appetizer is the Assorted Cured Meats and Sausages that is said to serve two. There is a great assortment of meats and this is one appetizer that gets eaten fully by our family. Our two main entrée favorites are the Grilled Strip Steak and Braised Pork (Coq au Vin Style). The steak is cooked perfectly to your request and is an easy selection for a consistently good meal.  The Braised Pork is phenomenal. No need for a knife as this juicy pork falls apart at the touch of your fork. Sure, pureed cauliflower might not sound all too appetizing, but it's on our list of MUST have again in the future! We dare you to order the pureed cauliflower and see if your little one can tell the difference between that and their beloved mashed potatoes.
4 – Desserts – why YES please.
Desserts get their own category. Your server will pull around this overly tempting French cart. Inside you will see several yummy options that we like to pretend have very little calories. (Hey – you're on vacation!) Of course, we recommend you try the "Grey Stuff". This chocolate cake/brownie is topped with plenty of light, creamy Grey Stuff and circular sprinkles. The Grey Stuff is airy and we like how light it is over a rich dessert. Another favorite is the Lemon-Raspberry Cream Puff which is not only gluten-free but very delicious!
5 – Beast
The Beast may not be available for a meet and greet in the parks, but if you have dinner at Be Our Guest, you have a chance to meet him! Beast will make his grand entrance at the start of dinner. As he walks through the different rooms you will notice just how large he is. He awaits to take a photo with you in the study after you are finished with your dinner. Cast Members are very adamant about being completely done with your meal before meeting the Beast – for obvious reasons they need to keep the dinner moving. Unfortunately, Belle does not join the Beast for the evening, as she is just around the corner at Enchanted Tales with Belle.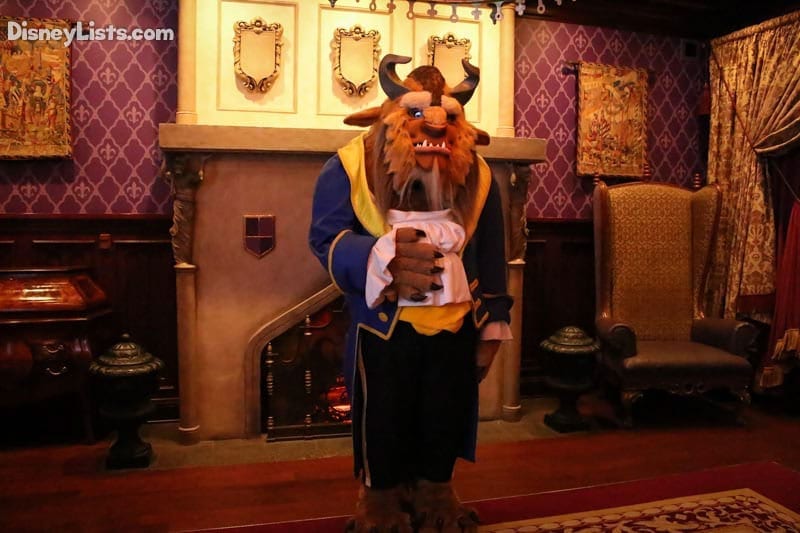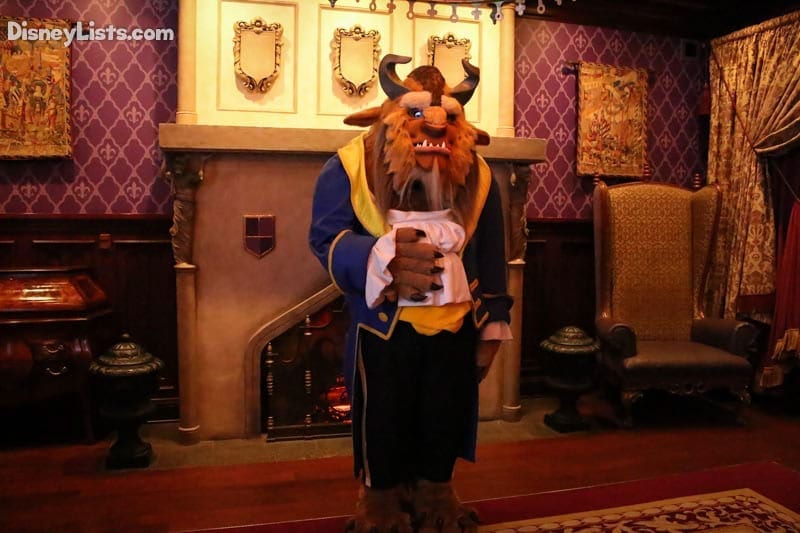 If you have yet to experience Be Our Guest Restaurant, we highly recommend you try to make a reservation and dine there! Dinner is our particular favorite meal, but if you are unable to get a reservation we also suggest checking out what breakfast and lunch offer. Bon Appétit!
6 – Bonus Tip – Editor's Note
We (Chad & Cindy) thought we would chime in with our experience with Be Our Guest dining. We often get asked about which meal do we recommend, lunch or dinner? We've had the opportunity to have both lunch and dinner at Be Our Guest and we recommend lunch over dinner for a few reasons. First, unless you are desperate to meet the Beast after dinner, the dining experience is very similar. You still sit in the same rooms, you still enjoy the same ambiance, and you still get to experience Beast's castle. The food is still brought to you at both lunch and dinner. At lunch, however, you must go to the beverage refill station for refills on your drinks. Second, the food is also very similar. The lunch menu offers the same soups as sides and offers the exact same desserts. The lunch menu also includes a smaller portion of the braised pork. Third, if you are looking to save some money, dining at Be Our Guest for lunch is a great way to experience the restaurant for significantly less money. The sandwiches, which are very tasty, are about half the price of the entrees. I've had the strip steak and the carved turkey sandwich and I actually prefer the sandwich over the steak. There are MUCH better steaks to be had on Disney property, while the turkey sandwich is unique to Be Our Guest. I'll admit, we were a bit disappointed with our dinner experience at Be Our Guest. Due to its popularity our expectations were high. We enjoyed our lunch experience much more. So, if you are looking to save some money, but want to enjoy the restaurant, we recommend lunch over dinner. Reservations are still highly recommended and necessary! Again we say, Bon Appétit!
For a no obligation, FREE Quote on a Disney vacation package, please contact our travel partner Magical Vacation Planner at 407-442-0227 (407-442-0215 for Spanish). You can also request a FREE quote online by Clicking HERE.