Are you ready for the DisneyLists Attraction Challenge? Looking for a challenging way to conquer the attractions at Disney World? Yes? Then these articles are for you. Simply ride all of the attractions on this list and you will earn bragging rights and your friends will be jealous. Well, maybe not, but you'll have a fantastic time. How many challenges can you complete? For extra credit, conquer them all in one day! (Be on the lookout for more Attraction Challenge articles coming in the next few weeks).
Alright Space Pioneers! Do you have a desire to know what is beyond our earthly atmosphere? Let's blast through these space attractions so you'll know what to expect before your space mission takes off on your next Disney World vacation.
7 – Stitch's Great Escape
While Stitch's Great Escape doesn't send you flying through space, guests are transported to a Galactic Federation to become the newest security recruits. One problem however – Stitch is causing all sorts of problems and gets loose from his enclosed tube which is intend to keep him captive, but ultimately fails. This attraction leaves guests sitting in pitch black which provides sensory overload to the sounds and smells of Stitch wreaking havoc on the theater. Glimpses of space aren't present on this attraction, but it's apparent among the Galactic Federation aliens that you are no longer in Magic Kingdom!
Editor's Note: Stitch's Great Escape operating schedule is erratic and unpredictable over the last couple years. Recent rumors are that this attraction is gone for good. These rumors are as of yet unconfirmed by Disney. 
6 – Spaceship Earth
The iconic geosphere that is the great symbol for Epcot holds the memorable attraction, Spaceship Earth. This attraction's journey is truly all in the name, "Spaceship Earth". Start off in your slow moving vehicle of time travel from the Stone Age to the Computer Age. Watch as technology grows over time through the display of audio-animatronics and narration. Before you know it, a scene recalls the televised broadcast of man's first steps on the moon. Sure, this spaceship might not break much of Earth's atmosphere until the very end when riders see Earth from a space view – Spaceship Earth still lands a spot on our list for it's out of this world design and thought provoking ability of what the future may hold.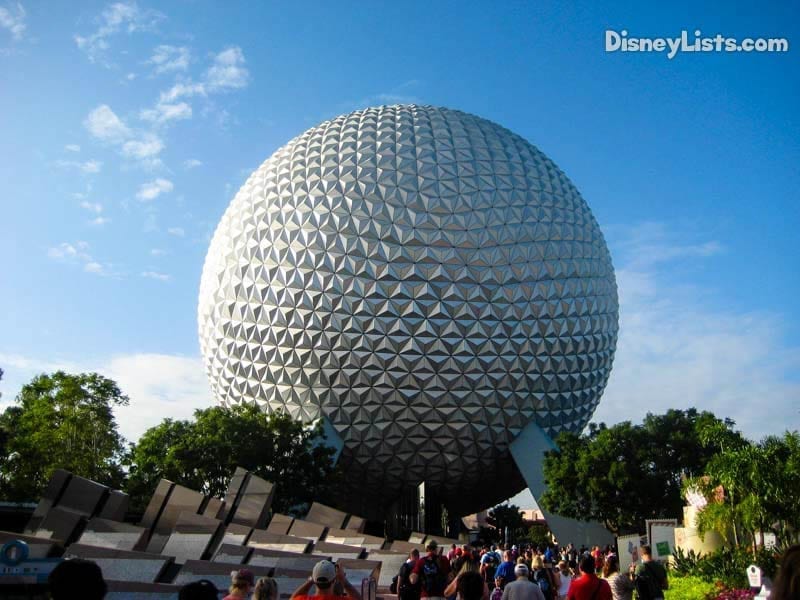 5 – Star Tours – The Adventure Continues
Head to Hollywood Studios to explore a galaxy far, far away! This 3D motion-simulated space flight features special effects that make all Jedi's feel the force. Not only do riders experience flying around the galaxy but somehow we always end up in trouble and become part of a thrilling space battle! This is an extremely fun ride and the best part is that each experience can be slightly different from the other – just depending on the random computer selections with multiple story combinations. While you're checking out space Star Wars style – don't forget to explore the Star Wars Launch Bay and Launch Bay Theater, as well as the Star Wars Path of the Jedi film at Hollywood Studios.
4 – Buzz Lightyear's Space Ranger Spin
This Magic Kingdom attraction will take you "To Infinity and Beyond"! One of our favorites to have a blast on, Buzz Lightyear's Space Ranger Spin is an inside attraction with the mission to conquer the Evil Emperor Zurg. To do this, guests must use their joystick controls to spin their cruiser as they use their laser guns to shoot targets that destroy Zurg and his army. This is a great one for all ages with its shooting-gallery style game in which you can compete to earn the most points, in the midst of a fun and exciting ride. This space battle will have you wanting to ride over and over again! TIP – look for the real Buzz Lightyear just around the corner from this attraction entrance and moonwalk his way for a great meet and greet.
3 – Astro Orbiter
As you enter the Tomorrowland section of Magic Kingdom, you'll spot a towering, vibrant attraction that looks almost like those science projects we used to do growing up. Planets orbit above a vaulted floor, as two-passenger rockets zoom by – joining in the orbiting motion. To ride Astro Orbiter, cadets must take an elevator to reach the spaceship platform. Once on the platform, guests are loaded in twos into rockets. Much like Dumbo, once secured, the rockets lift into the air and begin their journey through space as the rider is given control of how high or low they prefer to fly. Hold on tight during your revolutions while enjoying the elevated view of Tomorrowland. TIP – this is an especially fun attraction to do at night!
2 – Space Mountain
A timeless ride at Magic Kingdom, Space Mountain hits high marks in Disney World's greatest Space themed ride! Space Mountain is a very dark rollercoaster with non-stop, unexpected twists and turns throughout the ride. While this coaster actually isn't going all too fast, it truly feels like you are whizzing through space at high speeds. Strange noises buzz by and glimpses of odd lights blink as your rocket plummets through a blinding space ride. With a NASA Astronaut helping with the Imagineering of this attraction, you know it's one that exudes what space must feel and look like at times.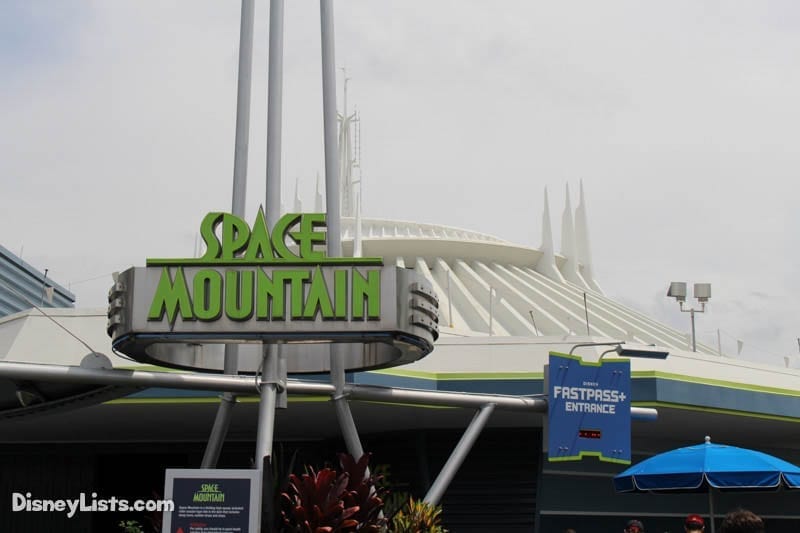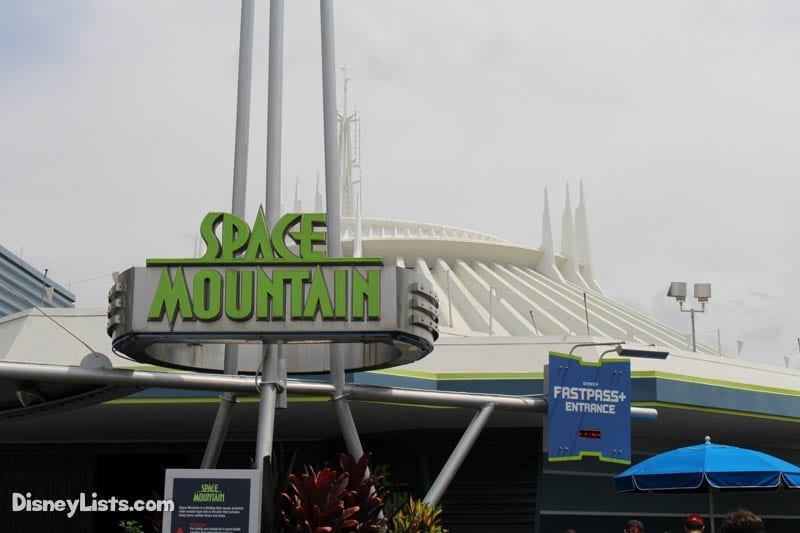 1 – Mission: SPACE
It's doesn't get much more space themed than this Epcot attraction! As you approach Mission: SPACE, you'll immediately understand what this attraction is all about as a beautiful display of Earth sits in front of you with a spaceship rocketing away from it. This ride is the real deal – authentic NASA-style training space launch within a shuttle simulator! For those of us with weak stomachs, Disney World offers two "levels of insanity" for this ride – the Orange Team and the Green Team. The Orange Team will feel the attraction as it was first intended with such great spinning that the G-forces holds you to your seat. The Green Team is really suitable for just about anyone, as long as you are comfortable with closed in spaces. Just remember – Orange Team = "Out of this World" (lots of spinning), Green Team = "Grounded" (no spinning). TIP – Don't forget to check out the Advanced Lab Training on your way out of Mission: SPACE. This interactive gaming area offers four opportunities to choose from including: Mission Space Race, Expedition Mars, Space Base, and Postcard from Space.
Which of these is your favorite Disney World space attraction? We'd love to hear from you – Space Pioneer! Until then… "To Infinity & Beyond!"
For a no obligation, FREE Quote on a Disney vacation package, please contact our travel partner Magical Vacation Planner at 407-442-0227 (407-442-0215 for Spanish). You can also request a FREE quote online by Clicking HERE.