When it comes to Disney, you can count on two things. Disney is going to do it better than everyone else and they are never going to stop making things better. If you've been to one of Disney World's two water parks you know they are the best water parks in the world. In 2017, things are going to get even better with a brand new attraction added to the line up.
From Disney Writer Allison Montgomery:
A brand new attraction called Miss Fortune Falls is coming to Disney's Typhoon Lagoon in spring of 2017!
Miss Fortune Falls will be a family-style raft attraction that takes guests on a splashing journey through the fabled Captain Mary Oceaneer's past. Legend has it that Captain Oceanear, a treasure-hunting heroine, traveled across the sea collecting unique artifacts before she became stranded at Typhoon Lagoon many years ago by a rogue storm.
Aboard treasure rafts, guests will ascend to the top of the attraction before plunging into a white-water adventure where they will be able to spot some of the treasures Captain Oceanear gathered from around the world.
With a ride time of two minutes, Miss Fortune Falls will be among the lengthiest attractions at both Disney Water Parks.
RELATED ARTICLE: 8 Reasons We Love Typhoon Lagoon
by Christy Caby
Typhoon Lagoon is one of the two Disney water parks.  A lot of guests never incorporate the water parks into their plans, making the assumption that they are just like any other water park that you may visit.  This is definitely a mistake!  Typhoon Lagoon is awesome and perfectly themed as a water park that was left behind after typhoon came through and hit the park.  If you need more convincing, here are 8 reasons why we love Typhoon Lagoon:
8 – There is a water coaster.
The Crush 'n' Gusher is amazing!  Not only is it a true water coaster that you enjoy while being propelled through the blackout tubes while riding on one of the tubes that are provided.  Then just when you think it can't get any better, the attraction is actually 3 attractions in 1.  There are three different courses:  Pineapple Plunger, Coconut Crusher and the Banana Blaster.  Each of the experiences is different, so you definitely want to ride all of them.  You can either ride solo, or you can ride with one other person!  It is a really fun experience that you aren't going to want to miss!
7 – The wave pool is amazing!
The wave pool is designed to send a huge perfect wave every minute or so.  The waves are huge and perfect enough to surf on, which makes great fun for diving into the waves or riding them all the way back to the zero-entry point.  The entire wave pool area is huge and can hold a ton of guests, so even on a busy day there is a lot of room for a lot of guests to catch the waves.
6 – You can book surfing experiences.
If you love to surf, want to have a surf party or want to learn to surf, all of those options are available to you!  Before the park opens you have the opportunity to book private surfing classes at varying levels that can help you reach your dream of getting on the board.  The wave pool emits a perfect wave every time that will give you the right conditions to learn to surf.  You can also book a surfing party for a group where you and your friends can enjoy the waves and surf together before the park opens!
5 – The kids' area is a blast.
Ketchakiddee Creek is an awesome play area for kiddos of all ages to enjoy water fun!  In the center of the area is a huge boat to play on.  There are barricades with water blasters and tons of fun!  There are smaller slides, plus a small lazy river for the kids to enjoy!  It is such a great time that the kids will be happy playing in this area for hours and hours!
4 – Tons of great slides and attractions.
There are several slides, a raft ride, water coaster, wave pool, lazy river, kiddie area and more.  There is definitely enough to keep you engaged and excited for the full day at the water park.  Don't forget to make time to relax and enjoy the sun and warm weather, too!  Definitely plan your day so that you get to experience everything at the park, and revisit some of your favorites!
3 – Snorkeling at the Shark reef.
This is definitely something that Typhoon Lagoon has that is extremely unique compared to most other water parks you will find.  You actually get to snorkel with sharks and sting rays over the man-made reef at Typhoon Lagoon.  You are issued goggles and a snorkel (no extra charge, as they are included in admission) to use to swim across the reef and watch the amazing wildlife at the reef.  Just be warned that the temperatures are around 68 degrees, so it will feel quite cold when you first enter the water!  On a hot day, it will be extremely refreshing!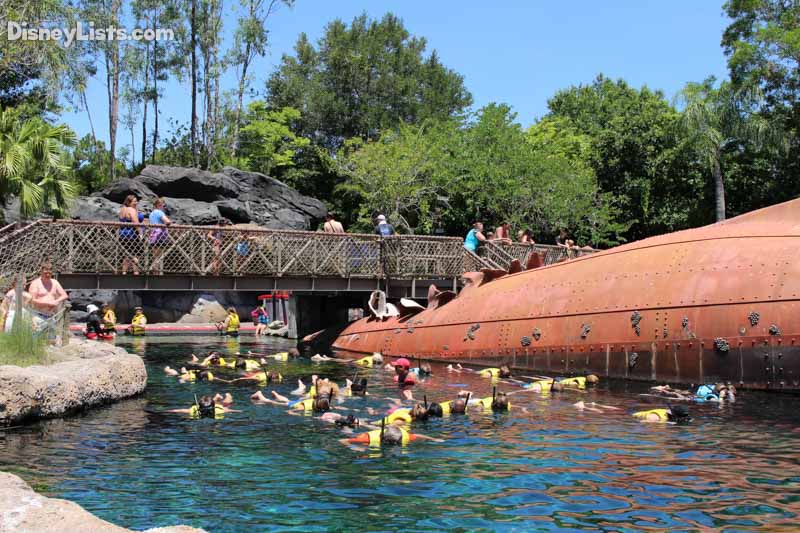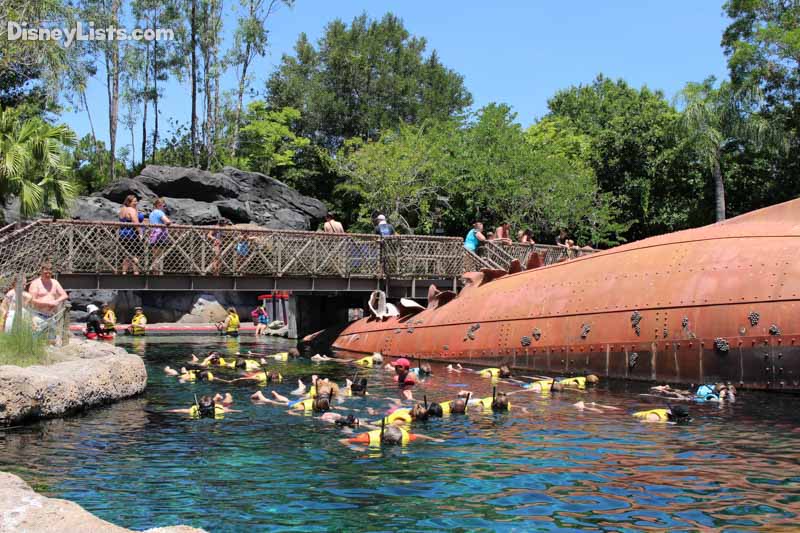 2 – Cabana and umbrella rental options.
If you like the idea of a little more private experience with additional comforts, then you will be glad to know that you have a couple additional rental options that you can take advantage of for your group.  You can rent the Getaway Glen Umbrellas for around $60 (depending on the time of year, it may be more or less).  With this rental you get 4 chairs, a table, and umbrella and towels.  There are no other services included, and there are 25 total available for rent. If you want all the bells and whistles, then you will want to look into one of the Beachcomber Shack Cabana rentals.  There are 12 of these available for rent and they accommodate 6 people.  The shack is fully covering and provided great protection during an afternoon storm or rain.  Included with the rental are cushioned chairs for the entire group and tables.  You also get refillable mugs to use at the drink stations all day long, a locker for your group to store all valuables, towels, a cooler of ice with waters and an attendant that will check on you throughout the day and help with food orders and deliveries so you don't have to worry about a thing! The cost for the rental is around $345 (depending on the time of year, it may be more or less).  These can definitely enhance your experience while at Typhoon Lagoon.
1 – You can bring in your own food.
This can definitely cut down on the costs during your visit to the park.  While there is a nice selections of options to dine on there, you can also bring in your own picnic.  You are allowed to bring in coolers, so you can have beverages and enjoy whatever meal you bring in on the beach or in another location around the park.  The only thing to keep in mind is to not bring in any glass bottles, and remember that you won't be allowed to bring in alcoholic beverages.