The news roundup this week includes a number of stories that are likely going to send long-time Disney World fans and purist into a fit. A classic Disney entertainment icon will see it's last performance and a couple stories out of Epcot certainly suggest that the original vision for the park will soon be a thing of the past. Very surprising changes coming regarding MagicBands and another celebrity chef is coming to Disney Springs. The November D23 event at Contemporary Resort just got a lot more interesting (big announcements coming) and Disney rolls out a fantastic offer for family and friends of Passholders. A new princess hits Magic Kingdom, nighttime changes at Animal Kingdom and full details on a completely new concept for Night of Joy. This and more below.
1 – Main Street Electrical Parade Ending October 9
Disney recently announced that the very popular Main Street Electrical Parade would be ending its current run at Disney World on October 9, 2016. The parade will move to Disneyland early next year. Disney has not announced what if anything will replace the nightly parade, but has confirmed that it will not be Paint the Night, Disneyland's current parade. Many fans are hoping for the return of SpectroMagic (our all-time favorite) but this his almost certainly not going to happen as the floats for SpectroMagic were disassembled and scrapped long ago. For more details on the announcement click here.
2 – Magic Bands Being Replaced?
We learned this week that Disney may be replacing the current MagicBands at the Disney World Resort. The FCC recently posted information about a new magic band system titled "MagicBand ID Q3E-MB-R1G2". Under this new generation of MagicBand technology, the current straps would be replaced with a small round puck or disc. The puck could then be moved from band to band similar to how other wearables such as Fitbit allow users to move the tracker from one band to another. It would also allow guests that prefer not wearing their magic band on their wrist to carry the puck in a pocket. Click here for more information and photos.
3 – Guardians of the Galaxy Roller Coaster?
More hints about the coming replacement for the Universe of Energy Pavilion that currently hosts Ellen's Energy Adventure came out this week. There is no doubt something completely new is on its way (and frankly it's way overdue!) as test balloons sighted over the attraction in July seem to indicate a much larger attraction in its place. Rumors have been swirling that this new attraction would feature a Guardians of the Galaxy theme. This week a number of Disney news sites have been reporting that this new Guardians of the Galaxy attraction will be a roller coaster based on some of the concept art. If true, it would be a huge departure from the "edutainment" vision of Epcot's Future World and would be the first roller coaster to come to Epcot. This should be treated as a rumor as no official announcement has been made. Sources seem to indicate that a formal announcement will be made at the end of 2016, likely at the D23 Destination D event that will take place at Disney World this November. We'll be at that event and will keep you posted on any new details as they become available.

4 – More Innoventions Exhibits Closing
Over the past few years, Innoventions has seen more and more of its exhibits permanently closing. Two more attractions at Innoventions East will also be closing soon. Both the Sum of All Thrills and Storm Struck are closing on September 14, 2016 (incidentally the opening day of the Food & Wine Festival). Added in 2009, The Sum of All Thrills is a simulator that allows guests to create a thrill ride. Guests then get to experience their creation on the end of a robotic arm. Storm Stuck opened in August 2008. It is a severe weather experience that educates on how to prevent storm damage around the home. With these closures, only Colortopia will remain and it's hard to imagine that remaining open long either as the last exhibit standing. Innoventions West closed completely and has since seen a small portion of its space used for a character meet and greet area. It will be interesting to see what Disney does with the space in the future. Many believe it further signals that Future World as we know it will shortly be replaced with a completely new concept and reimagining of the entire front half of Epcot (see previous story).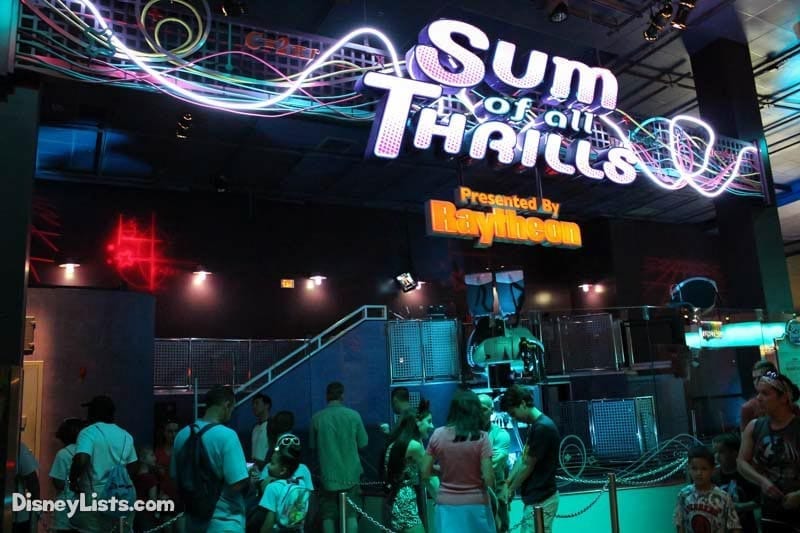 5 – Princess Elena of Avalor Now at Magic Kingdom Park
Princess Elena of Avalor was officially welcomed as a Disney Princess on August 11, 2016. Below is a short video of highlights from the event. For those unfamiliar with the princess, she has her own show on the Disney Channel on Friday evening's at 7:30 pm. Elena dresses and other merchandise have become available in Magic Kingdom. Be on the lookout for her at meet and greets in the future. For those who will be in Magic Kingdom in the next two weeks, the Royal Welcome show is performed four times daily through September 3, 2016. Be sure to check your Times Guide for up to date show times.
6 – James Cameron Added to D23 Destination D Event in November
A two-day event, D23 Destination Disney: Amazing Adventures, will take place at Disney's Contemporary Resort on November 19-20, 2016. The event will celebrate the true-life adventures that Walt Disney has brought to the big screen. Disney announced this week that AVATAR creators James Cameron (writer, director, producer) and Jon Landau (producer) will join Imagineer Joe Rohde for Pandora – The World of AVATAR, a presentation where they will unveil new details about the immersive, 12-acre land coming soon to Disney's Animal Kingdom. In addition, the D23 fall conference will include a conversation with Bob Chapek, Chairman of Walt Disney Parks and Resorts. Plus, Moana screenwriter Jared Bush (co-writer/co-director Zootopia) will be on hand to provide guests an exclusive advance look at the making of Walt Disney Animation Studios' newest animated feature.
7 – Update on Animal Kingdom Nighttime Experiences in September
With the Awaken Summer celebration winding down, we've been wondering what would happen to Animal Kingdom's Nighttime Experiences that have been running nightly this summer until 11:00 pm. We've thoroughly loved being in the parks at night and have enjoyed (most of) the experiences. We have learned that the Jungle Book: Alive with Magic show will end its run on Monday, September 5. As a last minute stand in for the troubled and delayed Rivers of Light, this show was always considered temporary. The Rivers of Light show is still "expected" to make its debut later this year. Also, beginning September 6, the park will close at 9:00 pm. This 9:00 pm closing time has been published until the end of September. This will shorten the nightly evening activities, but it will still allow guests to experience the park in the dark. We will keep you posted if the Nighttime Experiences will continue in October.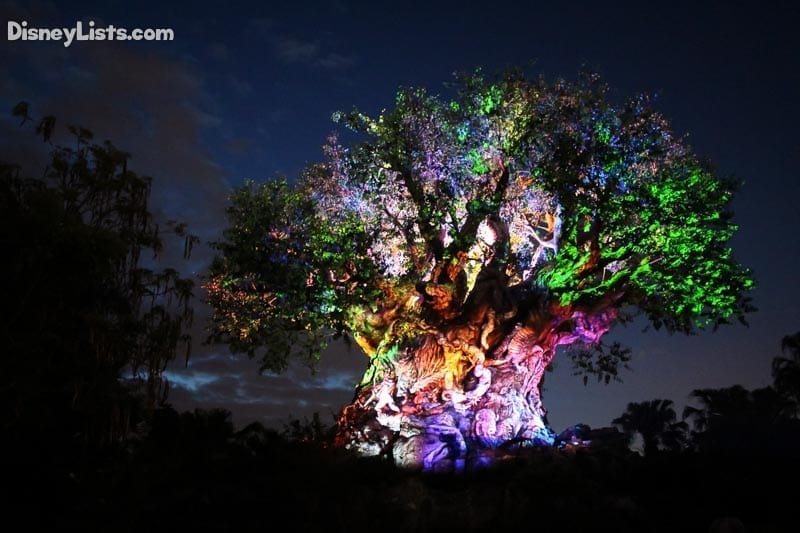 8 – Passholder Friends & Family Ticket Deal
Friends and family of Disney World Passholders can take advantage of an amazing deal now through September 30. An Annual Passholder can purchase 1-Day Park Hopper tickets, for up to 6 guests, at $79 plus tax each, for same-day admission to all 4 theme parks. Normally this ticket would cost $160 plus tax. That's a 50% off savings. These Friends and Family tickets are only available at Disney World theme park ticket windows and must be used the same day of purchase. The Passholder must have a valid pass and be present at the time of purchase.
9 – Celebrity Chef Guy Fieri Partners with Planet Hollywood
Celebrity Chef Guy Fieri is partnering with the new Planet Hollywood Observatory to create a burger and sandwich menu for the refurbished restaurant. In addition to the selections designed by Fieri, the Planet Hollywood Observatory will soon reveal an entirely new menu. Fieri, a chef, entrepreneur and New York Times bestselling author, has created dishes such as the Prime Time American Kobe-Inspired Burger and the Turkey Pic-a-nic Sandwich, a perfect accompaniment to Planet Hollywood's hand-dipped milkshakes.
Planet Hollywood International Founder and Chairman Robert Earl shared, "Guy Fieri has created an impressive culinary empire and has built an incredible TV following with several food-themed shows. So, it was a no-brainer to invite him to create a special menu for Planet Hollywood Observatory. This partnership only furthers our commitment to refresh our guest experience while continuing to offer freshly-prepared, pleasing dishes." The Planet Hollywood Observatory is currently under construction, and is expected to open in the Fall of 2016.
10 – Night of Joy Details Announced
Disney has released full details for this year's Night of Joy, which will take place at ESPN Wide World of Sports Complex for the first time. Here are all the details by Disney Cast Member, John Phelan:
The next generation of Night of Joy at ESPN Wide World of Sports Complex is just about a month away. We promised more music and we delivered! With an amazing lineup featuring eighteen great artists in Contemporary Christian Music – you'll want to make plans to attend! Below is the lineup for each evening.
Friday, September 9
HP Field House
6:30-7:45 p.m. – Matthew West
8:30-10:00 p.m. – Crowder
11:00 p.m. -12:30 a.m. – MercyMe
Champion Stadium
7:30-8:30 p.m. – Francesca Battistelli
9:15-10:45 p.m. – Chris Tomlin
11:30 p.m. -1:00 a.m. – Casting Crowns
Jostens Center
6:00-7:00 p.m. – Stars Go Dim
7:45-8:15 p.m. – Zealand Worship
8:45-9:15 p.m. – Zealand Worship
10:00-10:30 p.m. – OBB
11:00-11:30 p.m. – OBB
Saturday, September 10
HP Field House
6:30-7:30 p.m. – Thousand Foot Krutch
8:00-9:15 p.m. – RED
10:15-11:45 p.m. – Switchfoot
Champion Stadium
7:00-8:00 p.m. – Hillsong YOUNG & FREE
8:45-10:00 p.m. – for KING & COUNTRY
10:45 p.m.-12:15 a.m. – Newsboys
Jostens Center
5:30-6:15 p.m. – VERIDIA
9:15-9:35 p.m. – Tim Timmons
10:30-11:15 p.m. – Derek Minor
And since Night of Joy is taking place at ESPN Wide World of Sports Complex, we are adding more spirit with our "Fields of Joy." Come on down to our premier sports fields and play a fast-paced game of 4v4 soccer. Kick a field goal. Clock your pitching arm. Showcase your free throw skills and many other sports challenges. With all that activity, you'll want to test your taste buds with a variety of food trucks to satisfy any big league appetite. The Fields of Joy offers a great opportunity for families, friends, groups or even strangers to simply have fun, laugh and share in some fellowship.
In addition to more music and more spirit, we are infusing more fun by adding Christian Comedians to the line-up for both nights and introducing FanFest at Jostens Center. FanFest will include a fun, interactive area that includes video games, 60 second challenges, Imagination Playground and oversized versions of popular games such as foosball, connect four and chess. All these activities and, for the first time at Night of Joy, exclusive merchandise from many of the Night of Joy artists appearing each night will be available in the Jostens Center. To top it all off, Mickey Mouse and Minnie Mouse, along with some of their friends, will be there to meet their fans from 5:00-11:00 p.m. each night.
Do you still want more? Exclusively offered for Saturday night only, FanFest will include a special opportunity for guests to participate in multiple question and answers sessions with some of the top artists appearing at Night of Joy this weekend. These stars may also be available for photo opportunities and, who knows, they may even wander over to play some games.