Lions, and tigers, and… SMILE! Sure, it's easy to get caught up in the wild escapades that await at Disney's Animal Kingdom theme park, but don't forget to take a moment and smile for the camera. Taking lots of photos simply means you'll have a chance to look back and remember the adventurous moments of your day in the jungle. Whether you are planning on taking your own pictures, having PhotoPass Cast Members take them, or doing both – here are our top 6 tips and tricks for making the most out of your Animal Kingdom photos.
1 – Go Wild
At Animal Kingdom you'll find some unique characters that aren't available at any other parks. For example, Tarzan is available for a meet and greet at different times of the day (typically in the morning). You might see Tarzan in his squatting gorilla pose or even pounding his chest. When it's your turn to take a photo with him, don't be afraid to go a little wild yourself! Do the gorilla squatting pose with him and you'll have a character photo unlike any other. Same goes for being silly with Baloo and King Louie, or even Russell and Dug. Have fun with it while snapping great pictures of the experience!
2 – Tree of Life = Need a New Photo Album
Yes, you'll most definitely want to take a photo in front of the iconic Tree of Life that exudes all things Animal Kingdom. Take that one steps further and really explore the Tree and all it has to offer. This is fun to do as you walk trails around the tree and get up close and personal with the animals carved on the side of it, but we also recommend you look around for the Tree of Life throughout your day at the park. Different angles of the Tree make for fantastic photos. You can even take pictures of the inside of the Tree while enjoying the que for "It's Tough to Be a Bug". Plus, don't forget – now that the Tree of Life is being projected on at night with the "Tree of Life Awakenings", this is also a great time to catch photos of the Tree as it glimmers with vibrant colors.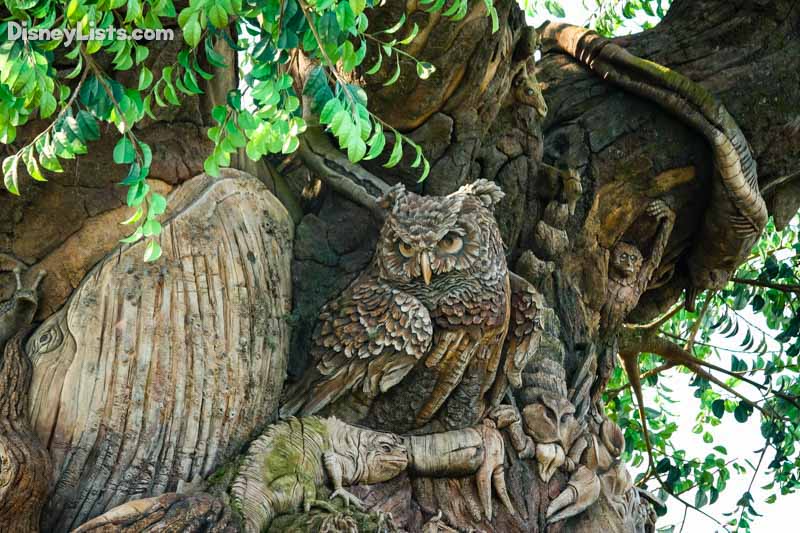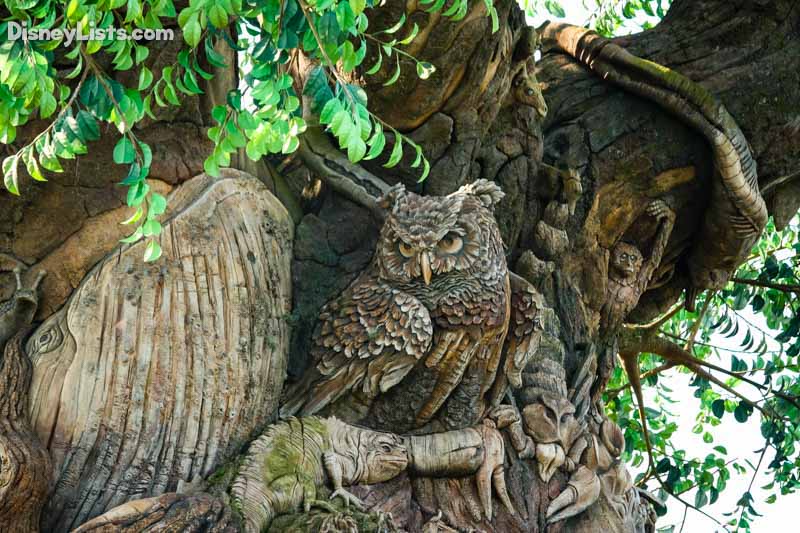 3 – Five Exploration Signs
Animal Kingdom is beautifully laid out with 5 incredible areas including the Oasis, Discovery Island, Africa, Asia, and DinoLand USA. Make it a goal to stop and take a picture by the sign in each one of these areas. This is also fun to do for a scrap book or photo album because you can use this photo as a header for the photos that took place in each section.
4 – Visit the Regulars Again
We've heard folks say that if you see Mickey, Minnie, Goofy, Donald, and Pluto once then you don't have to see them at the other parks. We disagree! If you are looking for great variety in your photos, you'll want to visit these "regulars" again at Animal Kingdom. They are dressed in their wilderness explorer gear which typically includes a safari hat and unique clothing. Their costumes at Animal Kingdom are some of the best we've seen them in! Want to see most of them but don't want to deal with the lines? Snag a reservation at the Tusker House for a character dining experience with this wild crew of favorites!
5 – Rides to Have Fun With
Some of our favorite photos are from Animal Kingdom's attractions. While conquering the Yeti at Expedition Everest or while racing out of the prehistoric period in your time rover on DINOSAUR, you'll want to be aware of where these attractions take a photo. Expedition Everest catches those brave enough to ride as they are being dumped out of the mountain down the large hill that is visible to the spectators below. On Dinosaur, look for the massive T-Rex on the right… let's just say you won't miss him. Have your family prepare a silly pose or just keep it memorable and let your natural fear shine through! When riding Kilimanjaro Safaris, try to take photos of those in your party looking at the animals that are also in the photo. When someone is in the picture the photos just tend to be more memorable when reminiscing in the future.
6 – Think Outside of the Box
Maybe you're prepared to take photos in the usual important areas, but we highly suggest that whenever possible, think outside the box of "normal". Look for remote areas, snap pictures at different times of the day, say cheese with a Cast Member, take a selfie with a native, catch a shot of the family dancing during a street festival, or try a type of food you've never had before and share a photo of it on social media. It's these "outside the box" photos that will become the keepers!
What tips and tricks for taking photos at Animal Kingdom would you recommend? We'd love to hear from you!
Be sure to check out our Top 7 Photo Spots in Animal Kingdom!
For a no obligation, FREE Quote on a Disney vacation package, please contact our travel partner Magical Vacation Planner at 407-442-0227 (407-442-0215 for Spanish). You can also request a FREE quote online by Clicking HERE.