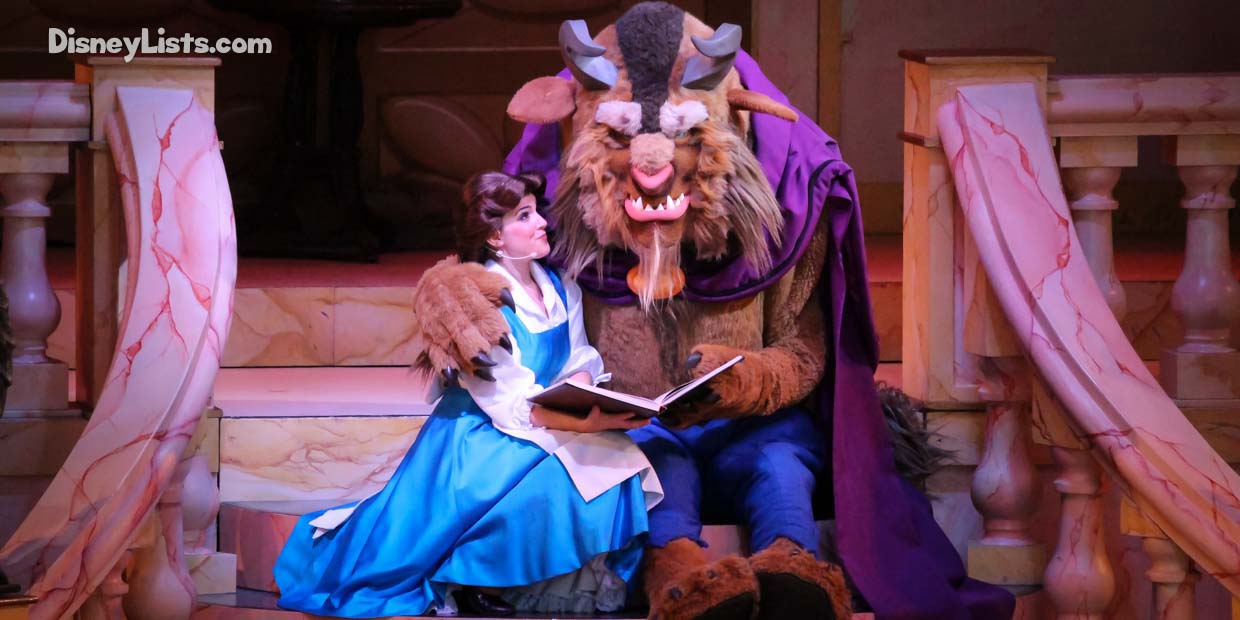 Are you ready for the DisneyLists Attraction Challenge? Looking for a challenging way to conquer the attractions at Disney World? Yes? Then these articles are for you. Simply ride all of the attractions on this list and you will earn bragging rights and your friends will be jealous. Well, maybe not, but you'll have a fantastic time. How many challenges can you complete? For extra credit, conquer them all in one day! (Be on the lookout for more Attraction Challenge articles coming in the next few weeks).
Ever since the debut of Snow White and the Seven Dwarfs in 1937, Disney has been fascinated with tales of royalty mixed up in adventure. The growing family of Disney Princesses includes a diverse group that now inhabits the four corners of Walt Disney World. To feed your Disney royalty addiction, be sure to experience these ten regal attractions:
10 – Cinderella Castle
Nobody visiting Magic Kingdom can avoid the majestic display of Cinderella Castle. You'll notice this iconic structure from the far side of Seven Seas Lagoon. In truth, all Magic Kingdom roads lead to Cinderella Castle, since it's the centerpiece of the park. Inside the castle hall, five hand-crafted, mosaic murals constructed from colored glass, gold, and silver tell the story of Cinderella's rise to royalty. Outside the palace, you can feast your eyes upon the beauty of the decorative windows, walls, spires, and turrets. At night, the castle lights up in a variety of colors and designs that further enhances the Wishes Nighttime Spectacular.
9 – Meet the Royals
To conquer this attraction challenge, meet with each Disney Princess during your vacation. In Magic Kingdom's Fantasyland, seek out Ariel's Grotto for the famous mermaid, Fairytale Garden for Merida, and Princess Fairytale Hall for Rapunzel, Cinderella, and a host of secret, visiting royals. In Adventureland, join Aladdin and Jasmine at Agrabah Bazaar, although you'll find them in the Morocco Pavilion at Epcot's World Showcase, too. The World Showcase also includes Snow White in Germany, Belle in France, Mulan in China, and Anna and Elsa in Norway. Pocahontas resides by herself on Discovery Island in Disney's Animal Kingdom. Unfortunately, Tiana doesn't have her own home, but you may find her with Rapunzel, if you're lucky. For meeting multiple princesses at once, reserve a table for character dining at Cinderella's Royal Table or Akershus Royal Banquet Hall and check a bunch of them off your list. Fans of Disney Junior's Sofia the First should visit Hollywood Studios to meet her in the Animation Courtyard or at Hollywood & Vine's character breakfast.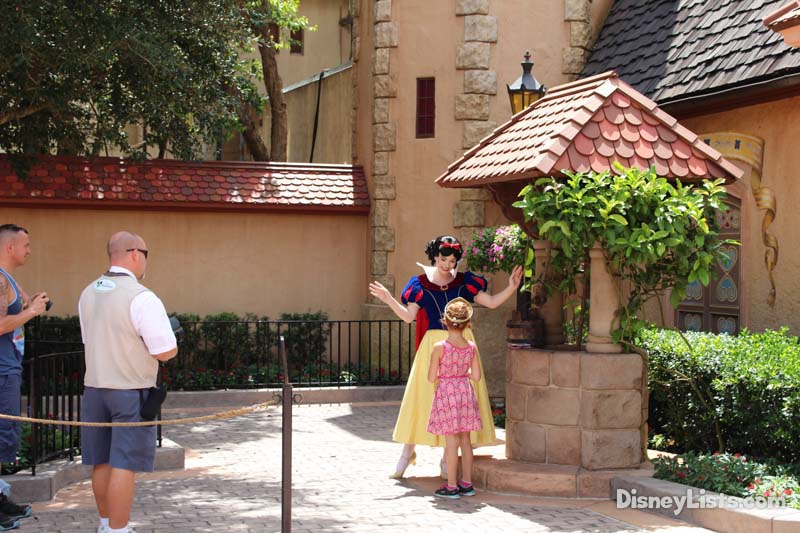 8 – The Magic Carpets of Aladdin
Rush to Adventureland, hop aboard a magic carpet and soar over Agrabah to enjoy "A Whole New World" with Jasmine and her faux prince, Ali Ababwa. Based on the Disney classic, Aladdin, this attraction allows you to control the height and tilt of your carpet as you circle the genie's lamp. Though your spinning around, the slow speed keeps it low on the thrill-seeker scale, making it a pleasurable experience for the whole family. Just watch out for camel spit!
7 – Prince Charming Regal Carousel
Originally built in 1917, this particular carousel has provided entertainment to countless millions. Disney Imagineers claimed it for the opening of Magic Kingdom in 1971 and reimagined it as the Prince Charming Regal Carousel. Mount a horse and gallop around Fantasyland with the royal party as the organ serenades you. Classic merry-go-round fans of all ages will delight in the ride, the lights, the music, and the hand-painted artwork depicting scenes from the animated film, Cinderella.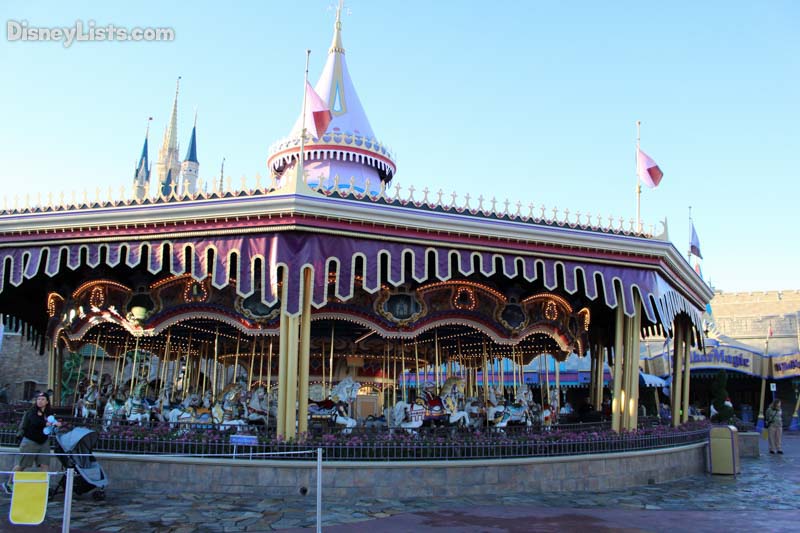 6 – Under the Sea
In Fantasyland, Sebastian, Flounder, and the rest of The Little Mermaid gang join you for some musical fun at Under the Sea – Journey of The Little Mermaid. The ride immerses you in Ariel's story of love, adventure, and rise to royalty. Board a slow-moving sea shell that drifts through fun-filled scenes from the popular movie. Watch out for Ursula the sea witch as she attempts to ruin Ariel's love and trap King Triton. Don't worry, Ariel ends up with her Prince Eric, and you make it safely back to shore.
5 – Seven Dwarfs Mine Train
This roller coaster places you on a runaway mine train that drops and turns as it winds through the rocks and caverns where the Seven Dwarfs work. The ride features some moderate thrills, but the drops are small and the turns pretty gentle, so kids meeting the 38-inch height requirement won't find it scary by any means. During your travels, you'll pass by the singing dwarfs, swinging picks in search of gems and dancing in their cottage with Snow White. By the end of this ride, you'll be humming "Heigh-Ho" until the sun sets.
4 – Enchanted Tales With Belle
Not only will you meet Belle at this attraction, but you'll also join her story. The tale begins in Maurice's home, where you'll take note of books, furniture, housewares, and a painting of a young Belle with her mother. Next, you'll step into Maurice's workshop, where you'll see invention plans and models, as well as a magical mirror that doubles as a portal to the Beast's castle. After passing through the mirror, the audience plays various characters in the story of Beauty and the Beast with Lumière and Belle. Though you meet Belle during this attraction, don't expect to have personal time with her for signing autographs and taking photos, since it's actually a story reenactment.
3 – Frozen Ever After
The most recently created royal ride at Walt Disney World is found in Epcot's World Showcase. At the Norway Pavilion, Frozen Ever After welcomes riders to board a Viking longship and cruise through a winter wonderland filled with your favorite characters from Frozen. Naturally, the attraction highlights movie scenes featuring Princess Anna and Queen Elsa. Of course, you should realize before riding that you won't escape the famous refrain from "Let it Go" as you pass through Elsa's palace of snow and ice.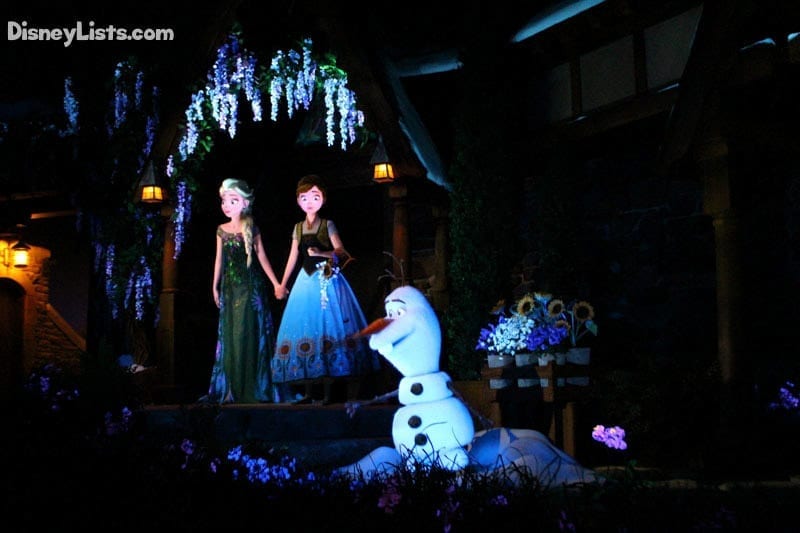 2 – The Show Must Go On!
Besides the rides, character meet-and-greets, and interactive attractions, Walt Disney World produces high quality shows that emphasize their princesses. In Hollywood Studios, be sure to see the musicals, Beauty and the Beast – Live on Stage and Voyage of the Little Mermaid. These live performances illustrate their stories using colorful costumes and imaginative puppets that draw in viewers. Also, you'll notice a bouquet of princesses aboard their floats during the Disney Festival of Fantasy Parade in Magic Kingdom. Throughout the year, Magic Kingdom typically presents a staged show with a whole crew of royals in front of Cinderella Castle. During these productions, Disney introduces new princesses, features a royal ball, or offers seasonal performances for your entertainment. Check My Disney Experience or pick up a schedule to discover what's available.
1 – A Royal Transformation
For many kids, becoming a princess or a brave knight ranks higher than riding regal attractions, watching shows, or meeting royals. Visit Bibbidi Bobbidi Boutique inside Cinderella Castle or at Disney Springs to receive a royal makeover, complete with hairstyles, costumes, swords, and many other accessories. After the children appear as princesses and knights, they should join Sir Sterling and Lady Llewellyn for imaginative lessons in horse riding, swordsmanship, and etiquette. The Royal Majesty Makers meet with would-be princes and princesses in the Castle Courtyard in Fantasyland for humorous, interactive entertainment that completes the royal transformation.
For a no obligation, FREE Quote on a Disney vacation package, please contact our travel partner Magical Vacation Planner at 407-442-0227 (407-442-0215 for Spanish). You can also request a FREE quote online by Clicking HERE.