Walt Disney warned us that his world would never be complete. In his vision, the parks would always be changing and evolving. This statement has never been as true as it has been lately as Disney World is in a period of what seems to be unprecedented construction. As exciting as new attractions and entertainment offerings are, the unfortunate byproduct is often closures of rides, shows and in some cases entire sections of parks. Disney announced another closure, this time in one of the water parks, to make way for new development. Unfortunately, this closure involves what is arguably one of the most unique water park attractions in the world, certainly at Disney World.

The Shark Reef, a popular guest attraction at Disney's Typhoon Lagoon, will be permanently closing on October 2, 2016. This move will make way for the new attraction, Miss Fortune Falls, set to open in the spring of 2017. The Shark Reef was a very unique experience where guests actually got to swim with the fishes (and leave alive).  We're sorry to see this attraction go, but are excited for the new attraction coming next spring!
RELATED ARTICLE: Top 5 Attractions at Disney's Typhoon Lagoon
by Mike and Jamie Sylvester
The story goes, what once was a tropical paradise was struck by a typhoon, resulting in the jungle filled, shipwrecked environment known at Typhoon Lagoon. We simple love Disney's back story on this well thought out water theme park which is a favorite for many! What makes Typhoon Lagoon especially awesome – we'd have to say it's these top 5 attractions among many other reasons.
1 – Crush 'N' Gusher
How does a 400-foot-long tube raft/coaster ride sound? Awesome! You'll want to check out the Crush 'N' Gusher at Typhoon Lagoon to experience what feels like a water rollercoaster. When people talk about Typhoon Lagoon, Crush 'N' Gusher tends to be one folks want to ride again and again. Grab a friend, as this is a multi-person raft ride that will have you propelled by powerful jets up hill and back down over and over again. Be prepared as some of the dips are rather steep, and some turns are just as thrilling. Themed as a fruit chutes, guests have the chance to pick between pineapple, coconut, or banana. After that, just get ready to feel as if you've been crushed and gushed into a fruit smoothie yourself!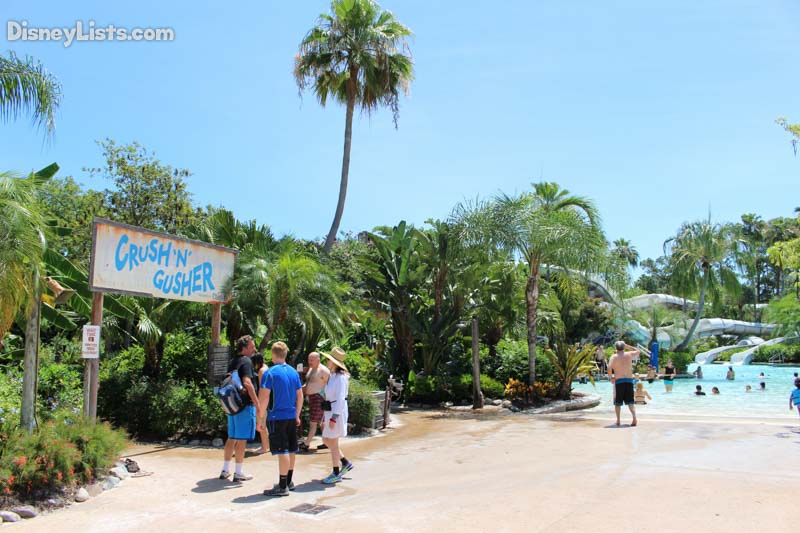 2 – Surf Pool
How cool is it that Typhoon Lagoon holds North America's largest wave pool?! This thing is massive and if you've seen an aerial view of Typhoon Lagoon, you can't miss the Surf Pool. Kids, teens, and adults have the opportunity to enjoy the waves which are slightly different in strength and size at different areas of the pool. This signature attraction offers 6-foot swells which is the best place to surf on Disney property! There is even a chalkboard near the edge of the pool beach that allows guests to view the day's wave schedule. So dive in the deep end and get ready to catch a wave! The great thing about the surf pool is that if the waves are too much for young ones, or if you are just looking to relax, the shallow sandy white beach is the perfect place to lounge and let the ripples gently roll in over you! We especially love the jungle paradise that surrounds the pool with palm trees and boulders lining the shore line. If you are looking for the motion of the ocean… the Typhoon Lagoon Surf Pool is the place to be!
3 – Humunga Kowabunga
Ok, so we try to be brave when it comes to Humunga Kowabunga. This attraction basically spits you out of Mount Mayday with a 5-story drop in a near-vertical position. To make matters a little more thrilling, Typhoon Lagoon makes you do it in the dark! So, yeah – 214 foot drop, 60-degree angle, in the dark – sign us up! Tip – this ride goes quick, so for those of you that are maybe uncomfortable with the dark but enjoy speed, don't let the thought of darkness stop you from riding. Just keep in mind you'll be in the light within seconds.
4 – Shark Reef (Closing Soon!)
Typically, when guests hear that Typhoon Lagoon has a Shark Reef, they start wondering how expensive it would be to take part in such an activity. Great news – it's free! That's right, all nestled into the water park admission fee, guests have an opportunity to swim alongside fish, stingrays and even sharks (yikes – but totally safe!) for roughly 15 minutes. The Shark Reef earns a spot on our list because it's simply the most unique experience at the park! Snag some equipment which again is complimentary such as a mask, snorkel and life jacket, and get ready to experience a once in a lifetime opportunity that will amaze you. Keep in mind that the water is slightly chilly at 68 degrees, but Disney is adamant about keeping their Shark Reef inhabitants healthy! Side tip – visit the Shark Reef as soon as possible when the park opens. This attraction tends to get very busy and the wait is rather long.
5 – Mayday Falls
Of the three "Falls" raft rides (Mayday, Keelhaul, and Gangplank), Mayday Falls is known as the most intense. This is likely because it's also the highest and longest waterslide at Typhoon Lagoon. So, climb aboard the single-ridder tube and get ready for a fast, bumpy, and twisty ride all the way down Mount Mayday. We especially love the views from Mayday Falls – such as Typhoon Lagoon's icon, the shipwrecked shrimp boat known at "Miss Tilly". Unfortunately, it's a sinking feeling once you realize how close you are to the Miss Tilly and how that means you have a long way down to the ground! It's a long and fun ride – so sit back, hold on tight, and we'll see you at the bottom.
Typhoon Lagoon is an awesome place to hang out in the sun while catching some waves, flying down waterslides, or simply floating along in the lazy river. We've listed our top 5 attractions, but we feel we must honorably mention Gangplank Falls (4-person inner tube ride) and Castaway Creek (blissful lazy river) among with many other excellent attractions. We'd love to hear about your favorite Typhoon Lagoon attraction!