Fans of Disney character meet & greets can rejoice over the announcement today that Disney is adding a brand new character meet and greet experience at the World of Disney Store at Disney Springs. This is a wonderful option for guests to have a chance to meet their favorite Disney Princesses but may not be able to visit a park. Details below:
Here are all the details from Disney Cast Member Darcy Clark:
My favorite Disney Princess has always been Cinderella, and one of my favorite lines is "a dream is a wish your heart makes." If you've ever dreamed of meeting a Disney Princess during a visit to World of Disney at Disney Springs, that wish is about to come true during a one-month, limited-time offering set to debut on Saturday, October 1, 2016.
With surprise appearances each day, you could meet Cinderella, Snow White, Aurora, Tiana or another visiting princess – there are no set times for specific characters, but you're always sure to receive a royal reception.
I had the chance to talk to Entertainment Show Director Tom Vazzana who shared the background story of the experience: "Cinderella had a wish for her and her fellow royal princesses to have a place to meet new friends. The Fairy Godmother was able to grant her this wish, and now, tucked away in a magical corner of World of Disney is a location befitting Cinderella's request. A magical 'royal hall' was created complete with tapestries and images inspired by classic fairytales."
With a Disney PhotoPass photographer on hand to capture each interaction, these magical moments will be available for guests to purchase or download as part of their Memory Makerproduct purchase.
Interested in a royal reception of your own? Visit World of Disney between the hours of 10:00 a.m. and 4:00 p.m. daily from October 1 – November 1, 2016. Once you check in, a cast member will share the approximate wait time and return instructions; when it's time for you to return to the queue, you'll be moments away from meeting a Disney Princess.
Do you plan to make your way to Disney Springs this October for this special engagement?
RELATED ARTICLE: 8 Great Creative Ideas for Character Autographs at Disney World
by Mike and Jamie Sylvester
Who doesn't love to gather up those awesome character autographs while at Disney World! So when the vacation is over, does the autograph book get tossed in a drawer simply to be forgotten? Not anymore! Here are 8 tips and tricks for character autographs that help you get better use of your collection.
1 –  Matted Frame Autograph Collection
Before you're next Disney trip, pick up a matted picture frame – light colored mat is best. Leave the picture frame at home but pack the mat that was inside the frame along with you. You'll also want to pack markers with a variety of different colors if you so choose. As you visit characters, ask them to sign your light colored mat with a marker of your choice. The more characters you meet, the more autographs you'll have all around your mat! After you arrive back home, have one of your incredible Disney photos printed to fit the frame you bought before your trip and add the mat back to it. Tada! You have a great memory with your photo and awesome autographs surrounding it!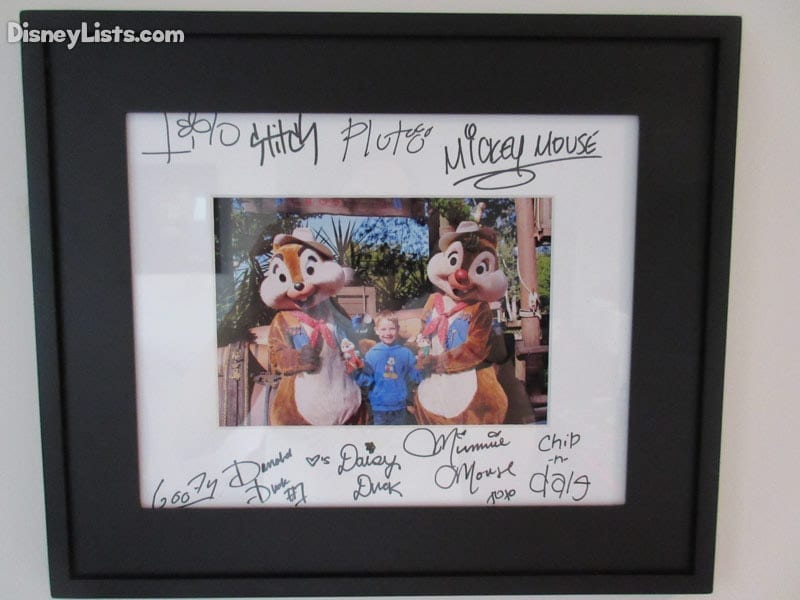 2 – Send an Autograph Home
Whether you prefer cards, postcards, or paper, how fun would it be to have a character sign their autograph for you to share with someone else! You can buy postcards throughout Disney World. Have a character sign it, then send it off with a note to your nieces, nephews, grandchildren, co-workers, or whoever! This is especially fun if a young one's birthday is on the way and you'd like to surprise them with a birthday card from Mickey Mouse.
3 – Keepsake Shirts
Maybe you have a "First Trip to Disney" shirt, customized family vacation shirt, or a specific character shirt – what better way to make this keepsake even more special than with character autographs! We have seen someone at a meet and greet with Donald Duck. They presented Donald a t-shirt for him to sign and he went crazy with excitement! Donald made sure his signature was nice and big and of course added his famous "#1" proudly next to it.
4 – Coloring Pages for the Kids
All right scrapbook fans! Do your kids have what seems like mounds of coloring books with Disney characters in them? Before your next trip to Disney, have them color a few pages of their favorite characters. Bring them along with you to Disney to have them signed by the matching character! For example, have them pick out their favorite coloring page with Queen Elsa on it, color it, then have Elsa sign it. This makes for a great scrapbook keepsake because it not only has your child's beautiful artwork but also Elsa's signature!
5 – Double Frame
Throughout Disney parks, you'll find autograph books that have room for a picture on one side and an autograph page on the other side. This is such a great idea! One problem – the autograph book doesn't stay out on display normally after you return home. We suggest you purchase a double frame, so side by side you will have a picture of you, your kiddos, or your family posing with the character and on the other side the character's autograph. Keep in mind with this one, you'll want to measure the paper you are having the characters sign to match the picture frame before you start collecting autographs.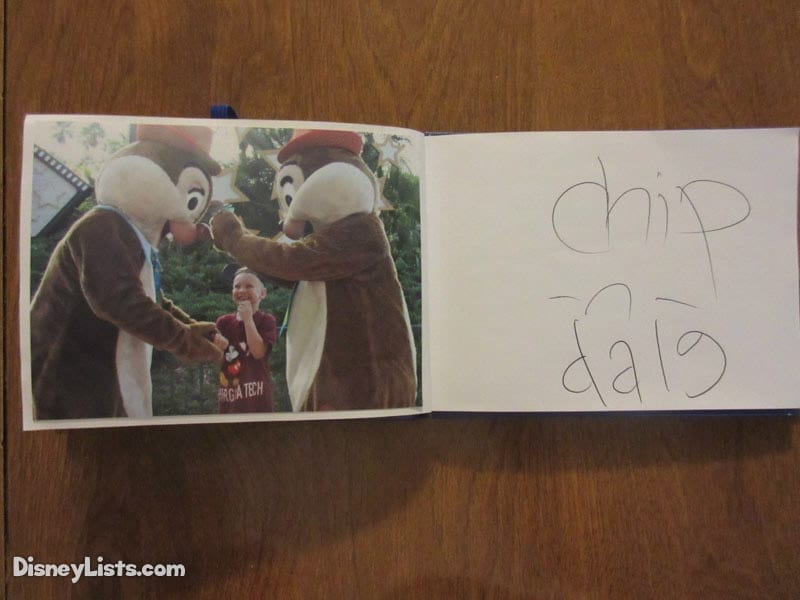 6 – Watch Them Grow
Are you a yearly or regular visitor at Disney? This one is for you! We love to watch our little ones change from their first picture ever with Mickey Mouse and his pals, to the present day. They grow and sometimes the characters even change slightly. Create a scape book or buy a multiple image frame and include a picture each year of your child posing with a specific character. Of course, add the autographs in the picture frame or scrap book as you'd like. Have your child sign their name next to the character's autograph and watch the slight variations in the autographs year after year!
7 – Book Signing
If you are like us, you have plenty of Disney storybooks around the house that are among the family favorites. Snag one of these books next time you visit Disney and have the characters in the stories sign the appropriate pages. Now when you sit down to read your Disney story book with your family, you'll be reminded of that special trip to Disney when you had it autographed. Another neat idea would be to have some of the Villains sign a book such as the Kingdom Keepers collection.
8 – Fabric Signing
Last, but not least, on our list of autograph ideas would be to have characters sign their autographs on something with a fabric pen or permanent marker for long term keeping. This would work great on items such as hats, pillow cases, blankets, aprons, totes… really any sort of fabric you can put on display and enjoy while at home!
We'd love to hear from you! What are some of your favorite ways to collect those beloved character autographs?