Guests who visit Walt Disney World generally spend most of their vacation time in the four theme parks enjoying unique attractions, entertainment, dining, shopping, and nightlife. One of the most popular parks that guests love to enjoy is Disney's Hollywood Studios which brings them directly into the wonder of Hollywood to be the star in their very own experience. The park features plenty of wonderful attractions which allow guests to enjoy experiences like rocking out with Aerosmith, entering into The Twilight Zone, flying with Star Tours, and shrinking down to the size of toys. With so much to see on a day in Disney's Hollywood Studios, guests often try to make the most of their time by hurrying from one attraction to another in order to experience as much as possible. By doing so, many guests often overlook some amazing details and hidden secrets which add a beautiful level of depth to the park. Here are seven things that guests might miss at Disney's Hollywood Studios.

1 – We're Going to Need a Really Fast Car
Found right next door to The Twilight Zone Tower of Terror on Sunset Boulevard is another thrilling attraction which is sure to have guests rocking out. The Rock 'n' Roller Coaster Starring Aerosmith invites guests into G Force Records where the band is hard at work recording their next big hit. After being invited to a concert across town, guests board super stretch limos and suddenly blast off through the neon lights of downtown to make it to the show on time. With several inversions and a thrilling launch from zero to sixty in seconds, the Rock 'n' Roller Coaster is an amazing attraction that many guests love. Did you know that each "super stretch" limo have unique license plates? The license plates for the trains, or limos, are all one of a kind, and read "1QKLIMO", "UGOGIRL", "BUHBYE", "2FAST4U" and "H8TRFFC".
2 – The Twilight Zone's Special Award
One of the most thrilling and eerie attractions in Walt Disney World can be found in Disney's Hollywood Studios looming at the end of Sunset Boulevard. The Twilight Zone Tower of Terror is housed inside the abandoned Hollywood Tower Hotel and invites guests to star in their very own episode of the hit television series. Once inside the hotel, guests learn that it was abandoned many years ago after five guests were trapped inside The Twilight Zone after their elevator was stuck by lightning. Before boarding an elevator for a similar fate, guests can spot a great detail in the lobby of the hotel which hints at the eerie happenings to come. Located near the front desk is a plaque from AAA awarding the Hollywood Tower Hotel the 13 Diamond Award. Since the award only reaches five diamonds in real life, it shows how creepy The Twilight Zone Tower of Terror can be!
3 – Trade with the Jawas
Star Wars Launch Bay is an exciting attraction that will please Star Wars fans of all ages. This attraction celebrates the Star Wars saga. There is a film that includes commentary from key Star Wars producers, directors, writers, crew and story tellers responsible for bringing the Star Wars galaxy to life. You'll then be treated to an exhibit area that features props, models, costumes and artifacts from Star Wars films. As you explore the Launch Bay be on the look out for the adorable Jawas. Not only will they take photos with you, but they love to trade things! They won't trade money or any items they deem to be trash, (they'll actually throw it away if they think its trash), but they love to trade small items like small stuff in your purse or bag.  Button, small toys, maps, and other trinkets may all be good items to try. Our tip is to go to a dollar store before your trip and looks for fun small items to trade. Jawas are scavengers and trading with them can be a lot of fun!
4 – A Rocking Thank You
Rock 'n' Roller Coaster Starring Aerosmith has another fun bit that you might have missed. After being invited to a concert across town, guests are soon strapped into a super stretch limo and launched from zero to sixty in seconds to make it to the show on time. Before buckling into the stretch limos, guests in the loading area can spot several safety signs which pay tribute to a rock and roll icon. The safety signs all end with the phrase "Thank you vera much" which pays homage to Elvis Presley and his unique way of speaking.
5 – Star Wars Shadows
Guests who are fans of the Star Wars universe simply must stop by Star Tours – The Adventure Continues for an unforgettable experience. The attraction begins as a routine Star Tours flight which soon has guests joining the Rebel Alliance after discovering that there is a Rebel Spy on board. Before entering into the loading area of the attraction, guests move through a room of the queue which features several droids at work. Found overhead is a large screen which appears to show the shadows of individuals and droids moving behind it. Guests who watch closely might just spot R2D2 glide past at one point and suddenly sport a par of iconic Mickey Ears!
6 – Kermit's Mickey Balloon
Near Star Wars – The Adventure Continues is an attraction which is sure to leave guests laughing for hours. Muppet Vision 3D brings guests directly into the Muppet's laboratories where general hilarity, chaos, and insanity occurs as only the Muppets know how. Guests can enjoy a series of 3D jokes, silly props, and plenty of Muppet humor resulting in an epic finale where the theater comes pretty close to exploding! The final moments of the attraction show Kermit the Frog riding on the ladder attached to the back of a fire truck with guests wandering past in the daylight behind him. Guests who look quickly in the background can notice a balloon which is shaped like Mickey!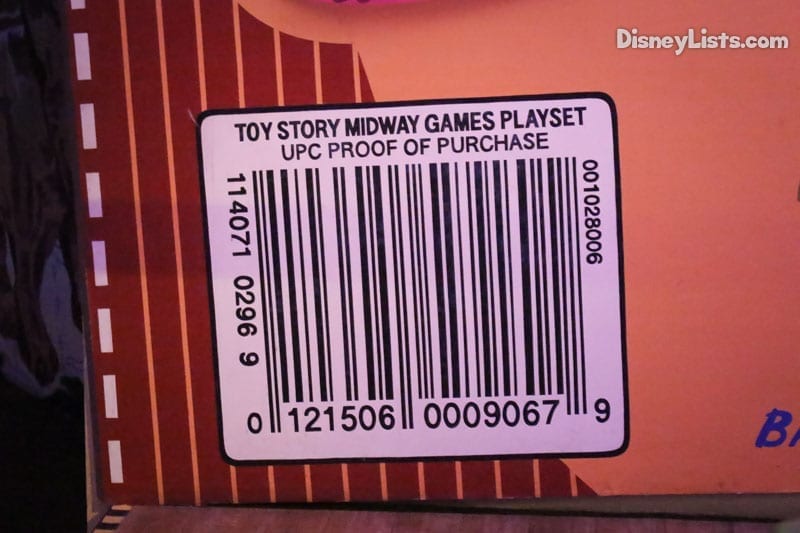 7 – Barcode History
One of the most popular attractions in all of Walt Disney World can be found in the Pixar Place section of Disney's Hollywood Studios. Toy Story Mania magically shrinks guests down to the size of toys and invites them to compete in a series of 3D midway games hosted by the characters of the series. In the loading area of Toy Story Mania, guests can spot the larger than life box which holds the midway games they are about to compete in. While the barcode on the box might appear to have a random string of numbers, it actually represents an important date in the attraction's history. The barcode features the numbers 121506 which represent December 15, 2006, the date that the attraction was announced!
For a no obligation, FREE Quote on a Disney vacation package, please contact our travel partner Magical Vacation Planner at 407-442-0227 (407-442-0215 for Spanish). You can also request a FREE quote online by Clicking HERE.