Millions of families of all sizes and varieties make the journey to Walt Disney World each year. While most of them find Walt Disney World Resorts accommodating, larger families can face unexpected challenges. Most rooms allow up to four occupants, and families of five or more may not want to book multiple rooms; after all, they're visiting the greatest tourist destination on the planet as a family. Fortunately, Disney created a variety of lodging solutions for such families. Though this isn't an exhaustive list, below you'll find nine of the best resorts for large groups.
9 – Disney's Art of Animation Resort
Value resort hotels provide magical experiences at low cost, even for families of five or more. Certainly, Disney's All-Star Resorts offer inter-connecting rooms and a limited number of family suites, but both of them are hard to get during the busy season. Consider Disney's Art of Animation Resort, instead, since it was practically built for families. This facility offers family suites that sleep up to six adults, and the incredible themes, daily art lessons, and gigantic pool put all other value resorts to shame.
8 – The Cabins at Disney's Fort Wilderness Resort
If you want the peace and quiet of the great outdoors and like plenty of room to play, then consider the self-contained cabins at this resort. The Cabins at Disney's Fort Wilderness Resort provide comfort for up to six family members at a reasonable price. Guests who are really into saving money can make use of the kitchen and outdoor grill for meals; cast members will even deliver your groceries! Though these cabins may be located far from the theme park action, they deliver fun outdoor activities, great dining, and the popular Hoop-Dee-Doo Musical Revue.
7 – Disney's Old Key West Resort
Families with up to nine members and a limited budget will appreciate Disney's Old Key West Resort. One bedroom villas sleep up to five and cost about as much as similar rooms in other deluxe villas. However, the two bedroom villas house up to nine adults at the least expensive rate. Just like the aforementioned cabins, villas feature a kitchen for families who love to cook and have lots of mouths to feed. With skyrocketing dining prices in the theme parks, many families love this option. In addition, the resort features quick access to casual dining, golfing, and Disney Springs via ferry boat.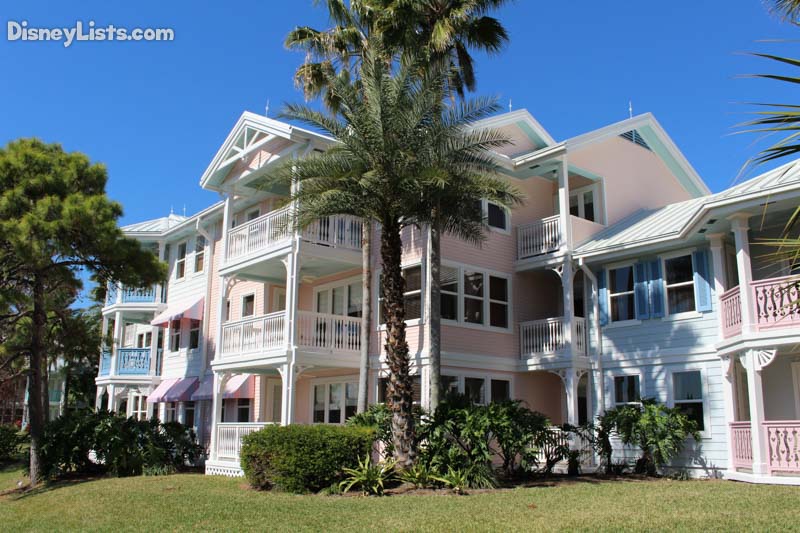 6 – Disney's Beach Club Resort
Nobody can dispute the amenities of staying at Disney's Beach Club Resort, since it offers a topnotch water recreation area, a sandy beach, water transportation to many attractions, and instant access to Epcot through the International Gateway. Large families love the rooms, as well, which house parties of five to seven members. The two bedroom suites are club-level access accommodations, so they can be pricey. Visitors hunting for an inexpensive deal may stay at the Beach Club Villas, which sleep up to eight adults, and still enjoy all the benefits of the resort.
5 – Disney's Wilderness Lodge
Awesome theming makes this deluxe resort hotel a favorite for families of all sizes. From the gorgeous waterfront scenes to the gigantic totem poles in the lobby, Disney's Wilderness Lodge seems to put you right in the middle of the rainforests of the Pacific Northwest. The resort features club-level, deluxe rooms for families of six or less members; the villas at this resort sleep up to eight. There's ample room for the family to relax in their room, play at the pool, or enjoy a unique dining experience at Whispering Canyon Café (don't forget to ask for ketchup).
4 – Disney's Animal Kingdom Lodge
This popular resort offers its guests stunning views of the wildlife residing at Disney's Animal Kingdom. Of course, the relatively expensive room rates reflect the awesome scenes and upscale décor that comprise its safari theme. Disney's Animal Kingdom Lodge offers one and two bedroom, club-level access suites that sleep up to six and eight guests, respectively. The nearby villas offer less expensive options while still delivering wonderful views of animal life. You can find villas for five family members at Jambo House and up to nine at Kidani Village. Guests staying here feel like they're right in the middle of Sub-Saharan Africa, and all this for a fraction of the price of a real-life safari.
3 – Disney's Saratoga Springs Resort & Spa
Though the two bedroom villas provide living space for up to eight adults at Disney's Saratoga Springs Resort & Spa, the treehouse villas prove to be a real treat for guests who enjoy amazing woodland vistas. Each treehouse sleeps up to nine adults and comes with modern comforts, so don't think that this is your children's treehouse. The villas at this resort aren't far from Disney Springs, but they're a good distance from the theme parks. The bus transportation can lag at times, but the ambience of the treehouse villas more than makes up for it.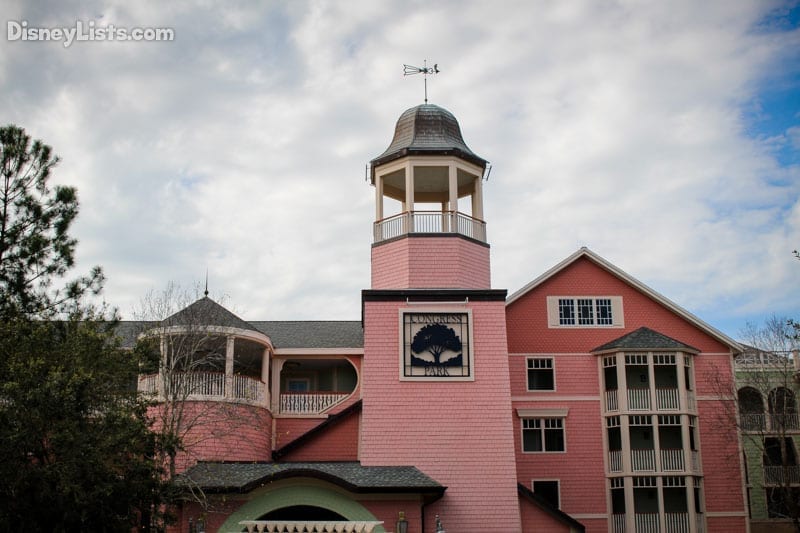 2 – Disney's Contemporary Resort
The first resort constructed at Walt Disney World delivers deluxe service and club-level access suites for families of eight or less. Naturally, being so close to Magic Kingdom ranks Disney's Contemporary Resort pretty high on the list of best resorts for large families, but the view, the modern design, the restaurants, the ease of monorail and boat transportation, and the rooms themselves also enhance the experience. Of course, you may spend around two thousand dollars a night for a two bedroom suite here. Families with smaller budgets should consider the nearby villas at Bay Lake Tower, which cost less than half as much and sleep up to nine.
1 – Disney's Grand Floridian Resort & Spa
The choice between this resort and Disney's Contemporary Resort for the top spot of this list proves to be difficult to make. However, if you're looking for an elegant resort with excellent dining and a wonderful view of Magic Kingdom, then Disney's Grand Floridian Resort & Spa remains the only option for number one. The lavish accommodations here can easily serve a family of up to eight with oversized standard rooms for smaller numbers and large one and two bedroom suites for bigger ones. Just like the other deluxe resorts in this list, the Grand Floridian also features villas for parties of up to nine members. The view from many of these rooms and suites includes a remarkable display of Wishes from across Seven Seas Lagoon, which can come in handy if you have lots of exhausted little ones.
For a no obligation, FREE Quote on a Disney vacation package, please contact our travel partner Magical Vacation Planner at 407-442-0227 (407-442-0215 for Spanish). You can also request a FREE quote online by Clicking HERE.