Are you ready for the DisneyLists Attraction Challenge? Looking for a challenging way to conquer the attractions at Disney World? Yes? Then these articles are for you. Simply ride all of the attractions on this list and you will earn bragging rights and your friends will be jealous. Well, maybe not, but you'll have a fantastic time. How many challenges can you complete? For extra credit, conquer them all in one day! (Be on the lookout for more Attraction Challenge articles coming in the next few weeks).
This is the big one – the "Mountains" of Disney World attraction challenge! So, grab that mountaineer gear and get ready to face these six unique mountains located on Disney World property. Be careful however as these mountains may produce uncontrollable screaming, bumpy and speedy movements, and wet and windy conditions!
1 – Space Mountain
The first on this challenge list would have to be Disney World's first "mountain" to open at Magic Kingdom! The classic Space Mountain attraction is a very dark rollercoaster with non-stop, unexpected twists and turns throughout the ride. While this coaster actually isn't going all too fast, it truly feels like you are whizzing through space at high speeds. Strange noises buzz by and glimpses of odd lights blink as your rocket plummets through a blinding space ride. Let's just say when riding Space Mountain, it's extremely tricky to tell exactly how many times one goes up and down the mountain! Some 40 years after first opening, Space Mountain is still an "out of this world" attraction.
2 – Big Thunder Mountain Railroad
It's "The Wildest Ride in the Wilderness" alright! If you've never bumped in and out and all around this mine filled Big Thunder Mountain in your railroad style seat, then you're missing out. Legend has it this 200-foot mountain is actually haunted which scared all the miners away – leaving it looking like a ghost town in the middle of Magic Kingdom! Our favorite part is the rickety track and rugged dips and drops. Hold onto your hats as Big Thunder Mountain is anything but an easy going ride.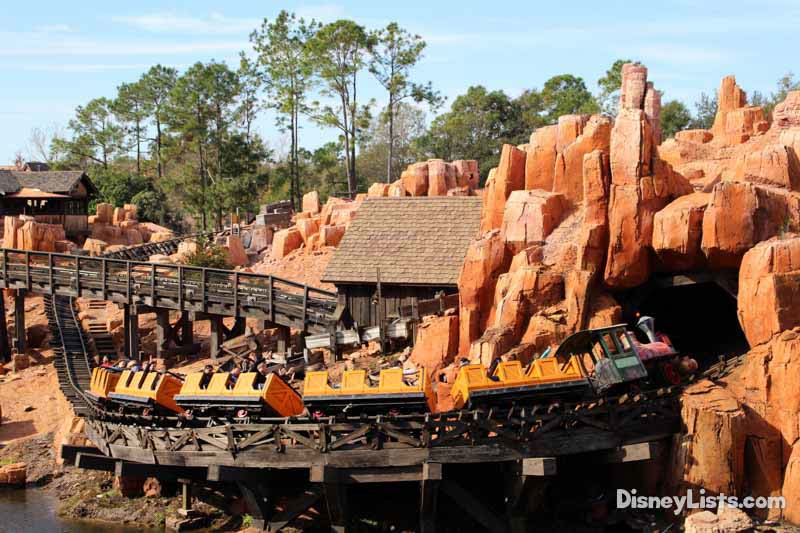 3 – Splash Mountain
This log-flume attraction at Magic Kingdom is a smooth sailing ride and looks innocent enough when inside. The sweet songs, cute scenery, and friendly audio-animatronics throughout the ride make for a pleasant voyage. But alas – when you spot the steep, climbing track you'd be smart to start bracing yourself! Splash Mountain spits you out as you sail down the mountain side, splashing into the water below. Will you get wet? Chances are… YES! We aren't complaining however as Splash Mountain is one of those timeless attractions we find ourselves riding again and again.
4 – Expedition Everest – Legend of the Forbidden Mountain
GULP! Conquering this Disney Himalayan mountain is a feat – as one must first face the ginormous Yeti that is tearing up the tracks right in front of your eyes! Disney did everything right with this steel rollercoaster, including sending those brave enough to ride it backwards into the mountain. This thrilling Animal Kingdom attraction is so memorable from the moment you see (hear!) a train of screaming people plummeting down the mountain side, to the interesting and extremely detailed que, and of course the awesome ride itself. A favorite for sure on our Disney mountain challenge!
5 – Mount Gushmore
Located at Disney's Blizzard Beach Water Park, Mount Gushmore is making more than just a splash these day! Catch a chairlift (as if at a ski resort) up the 90-foot mountain. At the top you'll have the opportunity to select between three colors for which "sloop" you find most comfortable for your thrill level. The most well-known attraction on Mount Gushmore is Summit Plummet. And guess what… Summit Plummet is the highest "free sliding" body slide in the United States! This one scares the pants off of us – but wow – what an unexplainable thrill!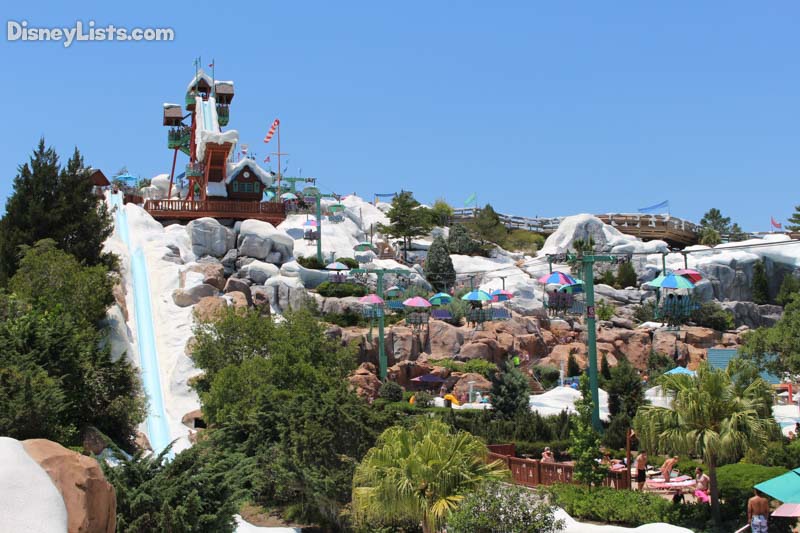 6 – Mount Mayday
You may recognize Mount Mayday at Disney's Typhoon Lagoon Water Park with its shipwrecked boat ("Miss Tilly") balancing at the top of the mountain. Not only is this mountain's purpose to hide the inner workings of Typhoon Lagoon's water piping system (much like Mount Gushmore at Blizzard Beach), but it also holds some incredible water rides such as Humunga Kowabunga, Gang Plank Falls, Mayday Falls, and Keelhaul Falls. Pick one of the Falls or scream "kowabunga" while flying down Humunga Kowabunga and you'll be able to check Mount Mayday off this attraction challenge!
So, what do you think – can you conquer this attraction challenge and check all 6 Disney World mountains off challenge check list? If you can just muster up enough courage – we have no doubt you can do it! We just can't wait to see what "mountain" Disney comes up next!
For a no obligation, FREE Quote on a Disney vacation package, please contact our travel partner Magical Vacation Planner at 407-442-0227 (407-442-0215 for Spanish). You can also request a FREE quote online by Clicking HERE.