With the last bit of Hurricane Matthew heading out of central Florida, Disney World has announced it's reopening times for it's theme parks and entertainment activities. Late Thursday, October 6, Hurricane Matthew shifted slightly east and therefore the Orlando felt less impact from the storm than originally forecasted. With winds dying down and rain moving out of the area, Disney World is gearing up to get back making magic for their guests.
With no major damage from Hurricane Matthew on and around Disney property, Disney World is already coming back to life and some part of property are actually opening earlier than planned.
Here is the updated list of closures and reopening times:
All 4 Disney World theme parks are closed through Friday, October 7. Theme parks are scheduled to open early at 8:00 AM Saturday, October 8. Posted closure times remains the same.
Disney's Animal Kingdom Park will open for Extra Magic Hours at 7:00 am on Saturday, October 8 for Resort Guests only.
Disney Springs is closed through Friday, October 7 to the general public. A limited number of stores will open at 5:00 pm on Friday, October 7 for resort hotel guests only. Normal operating hours will resume as scheduled on Saturday, October 8.
Mickey's Not So Scary Halloween Party at Magic Kingdom is cancelled on Friday, October 7.
Blizzard Beach and Typhoon Lagoon closed on Friday, October 7. Operating hours will resume as scheduled on Saturday, October 8.
Fort Wilderness Resort and Campground closed through Friday, October 7.
Hoop-Dee-D0o Revue and Mickey's Backyard BBQ are cancelled through Sunday.
Spirit of Aloha Dinner show at Disney's Polynesian Village Resort is cancelled on Friday, October 7.
Characters in Flight at Disney Springs closed through Sunday.
Fantasia Gardens and Fairways Miniature Golf and Winter Summerland Miniature Golf will resume opening hours as scheduled on Saturday, October 8.
RELATED ARTICLE: Choosing When to Go to Disney World: Understanding Orlando Weather for the Best Trip
by Christy Caby
The Florida weather is very different than most other states around the U.S. and even other areas around the world!  Typical seasons don't apply and the weather follows different rules because of our climate and unique geography. It is important to understand the typical weather patterns so you can make sure you pack your clothes and gear accordingly.  Here is a breakdown of what you need to know about Florida weather:
8 – Frequent short showers: Mostly all year long
Florida is known for having frequent rain showers.  You may have heard of the 3 or 4 o'clock rain referenced by local Floridians.  When it starts getting hot and humid, it is very common for there to be an afternoon rain, especially in the summer months that will make everything even more humid after the rain, although it does feel a bit cooler afterward.  To be prepared for this, it can be good to carry a cheap poncho or umbrella with you to help keep you from getting completely soaked, but it will pass over soon and you can get back to fun in the sun.
7 – Rainy seasons: June – September
The rainy season is related to hurricane season.  This is the time of the year when the various tropical storms are brewing and send a lot of precipitation to the area.  The short showers are still common, but if a big storm system is working through, it could rain almost daily for a several days, possibly your entire vacation.  It is important to keep that in mind if that will be a big issue for you.  Disney World is still a lot of fun in the rain, and sometimes less crowded since the rain will clear out many guests and locals, but you can still have a ton of fun and experience most of the attractions and rides. Hurricane season begins June 1 and runs through November 30. While a hurricane in June and July is rare, the chance of a hurricane in August and September certainly increases. Keep this in mind when planning late summer vacations! Hurricanes in October-November are also a possibility. Most recently in 2016, Hurricane Matthew closed Disney World for one evening and a full day because of the threat to the Orlando area in early October. While closings at Disney World are very rare, Disney will close the parks for the safety of guests and cast members.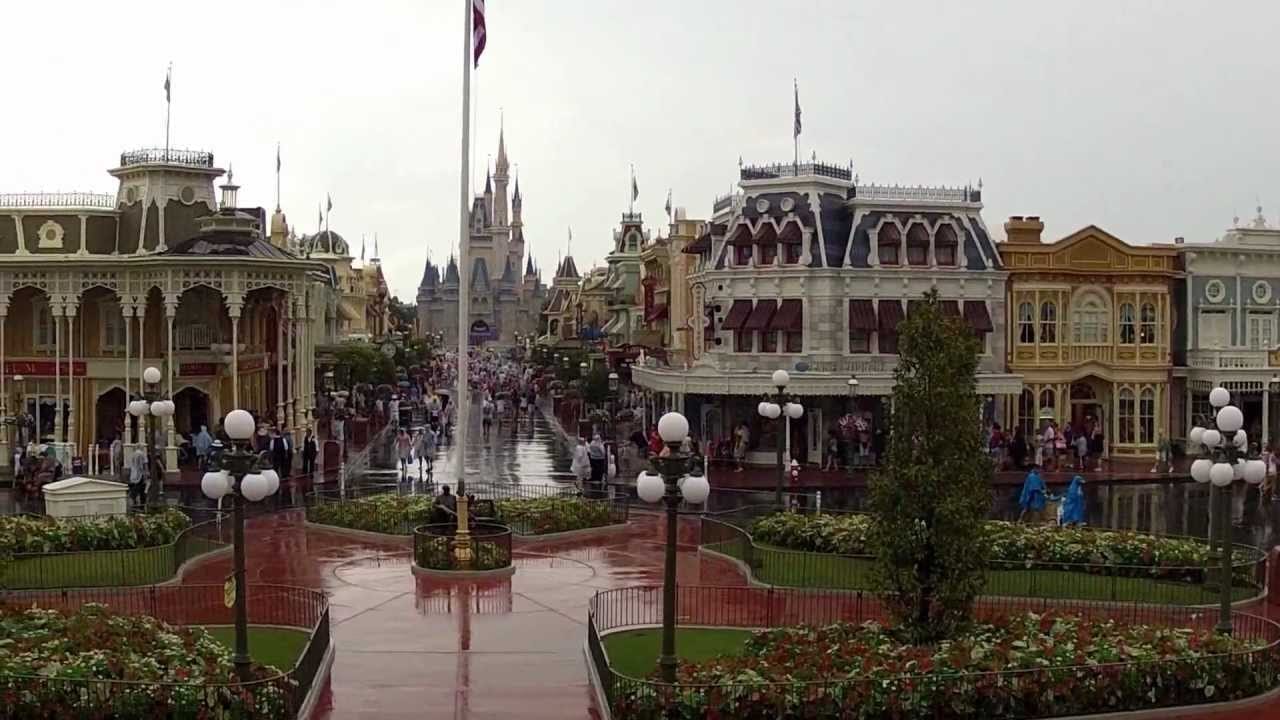 6 – Blistering hot summers: June – September
The summertime is extremely hot. The sun is beating down and you feel sticky as soon as you step outside.  It is gorgeous and sunny, though and you are definitely getting a huge dose of Vitamin D out in the Florida sun. This is also the season for frequent showers and possibly a lot of rain, which sometimes feels very welcomed.  During these months, you should definitely make sure to stay hydrated and pack all loose, light and comfortable clothing that will hold up comfortably to sweat or getting rained on.  Pack as much light, moisture-wicking clothing as possible to wear during this time, and you'll be glad you did.
5 – Fall isn't really fall: October – November
Fall definitely isn't the fall you may be thinking off with the changing of leaves and the crisp, cool air.  It is still pretty hot in Orlando and everything is still lush and green due to the constant sun and warm temps of Florida.  As it gets deeper into fall the evening temperatures start to get a little bit cooler.  So for during the day pack the comfortable summer clothes that we already talked about and then maybe have a light jacket or hoodie ready for the evenings so you are prepared if there is a cooler night.  It does happen and once the sun goes down can feel a bit chilly after you have been sweating in 90 degree weather and sunshine all day.
4 – Florida winters: December – February
Winter in the Orlando area is definitely different than what you would find in northern states.  Average highs are in the low 70s. A cold day is in the upper 50s or lower 60s.  It is extremely comfortable and the sun doesn't feel near as warm, but it's still a refreshing change from the frigid, cold temps where you may be coming from.  The nights can get a little chilly though.  There are usually a couple of days a year where it may even get to around 32 degrees.  If you travel during this time then you will want to bring a jacket or hoodie and pants for the evenings.  During the day, you can likely be comfortable in shorts, but by nighttime you'd likely get a little bit chilly.
3 – Spring break: March – May
It is definitely very warm for the spring break time, too.  The temperatures and clothes recommendations are almost identical to the recommendations for fall.  It is a good idea to prepare to dress like it is summer and then have a light jacket handy.  You are less likely to need the jacket in the spring months, especially as it gets closer to summer, than in the fall months, but it is a good idea to have it handy anyway.  You are less likely to get rained out during this season, too, which can be a relief to some.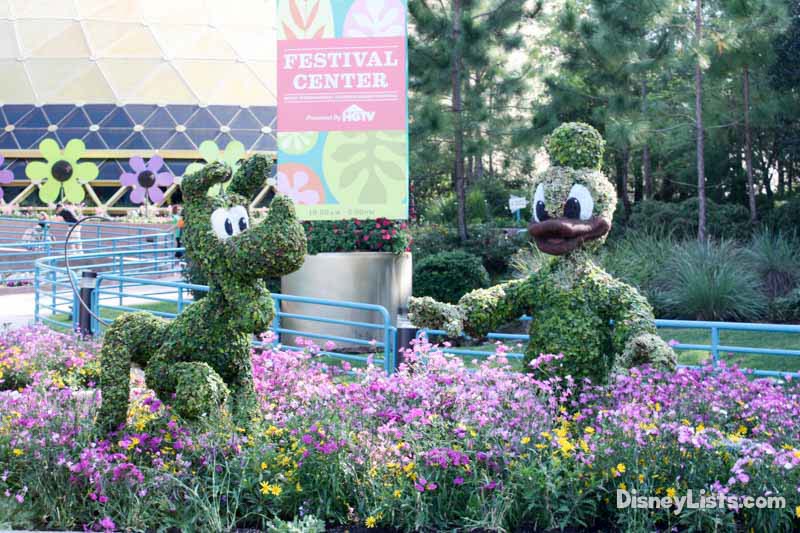 2 – You can usually swim all year long.
So based on this very moderate weather that is mostly warm all of the time, you can mostly swim all year long.  The waterparks at Disney are open all year for you to enjoy.  The pools at the resorts are heated, so even if it is a cooler day, you can still go for a swim.  If you have been cooped up all winter and want to get in a little bit of swimming while on vacation, you can!  So it is always a good idea to make sure to pack your swimming clothes and gear so that you are all set.
1 – You always need sunscreen.
The Florida sun is very strong.  Even in the Florida winter when the temps are a little cooler, you will still need a lot of protection from the sun.  You can still burn even if you are cool, so be sure to apply sunscreen regularly.  The rays are much stronger than you will likely be used to and you don't want to end up with a sunburn, which can be very uncomfortable and bad for your skin!