It is always great when you can have your cake and eat it, too.  That is how we feel about when we get to enjoy a treat or beverage and get a souvenir to go with it. Here are 10 of our favorite food and drink items at Walt Disney World that also come with a souvenir:
10 – Popcorn buckets
These have become collector's items among many fans.  The popcorn buckets can be simple in a normal shape with Disney World on it, or they can be the deluxe popcorn buckets that are shaped like Cinderella's Coach, Dumbo, etc.  These have an additional cost to them, but the come filled with delicious popcorn that is enough to share with the whole family.  These make great souvenirs to enjoy your popcorn at home in a way that is way more fun than just using a simple bowl.
9 – Kid's glow drinks
If you order one of the kid's glow punches for your kiddos, then you get a light up Buzz Lightyear or Tinkerbell that will come attached to the straw that your kiddos can keep.  Not only that the cup and straw are a plastic that can be reused and taken with you, so you can save them to use again at home.
8 – Resort refillable mugs
These make great souvenirs.  You get unlimited drink refills during your say, and then the insulated mugs are great for your hot or cold beverages once you are back home, too.  These are dishwasher safe, so they are easy to keep clean and ready to use, too.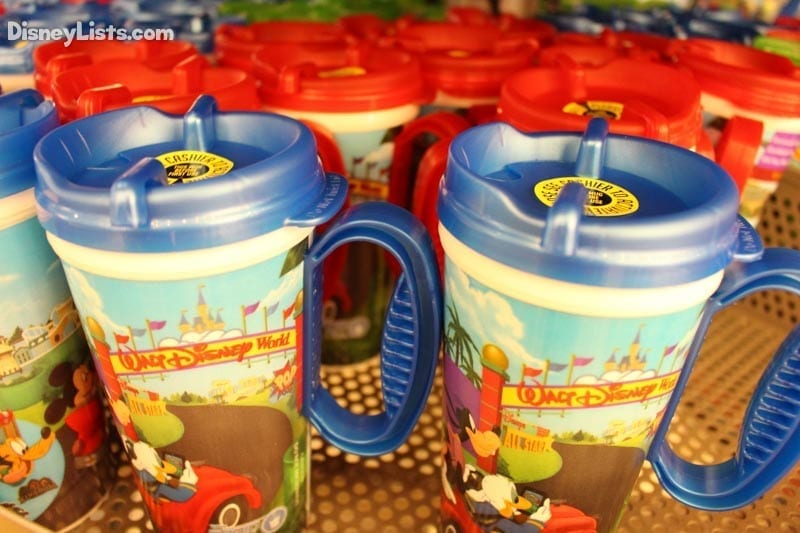 7 – Rainforest Café / TREX Restaurant specialty beverages
We definitely have a cabinet food of the glass hurricane glasses from both of these locations.  If you order one of the select beverages from their menu, you can get the glass for free.  Not only that, they bring you out a clean one in the box as the one that you take home so you don't have to worry about cleaning the one you are drinking out of.  These are definitely a favorite for us!
6 – Straw stick marshmallows
If you head over to one of the bakeries or sweet shops you will notice delicious treats on straws, most commonly marshmallow treats.  These are on Mickey Mouse swirly straws that make great souvenirs for everyone!  The treats are pretty affordable, too, so it is definitely a win-win.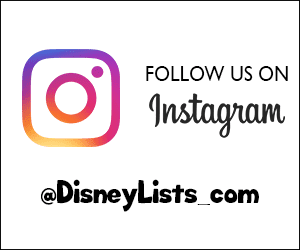 5 – Mickey Pants sundae
I love seeing all of the creative ways that folks have used their Mickey pants sink souvenir.  If you order this favorite sundae, it is served in a sink that looks like Mickey's pants that you get to keep after you eat your delicious sundae.  The dessert is huge and the pants bowl makes a great catch-all for all kinds of things around your home.
4 – Themed mugs
There are several locations all around property at various snack and quick service locations where you can get a themed mug or cup when you purchase one of the specialty drinks.  One of the most popular is Lefou's Brew at the Magic Kingdom.  You can opt for the cup add-on where you can get your delicious beverage in either a Gaston tavern mug or a Belle cup.  There are many options like this all over Walt Disney World and the cups make great souvenirs to drink or have treats from once you get home.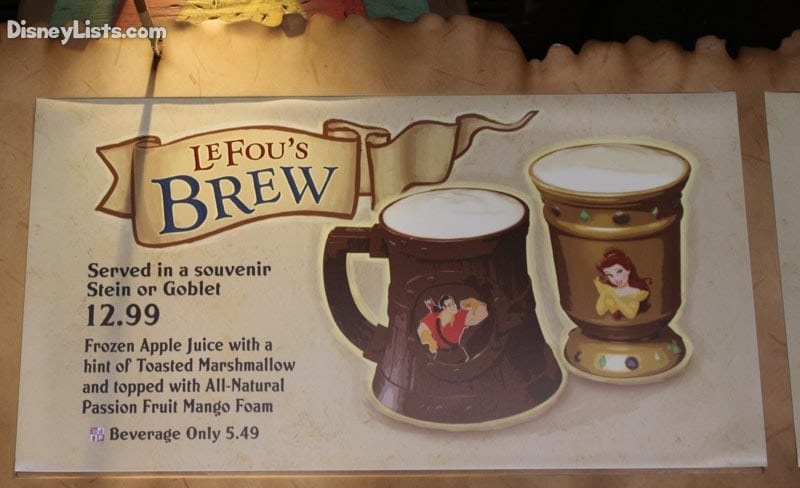 3 – Glow cocktails
The glow cocktails around Walt Disney World are super fun.  It is fun to drink a glowing drink while you walk around the parks or enjoy dinner, and then you can keep the glow ice cubes from the drinks. Sometimes they are shaped like characters or popular icons, and other times they are shaped like actual ice cubes.  Either way, you will love putting these in your drinks at home, too!
2 – Light-Up Glow Goblets
If you dine at Cinderella's Royal Table or Be Our Guest, you can purchase one of the light-up glow goblets to enjoy your drink in at the table.  It lights up your table and is a fun souvenir that you get to take home with you when you leave.  There is just something extra fun about a glowing drink, no matter whether you are at home or on vacation.
1 – Refillable waterpark mug
The refillable waterpark mugs are different than the resort mugs.  These are designed different have a completely different look and feel.  They are only used at the water parks and purchased for one-day unlimited refills.  You get to keep these insulated mugs after you leave and can use them in everyday life.
For a no obligation, FREE Quote on a Disney vacation package, please contact our travel partner Magical Vacation Planner at 407-442-0227 (407-442-0215 for Spanish). You can also request a FREE quote online by Clicking HERE.